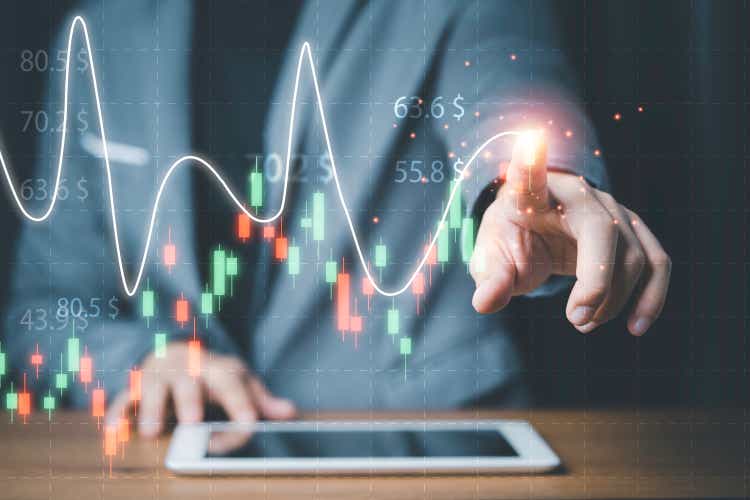 Written by Nick Ackerman, co-produced by Stanford Chemist
PGIM High Yield Bond Fund (NYSE:ISD) has been narrowing its discount throughout 2021. This isn't that unusual, as that has been the trend for most of the entire closed-end fund space this year. However, relatively speaking, ISD is still presenting a fairly attractive valuation compared to the rest of the high-yield space.
The high-yield space is an area that can be more sheltered from interest rate changes. That is when compared to investment grade and municipal bonds. One of the reasons for this is because the maturity of high-yield offerings is relatively shorter. The idea is that since they are more sensitive to economic conditions, lenders want them on a tighter leash to get their capital back.
The Fed is gearing up to increase interest rates as soon as potentially next year; investors need to be a bit more cautious where they are putting their fixed-income dollars to work. Of course, anything can happen from now until then, but being prepared doesn't hurt.
ISD presents a comparably attractive entry valuation in the high-yield space at this time.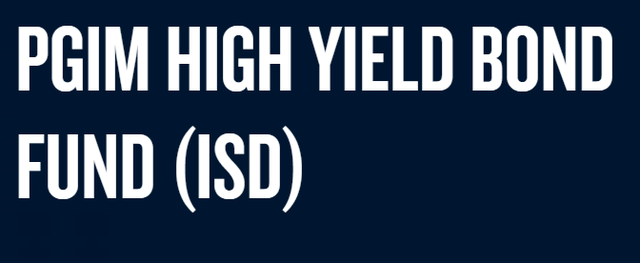 (Source)
The Basics
1-Year Z-score: 1.19
Discount: 4.50%
Distribution Yield: 7.71%
Expense Ratio: 1.15%
Leverage: 24.13%
The fund seeks "to provide a high level of current income by investing primarily in below investment-grade fixed income instruments."
Though this approach was similar previously, this fund also once had a short duration policy previously too. They had modified that portion of their policy back at the beginning of 2019. This allowed them to pick up investments that had longer maturities. These are often higher yielding to compensate for that additional risk. However, increasing duration means increasing interest rate sensitivity. At that same time, the fund changed its name.
The fund had a more recent change as well. They have changed their fiscal year-end from May 31st to July 31st. From their abbreviated Annual Report;
Subsequent to May 31, 2021, the Fund's fiscal and tax year changed from an annual reporting period that ends May 31 to one that ends July 31. As a result of this change, shareholders are being provided with a short-period annual report, including audited financial statements, for the two-month period from June 1, 2021, through July 31, 2021. Please see page 7 for a more detailed look at the prevailing economic and market conditions during the 12-month period that ended July 31, 2021, and to learn how those conditions have affected Fund performance.
The fund has total managed assets of over $750 million, utilizing 24.13% of leverage in the fund. When looking in the high-yield space, that isn't the highest leverage, but any leverage will increase potential downside risks. The fund employs borrowings for its leverage. This is based on a floating rate of 1-month LIBOR plus 0.75%. This will also mean that when rates rise, the interest expense for this fund will also increase.
The fund's expense ratio comes to 1.15%; this climbs to 1.43% when including leverage.
Performance - Solid Effort, Higher Energy Exposure
The fund has provided investors with reasonably attractive returns for a high-yield bond fund. Some of the returns have been dampened by its higher exposure to the energy space. Energy isn't uncommon in high-yield funds, but for ISD, it is the fund's most significant exposure. However, I'd also say that they are relatively diversified to help cut down on this list to individual positions and one sector having too much of a sway on performance.

(Source - Fund Website)
The fund isn't all that old, being launched in 2012. That means that we really only have one major sell-off to see how this fund performed during a period of significant panic selling. As suspected for a high-yield fund, it performed rather horribly. We can compare this to the BlackRock Corporate High Yield Fund (HYT), one of the best high-yield CEFs out there.
The period of performance we are looking at below is from February 19th, 2020, to March 23rd, 2020, which marks the peak to the trough of the previous bear market.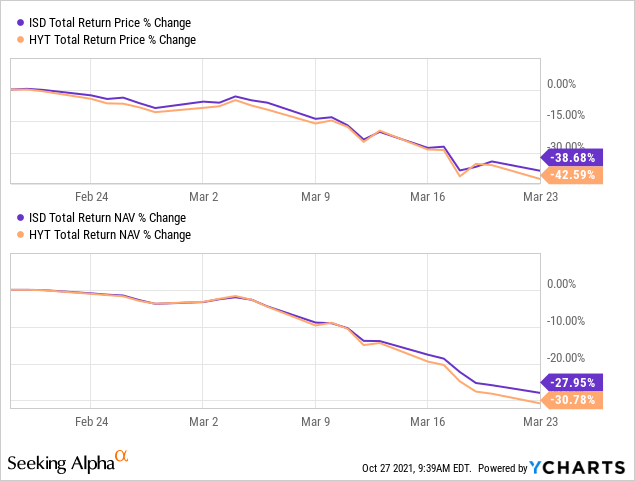 As we can see, ISD was somewhat more sheltered from the downturn that HYT had experienced. One of the reasons for this could come down to the utilization of leverage. HYT tends to run higher leverage. Currently, the fund's borrowings come to 30.99%.
If we look over the last five years and compare the performance between the two funds, then we see some outperformance from HYT. Again, the higher utilization of leverage seems to be the benefit of HYT. However, portfolio position has likely played a role as well.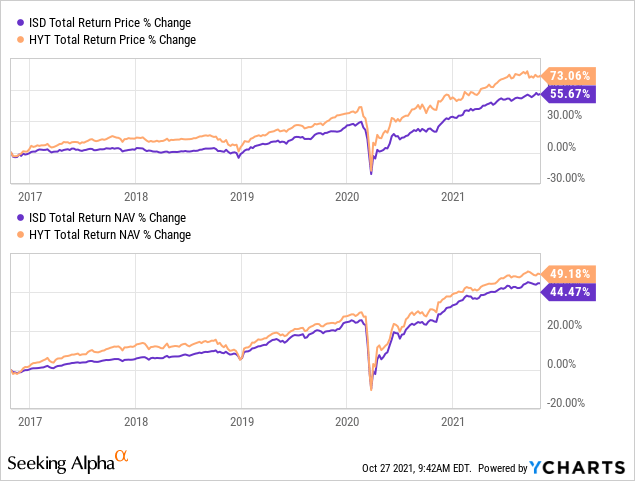 One of the areas that ISD is looking a bit better is in the valuation department. The fund currently sports a 4.50% discount. Over the last year, it has averaged a discount of 7.69%. Even further, the previous five years have presented the fund with an average discount of 10.71%. On that basis, the fund could look quite expensive.
On the other hand, the high-yield space isn't sporting a lot of deeper discounts at this time. HYT is currently carrying a slight premium of 0.66%. It too has held quite a deep discount over the last five years at 7.85%. So, the whole space is shown to be quite expensive. I believe that means ISD is still representing a somewhat attractive entry point for shareholders.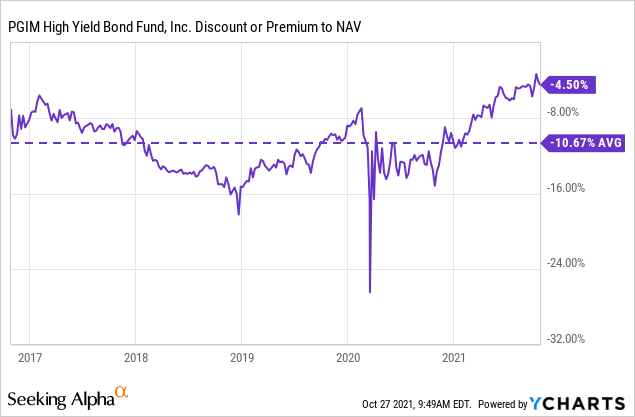 Distribution - Attractive Yield, But Watch Coverage
The fund is currently paying out an enticing 7.71% distribution yield. The fund has been maintaining this rate going back to around 2019 where it was bumped up slightly. Despite the fund's short history, they have had to adjust the distribution downward several times previous to those smaller increases. We are still below where this fund's payout had been when it initially launched.
I suspect that the higher exposure to energy was the culprit for lower distributions. This is also a somewhat similar trajectory to the rest of the high-yield space as well. So once again, ISD isn't alone here. It is just representative of being in line with its peers.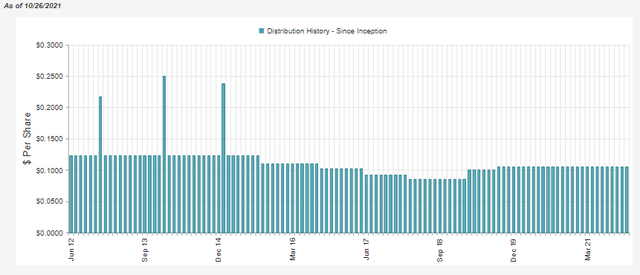 (Source - CEFConnect)
To fund that distribution, we'd typically want to see a fixed-income fund covering the distribution completely through net investment income [NII]. Unfortunately, this isn't the case with ISD, which means that the 7.71% distribution yield is attractive but could be up for a trim too.
Due to the fiscal year-end change, we can view the last two months, plus the prior year-end of May 31st, 2021. They present both in their latest Annual Report.

(Source - Annual Report)
For the shortened period, we see NII coverage come in at around 80%. Unfortunately, for the more extended reporting period, the coverage still isn't enough at 86%.
This is also right around where coverage has been over the last 3-months for the fund as well. The below is for the month-end of September 30th, 2021.

(Source - Monthly Earnings)
This is in line with the other PGIM CEF offerings. However, it falls shy of HYT's last reported coverage of 99.22%. So far, the unrealized and realized gains have been enough to offset the negative impact of ISD's lack of NII coverage. That's resulted in the NAV increasing higher now than the pre-2020 market crash.
This fund has reported return of capital in their distribution. Most of this hasn't been destructive ROC because the NAV has risen. However, this ROC shouldn't be expected to continue regularly.
For the two months ended July 31, 2021, the tax character of dividends paid by the Fund were $5,937,281 of ordinary income and $1,046,631 of tax return of capital. For the year ended May 31, 2021, the tax character of dividends paid by the Fund were $37,167,898 of ordinary income and $4,735,574 of tax return of capital. For the year ended May 31, 2020, the tax character of dividends paid by the Fund were $40,696,044 of ordinary income and $708,577 of tax return of capital
ISD's Portfolio
As we mentioned in the beginning, we need to look at the duration of a fixed-income fund. This is particularly important considering it is only a matter of time before higher rates are upon us. Duration will measure the interest rate sensitivity that a fund might be carrying. For ISD, the fund's duration seems to be on the lower end. They had removed their policy to target shorter duration holdings, but some of the holdings could still be lingering, bringing down the overall adjusted duration.

(Source - Fund Website)
To compare with HYT once again, we see effective duration stand at 5.28 years for that fund.
The credit quality of the portfolio is mainly weighted to BB and B qualities. The higher allocation to BB is pretty standard for high-yield funds. This is one notch into "junk status." From the last time we covered the fund, they are leaning more towards BB as they had previously been heavier in B rated debt.
That being said, we should keep an eye on the CCC and CC allocations. That puts us deep in junk territory. The type of credit quality area only requires the wind to blow the wrong way one day for a default.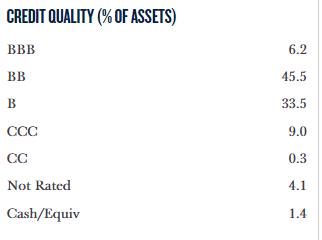 (Source - Fund Website)
For the industry exposure, we see that energy comes in at 8.6% of the portfolio. As previously mentioned, that is the fund's largest exposure. However, we also see that the fund is quite diversified more broadly anyway. These largest exposures come to just over 60% of the fund. That leaves quite a material amount of other industry exposure in the portfolio that we aren't seeing.
Additionally, the fund has positions in 336 different entities. Of those various entities, the fund carries 642 different positions. With that many different company exposures, the fund isn't taking too much individual risk either. This is also increasing from the 239 positions that they had in our previous update.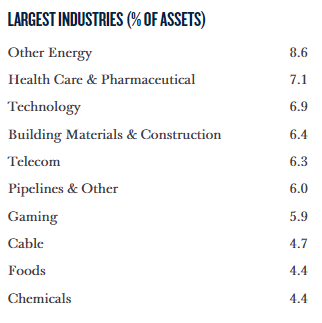 (Source - Fund Website)
The largest entity they have exposure to is Next Luxembourg. Interestingly, when looking at their complete holdings, there isn't any position listed to see some more details. Even more interesting, this position doesn't show up in the fund's Annual Report. You have to dig a little deeper, and the Next Luxembourg holding seems to be related to the Altice position in the fund's portfolio.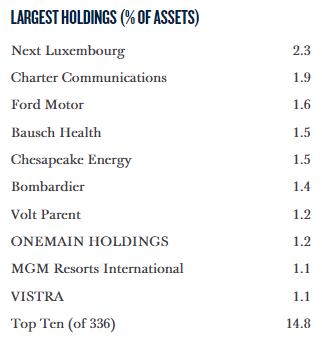 (Source - Fund Website)
For Charter Communications (CHTR), we see the same thing. We don't have a position directly listed as a Charter Communications holding. However, when we dig down the list of holdings, we see that CCO Holdings/CCO Holdings Capital is a part of CHTR. In this case, they provide the ticker symbol as well.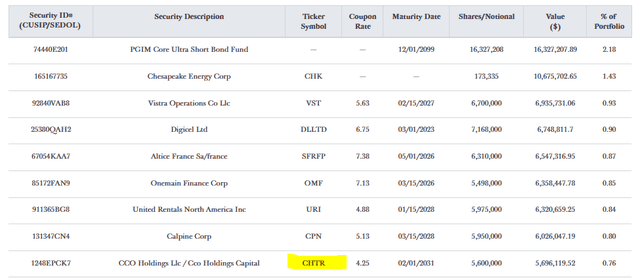 (Source - Fund Website)
Conclusion
ISD has delivered investors reasonable results. The fund has a high-yield bond fund focus so that naturally lowers interest rate sensitivity. In this case, the fund carries a lower duration than some peer funds. At the same time, the fund is currently carrying a rather attractive discount when the CEF space is running high valuations across the board. One area that I would be cautious about is the fund's distribution coverage is quite weak. This is unfortunate as the distribution yield on this fund is quite tempting at the same time. It doesn't mean that a distribution trim is imminent, but I wouldn't be shocked to see one take place either.