Intel: Unquestioned PC Leadership
Summary
Early this year, I predicted that Intel's upcoming Alder Lake CPU would be game-changing and achieve leadership in all segments against AMD.
New benchmarks of Alder Lake for laptops confirm that the CPU even beats Apple M1 Max in both single and multi-threaded performance. AMD is far behind.
This means that Intel for the first time in years has achieved unquestioned leadership with a CPU. The AMD threat is finished.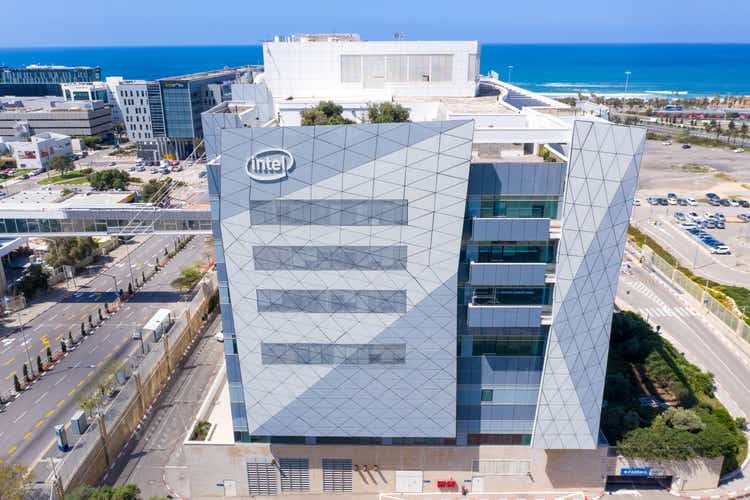 Investment Thesis
Early this year, I identified Intel's (NASDAQ:INTC) Alder Lake as the start of Intel's CPU comeback. Recently, real benchmarks have appeared and have confirmed this thesis. The CPU not only beat AMD (AMD) by an astonishing 60% but also achieved unquestioned performance leadership by taking down the recently launched Apple (AAPL) M1 Max.
The CPU will launch in just a few weeks, and Intel claims it will be its fastest ever to launch across all segments from laptops to desktops. Hence, with a leadership CPU and a rock solid roadmap, the AMD threat on the PC side looks finished.
Although this article is mainly focused on technology, I recently discussed Intel's latest earnings results.
Background
I have previously detailed Intel's upcoming Alder Lake CPU along with its implications for investors. I pinpointed this CPU as Intel's first serious CPU since 2015. The CPU is fully redesigned and improved in all aspects.
Most notably, I highlighted the hybrid architecture as a unique, differentiated asset in the x86 world: by combining two architectures (one optimized for single-threaded performance, one optimized for performance/mm2), Intel would be able to challenge the competition for leadership on both metrics. Altogether, investors could expect on the order of 2x the performance in just one generation.
Nevertheless, Apple recently also stepped up its game, and Apple touted 70% performance improvement for its Apple M1 Max.
Alder Lake launch
Intel is on the verge of launching its Alder Lake desktop CPUs. Although these are also important since Intel had neglected the desktop segment for years, the discussion below focused on the laptop segment for two reasons: (1) laptops represent the vast majority of PC revenue and (2) the Apple M1 Max is a laptop part.
Unquestioned leadership
In my discussion of the Apple M1 Max, I compared the chip against Intel's upcoming Alder Lake CPU. This CPU will launch in early November, so that comparison made sense. However, the discussion was mostly based on Apple's claims vs. Intel's claims. The only Alder Lake benchmarks that were leaked yet were from the desktop, so that gave Intel a power advantage.
This has now changed, with a benchmark for the highest-end Alder Lake CPU for laptops appearing online. The result is clear: Alder Lake beats M1 Max in both single-threaded and multi-threaded performance. I reckon this is the first time since (at least) 2019 that Intel has achieved unquestioned performance leadership (although Tiger Lake earlier this year was also solid already). The multi-threaded graph is shown below.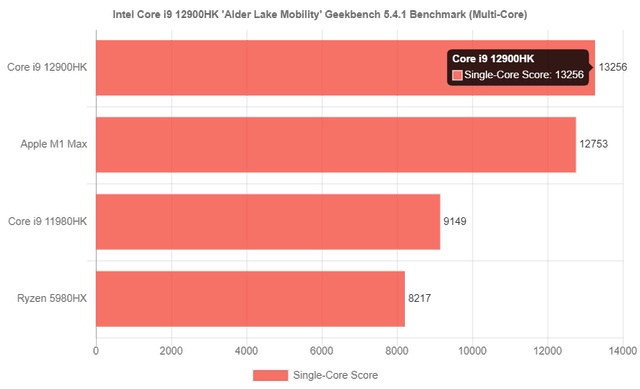 Although the win against Apple is nice, what should be most interesting for Intel shareholders is the amount by which the poor AMD CPU gets beaten: a comfortable 62% margin. I expect to see similar results also in the lower power laptop segment. (The chips above are on the order of 45W power consumption, whereas mainstream laptops are often 15-28W.)
Alder Lake will launch in early November for the desktop. I would expect the low power laptop segment to launch in the first quarter, as soon as January (the CES event): Intel confirmed that the CPUs would start shipping in November.
Nevertheless, the CPU above will likely be launched in the second quarter. So although it may still be a few months until Intel will claim leadership against the M1 Max, Pat Gelsinger did share an interesting tidbit during the earnings call: Intel expects Alder Lake to be its fastest ramping CPU ever.
Pat Gelsinger: We are raising the bar again with Alder Lake, our first performance hybrid architecture products, which I'm pleased to say began shipping in Q3 on Intel 7 and will start to launch next week at Innovation. The Alder Lake family will offer customers significant advantages across a range of workloads including gaming, content creation, and AI acceleration. Alder Lake will scale from ultra-mobile to desktop and will go to market across our range of segments, form factors, and power envelopes faster than any new architecture in Intel's history.
In fact, Intel seems to expect Alder Lake to be a catalyst for ASP and market share upside:
Pat Gelsinger: And for instance, in the client business Alder Lake goes in production, they will be talking more about that next week. A tremendous product that will be a great market share gainer, as well as a pricing leader, right?
Roadmap
As I have discussed previously, I do not expect AMD's next-gen 5nm laptop CPUs until at least early 2023. As such, arguments that supposedly Zen 4 would be on the horizon can't be made: the Zen 3 chip is now one year old and will have to compete in the market for at least another year. Hence, as I informed investors already earlier this year: the AMD threat is finished.
Nevertheless, AMD is planning a firm response: Zen 4 for laptops is rumored to feature up to 16 cores. That implies the CPU should be ~2x as fast. However, Intel will already have moved to its own next-gen CPU by the time Zen 4 hits the market: Raptor Lake on Intel 7. At least on the desktop, this CPU will feature 8+16 cores. Additionally, Meteor Lake is also progressing. This is what Pat Gelsinger said about Meteor Lake on the recent earnings call:
For example, on Intel 4, we said we had taped out our compute tile for Meteor Lake. In this quarter, it came out of the fab and powered up, and within 30 minutes, with outstanding performance, right where we expected it to be. All told, this is one of the best lead product startups we have seen in recent memory, which speaks to the health of the process.
Officially, Intel has said that Intel 4 would go into production in the second half of 2022, and launch in the market in 2023. However, from power on to launch, in the best-case scenario, takes about a year. This means that there might be a small chance that Intel might be able to pull-in its launch to late 2022. In any case, what should be reassuring for investors is that Meteor Lake will actually launch within the exact timeline that Intel provided in July 2020 (when most investors were expecting far worse delays).
Further discussion
The most upvoted comment on my Apple M1 Max article claims that Apple has an unique advantage because it can co-develop the chip, laptop, and software. This is an argument that Apple execs also tout about.
However, I have already discussed this at length before:
In summary, I argued Intel x86 is actually an advantage since Intel can change and add new instructions to x86; Apple cannot since it is reliant on Arm. I will add one more point to the argument: some argued that an SoC provides lower power as well as other benefits (vs. a separate Intel CPU + Nvidia GPU).
I agree that a monolithic chip has such benefits. However:
In real life workloads, such as gaming, the CPU + GPU paradigm as separate chips has not given serious power or performance issues
The reason chiplets are only a recent industry-wide trend is due to advent of advanced 2.5D/3D packaging: the whole point of this advanced packaging is to provide near-monolithic latency, power and performance. As such, this allows chips to have all the advantages of chiplets without any of the drawbacks. In fact, chiplets could allow Intel to move even faster in development: not the whole chip but only a small chiplet has to be redeveloped, and the new chiplet can be quickly swapped with the old one without changing the other chiplets
Financials
In the Intel article linked in previous section, I had outlined my thesis that I would expect the overall market to grow faster than AMD may perhaps take market share away from Intel. For that to happen, Intel needs solid products and a solid roadmap, which it now has with Alder Lake.
Since the PC still represents about half of Intel's revenue (although Intel's ambition has been to decrease that fraction), I would hence regard the PC part of Intel to be fairly safe. As for market growth, it is anyone's guess how the demand picture will evolve in the further aftermath of COVID-19.
As for the data center, further discussed below, although not the focus of this article, there Intel has some more work. This is also clear from AMD's financials, where Epyc continues to grow at triple digits (much faster than Ryzen) despite having crossed double digit market share.
Risks
Although I claimed the AMD threat is finished, this mainly pertains to the PC side. The data center is more cloudy.
First, in July, Intel delayed Sapphire Rapids by an additional quarter, which means it's time to market advantage over AMD Genoa is shrinking to just half a year or so (at best). Since this CPU has been in development since 2016 or so, Intel seems to be moving at snail pace in the data center. Secondly, the roadmap beyond Sapphire Rapids is unclear. Although the codenames are known, the timeline is more foggy. Intel said Granite Rapids would launch in the first half of 2023. Since development cycles in the data center seem to take a bit longer, either Intel is just being quiet about this CPU for now, or the CPU will likely not launch before mid-2023.
Altogether, from various tidbits, it is clear that Intel has a very compelling roadmap in the data center, but investors at this point should likely not expect Intel to beat AMD across all benchmarks before mid-2023. (In a few areas like crypto, compression and AI, Intel maintains leadership even today.)
Investors may remember that EVP Navin Shenoy left in the wake of the June reorganization, so Pat Gelsinger is likely looking for improved execution there. As a reminder, Granite Rapids was actually supposed to be Intel's first 7nm (Intel 4) CPU, ahead of Meteor Lake, but has been delayed by at least one year.
Investor Takeaway
In the last year, I have seen some confusion, even among respected tech journalists, about what Pat Gelsinger meant by unquestioned leadership by 2024-2025. As he said early this year, the 2022-2023 roadmap is what it is, but 2024-2025 is when he promised this leadership.
There are few nuances here. Obviously, Gelsinger has likely redirected most resources to improve the 2024+ roadmap, as that is indeed his goal. Additionally, the process technology roadmap is also targeted to catch up and leap ahead in 2024-2025. However, that does not mean the product roadmap will not substantially improve already much earlier: there is much more to a CPU than just its process technology.
This is indeed the case with Alder Lake, which Intel touts as its biggest improvement in CPUs in a decade. Although I discussed laptops, a similar story will even sooner unfold on the desktop: AMD remains reasonably competitive at the very high-end but falls dramatically behind in more mainstream CPUs like the Core i5 segment.
Intel also has a firm roadmap that will bring further core count increases (Raptor Lake) and new architectures (Meteor Lake). As such, I would regard the AMD threat on the PC side as finished.
Looking forward, Intel's client roadmap looks rock solid, so much that the real concern remains the data center (as it has been since 2019). Although Sapphire Rapids will be a great improvement, the roadmap has been too delayed to really make the impact it could have made. Hence, I do not expect a similar improvement as on the PC side until mid-2023.
This article was written by
With an engineering background, looking for companies with expertise to be well-positioned for growth and leadership.
Analyst's Disclosure: I/we have a beneficial long position in the shares of INTC either through stock ownership, options, or other derivatives. I wrote this article myself, and it expresses my own opinions. I am not receiving compensation for it (other than from Seeking Alpha). I have no business relationship with any company whose stock is mentioned in this article.
Seeking Alpha's Disclosure: Past performance is no guarantee of future results. No recommendation or advice is being given as to whether any investment is suitable for a particular investor. Any views or opinions expressed above may not reflect those of Seeking Alpha as a whole. Seeking Alpha is not a licensed securities dealer, broker or US investment adviser or investment bank. Our analysts are third party authors that include both professional investors and individual investors who may not be licensed or certified by any institute or regulatory body.