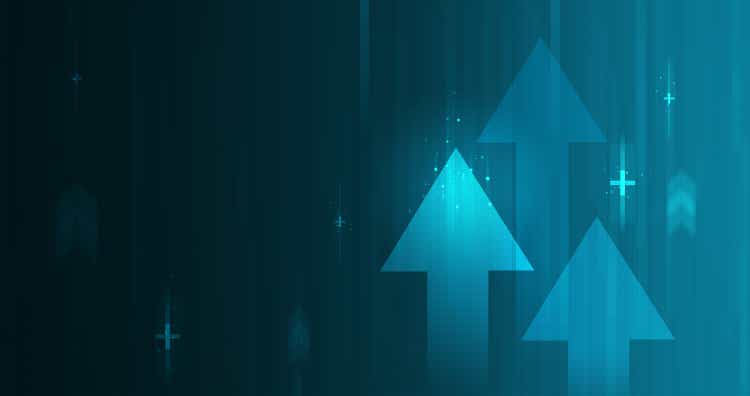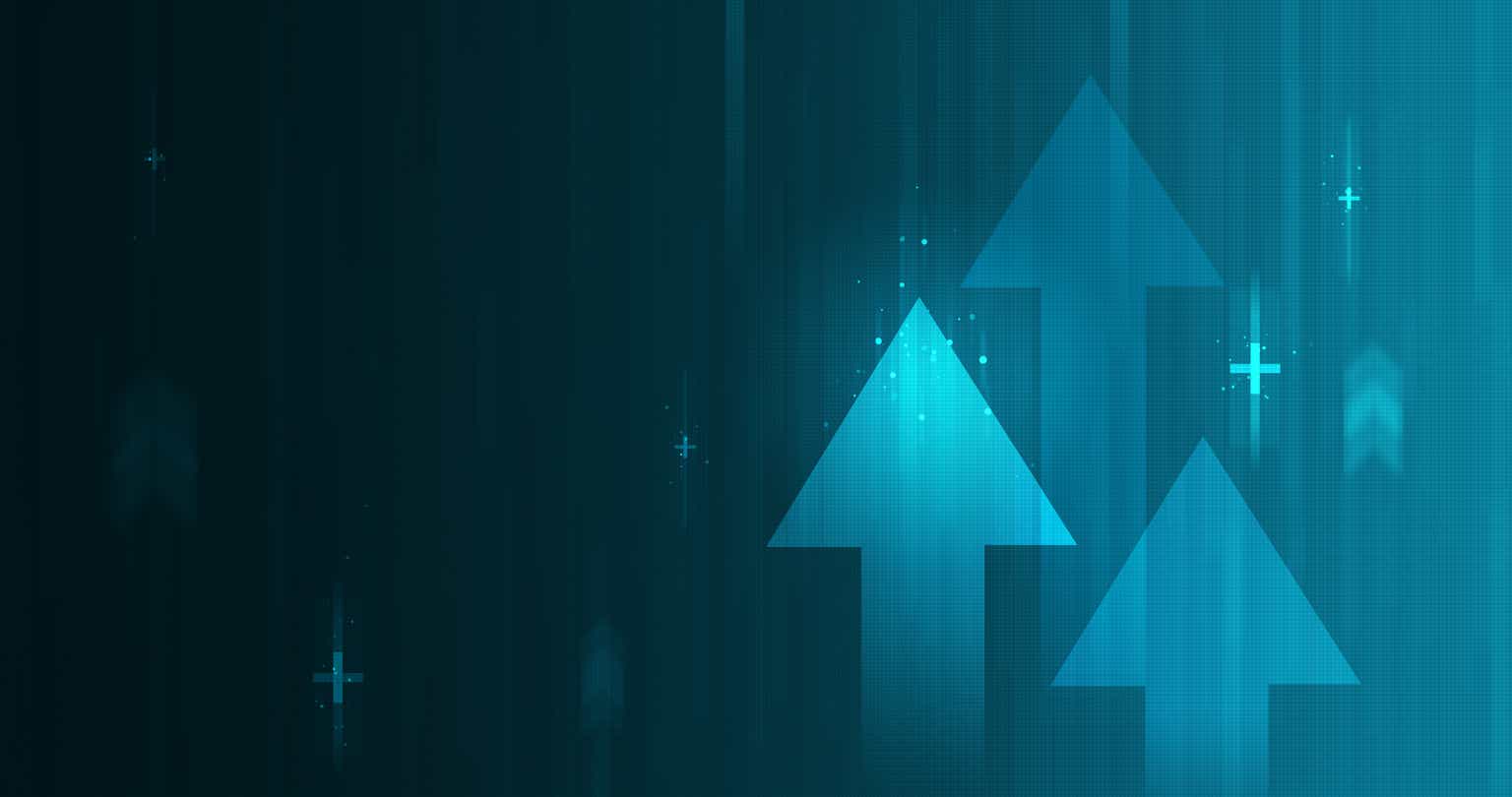 Written by Nick Ackerman, co-produced by Stanford Chemist
Blackstone Strategic Credit Fund (NYSE:BGB) came up as one of the top candidates worth exploring in our previous senior loan fund screening piece. BGB had the highest distribution coverage of the whole list and still had a reasonable discount. Taking a further dive into the fund, it would appear that this is a solid fund that could be worth investing in. However, I would note that it is also highly leveraged.
The allure of investing in a senior loan fund at this time is to take advantage of future interest rate increases. As we've explored in our quarterly screening pieces, there has been a notable reduction in the average discounts. Some of that is because of anticipated rates moving higher. Admittedly, some is just the whole closed-end fund space narrowing its discounts throughout 2021 as well.
In that piece, we also noted that the rate hike could be coming sooner than we originally anticipated. This seems natural as the situation changes; the Fed's projections should change as well.
Since our last update, the most significant change is that 2022 could see a rate hike. Initially, it wasn't projected to occur until 2023. This has primarily been the result of a strong economy that has continued to rebound swiftly. Also, inflation being rather persistent certainly doesn't hurt either. However, it seems to be more of a supply chain issue. Inflation appears to be driven by bottlenecks in supply chains. A lack of employees further keeping these bottlenecks restrained. That is rather than actual demand being strong.
BGB has an investment objective to "seek high current income, with a secondary objective to seek preservation of capital, consistent with its primary goal of high current income."
To achieve this, the fund will; "invest primarily in a diversified portfolio of loans and other fixed-income instruments predominantly US Corporate issuers, including first- and second-lien loans and high yield corporate bonds of varying maturities."

(Source)
The fund has a term structure and "will dissolve on or about September 15th, 2027, absent shareholder approval to extend such term." This fund launched previous to the common provision to include a tender offer for all outstanding shares at 100% of NAV. Therefore, the wording here is slightly different in their prospectus than what we are familiar with as commonplace for funds launching these days.
Pursuant to the Agreement and Declaration of Trust, prior to the date of dissolution a majority of the Board of Trustees, with the approval of a majority of the outstanding voting securities entitled to vote (as defined in the Investment Company Act), may extend the life of the Fund. If approved the dissolution date of the Fund may be extended by a period of two years or such shorter time as may be determined. However, the dissolution date of the Fund may be extended an unlimited number of times with the approval of a majority of the Board of Trustees and a majority of the outstanding voting securities of the Fund. In determining whether to extend the dissolution date of the Fund, the Board of Trustees may consider the inability to sell the Fund's assets in a time frame consistent with dissolution due to lack of market liquidity or other extenuating circumstances. Additionally, the Board of Trustees may determine that market conditions are such that it is reasonable to believe that, with an extension, the Fund's remaining assets will appreciate by an amount that is meaningful relative to the cost and expense of continuing the operation of the Fund.
The fund's term date can be extended an unlimited number of times. That is as long as shareholders continue to vote for two-year extensions. The positive here is that it looks like it all requires shareholders' approval.
The fund has total managed assets of over $1.029 billion. However, a large portion of that is leverage. They have net assets of $656 million. That puts the leverage ratio at around 36.38%. The expense ratio is also quite high for this fund, at 2.81%. Though that also appears to be including interest expense on the high amount of leverage.
Performance - Stacking Up Against Other Top Candidates
Along with BGB, BlackRock Floating Rate Inc Strategies (FRA) and Apollo Senior Floating Rate Fund (AFT) were also top candidates worth exploring. Looking back at the performances between these funds shows that BGB has been the winner thus far. However, this is for some distinct reasons.
I think the first is that leverage is playing a big role here. BGB carries higher leverage than the others, with FRA at ~29% and AFT at ~33%. They still carry higher leverage relative to the equity CEFs, but still lower than BGB's current leverage. The reason for this is the assumption that these funds should be less volatile than equity holdings.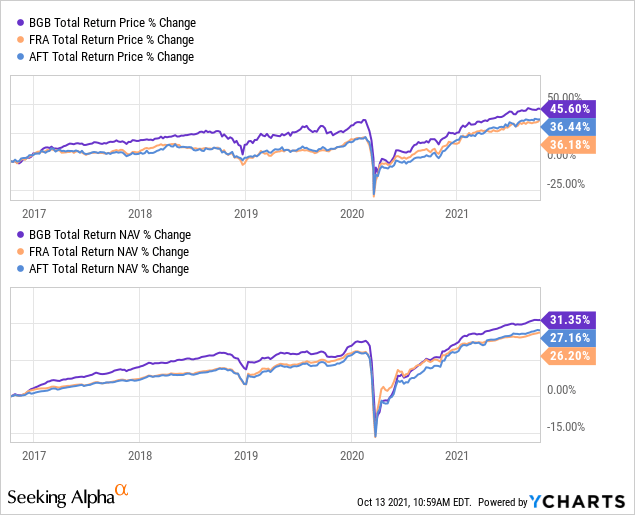 The second reason could be that FRA and AFT are more "pure" in their exposure to senior loans. BGB also incorporated a small allocation to high-yield bonds. In the low-interest-rate environment, high-yield bonds have delivered better returns.
We can see that when we look at two other ETFs for measuring the performance. We have iShares iBoxx High Yield Corporate Bond ETF (HYG) and SPDR Blackstone Senior Loan ETF (SRLN) to compare these areas of investments. HYG, of course, represents the high yield space and SRLN provides the proxy for senior loan performance.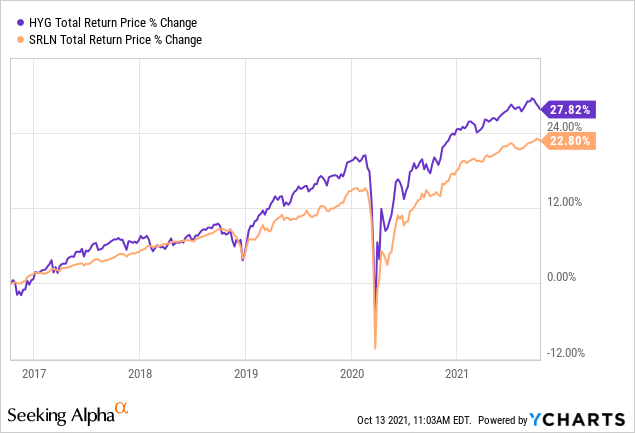 Despite the higher leverage, BGB held up better than FRA and AFT during 2020's March collapse. The charts below show performances between the funds. The dates are from peak to trough of last year's sell-off; February 19th, 2020, to March 23rd, 2020.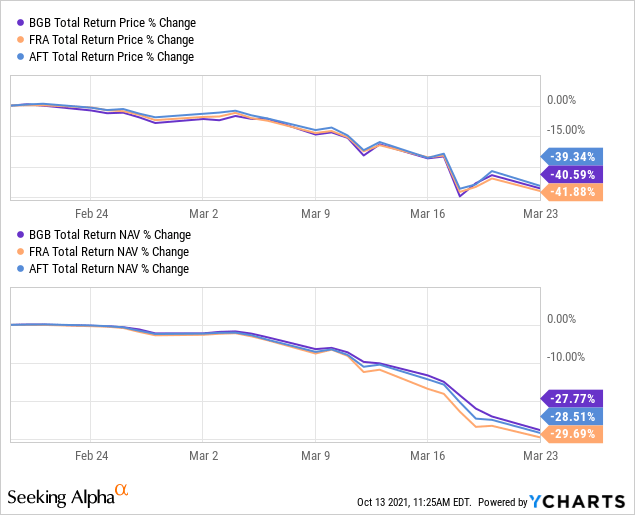 They provide a blended benchmark that might be a better representation of their actual exposures. In this case, they have beat or come nearly right at the benchmark on a NAV basis. The market returns have slipped on an inception to date basis because of the discount that has opened up since the fund launched.

Taking a look at BGB's discount of 4.58%. It isn't exceptionally deep relative to its own historical trading range. However, relatively speaking, it was one of the best deals in the senior loan fund space. As interest rates are set to rise, I suspect that the discount will be reduced as well. One of the best times to invest would have been in 2020. Though at that time, almost everything was a great deal.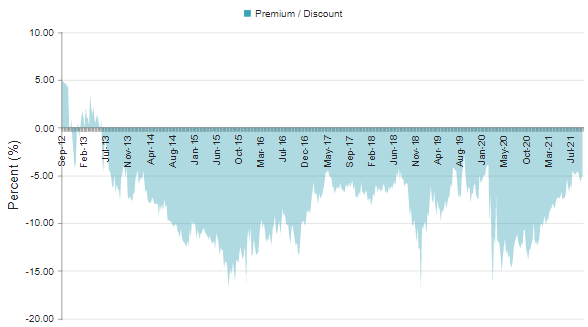 (Source - CEFConnect)
Distribution - Fully Covered 6.19% Distribution Yield
There aren't many funds that showed as covering their distribution through net investment income [NII] in the senior loan space or even in the broader fixed-income/debt space. For BGB, they are well covered at their current 6.19% distribution yield. On a NAV basis, this works out to a 5.88% distribution rate.
When rates were slashed last year, they were cut quite aggressively. However, they also boosted a small bit earlier in 2021 already. I suspect there will be higher distributions ahead. That is just another catalyst to push the fund higher potentially as well.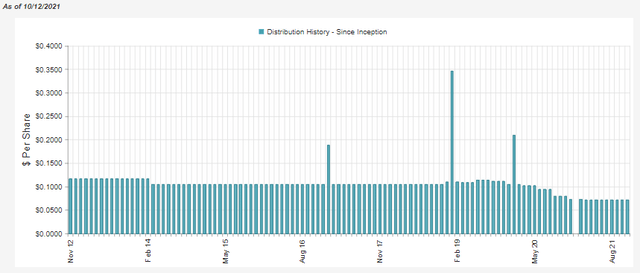 (Source - CEFConnect)
The NII coverage was also quite an improvement from a relatively higher distribution coverage last year too. NII coverage came to 137.8% for the last 6 months ended June 30th, 2021. Up considerably from the 98.37% NII distribution coverage they had previously.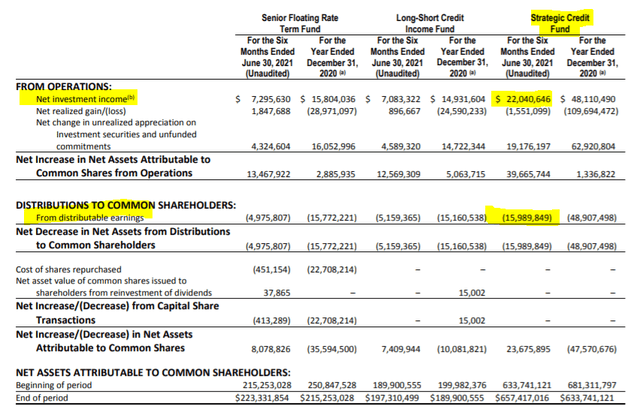 (Source - Semi-Annual Report, highlights from author)
Of course, the bulk of this came from the reduction of the distribution. It significantly reduced what the fund was paying out from one period to the next. At the same time, NII actually dropped as would be expected. Their fiscal year-end lines up with calendar year-end. That means they had roughly three months where they were reporting that had higher interest rates.
Taking a quick look at the tax character of these distributions, they should be mostly classified as ordinary income, as is the case with most loan/debt-focused funds. That means holding in a tax-sheltered account more logical.

(Source - Semi-Annual Report, highlights from author)
BGB's Portfolio
Taking a look at their latest monthly update, we can see the breakdown of the portfolio. The data is as of July 31st, 2021. They note that 85% of the portfolio is invested in floating rate debt. Of course, that's the exact focus of why we are looking at this fund in the first place. To take advantage of higher yields that will come from higher interest rates.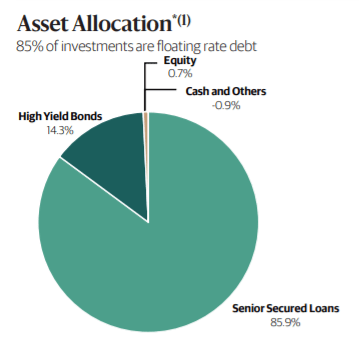 (Source - Monthly Update)
For those familiar with senior loans, they are non-investment-grade or "junk" rated companies. Of course, that's just similar to high yield bonds which are also non-investment-grade. What's typically better about senior loans is that they are safer than the bonds since they sit higher in the capital stack in the event of a liquidation.
For BGB, they shared that the bulk of their holdings are sitting in B2 Moody ratings.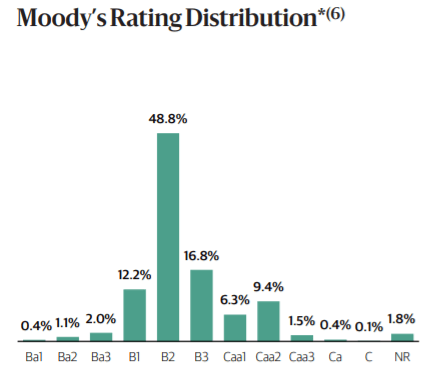 (Source - Monthly Update)
From the breakdown of their scale, we can see that this is well into non-investment-grade. Putting it several notches below investment grade. In fact, some of their exposure is to Caa, which is "very high credit risk." Once you get into CA, you are in "likely in, or very near, default." Then below that, which is only a tiny portion of BGB's portfolio, is C, which is in "default, with little prospect for recovery of principal and interest."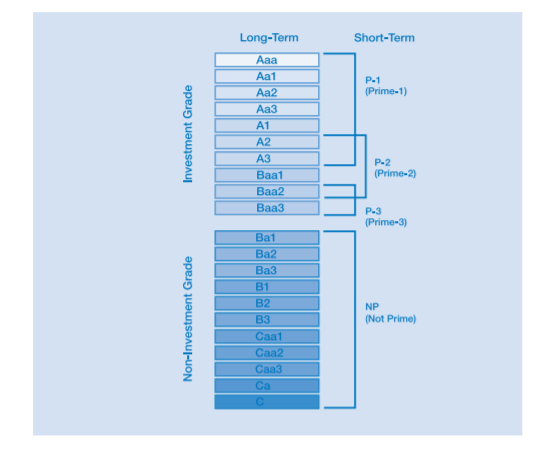 (Source - Moody's)
That means that BGB's portfolio is quite economically sensitive. That's not typically too much of a surprise for investors who are familiar with senior loan funds. However, it could be a bit of a surprise for newer investors that might not be as comfortable with such risks.
To help spread out those risks is the fact that they hold 349 positions. They don't just diversify across a large number of holdings either. They diversify further through different sector exposure. Though the data here is even older, the last quarterly update provided was as of June 30th, 2021. At the same time, the 349 holdings were as of August 31st, 2021.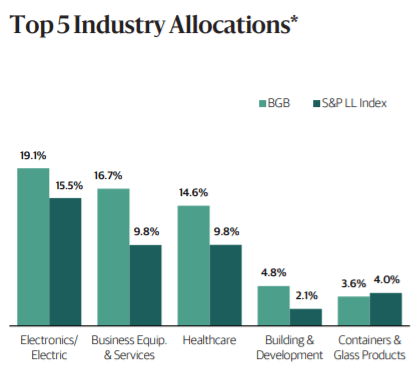 (Source - Quarterly Fact Sheet)
Conclusion
BGB is a top candidate that is worth exploring for exposure to senior loan funds. The senior loan fund space should benefit from increased interest rates in the future. BGB is an excellent candidate due to its incredibly high distribution coverage. I believe that further increases in the distribution should come in the future. That should work on reducing the fund's discount even further.
On the other hand, those that are risk-averse may not find the fund's high leverage attractive. Additionally, the portfolio is extremely economically sensitive, with its portfolio well within "junk" credit rating. However, that isn't too much of a surprise for investors familiar with senior loan funds in the first place.