Amazon (NASDAQ:AMZN) has been dead money now since September 2020, with shares falling 1.5% vs. an S&P 500 that has climbed by 30.3%. The stock's struggles only seem to worsen, with the company missing analyst estimates for the third quarter and guiding fourth quarter revenue below expectations.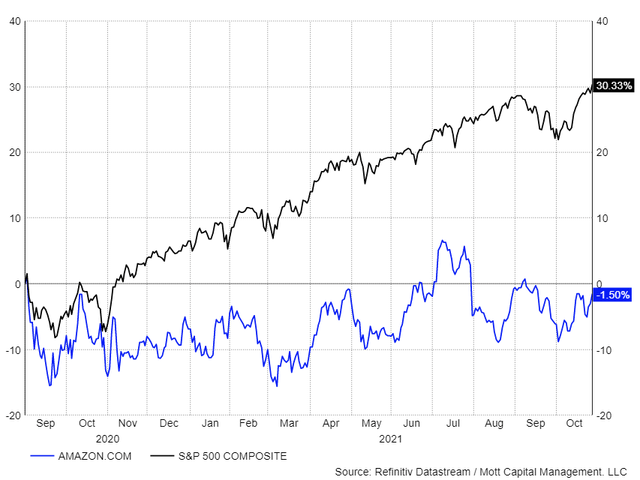 Thank goodness that Amazon Web Services didn't go the way of IBM (IBM) and deliver disappointing results. After all, both cloud services offer similar services, from domain name registration and web hosting to blockchain and storage. The quarter would have been a disaster if not for AWS coming within the consensus analyst's estimate range. AWS reported revenue of $16.110 billion, in line with the consensus analysts range of $14.907 billion to $16.125 billion, based on data from Refinitiv.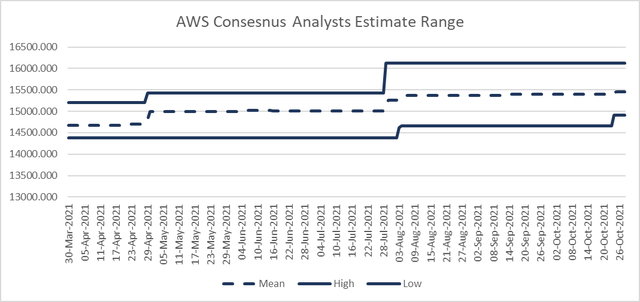 (Data from Refintiv)
AWS operating incoming was $4.8 billion and was the only thing that kept the overall company operating income from turning negative. That pushed AWS's operating income to 100% of the company's total operating income for the first time in years.

(Data from Refintiv)
AWS' Struggles
But even AWS is struggling because its operating margins have been stuck in a range of 28% to 30% over the past two years. Those AWS margins will need to expand even further, especially now that Amazon will need to depend on AWS even more as the overall business sees slowing growth and higher cost.
The fact that AWS operating margins have been range bound for so long suggests that AWS must be spending an awful lot to fend off the completion from IBM, Google (GOOG) (GOOGL), and Microsoft (MSFT) to hold up that topline revenue growth. If AWS needs to increase profitability and boost margin higher, then overall AWS revenue growth could suffer.

What makes matters worse for Amazon is that free cash flow from operations is still declining to $54.7 on a trailing twelve-month basis from $59.5 billion, its second straight quarter of declines.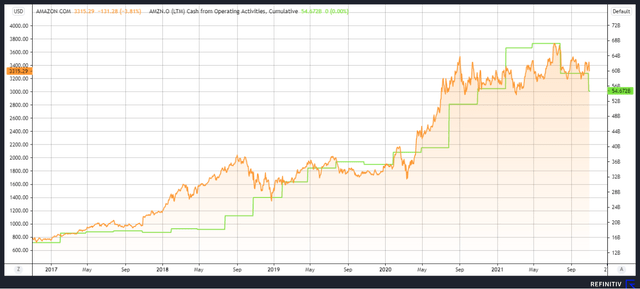 (Refinitiv)
AMZN's Valuation Needs To Drop
It leaves the stock trading at nearly 32 times its free cash flow from operations, and with free cash flow falling, it's likely to lead to that multiple contracting further. Historically, the stock had gotten a boost when free cash flow was rising. It's clear after two straight quarters, the equity should no longer be seeing that multiple rise, resulting in that multiple falling over time. A return to the lower end of the range of around 25 times free cash flow, the stock's market cap should trade for about $1.36 trillion, which is 21% lower than its closing value on October 28. That would value the stock price around $2,725.
Technical Suggest Much Lower Prices
The stock is finding support on Oct. 29, around $3,300 for now, but that level is not likely to hold for long. Since July, the relative strength index has been trending lower and has a long way to drop until the shares reach oversold conditions again, hitting 30. Additionally, there's a bearish pattern technical pattern called a descending triangle, with a significant and critical support level at $3,200. Once that breaks, which the pattern and RSI suggest it should, the shares could easily slump to $3,000 over the short term.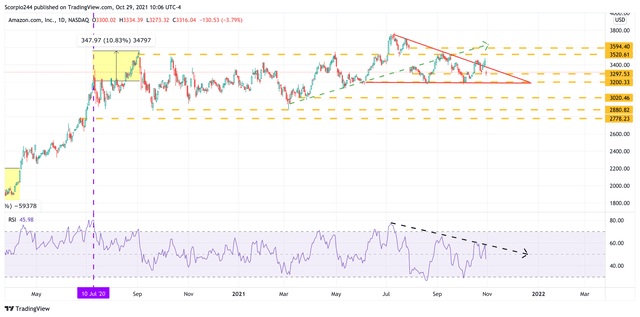 With Amazon providing disappointing revenue guidance, analysts now see revenue in the fourth quarter decelerating to 10.7% from 15.3% in the third quarter. If revenue grows at that pace, it would be the slowest growth rate from the company since at least the first quarter of 2018 on a year-over-year basis. With slowing growth, rising cost, and declining free cash flow, this stock is likely to be dead money for the foreseeable future.
Investing today is more complex than ever. With stocks rising and falling on very little news while doing the opposite of what seems logical. Reading the Markets helps readers cut through all the noise delivering stock ideas and market updates, looking for opportunities.
We use a repeated and detailed process of watching the fundamental trends, technical charts, and options trading data. The process helps isolate and determine where a stock, sector, or market may be heading over various time frames.