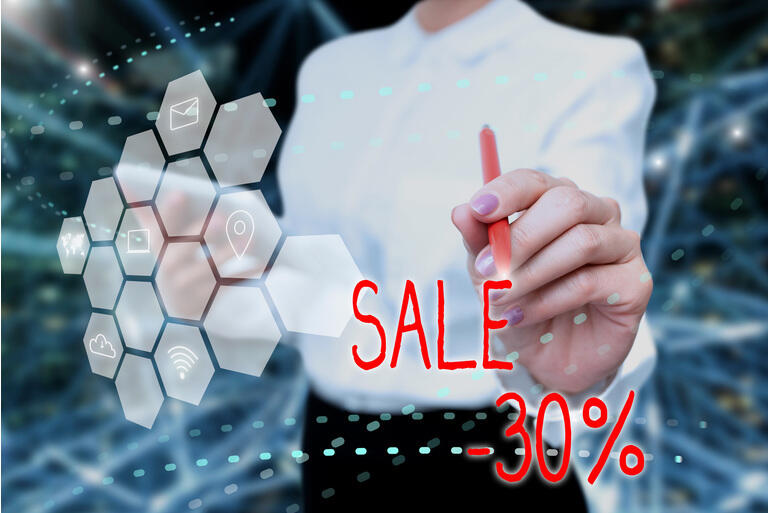 Introduction and Review
For potential investors who would like insight into Revance Therapeutics (NASDAQ:RVNC) leading up to August 15th 2021, please view my most recent article here.
As many investors in Revance Therapeutics are aware, the company received what some think could be the kiss of death on Friday October 15th after close. The company announced that it had received a complete response letter (CRL) from the FDA. This was notification that its current biologics license application (BLA) would not be approved due to "deficiencies found during an FDA inspection at the company's manufacturing facility". The sequence of events was baffling to say the least. Recall on the most recent Q2 conference call, CEO Mark Foley said the company was expecting FDA approval before year end and was starting to build inventory in anticipation of this approval. Mr. Foley also commented on the delay from the pandemic saying "We've taken advantage of this time to keep up sort of our readiness for the inspection and continue to advance our commercial preparation plans". The date of that earnings call was August 5th 2021, which is extremely important to remember when reviewing the timeline of events. Clearly, the company wasn't prepared, but investors and analysts alike thought the company would pass the facilities inspection and roll out an industry disrupting drug. As a result of this, analysts placed an average price target of $39 on the stock, seeing significant upside.
Fast forward to the afternoon of October 12th, 2021, and the share price was falling off a cliff as a result of a partially redacted 483 that went public. A 483 is simply a form that the FDA uses to communicate its concerns with the company which in this case referred specifically to Revance's facility inspection. While many analysts have pointed out that 483's are not uncommon, the verbiage in this 483 was particularly concerning. Additionally, the date that this report was sent to RVNC COO Abhay Joshi was 07/02/2021, one full month before the earnings call referenced above. So the company did have knowledge of the FDA's concerns before making the statements they did in the earnings call.
The first and most important issue raised in the 483 was the release and stability testing methods used in cell bank testing were not sufficient to monitor quality and shelf-life of the working cell bank (WCB). Subsequently, lots from this WCB needed to be rejected. A new WCB was initiated in May of 2021 but that bank had not yet been fully qualified. It appears that the company was already aware of this shortcoming and had a new WCB in process as this update was initiated on 05/05/2021 which pre-dated the facilities inspection. The image below may help readers understand the process of manufacturing and where this specific issue lies in the process.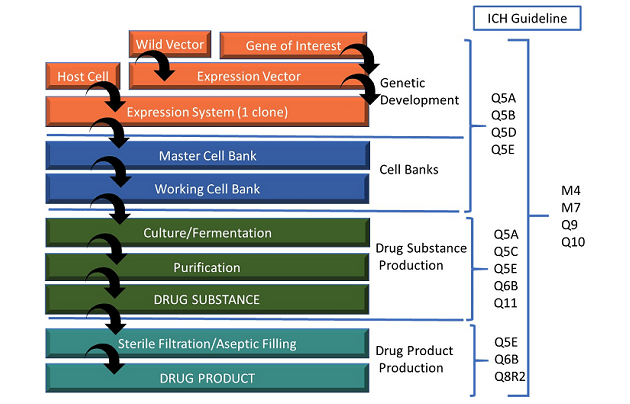 Courtesy of Outsourced Pharma
Anyone who is interested in really trying to understand what went wrong should read this article from Outsourced Pharma. As stated in the article, it's becoming more popular for biotech companies to outsource to a contract manufacturing organization (CMO). This is something that Revance agreed to do when it hired Aji Bio-Pharma to handle both the supply and the manufacturing of DAXI. The agreement was set forth on December 20th, 2020. Much of corrective and preventative actions (CAPA) that were noted by the inspector had to do with lack of control strategies which would be defined as ICH Q10 in the above International Council for Harmonisation of Technical Requirements for Pharmaceuticals for Human Use (ICH) guidelines. This was specifically noted in the 483 where the investigators found that the actual yield and theoretical yield, indicators of process performance, are not determined at the conclusion of each appropriate phase of manufacturing. In addition to proper control procedures not being in place at various points in the manufacturing process, many of the control procedures were not in writing. The investigator also noted that the manufacturing process observed in the facility was not the one that was proposed for licensure. Specifically, the manufacturing process for the recently developed Drug substance (DS) batch.
Ultimately, these issues seemed to be something that could be remedied in relatively short order. With the findings of the 483 being sent to the COO on July 2nd, I thought it was entirely possible that RVNC could have made changes to satisfy the investigator's observations. In fact, upon public release of the 483, the firm swiftly posted a response claiming that they continued to anticipate FDA approval of DaxibotulinumtoxinA for injection for the treatment of glabellar lines in 2021. In the press release, the company did not claim to have made any changes directly, only that they sent the FDA their response to the 483 in July after the pre-approval inspection. Numerous analysts noted after the 483 was released that they had spoken with representatives of the company and they had been reassured that the company had responded sufficiently. Even Vamil Divan MD, MBA who is a senior research analyst at Mizuho put out a note claiming that the issues in the 483 must have been easily addressable and he was confident of approval in 2021.
It's likely we'll never really know why Revance didn't disclose the risks of a delay to shareholders. I'm hoping an analyst on the next conference call will try to get more information out of management. What I do know is that I lost a decent amount of money on paper as a result of this debacle, and I needed to figure out whether or not I was still a believer in Revance Therapeutics.
Valuation Based on a Variety of Delays
Ultimately I do think Daxi for glabellar lines will get approved, but the question is really how long the time frame is for approval. The company's request for an immediate type-a meeting is a sign that no additional data is needed and the deviation in the manufacturing process observed relative to the one proposed in the BLA is fixable without any sort of validation study. The FDA will give the company information on exactly what needs to be fixed in order to obtain approval. Once these changes are made, the company will either make a class 1 resubmission which carries a 2 month review period or a Class 2 resubmission which carries a 6 month review period from the FDA receipt date. I would anticipate another facilities inspection is required and that would mean a class 2 resubmission is likely.
In my 10 year DCF analysis of Revance Therapeutics I modified my previous model to account for delays of 9, 18, and 24 months. These 3 scenarios are what I view as the best case, most likely and worst case scenarios. I also generated high and low estimates for each scenario based on minimum and maximum dilution expected by the final year of the model (2031). I am using a WACC of 9.75% and using an EV/EBITDA exit multiple of 11.9, which was the value placed on Allergan at the AbbVie (ABBV) buyout. I assume a 5% increase in SG&A annually as well as a 3% growth rate used in the exit multiple.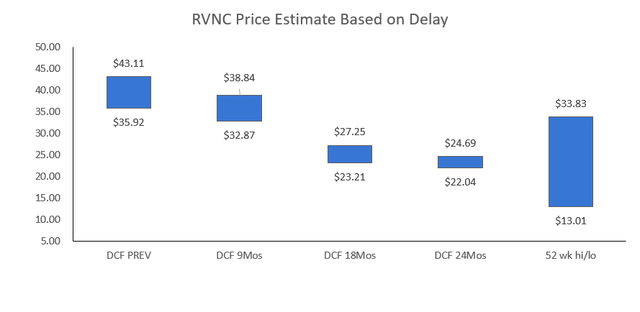 (Author's own work)
The 9 month model predicts that sales are just pushed out 9 months and sales of future indications remain intact. Essentially, we just apply a larger discount to what would have been the first 9 months of cash flows. I assume in this model that RVNC loses no customer accounts as a result of the delay. The 9 month price targets represent a terminal share count of 110m shares and 130m shares at the high and low estimates respectively.
The 18 month model represents the most likely scenario and we see a significant discount to the initial expected cash flows from DAXI in glabellar lines. In this model, I lowered peak annual revenue estimates in year 2031 from $1.38b to $1.18b. I expect this lengthy of a delay will cause RVNC to lose customer accounts as well as delay Phase 3 trials for future indications. Expectations for the therapeutic use of DAXI as well as expected revenues from Revance's joint ventures with Viatris (VTRS) and Fosun (OTCPK:SFOSF) remain unchanged. In an ideal world I think that RVNC could remedy these issues in closer to 9 months, similarly to how Evolus (EOLS) was able to swiftly gain approval after receiving a similar CRL. However, the added delays factored into this valuation are due to an assumed backlog of pre-approval facilities inspections as a result of the Covid-19 pandemic. The High and Low price targets factor for a terminal share count of 115m and 135m respectively.
The 24 month delay model anticipates multiple setbacks and a significant reduction in future cash flow expectations. The only aspect of the business not affected by this model is the JV revenues expected. The High and Low price targets in this model factor for a terminal share count of 125m and 140m respectively.
Even after downgrading cash flows to account for a variety of scenarios, even our worst case scenario shows that shares are significantly undervalued at today's levels. Our worst case scenario shows that shares are trading at a discount of roughly 60% based on the current price at open on 10/27/2021 ($13.90/share).
Risks and Conclusions
The current valuation that investors are placing on the company is likely more than just disappointment from the CRL. I think management has done a massive disservice to investors and analysts alike by not disclosing the results of the 483 during their August conference call (or sooner). Even after analysts spoke with consultants and the company, we still saw bullish notes expecting approval. With an original PDUFA date of November 25th, 2020 it remains a mystery how management could fall so short on the protocols set forth for their manufacturing processes. Now, I think we will get a lot of color on the conference call next month, and hopefully some tough questions from analysts, but it appears to me that we need to take what management says with a grain of salt until we see changes being made. I think many investors expect CEO Mark Foley to explain his timely disposition of $1m of stock two days before the company announced it had received a CRL. I was shocked by this as well, but after doing some digging it appears Mr. Foley made a similarly sized disposition on the same exact date in 2020.

(Courtesy of NASDAQ)
We also need to take into account the risks posed by AbbVie in its recent patent infringement case filed against Revance. Analysts have largely brushed off the lawsuit's potential to matriculate into anything with substance. However, that doesn't mean that legal costs won't start to mount and eventually damage shareholder value. This is something I'll look to monitor closely.
I still view Revance Therapeutics' DAXI as a disruptive force in the aesthetics industry. Current investors need to step back and remember that this is a delay for 1 indication and the impressive safety and efficacy data is what will drive future sales. Unlike disappointing clinical trial results where I might want to cut my losses, I view this as a painful delay that investors will just need to stomach. Until we receive some clarity on resubmission I think the stock will remain trading with extreme volatility and I will look to add to my position to reduce my cost average.