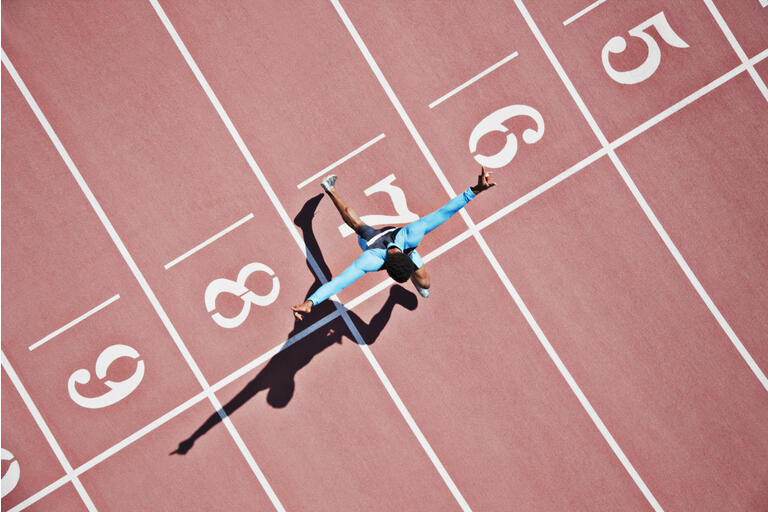 Investment Thesis
Fennec Pharmaceuticals (NASDAQ:FENC) is a $238m market cap biotech focused on a single therapy - Pedmark - a "unique formulation of sodium thiosulfate ("STS") for the prevention of ototoxicity induced by cisplatin chemotherapy in patients 1 month to <18 years of age with localized, non-metastatic, solid tumors" (description taken from Fennec Q221 10Q submission).
On Nov. 27, Fennec has a Prescription Drug Fee User Act ("PDUFA") date upcoming, when the FDA will rule on whether to approve Pedmark for commercial use.
This is the second time that Fennec has submitted a New Drug Application to the FDA for approval of Pedmark - in August last year, the first was rejected by the agency, on account of deficiencies identified at the STS manufacturing plant used by the company, which resulted in a Complete Response Letter ("CRL") and a Form 483 - a list of conditions or practices that need to be addressed prior to the approval of the agent.
Given that no safety or efficacy issues were identified by the FDA first time around, provided Fennec has successfully ironed out its manufacturing issues, the odds appear to lean toward an approval being granted this time.
Investors in Fennec have likely faced a frustrating wait, but now find themselves more or less in the same position they were ~15 months ago - with Fennec stock priced at ~$9, and a major potential near term upside catalyst in play.
The question is whether they will see a different outcome this time, and also whether a speculative investor could earn a good return on their investment by buying Fennec stock at the current price, and benefiting from a surge in Fennec's valuation as it progresses from a pre-revenue, to a commercial company.
In the rest of this post I will try to provide a little more color on Fennec, Pedmark, events leading up to the PDUFA date decision, some risks to consider, and whether Fennec may provide a good risk/reward profile.
Pedmark

- History, Target Market, and Clinical Trials

Tragically, in the US and Europe annually 10,000 children with solid tumor cancers are treated with platinum-based chemotherapy agents. More encouragingly, overall survival rates stand at >80% (according to research quoted by Fennec in its 10Q), but complications from therapy are common, including hearing loss.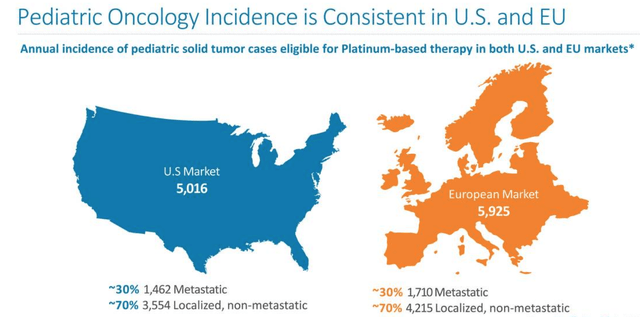 Prevalence of pediatric oncology in US and Europe. Source: Fennec June 2021 investor presentation.
Hearing loss, or ototoxicity, as a result of treatment with Cisplatin - sometimes referred to as the "Penicillin of chemotherapy" due to its extensive use a platinum based chemotherapy is relatively common, and can have a severely detrimental effect on a child's future quality of life, as the study below indicates.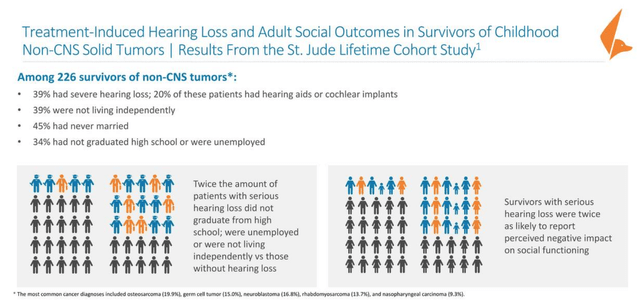 Study evaluating adult social outcomes of survivors of childhood cancer who experienced hearing loss. Slide taken from Fennec investor presentation.
Hearing loss in children has been associated with declines in cognition and educational performance, and ototoxicity can occur in a treatment cycle with Cisplatin, but no preventative solutions have been forthcoming, with physician intervention generally occurring when it is too late to reverse the condition. Hearing aids, cochlear implants, and speech rehabilitation are the most common responses to the problem.
Pedmark

Mechanism of Action
Cisplatin tends to do the bulk of its work in the first two hours after administration, and most organs are able to clear the drug out, but it can often remain in the cochlear, where it damages hair cells, causing permanent hearing damage.
Sodium thiosulfate ("STS") can inhibit oxidative stress caused by Cisplatin, which the cochlear is acutely sensitive to, and which causes ototoxicity, and is administered six hours after Cisplatin, to reduce levels of unbound Cisplatin.
Clinical Trials
Fennec licenses the IP for PEDMARK from Oregon Health and Science University ("OHSU"), and has put the drug through two major late stage trials - a Proof of Concept study, COG ACCL0431, and a pivotal study, SIOPEL 6.
The COG ACCL0431 study enrolled 61 patients in the Cisplatin + STS arm, and 64 in the control arm, all under the age of 18, with a variety of cancers, including hepatoblastoma, neuroblastoma, and osteosarcoma, roughly split between localised or disseminated disease.
The study met its primary endpoint of a statistically significant reduction in the number of patients who suffered hearing loss, as shown below.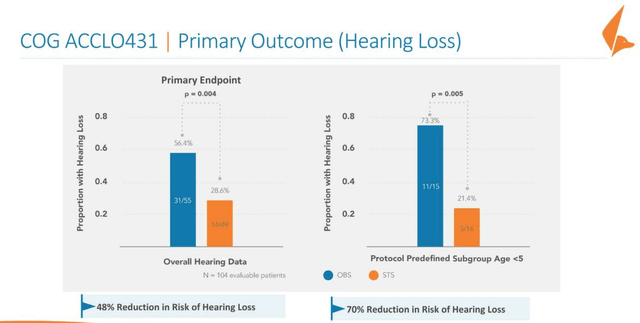 Pedmark meets primary endpoint in COG ACCLO431 study. Source: Fennec investor presentation.
The proportion of hearing loss for STS vs. Control was 28.6% (14/49) vs. 56.4% (31/55), respectively - a statistically significant improvement (p=0.004), and results amongst a population of children under the age of 5 were even more pronounced - p=0.005.
The COG ACCLO431 trial began in March 2008, which gives an indication as to how patient both Fennec's management team - led by CEO and Director Rostislav Raykov, who has been with the company since 2009, and its investors have had to be. Fennec only uplisted to the Nasdaq in 2017, formerly trading on the OTCQB Marketplace since January 2009.
The second trial, SIOPEL 6, was initiated even earlier, in 2007, in collaboration with the International Childhood Liver Tumour Strategy Group ("SIOPEL") - a part of the International Society of Pediatric Oncology - to "investigate whether STS reduces hearing loss in standard risk hepatoblastoma (liver) cancer patients receiving cisplatin as a monotherapy."
The study was funded by SIOPEL, with Fennec providing the drug product, with the following criteria: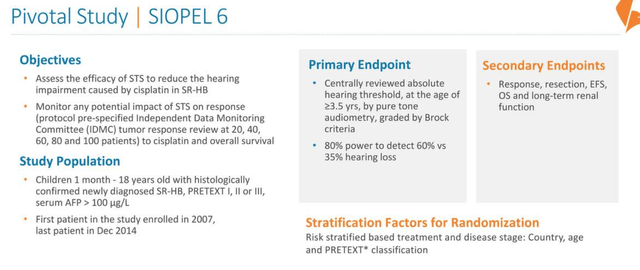 SIOPEL 6 pivotal trial overview. Source: Fennec investor presentation.
109 patients were randomized to either Cisplatin, or Cisplatin + STS, and overall, consistent with the POC study, a 48% decrease in the risk of hearing loss was observed, with 29 of 46 (63%) of patients using CIS only suffering from hearing loss, versus only 18 of 55 (32.7%) in the Cisplatin plus STS arm.
That certainly seems encouraging, and it's worth remembering that the FDA did not declare any issues with any of Fennec's data when rejecting its NDA last year - it was a Chemistry, Manufacturing and Control ("CMC") issues that resulted in the rejection, and traditionally, these types of issues are resolvable, whereas a safety or an efficacy fail often spells the end of a drug development process.
Market and Competition
One of my first thoughts after initially looking into Fennec as an investment opportunity was why was there not more competition in this space, given the urgent unmet need, and target market size.
I came across an analyst note from 2017 that pegged peak sales >$400m, and the current consensus analyst target price for Fennec stock (based on 3 broker estimates) is $12, representing a 33% premium to current price.
Other peak sales estimates are lower - a 2018 estimate from Wedbush forecasted peak EU and US sales of ~$225m - besides the FDA, Fennec has submitted its marketing application to the European Medicine Agency ("EMA"), under the brand name
A prior Seeking Alpha note on Fennec claims that analysts have estimated a $75,000 list price for Pedmark, and if we assume that Fennec could grow its share of a 10k per annum patient market from 10% in year 1 after launch, to 40% by year 5, we can estimate peak sales of ~$300k, for revenue per share (based on current share count of 26m) of $11.5, and a price to sales ratio of <1, which would imply substantial share price accretion potential. Using some very basic discounted cash flow analysis based on the above, I calculate an optimistic, but not necessarily unrealistic present day firm value of ~$550m, or ~$20 per share.
In terms of why Fennec has apparently no competitors in its sector, I can only assume the Orphan Drug Designation awarded by the FDA - which confers 7.5 years of sales exclusivity post-approval - is a major deterrent, and that there are no other therapies with a similarly mollifying effect on Cisplatin in the cochlear area as yet discovered.
As such, the outlook does seem quite promising for Fennec. Its failure to win approval one year ago has not seen the company overtaken in its development race, and the unmet need is as high as ever. Fennec has had a year to iron out any manufacturing issues and knows that the FDA does not need to see any further trial data prior to approving the drug.
Approval and eventual commercialization is the most likely outcome based on my research, however, it's always a good idea to consider some risks before opening any position.
Some Risks To Consider In Relation To Fennec
It has to be said that Fennec's development of Pedmark has taken some considerable time, although that is in many ways understandable given the long-term data - including 52-month follow up data from the SIOPEL 6 study.
Again, that makes me wonder why no other biotech or pharma has attempted to beat Fennec to the punch, and develop its own version of a drug that answers an unmet need and appears to have an attractive market opportunity.
An associated concern is related to safety. I note a quote taken from Fennec's investor presentation from Key Opinion Leaders related to safety concerns.
The use of sodium thiosulfate in patients with disseminated disease may affect survival, and caution is warranted in that context.
It may be possible that concerns around the effect Pedmark could have on metastasised cancers could dissuade physicians from using it, which would restrict PEDMARK's addressable market. A more severe outcome would be a reluctance to prescribe even to patients with localised disease, in case of subsequent spread, or an adverse safety event in a real-world setting.
Having said that, the two pivotal studies did not appear to affect Overall or Event Free Survival in patients in any significant way, based on the safety data readouts , for example as shown below.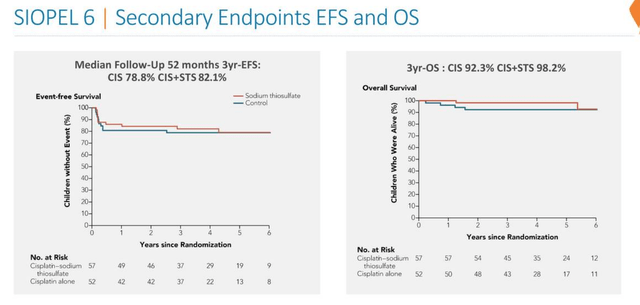 SIPOPEL 6 study secondary safety endpoints. Source: Fennec investor presentation.
Financing is another potential problem for Fennec. The company reported a cash position of ~$27m as of Q221, and a net loss for the quarter of $4m. Expenses are likely to mount rapidly if Pedmark is approved, and if it's rejected for a second time, it's questionable if investors will be prepared to wait much longer for a return on their investment, and a sell off is the most likely outcome. An approval ought to send Fennec's share price soaring, but the company will need to quickly raise funds for commercialisation, so shareholder dilution is likely, impacting shareholder gains.
Fennec has no experience of commercialization as a company, although Chairman of its Board of Directors, Dr. Khalid Islam, has 30 years' biotech experience, and once took a small biotech, Gentium, from a $25m valuation to a $1bn acquisition by Jazz Pharmaceuticals (JAZZ). It's clear that Fennec will have to invest heavily in sales staff, marketing, awareness campaigns, etc. if PEDMARK is approved, but at least there's a steady hand on the tiller, and Islam's presence makes an acquisition by a larger Pharma concern at a substantial premium to current price all the more likely.
Finally, there's significant single-asset risk attached to Fennec - which is named after the Fennec fox, whose "abnormally large ears help it navigate high temperature and low water environments characteristic of its native Sahara Desert," according to Triangle Business Journal. If Pedmark does not succeed for any reason, then there's little or nothing of value in Fennec's pipeline, and the company could even be wound down if the FDA finds a reason to deny approval for a second time, in my view.
Conclusion
Fennec's PEDMARK Approval Ought To Be A Fitting End To A Long Journey and A Reward For Investors, But There Are No Riskless Investments In Biotech
Since 2017, Fennec's share price has generally trended between a price of $4 and $10, and is currently available at a price of ~$9. Those who have held the stock since it was priced <$2 in 2016 will feel well satisfied with the gains already made, but investors who have bought at a higher price may feel somewhat nervous as the PDUFA date for Pedmark approaches.
Reviewing the investment case, however, I would be slightly confident that, based on the available evidence at least, PEDMARK's time has come and it will be approved, causing a significant share price uplift - I would think into the $15-$20 share price range.
It may not last, however, if physicians are unaware of the therapy, or worse still, if any safety concerns do surface. With seven years of patent exclusivity, Fennec has some time to get things right on the commercial front, and overall, the evidence that I have found does appear to support a bull case for Fennec stock.