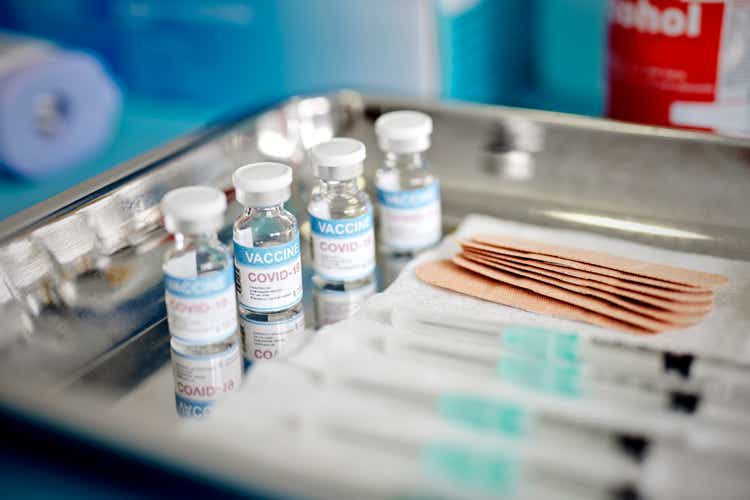 In investing, any time there is a major gap between popular perception and reality, a good buying opportunity often exists, and sometimes even a great one. Right now, there are three major informational gaps of this type related to Novavax (NASDAQ:NASDAQ:NVAX), making for a tremendous buying opportunity. Overall, it is one of the best I've seen in recent years. A few past articles I've written at Seeking Alpha have been followed by gains of 500% to 1,000%, as you can see here and here. While this gain likely won't be quite that high, it's still top-notch and I think it will likely end up being among the top 10 gainers that the majority of investors have in their investing lives.
This is due to a positively dynamite mix of high production capacity that's growing even higher (from 1.8 billion per year to 2.4 billion), existing orders of about 2 billion doses, the highest efficacy vaccine with the least side effects, a flood of Emergency Use Authorization (EUA) filings on the horizon, strong profit margins and low expectations, which have been created in good measure by inaccurate media reports.
The reality is far better than the popular perception created by inaccurate, gloomy media stories
While there have been many inaccurate media reports about Novavax in the last half year, an article recently published by Politico took the cake for the percentage of inaccuracies per paragraph. It also did the most damage by far. It resulted in the share price of Novavax dropping by more than 20%. It has significantly contributed to an information gap in which the reality is far better than the gloomy media perception.
Politico painted a picture of a company that is supposedly unable to make a quality, safe vaccine at its facilities around the world, isn't able to file for EUAs and that likely won't receive a EUA until far into 2022. The article used anonymous sources but gave almost no idea of what type of sources they were or how much access they truly had. The Columbia Journalism Review, a media watchdog, says this is the most unreliable kind of source, and is "Sourcing that tells you nothing."
It's one thing to have an occasional error. It's entirely different for most of an article to be inaccurate. The ramifications of this were felt by the company and investors with a large drop in the share price. While I far prefer high quality journalism, their pain can be your gain, if you take action. This is because the reality is far better that the perception, and the reality will show up in the coming weeks and months in various ways including revenues and profits.
Several inaccurate or misleading items to debunk
Here are some of the most key things to make clear regarding the Politico claims. These points not only give investors the correct information, but many are also part of the bull case:
SII is by far the largest vaccine manufacturer in the world, and Takeda is the largest pharma company in all of Asia. SK Bioscience is Korea's largest vaccine company and part of the 3rd largest company in Korea, behind only Samsung and Hyundai, and in the 100 largest in the world. Politico gave a false impression that because Novavax recently transitioned from being developmental to being commercial, it can't produce large quantities. In fact, roughly 60% of it is being made by great partners with large amounts of experience and capabilities. The 40% Novavax is doing is made at a pre-existing factory in Europe it recently bought from SII. It came with 150 experienced, skilled people. They were picked, trained and managed by SII, a premier manufacturer.
The article incorrectly claimed the US generally requires all vaccines to have 90% purity. In reality, Cytiva, a large company that's an expert in purification of protein vaccines, clearly says on its website that for mass spectrometry vaccines, which include protein vaccines like Novavax's, they only need to be greater than 80%. Also, many flu vaccines only need to have 70% purity. Politico could have learned this with a simple Google search, but didn't bother. More proof that 90% isn't required is this slide from a Novavax presentation. The 2,000 liter batch it made for use in its U.S. phase 3 trial had purity of 80.8%, and is "within specifications."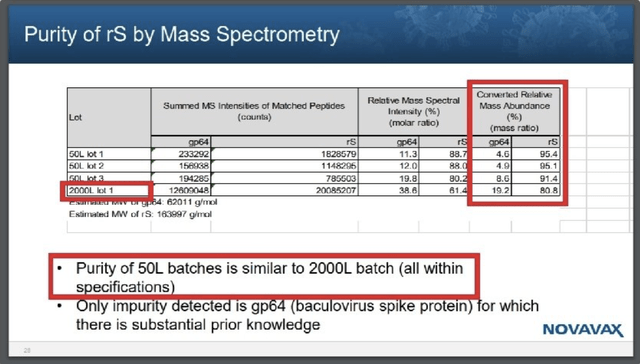 Source: Global Comparability/Characterization Strategy for NVX-CoV2373
Politico misled and created fear in investors by saying: "Low purity levels increase the chance that contaminants or unnecessary substances are in the final product, rendering the vaccine less effective or introducing the chance that patients could react to unknown ingredients." In fact, Cytiva's guide to purification says all vaccines have sizable amounts of unneeded impurities. It says those are fine if they are harmless and are less than 20%. Vaccines are grown in bioreactors, and naturally produce byproducts that are normally harmless. They're called impurities only because they're not the active ingredient. You remove enough until over 80% is the active ingredient.
The slide says the "only impurity detected is gp64 ... for which there is substantial prior knowledge." Gp64 is what is expected with the process used to make Novavax. Gp64 is well-known and proven to be harmless. If batches have unknown ingredients, they're not released for use. In all 4 batches, there is only Gp64 and the active ingredient, even when a batch has more Gp64. Also, the Novavax phase 3 batch had 19.8% impurity, but had the highest efficacy of any vaccine: it had 100% efficacy against the Wuhan strains, 92% against variants and 100% against moderate and severe infection from variants.
In August, SK Bioscience recognized revenues from the sale of Novavax doses to the government. This article explains it can only do that "if quality control standards are met." That includes purity. Novavax and SII have filed for EUAs in several countries and could only do this if they were producing high quality batches consistently. In September, Japan purchased 150 million Novavax doses, and the EU bought 200 million doses. The EU and Japan drug agencies receive rolling data submissions from Novavax as all new data occurs. They would not be placing $3 billion to $4 billion orders if the vaccine was having quality issues. Also, SK Bioscience increased their partnership with Novavax, not the opposite.
Analysts reiterate their buy recommendations and price targets
In the past few days, three Novavax analysts issued notes re-iterating their buy recommendations and price targets. This includes 5-star analyst Charles Duncan of Cantor Fitzgerald with a target of $272, 4-star analyst Mayank Mamtami of B Riley Financial with a target of $305, and Jefferies with a target of $250. Analyst notes can be very helpful if they have access to management and can provide us with updates.
Duncan met with management, and then said: "Novavax is past commercial scale-up activities and is finalizing the submissions for approval of use of its Covid vaccine." Duncan said the upcoming filings would end the debate about assays and commercial-scale production. In essence, he's saying that soon the accurate reality will replace the mistaken perception.
Jefferies said that Novavax's global partners such as Takeda (NYSE:TAK) (OTCPK:TKPHF) and SK Bioscience remain bullish on the vaccine based on comments by the two partners.
Production goals have been kept in the last half year, and now have increased dramatically
Some bears and shorts like to say that a major risk to Novavax is it has delayed its production targets repeatedly in the past several months. In fact, Novavax has not changed those in nearly 6 months. In early May, it guided to a run-rate of 100 million doses per month by the end of Q3 and 150 million per month by the end of Q4. It has not delayed that guidance. After it did the majority of the unpredictable technology transfer process with its partners last fall and early winter, it aimed to reach 150 million per month by mid-summer.
It changed its guidance due to a global shortage of vaccine supplies, a lot of which was caused by the U.S. use of the Defense Production Act that kept supplies from reaching other countries. This greatly benefited Pfizer, which had concentrated most of its production in the US, by funneling supplies to its large U.S. facilities. SII, which is producing about 40% of Novavax doses, said it could not manufacture the vaccine until the US changed its approach.
There was also a large general global supply shortage caused by the world trying to quadruple its vaccine output in less than a year. The DPA plus the general shortage also affected Novavax's other partners. News outlets now frequently refer to continual or numerous production delays. In fact, there was only one major delay of three months to the overall large-scale targets, and a smaller one of several weeks. The delay in reaching a 1.8 billion run rate was not the fault of Novavax, nor its partners.
Also, for going from a tiny company of 100 people with no manufacturing in May of 2020 to doing 1.8 billion per year, 19 months is a short time period and a very impressive feat. In fact, Endpoint News wrote in April that Novavax was attempting "to pull off one of the most herculean feats in the history of industry: to go from a little-known, barely solvent company with no approved products and no manufacturing facilities to a biotech that could annually churn out 2 billion doses of the world's most sought after product." Note they're referring to the history of all of industry, not just the medical industry.
You would think the media would cut this tiny biotech plenty of slack if it took longer than its own very ambitious goal of doing one of the greatest feats in the history of industry in just 14 months from the time it received its first moderate chunk of funding. Especially with a huge global supply shortage. Plus while it was also conducting 8 clinical trials with 50,000 people around the world, hiring and increasing its staff size by 1,000%, dealing with regulators in numerous countries and doing tech transfer to its partners.
Not only are they only two months away from accomplishing this incredible feat, but they're now slated to significantly exceed it. This Wednesday, a major new development occurred when the Novavax CEO Stanley Erck told Yahoo Finance that with capacity from SII coming online, Novavax will reach an annual run rate of as much as 2.4 billion per year in January. He said: "that partnership has really paid off. They've built capacity such that we can have as much as 200m doses a month produced starting in January, and we're ramping up to that level right now."
Also, while describing SII's current production of AstraZeneca doses, Erck also said SII is "switching their production to Novavax." This could be due to the fact that the AstraZeneca vaccine has weaker efficacy than Novavax, and its level of antibodies wanes several months sooner than Novavax's. This is so much the case that AstraZeneca's home country of the UK decided to not use it for boosters. SII is making about 170 million doses of AstraZeneca per month, so if it switches a lot of its production to Novavax, then the annual Novavax production levels would go dramatically higher than 2.4 billion doses per year.
All other Covid vaccine companies have had at least one sizable production delay, and some have had several, including Moderna (MRNA), Johnson & Johnson (NYSE:JNJ) and AstraZeneca (NASDAQ:AZN). This is because they have been trying to ramp at absurdly rapid speeds that had never been tried before even by them, while also dealing with the same things I just noted above. The media has a tendency to sensationalize and harshly pile on when a company has a short-term issue. The positive thing for investors is that these tendencies often produce buying opportunities.
Warp speed ended months ago; the U.S. is slower
Some investors worry that the slowness of the U.S. EUA process means there is a problem. But Oppenheimer senior biotech analyst Hartaj Singh recently explained that now that a few vaccines have been approved in high-income countries, there's less urgency and those regulators have returned to moving slowly and cautiously through the approval process. He said: "We were in an 80-year pandemic, so they had to get vaccines out to the market as quickly as possible … so they gave these EUAs and they wanted to get things done as quickly as possible. So now they're going back to the old-fashioned way of approving these vaccines because we already have quite a few on the market."
Singh's studies were in neurobiology, and he worked for years in clinical trial design. So he has more scientific knowledge and experience than most analysts. When U.S. regulators don't have an urgent reason to move quickly, they often take weeks or months just to give applicants a meeting to discuss the next step. They can take months just to review one document. It's not that they're lazy, but rather that they have a lot of things in their queue.
Of note, the U.S. many months ago stopped calling its vaccine program Operation Warp Speed, then dismantled OWS. The lower urgency is also evidenced by the fact that almost 11 months after AstraZeneca received EUA in the U.K. and even after it is in use by 176 countries, the U.S. still hasn't authorized it or even said hardly anything about it.
A few months ago, the WTTC (World Travel and Tourism Council) pleaded with the US to 'urgently speed up' approval of that vaccine for the sake of "rescuing" transatlantic travel and tourism. Due to the large number of Europeans who can't travel to the U.S., it warned those industries were "sinking deeper into the red" each day, and would be left in serious trouble if the U.S. didn't approve it soon. It also warned that "the current CDC approval process could take months to give AstraZeneca the all clear." Yet the U.S. hasn't budged and still hasn't given it the green light to even submit its application. The US authorized the first three vaccines rapidly within just a few weeks due to the urgency of a raging pandemic and only a small amount of doses.
But it clearly is taking a far slower approach with AstraZeneca, Novavax and others. Investors have the potential option of blaming Novavax for the slowness of the EUA process the past few months, but I don't think it would be correct nor useful. I see 3 reasons for it. One is the western regulators returning to a slower mode, as described above, especially in the US. I will describe the other two in a future article along with links, but in a nutshell, they are outside of the control of Novavax.
I do think it was responsible for an assay-related delay in the spring that added 1 to 2 months to the timeline in the early summer. But I don't think it's responsible for the slowness of the EUA process the last 2 1/2 months. Given all they've accomplished on so many fronts, I can accept one of their departments making one mistake that delayed things by a month or two.
Fortunately, the UK, the EU and drug agencies in other high income countries appear to be moving much faster than the U.S. For example, the UK has finished its meetings with Novavax and given it the green light to file for EUA, which it did this week. This could be because the UK and EU are experiencing major Covid surges. Both over-relied on the AstraZeneca and Pfizer vaccines whose antibody levels wane more quickly than Moderna and Novavax. So they naturally have a lot of urgency. The WHO will probably also have a high amount of urgency because it's far behind on its goal of delivering vaccines to poor countries.
An important thing to be aware of is that production of doses is independent of the EUAs. Novavax has been producing commercial quality vaccines at most of its locations for the last half year. In addition, the CEO said in the Yahoo Finance interview that they are producing usable doses at all of its locations that will be ready to ship on approval. I think they will easily sell all of the doses they've made, and the past six months of production effort has not been lost.
Orders already exist for 1.9 billion doses in 2021-2022
A standard refrain among bears and short-sellers is that a major risk of Novavax is that it's "too late to the party" for it to get hardly any sales. This is another major misperception that is making Novavax a great buying opportunity. Continuing the metaphor, Novavax is actually a major act hired to play extensively at the party, and is simply awaiting its turn to perform with its with its best-in-class Covid vaccine. This is evidenced by the fact Novavax already has orders of 2.06 billion doses from the majority of countries of the world.
This includes 1.1 billion from Covax (serving over 100 countries), 200 million from the EU (with 27 countries), 200 million from India in 2021 alone, 150 million from Japan, 110 million from the US, 60 million from the UK, 52 million from Canada, 51 million from Australia, 50 million from Indonesia, 40 million from South Korea and 56 million combined from other countries such as New Zealand. Here is a chart showing existing orders: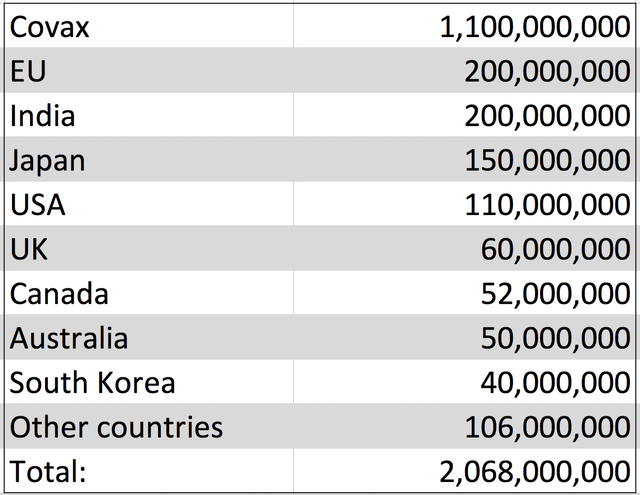 Data is from Duke University's Global Health Innovation Center
In the EU order, 100 million doses are slated for 2023, so the total for 2021-2022 is 1.96 billion. There is a chance that Indonesia's doses will be purchased through Covax, so let's reduce it to 1.91 billion of orders for 2021-2022. I read every Novavax article I can find, and I have yet to find even one that has the correct number. The majority of them say the number is between 400 million and 800 million lower than it actually is. But the guiltiest parties have been the bears and short-sellers who claim there is very little market share available for Novavax.
This enormous amount of doses ordered means that if Novavax makes 2.7 billion doses this year and next, it only needs to sell about 800 million more. Given that all vaccines are losing efficacy between 4 and 8 months, and the majority of the world hasn't been vaccinated at all yet, I think Novavax will be able to easily sell 800 million doses in the next 14 months.
The big picture of future sales
The combined two-year production is roughly 500 to 600 million this year and 2.2 to 2.3 billion next. In a future article, I will give an updated breakdown of all production facilities including two new ones coming online soon (Poland and Canada) and one that is expanding Novavax production by about 150 million doses per year (SK Bioscience in South Korea). Novavax will also have major sales in 2023.
Looking at the big-picture using a baseball analogy, this is probably only the first or second inning. It will take 12 billion doses to do the initial 2-dose vaccinations for 6 billion of the world's 8 billion people. If boosters are needed annually for 10 years, bi-annually for 20 years or every 3 years for 30 years, that will represent 10 years' worth of boosters. Given that the world population is growing, probably about 5 billion people on average will get boosters. That is 62% of the population now and only 50% when it reaches 10 billion.
10 years' worth of boosters and 5 billion people getting them is 50 billion doses. Including the initial 12 billion doses, it would be 62 billion doses. How many doses have been injected into people so far? About 6.88 billion as of October 25. That's 11.1% of 62 billion. One inning of a nine-inning game is 11.1% of the game. That would put us only at the end of the first inning.
If for some reason there are only 5 years' worth of booster shots, it is still 37 billion doses needed and only 18.6% of that have been given so far. We'd still only be in the 2nd inning. Experts agree that the virus will be endemic, meaning it will never go away. Only one respiratory illness has been eradicated. With its contagiousness and mutations, COVID is not easy to get rid of at all.
The only question is how often boosters will be needed. For the flu, boosters are needed annually. So an estimate of 5 to 10 years' worth of boosters is fairly conservative. This is even more true given the fact that Covid vaccines have only proven to last between 4 and 8 months before losing most of their efficacy, depending on the brand.
Therefore, people who claim that Novavax has missed the boat are incorrect in two substantial points: 1) It has already basically sold about 2.06 billion doses. 2) We are only in the very early part of an endemic disease that will be with us forever.
The multiple bullish Seeking Alpha contributors are right
In recent weeks, three Seeking Alpha contributors wrote 2 to 3 bullish articles each. JR Research wrote 3 articles including one Editor's Pick where they said Novavax was a "great opportunity to buy." They wrote another more recent one where it said the stock is "an aggressive buy." They noted Novavax has a flu vaccine that beat the previous best flu vaccine (Fluzone) by 20% to 66% in head to head trials, and is poised to take a sizable share of the flu market. That market is slated to exceed $9.5B by 2027, more than double the current market.
SJ Financial Consulting wrote two articles with Bullish ratings here and here. The latter correctly said Novavax has a "strong competitive edge" over other Covid vaccine companies, and its "stock trades at incredibly low forward multiples relative to other industry peers." It added that their vaccine is "a 'one-of-a-kind' vaccine with no close competition," and that Novavax has "massive headroom for growth which has not been fully incorporated in the company's valuation considering its relatively cheap valuation multiples."
Sarel Oberholser has written many Novavax articles including a recent one here. In this article, he notes the price had just had an irrational pullback and the stock was a "fantastic" buying opportunity. He gave a logical valuation model that indicated a price target of $650 to $700 by the end of 2021. Nothing has materially changed since that article, but the price is about 15% lower.
Highly undervalued, no matter how you slice it
2.7 billion doses made and sold in 2021-2022 at $10 per dose would be $27B in combined revenues. 2.2 billion doses in 2022 would be revenues of about $22 billion. At a profit margin of 55%, the company would have more than $12B in earnings next year. Pfizer has 60% margins on its Covid vaccine, and it's more costly to make. So 55% margins for Novavax are doable. That 2022 cash alone is much higher than the current market cap. Then factor in future Covid sales, future Nanoflu sales, future combination Covid-flu sales and likely RSV sales, and the share price is dramatically higher.
For example, at a PE of 7 on $12B in earnings, the valuation would be $84B. Even a PE of 5 would be a valuation of $60B. It's hard to predict exactly what multiple it will get, but a 5 PE is extremely low. At the start of this year, the share price skyrocketed 210% higher in just 35 days. I forecast that we'll see a similar gain, but spread out between now and early April, reaching $450 for a half-year gain of about 210%. In the 6 to 12 months after that, I think it will reach $600.
From there, whether it can go higher will mostly depend on: 1) How often booster shots are needed. 2) How much market share Novavax gets in 2023 and beyond. It has the highest efficacy, the longest durability of antibody levels, the lowest rates of side effects and lowest severity of side effects. It's also lower cost to produce per dose than the MRNA doses, and it doesn't require cold transport or storage like the MRNA ones do.
So I expect it will at minimum be in the top 3 (probably along with Moderna and Pfizer), and a solid likelihood of moving into first in either 2023 or 2024. 3) Whether or not its combination Covid-flu shot is doing well in the phase 1/2 trial due to be over this March; and likewise the phase 3 trial that would likely start September next year and finish in the spring of 2023.
Both the Covid vaccine and flu vaccine have had very positive phase 3 trials. Novavax has also tested the combination shot on animals with very strong results. Immune responses were not affected by combining them into one dose. So I think the probability of positive results is high. Still, we have to wait and see. But if positive, it would likely be a blockbuster vaccine. Nanoflu on its own has the potential to do $1B to $2.5B in annual revenues over time, which would add about $8B to $18B to the market cap. But the other 3 factors I noted above are actually far bigger than that if they pan out.
Consider that the price now is roughly the same as it was at the end of last November when it hit $147.5. At that time, none of the following were known: if the phase 3 would be positive, if it would get big orders from places like the EU and Japan, if the vaccine could be produced at commercial quality, if the company could grow its staff size by 500%, if it could do the technology transfer to its partners, or if it would be able to scale up to 150 million doses per month. All of those things have already occurred, except the last one, which is on track to occur in several weeks. And they've upped the plan to 200 million per month. Plus many other strides forward.
Also at that point in time, no problematic variants had emerged and most experts thought that variants probably wouldn't be a problem. The majority of experts assumed that immunity from the first round of doses would not wane significantly for 1 to 3 years. In reality, it's turned out to be only 4 to 8 months, far lower than what most people predicted. That means that the first round of boosters is starting 6 to 30 months sooner than expected. That greatly increases the probability that boosters will be needed every 1 to 2 years. Buying the stock now, you get all of the above benefits and advances that should have tripled the price. But you get it at a price that's lower.
Another thing to consider is if it simply returns to $272 where it was less than two months ago, you'll gain ~85%. On the whole, not much has changed between then and now other than fear, uncertainty and doubt (FUD). The upcoming EUA filings should eliminate a lot of that FUD, at which point I think the share price will go above $272.
The consensus price target is $290, which is ~95% higher than the current price. However, those analysts don't have large followings, and their notes were was barely reported in the media and didn't reach many people. By contrast, over a dozen publications repeated the Politico claims including the Wall St. Journal, CNBC, Fox and others. Fortunately for you the investor, it means this excellent opportunity is still available.
Novavax is also dramatically undervalued relative to its peers. For example, Moderna's market cap is $141 billion, more than 1,300% higher than Novavax at present. So rising to half the valuation of Moderna would be a gain of 650% for Novavax. This is very doable given that Novavax's vaccine has higher efficacy, far lower rates of side effects and lower severity of side effects. Novavax's vaccine also doesn't require the frozen supply chain that Moderna's does.
Novavax is also 2 years ahead of Moderna for a flu vaccine, and by extension is also ahead on its Covid-flu vaccine. Lastly, Novavax has a high probability of being able to safely fit four flu strains and one Covid strain into a single dose, while Moderna has a low probability.
Conclusion
Any way that I slice it, Novavax is one of the most undervalued stocks in the market today. For this reason, I recommend having a double-sized position while the price is under $200. Then I recommend you gradually take profits on small tranches every $10 it goes above $200. The higher the price goes, the lower the upside and the higher the downside. While the price is super cheap, the downside is low and the upside is very high. So I recommend that the dollar value of your position now be far higher than when the share price reaches $300.
The company said it will be filing numerous more EUAs in the next several days. Approvals will probably come in mid-to-late November. With the filings and the updated production run rates, I think analysts will be increasing their forecasts soon. So I recommend acting sooner rather than later on this one. It has a rare combination of a huge production capacity, an enormous number of already placed orders, strong profit margins, a very high quality vaccine, an infectious disease that experts say will be with humanity forever, a slew of authorization filings all taking place within a two-week period, low expectations from inaccuracies and a low share price. The plane is accelerating down the runway and is about to take off.