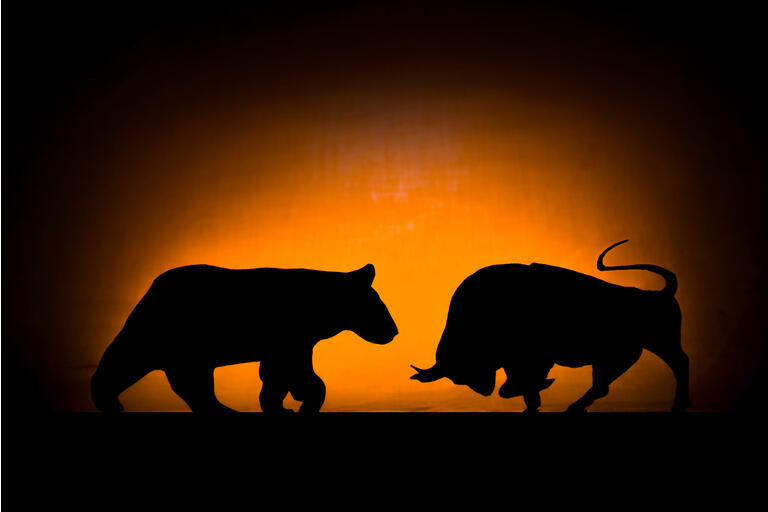 This fall brought an incredible drought for the S&P 500: 42 days without gains of more than 1% through mid-September, something it had not seen since January 2020. Volatile price swings are happening, and buying the dip can offer upside potential. The question is, for how long, and which stocks can genuinely bear it?
The second question has a clearer answer, from my perspective: Stocks with very bearish ratings, based on our Seeking Alpha "Quantamental" analysis, are at the largest risk of going south. Below we see one such example we'll discuss at greater length later, Peloton (NASDAQ:PTON) - a stock which Cathie Wood, for one, has been offloading lately: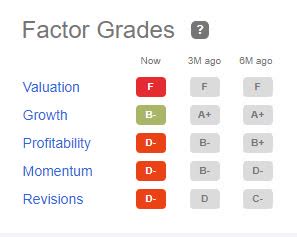 Source: Seeking Alpha Premium
My advice? Heed these warnings. While some consider bearish stocks an opportunity to buy at a lower price, it's crucial to assess a company's fundamentals. And above we see a snapshot of Peloton's, incorporating both trading algorithms and vital collective attributes of value, growth, profitability, EPS Revisions, and stock price momentum. Here at Seeking Alpha, we emphasize why it's important to create and evaluate your portfolio before jumping into bearish ideas. A look at the chart below will show you how accurate SA has been over the years at identifying weak stocks as poor performers compared to the performance of the S&P 500 as a benchmark.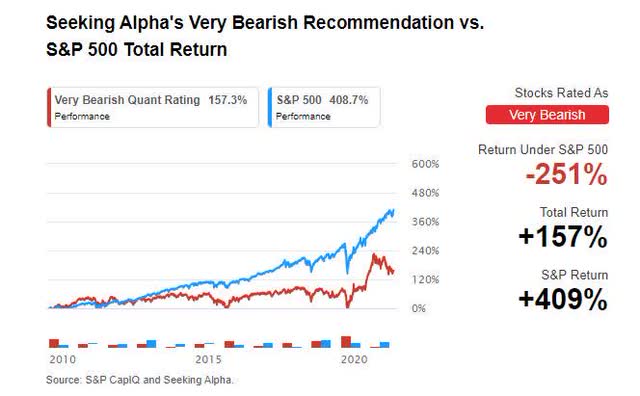 Stocks that underperform the S&P 500 are dead money. Stocks underperforming also carry the risk of losing money. Let's take a closer look at those risks - and some specific stocks to avoid, in my opinion.
What is a Bearish Stock?
Bearish stocks are stocks expected to underperform their sector and are also at risk of underperforming the overall market, which is why we prefer avoiding them due to negative compounding. These stocks should be approached with caution; the goal of investing is, of course, to grow, and equally important is measuring risk, as well as avoiding losers. Based on a quantitative model I've spent years testing, re-testing, and refining, results indicate that the probability of loss is higher with the stocks that receive a bearish rating, which is important when your goal is long-term wealth accumulation.
For most of us, the goal with long-term wealth accumulation is to try and limit the downside. For every loss incurred, a more significant gain is required to get back to even. For instance, if Wynn Resorts (NASDAQ:WYNN), which we'll discuss in this article, is trading at $100 and contracts 20%, it's now worth $80. Even if it rebounds 20%, you're only at $96, which is $4 less than the $100 you purchased the stock at. So, you need a 25% gain to rebound back to $100 and break even.
That's a practical example as to why my quant rating system emphasizes a focus on good grades and minimizing the downside to achieving a long-term goal of growing a portfolio. If you already have a portfolio with a financial institution, brokerage or are simply keeping a list in a spreadsheet, try creating a Seeking Alpha portfolio. With our portfolio tool, you will stay informed about the market news and identify stocks that are the best fit for your investment needs. Notably, this tool really will help you to identify the deadbeats and walking dead in your portfolio. It is well worth the few minutes to use this tool because it can save you from catastrophic losses.
How to Create a Stock Portfolio
Seeking Alpha's Create a Portfolio is an easy-to-use tool that can identify which companies you like best – in this case, we are focusing on bearish stocks. Not only will our screeners allow you to find stocks using our proprietary quant model, but we hope that having eliminated riskier options, you will find hidden gems with the potential to be your next great stock play while creating the custom portfolio from scratch that meets your needs.
Click My Portfolio at the top of the Seeking Alpha page. Next, click the Create Portfolio button. If you already have a Seeking Alpha account, sign in using your credentials. Otherwise, you will need to create an account.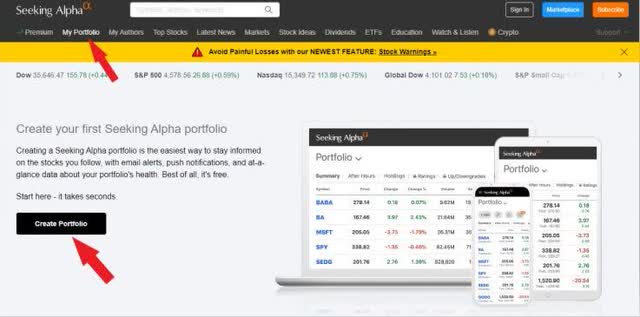 Source: Seeking Alpha Premium
Once you are signed into the Seeking Alpha site, one of the quickest ways to create a portfolio is by linking one from your outside financial institution or brokerage account, by clicking Link Brokerage Account. If you do not want to link a portfolio at an outside institution, or if you would like to use this tool as a watch list, simply click Create New Portfolio.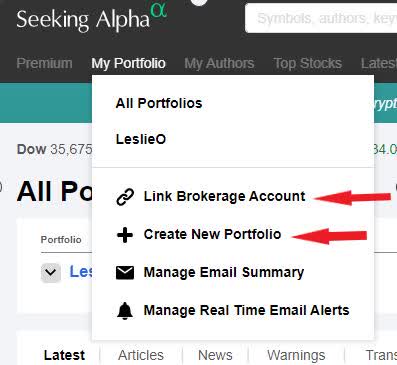 Source: Seeking Alpha Premium
2. Next, type a NAME for your portfolio. For this example, I named my portfolio S&P Bearish Stocks.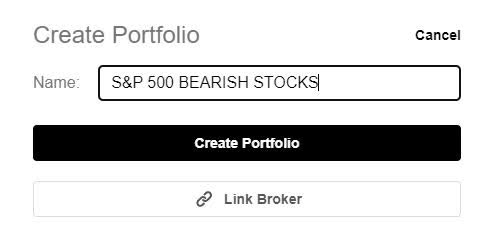 Source: Seeking Alpha Premium
3. Next, you will add the names of the stocks or ticker symbols that you want in your portfolio (for this example, I added all stocks from the S&P 500). Then click DONE.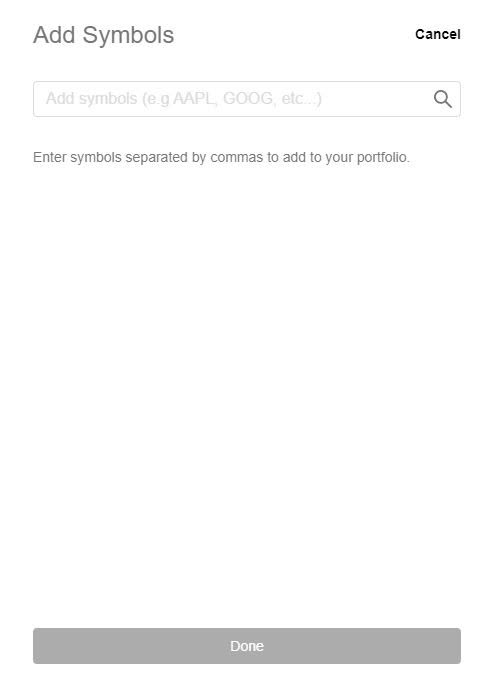 Source: Seeking Alpha Premium
4. Now you have a portfolio that you can sort however you like, by clicking any of the options like Symbol, Price, Change, Quant, along the top of the chart. For this example, I clicked Quant to provide me with the list of the most bearish stocks according to our Quant Ratings.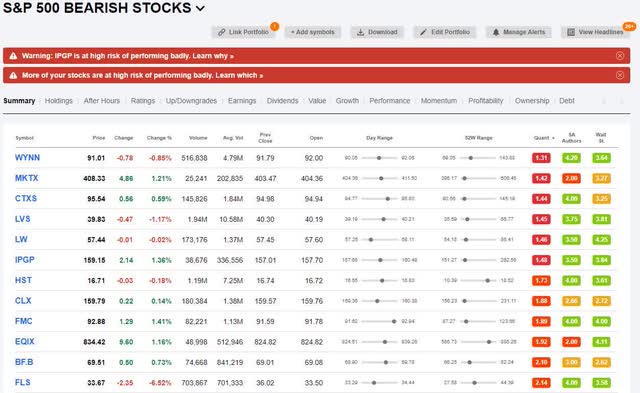 Source: Seeking Alpha Premium
As you can see from the image above, Wynn Resorts is the most bearish stock in this portfolio, with Las Vegas Sands Corporation (NYSE:LVS) not far behind. You can learn more about each stock by clicking on them individually and reviewing their metrics, Factor Grades, what analysts are saying, and more.
Here, we will focus our attention on WYNN and LVS to better understand why our Quant Ranking system is so useful. When you have very bearish indicators, as our system highlights in red as a warning, proceed with caution. These types of stocks typically lack fundamentals.
Bearish stocks lurking in the S&P 500
Let's talk a little about the fundamentals behind WYNN stock and LVS stock. We saw above that WYNN and LVS are, unfortunately, two of the worst-performing stocks in the S&P 500. When you compare both stocks' 10-year price return versus the S&P 500, Wynn is -23.65%, LVS -5.50%, S&P 500 +256.13%. Fundamentally (and the Quant Ratings, chart, and Factor Grades will substantiate below), the metrics clarify other reasons why they are bearish.
S&P 500 vs WYNN vs LVS 10-YR PRICE RETURN

Source: Seeking Alpha Premium
WYNN QUANT RATING/GRADES

Source: Seeking Alpha Premium
LVS QUANT RATING/GRADES

Source: Seeking Alpha Premium
From a momentum and fundamental stance, both WYNN and LVS are best avoided at this time. When you look at their balance sheets, both are highly levered as evidenced by their high Long-Term Debt to Total Capital Ratios of 91.83% and 85.25%, respectively. Neither company has been able to produce a profit since the onset of COVID, resulting in negative net income and shrinking margins.
You'll also need to factor in the double-digit growth in interest on their long-term debt (WYNN – 12.92%, LVS – 38.46% year-over-year through June 2021), rising costs due to inflation, and moderating economic growth resulting from slowing consumer spending on hospitality and leisure. The companies have also never really returned to their spending habits pre-COVID, and what's worse, the macro backdrop for a gambling stock doesn't bode well going forward.
Then consider the geopolitical aspects. With nearly 50% of revenue coming from the world's most prominent gambling hub, Macau, the significant geopolitical risks that naturally exist with US-based companies operating in China has only become more problematic as China's clampdown on casinos and the US, in general, has prompted both companies combined to lose approximately $5 billion in market value in one week during the month of September. A plethora of negative sentiment surrounds these bearish companies, including financial, technical, lack of momentum, fundamentally, any or all the above.
WYNN, LVS, SP500 PRICE RETURN COMPARISON

Source: Seeking Alpha Premium
Bearish Stocks Uncovered
In addition to bearish S&P 500 stocks like WYNN and LVS, I'd like to briefly address a few others that have been trending and hit our bearish quant ratings: Peloton, Virgin Galactic (SPCE), and BlackBerry (BB).
Bearish Meme Stocks
As I discussed in a previous article, Digital World Acquisition Corp. (DWAC) "and most other meme stocks and SPACs are very risky: They are being driven not by fundamentals or quantitative metrics but by short-term (daily) sentiment." With an F grade for Revenue Growth year-over-year (YoY), at -64.29%, Virgin Galactic has a profitability potential so far out of this world that my grandchildren are likely to be done with college by the time they turn a profit!
SPCE VALUATION GRADE

Source: Seeking Alpha Premium
SPCE is a bearish stock that has spent billions to build spacecraft, with space flight affordability out of reach for nearly the entire population. With that being said, SPCE only generated $600,000 in revenue, resulting from a negative $419.9 million net income as reported in June 2021. This renders the company essentially worthless in value.
SPCE REVENUE GROWTH

Source: Seeking Alpha Premium
BlackBerry, another meme stock that piqued the 'Reddit Revolution' interest earlier this year, is bearish and appears to face challenges as the company looks to reinvent itself from a once behemoth cell phone manufacturer to a cybersecurity software provider. The growth metrics below show the company is still far off from its vision becoming a reality.

Source: Seeking Alpha Premium
Peloton is the last of my popular yet bearish stock examples. The interactive bike was incredible during the pandemic when isolation was socially mandatory, and streaming with remote participants was all the buzz. Peloton was the stay-at-home product and stock of the year during the height of the pandemic. But times have changed; people are vaccinated; the nation is reopening; things are getting back to normal. Why would I spend $2,000 for a bike when I can pay $25/month to go back to the gym and socialize? Factor in the supply chain disruptions and the likelihood of PTON experiencing the same growth as during the pandemic - it amounts to a bearish outlook and poor quant grades.
PTON VALUATION GRADE

Source: Seeking Alpha Premium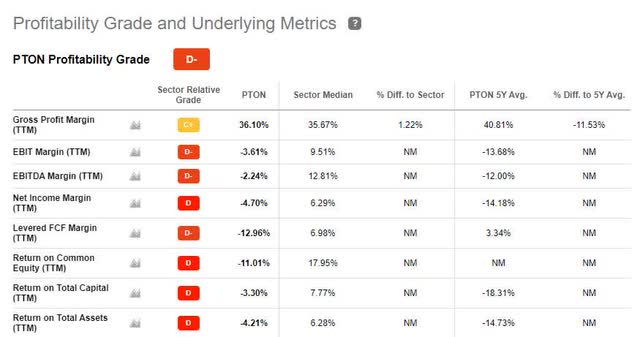 Source: Seeking Alpha Premium
With Very Bearish ratings, we hope that, using these stocks as examples and comparing them against our quant rating system, we have provided you with a starting point to do further research, should you remain interested in assessing your stocks and identifying potential deadbeats and the walking dead.
Conclusion: Bearish Stocks Are Tricky, Not A Treat
From a perceived value perspective, bearish stocks come with risks. Occasional high growth periods and volatility are warning signs when purchasing shares of these companies at every turn. When it comes to identifying bearish stocks or companies with poor investment fundamentals, our goal at Seeking Alpha is to help you instantly characterize stocks with solid fundamentals and strong investment metrics and avoid the stocks with poor fundamentals Our Quant System can readily identify these stocks. We've got dozens of stocks for you to choose from with great fundamentals, including Top Technology Stocks, Top Value Stocks, and many more. Feel free to create your portfolio using the tools we've outlined.
If you do not have Seeking Alpha Premium I will provide you with a free trial to test out the tools so you can evaluate your stocks. Go here to start a 14-day free trial and start putting our Quant system to work for you.