Enbridge: The Triple Threat Of Energy Infrastructure
Summary
Enbridge is becoming the most complete energy infrastructure company with its latest acquisition as it will now operate an extensive pipeline and storage business, utility company, renewable segment, and exporting.
Enbridge has one of the best high-yielding dividends as they have rewarded shareholders with 26 years of consecutive growth with a 10% compound annual growth rate while yielding 6.38%.
The global demand for energy is expected to increase and Enbridge will play a vital role in delivering sustainable energy domestically and globally.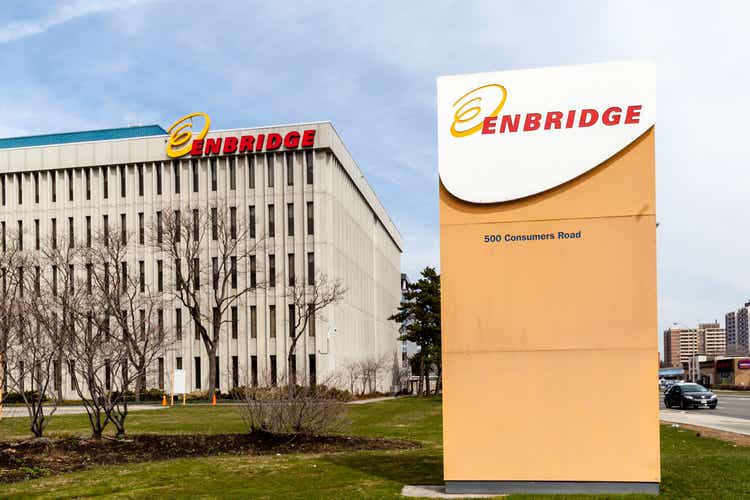 Traditional energy companies aren't exciting even though crude and natural gas are at levels some thought we would never see again. In modern society, energy is essential to life, and the demand for sustainable energy will never disappear. At the same time, exploration and production of fossil fuels isn't a compelling sector of the market their necessities of modern-day society. Renewables have become the shining star as increasing emphasis has been placed on lowering omissions and achieving net-zero. The reality is that fossil fuels are critical, and renewables aren't in a position to meet the energy demands of today, let alone the increased energy demand projections of the next several decades. What if I told you there was an energy infrastructure company that operated crude oil and liquids pipelines, natural gas pipelines, had its own utility company that serves millions of customers, and operated a renewable energy segment of projects that could power 945,000 homes once construction is complete. Meet Enbridge (NYSE:ENB), or what I like to refer to as the triple threat of energy infrastructure.
I believe the traditional energy sector is still in recovery mode. I am surprised that traditional energy companies haven't appreciated further, with WTI and Brent Crude both being over $80 per barrel and natural gas is still over $5. As the population grows, the energy demand is expected to increase, which means more energy will be needed. My position is energy infrastructure companies have been undervalued for quite some time and now even more so as replicating their infrastructure is next to impossible. ENB operates the world's longest crude oil transportation system with 17,127 miles of pipeline in addition to transporting 20% of natural gas consumed in the United States through their 23,850 miles of pipes. ENB operates the largest gas utility company by volume as it distributes 2.3BCF/d in North America, and it's the third-largest in size with 3.8 million customers. ENB has also scaled since their first investment into renewables in 2002 to having the capacity to generate 5,117 MW from wind, solar, waste heat recovery, geothermal, and hydroelectric projects. This is why I view ENB as the triple threat because it's the most complete energy infrastructure company that I know of, and its dividend has seen 26 years of consecutive growth and yields over 6%. ENB is critical to North America, I believe it's undervalued, and investors are getting an impressive dividend while waiting for capital appreciation.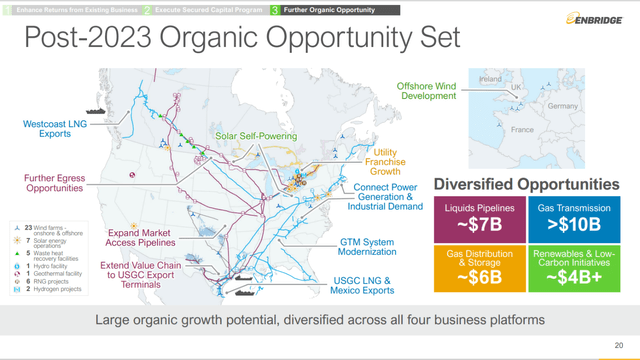 (Source: Enbridge)
Enbridge has the most diversified energy infrastructure system I have seen and is critical to life in North America
Having written many articles on midstream operators, I don't believe there is a more complete energy infrastructure company in North America than ENB. ENB connects people to energy and is a necessity to modern society. At the heart of their operations is the transportation of fossil fuels. ENB operates the world's longest crude oil and liquids pipeline system. ENB's crude pipelines span 8,627 miles throughout the United States and 8,500 miles through Canada, totaling 17,127 miles of crude pipeline across North America. ENB's system delivers 3 million bpd, and in 2020 ENB reached 3.77 million bpd. ENB has almost a perfect safety record over the past decade as more than 29.5 billion barrels of crude were transported from 2011 thru 2020 with a safe delivery record of 99.999975%. ENB transports 25% of the crude oil produced in North America and 65% of Canadian crude exports. ENB also transports 40% of the total crude the United States imports.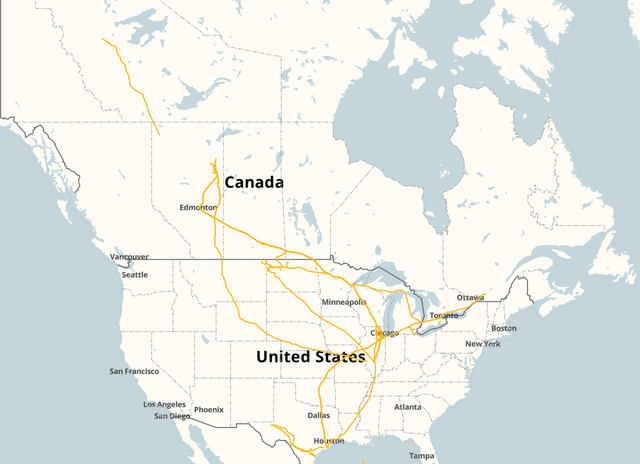 (Source: Enbridge)
ENB is just as impressive on the natural gas side. ENB's natural gas pipelines connect the basins to North America's largest demand centers from Toronto to New York all the way out to Seattle. ENB moves roughly 20% of all the natural gas consumed in the United States. Its 23,850 miles of pipeline span across 30 U.S. states, five Canadian provinces, and offshore in the Gulf of Mexico. ENB's natural gas segment transports 18.2 Bcf/d and has the capacity of 158.9 Bcf of working storage. ENB is the largest gas supplier to New England, the Southeast, and almost all of Florida.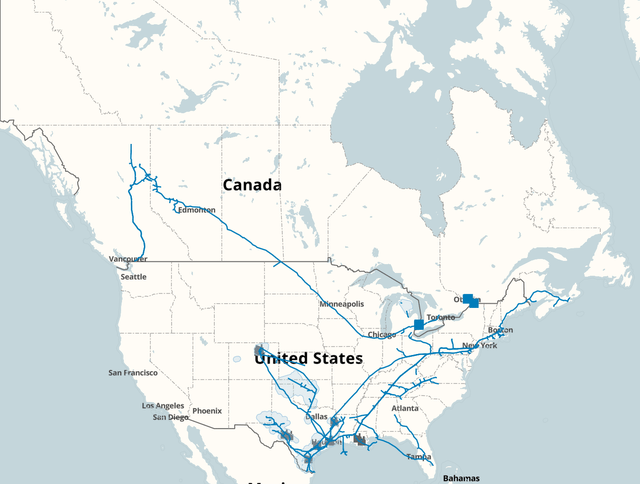 (Source: Enbridge)
The second pillar of the triple threat is that ENB owns and operates its own utility company. ENB operates North America's largest natural gas utility by volume and third-largest by customer count. Roughly 75% of Ontario residents are served by Enbridge Gas Inc. ENB's utility company delivers service to 15 million people in Ontario and Quebec through 3.8 million residential, commercial, institutional, and industrial meter connections. ENB is earning revenue on both sides as its transports gas to these areas through its pipes then distributes around 2.3 Bcf/d of natural gas through its utility company.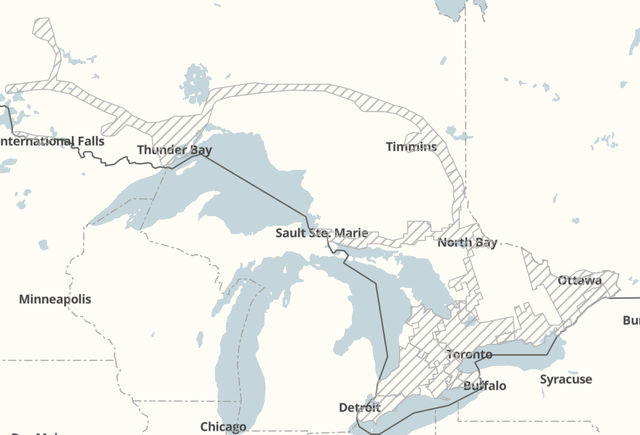 (Source: Enbridge)
While many traditional energy companies haven't incorporated renewable energy into their portfolio, ENB has embraced it. Since 2002 ENB has allocated billions into renewable energy and power transmission projects. Today ENB is one of Canada's largest renewable energy companies with the capacity to generate 5,117 megawatts (MW) gross of zero-emission energy (2,109 MW net). Within their portfolio, which consists of operational projects and ones that are under construction, there are 23 wind farms, 11 solar operations, 5 waste heat recovery facilities, 1 geothermal project, 1 power transmission project, and 1 hydroelectric facility. ENB's portfolio of renewable projects will generate enough zero-emission energy to power roughly 945,000 homes.
ENB is operating four blue-chip energy franchises within its portfolio. ENB has the largest crude oil system in North America by pipeline miles and transports 25% of crude oil produced in North America. 20% of the natural gas consumed in the United States flows through ENB's pipes, and they have the 2nd largest miles of pipelines in North America. ENB's gas distribution is the largest by volume in North America and is the 12th largest renewable energy company by GW with 3.6 GW contracted. ENB has created an energy infrastructure company generating revenue from over 40 diversified sources of cash flow. No matter what the market cycles dictate, ENB's pipeline-utility model delivers predictable results, which should drive long-term value creation for shareholders in the future.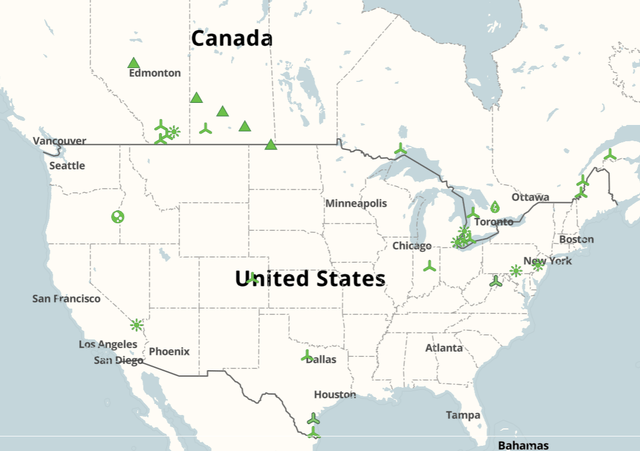 (Source: Enbridge)
Surprise, Surprise, Enbridge may need a new nickname as they are now positioning themselves to become a premier player in exporting
The U.S. Energy Information Administration (EIA) releases an Annual Energy Outlook annually. In the reference case which was released within the latest edition on 2/3/21, the EIA is projecting an increase in U.S. energy consumption will occur from now through 2050. Natural gas is expected to increase from 30 quadrillion British thermal units to 36 quadrillion British thermal units, while petroleum and other liquids increase to about 38 quadrillion British thermal units from 34 quadrillion British thermal units. The EIA is predicting that the global energy demand will increase by 50% over the next three decades. An increase in energy demand of 50% may seem drastic, but in the year 2057, there will be an additional 2.2 billion people in the global population, so it makes sense. In this report, the reference case constructed by the EIA indicates that the United States is both an importer and an exporter of petroleum liquids as mostly heavy crude is imported and export products such as gasoline and diesel. The largest growth in natural gas exports will be seen from 2020–2030 as it increases by a rate of 4x then a gradual increase to the 5x level in 2050 based on 2020 export levels.
I have believed for years exporting will be an extraordinary growth opportunity for energy infrastructure companies as the global demand for energy increases. The United States is still the largest oil and gas producer as the U.S. produced 16,476,000 bpd of oil in 2020. This was followed by 11,039,000 bpd from Saudi Arabia and 10,667,000 from the Russian Federation. Canada was a distant 4th on the list with 5,135,000 bpd. The U.S. was also the largest natural gas liquids producer in bpd for 2020 as they produced 5,161,200 bpd. Saudi Arabia was the 2nd largest with 1,609,000 bpd, while Canada was the third largest with 666,333 bpd. The United States is the largest oil and gas producing nation, and Canada is in the top five for both categories. I have been bullish on Energy Transfer (ET) and Enterprise Products Partners (EPD) growth prospects as they operate two of the exporting portfolios in the United States. ENB is about to become a very large player in the energy exporting business with their latest acquisition as they move to become the quadruple threat of energy infrastructure.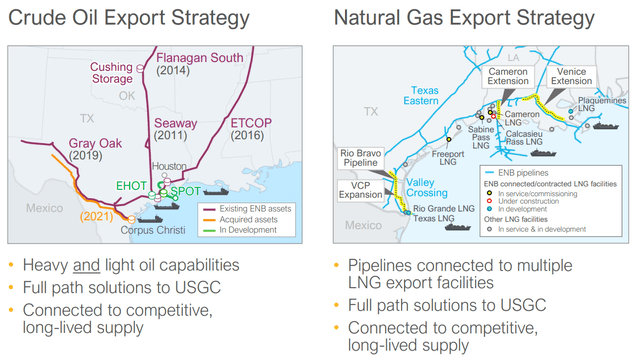 (Source: Enbridge)
On 9/7/21, ENB announced that they entered into a definitive agreement with EnCap Flatrock Midstream to acquire Moda Midstream Operating for $3.0 billion in cash. ENB has built a strong position in the U.S. Gulf Coast through both natural gas and crude infrastructure and will now acquire a 100 percent operating interest in the Ingleside Energy Center which will be rebranded as the Enbridge Ingleside Energy Center. This is North America's largest crude export terminal, which loaded 25 percent of all U.S. Gulf Coast crude exports in 2020. This facility has 15.6 million barrels of storage and 1.5 million bpd of export capacity. This will be a powerful addition to ENB's portfolio as the Ingleside Energy Center is underpinned by 925 thousand barrels per day of long-term take-or-pay vessel loading contracts and 15.3 million barrels of long-term storage contracts providing visibility to future cash flows.
There are some sprinkles on top of this acquisition as ENB strengthens its pipeline portfolio and adds exporting to its business operations. ENB will also acquire a 20% interest in the 670,000 bpd Cactus II Pipeline. ENB will also acquire a 100% operating interest in both the 300,000 bpd Viola pipeline and the 350,000 barrel Taft Terminal. These assets combined create a fully integrated light crude export platform when combined with the Enbridge Ingleside Energy Center.
I love this acquisition, and it's expected to close in Q4 of 2021. In addition to what ENB is getting today, the Ingleside Energy Center already has the permits to expand its storage capacity from 15.6 million to 21 million barrels and increase its exporting capability from 1.5 million bpd to 1.9 bpd. ENB is also assuming the rights to a 50% interest in a brownfield St. James deep-water crude and refined products terminal development opportunity which can further advance their exporting capabilities and generate additional cash flow in the future. ENB is also getting an additional 500 acres of land where they are expecting to add 60 MW of solar power capabilities which will exceed the power needs of the Enbridge Ingleside Energy Center. This will allow ENB to contract the excess generation capacity to local industrial and refining facilities and add further cash flow to their operations.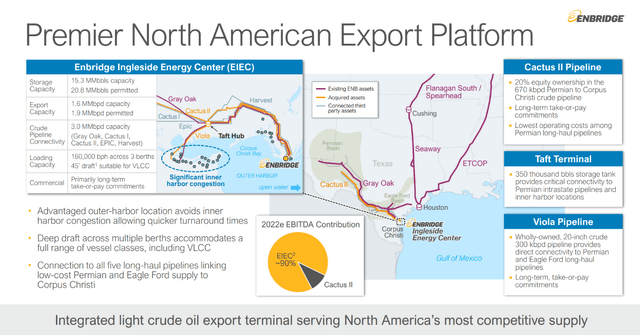 (Source: Enbridge)
Enbridge is delivering on enhancing and growing its existing business to increase its future cash flow growth
In the first half of 2021, ENB has delivered $7 billion of adjusted EBITDA, $2.99 billion in adjusted earnings, and $5.26 billion in distributable cash flow in Canadian dollars. Moody's Investor Service upgraded the credit ratings for ENB, which included their senior unsecured and issuer ratings to Baa1 from Baa2 with a stable outlook. Moody's cited lower leverage and continued improvement in the Company's financial metrics going forward, which has led to a BBB+ rating or equivalent by all four of its credit rating agencies. ENB is expecting its 2021 full-year EBITDA to come in at $13.9 to $14.3 billion, while its distributable cash flow per share is between $4.70 and $5.
ENB is en route to completing its $17 billion investment through 2023 in its secured capital program to enhance future returns. $11 billion is allocated to its business segments under its growth plan while $6 billion is deployed across its utility and gas transmission modernization speed. By the end of 2021, ENB is expected to place the following projects into service, which include the Line 3 Replacement Project and Southern Access Expansion, Gas Transmission T-South, and Spruce Ridge expansions of the B.C. Pipeline, Customer connections, expansions, and reinforcement projects in Gas Distribution, and several small projects within Liquids Pipelines, Gas Transmission, and Midstream. These are expected to generate significant EBITDA and free cash flow growth in 2022.
In 2020 ENB generated $4.67 of distributable cash flow per share. Its $17 billion capital program is expected to increase its distributable cash flow growth rate by 5-7% through 2023. This is projected to lead to $5-$6 billion of annual financial capacity, with the majority coming from investable free cash flow starting in 2022. Looking to the future, ENB is dedicated to preserving financial strength, growing its dividend, and implementing organic growth opportunities. ENB plans on allocating $3-$4 billion annually on high-priority investments to drive sustainable long-term growth while deploying $2 billion annually on share buybacks, debt reduction, and M&A activity for additional assets.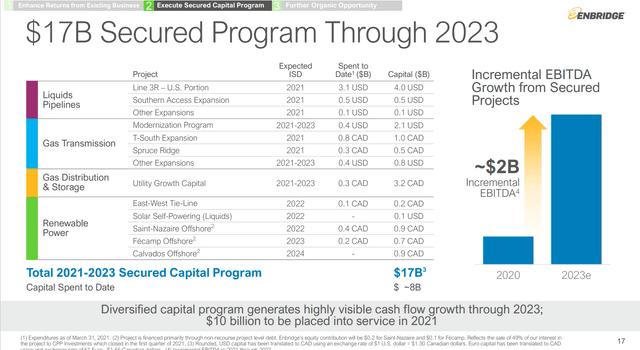 (Source: Enbridge)
Enbridge offers investors a high-yielding dividend that continues to grow
ENB offers income investors one of the best high-yielding dividends in the market. Today ENB is paying $2.67 per share, which is a forward yield of 6.38%. Unlike other businesses, ENB has predictable returns as energy is needed regardless of an individual's stance on fossil fuels. This has allowed ENB to produce 26 consecutive years of dividend growth with a 10% compound annual growth rate over the 26 year period. How many companies can actually say they have sustained a double-digit annual compound growth rate in their dividend for over two decades? There are a lot of great dividend companies out there, but ENB is at the top of my list as its dividend can rival any companies dividend in the market.
ENB has been working tirelessly to enhance its financial future and have a long-term growth outlook with 5-7% of distributable cash flow per share through 2023. I believe exporting is going to play an important role in ENB's future and will make them even more indispensable to society. There is a tremendous amount of untapped potential, and I believe ENB is going to continue its dividend growth well past 2023. While many companies in the energy infrastructure space offer large dividends, ENB's is one of the largest and, in my opinion, in the discussion as the best dividend with the best future in the space.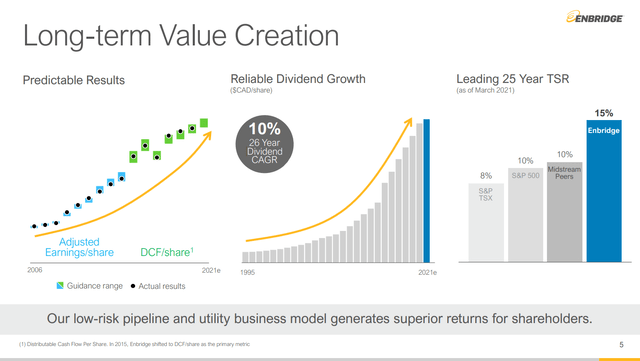 (Source: Enbridge)
Conclusion
ENB has been a favorite of mine for years in the energy infrastructure space. They have been a triple threat as they operate one of the most extensive pipelines and storage operations in North America while being the only midstream company that I know of with its own utility company and renewable energy segment. Being a triple threat wasn't good enough, and ENB is making a massive push into exporting, crowing them a quadruple threat. I believe exporting is the key to future growth as the global energy demand continues to increase. ENB's infrastructure is next to impossible to replicate, and they're going to generate revenue from almost every aspect of energy outside of exploration and production. ENB could be the most diversified energy infrastructure company and has arguably the best dividend in the space. ENB is a buy and hold, in my opinion, as their future looks very bright.
This article was written by
I am focused on growth and dividend income. My personal strategy revolves around setting myself up for an easy retirement by creating a portfolio which focuses on compounding dividend income and growth. Dividends are an intricate part of my strategy as I have structured my portfolio to have monthly dividend income which grows through dividend reinvestment and yearly increases. Feel free to reach out to me on Seeking Alpha or https://dividendincomestreams.substack.com/
Analyst's Disclosure: I/we have a beneficial long position in the shares of ENB, ET either through stock ownership, options, or other derivatives. I wrote this article myself, and it expresses my own opinions. I am not receiving compensation for it (other than from Seeking Alpha). I have no business relationship with any company whose stock is mentioned in this article.

Disclaimer: I am not an investment advisor or professional. This article is my own personal opinion and is not meant to be a recommendation of the purchase or sale of stock. Investors should conduct their own research before investing to see if the companies discussed in this article fits into their portfolio parameters
Seeking Alpha's Disclosure: Past performance is no guarantee of future results. No recommendation or advice is being given as to whether any investment is suitable for a particular investor. Any views or opinions expressed above may not reflect those of Seeking Alpha as a whole. Seeking Alpha is not a licensed securities dealer, broker or US investment adviser or investment bank. Our analysts are third party authors that include both professional investors and individual investors who may not be licensed or certified by any institute or regulatory body.