Sarepta: Revenue Keeps Rising While We Wait For Functional Data
Summary
SRPT has continued growing its revenue line despite not producing placebo compared data.
The stock dropped hugely in January after a trial failure and hasn't recovered since.
Some have asked if they even need to produce placebo-controlled trial data.
Looking for more investing ideas like this one? Get them exclusively at The Total Pharma Tracker. Learn More »
Like I said about Sarepta (NASDAQ:SRPT) in my previous coverage quoting Evaluate, "A remarkable fact about Sarepta, until yesterday a $13bn company, is that it had never demonstrated the efficacy of any of its projects in a placebo-controlled trial."
On the other hand, fellow contributor Marty Chilberg, in an interesting comment on my previous article, notes:
Investors should monitor the long term study records of approved drugs to see if the patients treated are showing benefit rather than worry about the lack of placebo trial results.
Why does he want to give this sort of unusual leeway to Sarepta? Because, as he says:
Each patient with Duchenne has his own distinctive longitudinal trajectory of disease progression. Some patients progress rapidly, while others may only reach the same clinical milestones a decade or more later.

The core challenge in designing and analyzing clinical trial and post-marketing data in Duchenne is how to take into account these different rates of disease progression to discern whether a patient is doing well because of a drug or because his disease is slowly progressing and he was going to do well anyway.
If I understood correctly, what Marty says is that Sarepta does not need to do well-designed placebo-controlled trials because of the variable nature of DMD patients on the one hand, and "long term study records" on the other hand.
This is an interesting position to take. DMD is an emotionally-fraught subject because it is a devastating disease that happens to children; and we saw how important patient family input was in the 2016 conditional approval given to eteplirsen despite a strongly negative adcomm vote. So what Marty says makes sense - in a way. Sarepta deserves to be given every benefit of the doubt normally not given to other companies.
But does that extend to not requiring placebo-controlled trials at all, or ignoring poor data from such trials when they occur?
Look at it this way - Sarepta will say, look, we may not have data, but at least we know that the safety profile of our exon skipping drugs are good, and anecdotally, we know it works. While Pfizer's (PFE) and Solid Biosciences' (SLDB) trials have been plagued by complement activation, nothing of the sort has been reported in the more than 80 patients treated by Sarepta in its AAVrh74 trials.
The problem that is ignored here is that it is not only about safety profile, but it is also about further innovation. The DMD space will be constricted if a drug is approved on an anecdotal efficacy basis, because other companies will dare not innovate in this space when faced with a financially highly successful set of drugs from Sarepta. Pfizer might, even with poor data till date, but smaller companies will think twice before going into this space. Some are trying - Solid Biosciences is the other important player in the DMD gene therapy field, but its data from March also disappointed. Among non-gene therapy proponents, FibroGen (FGEN) is a leading player. Any way you look at it, Sarepta is the only option for patients right now, even if they don't have trial data.
In January 2021, Sarepta's phase 2 '102 study of SRP-9001 failed to meet its functional endpoint, while (barely) managing to meet its biomarker endpoint. A later study, study 103, demonstrated that commercial grade therapy removed the "barely" from the biomarker endpoint equation - the trial met the biomarker endpoint with solid significance. Sarepta claimed this was a big achievement; the stock rose 12%; it had fallen 50% on the 102 failure, so clearly the market wasn't buying 103's success as "equal and opposite" to 102's failure. Why? Because we were not worried about the biomarker thing; what we wanted to see, five years after approval, was a placebo-controlled Sarepta trial which showed functional improvement in patients. For whatever reason, that hasn't happened, and we will have to wait for the phase 3 trial that is about to begin to really figure out if Sarepta's therapies work.
Post hoc, a lot of analysis went into understanding the data:
The trial saw statistical significance in a cohort of patients aged 4-5 years, but in the cohort of patients aged 6-7 years, the therapy failed to achieve statistical significance on the primary functional endpoint of improvement in NSAA total score compared to placebo at 48 weeks post-treatment.
Sarepta claimed that in the older age group, baseline characteristics for the placebo group were milder, leading to a higher functional improvement in that group. Some analysts wish to differ; effectively, there are too many speculations given the unclear data, and another trial will now be needed. Meanwhile, eteplirsen continues to rake in hundreds of millions of dollars in sales.
Recent updated data from their trials show the following:
Results from Study SRP-9001-101 found that SRP-9001-treated participants (n=4, ages 4 to 7 years) improved 8.6 points on the North Star Ambulatory Assessment (NSAA) compared to a matched natural history cohort three years after treatment

Results from Study SRP-9001-102 found that SRP-9001-treated participants (n=12, ages 6 to 7) had a positive 2.9-point difference on NSAA compared to a matched natural history cohort one year after treatment

Functional results from Study SRP-9001-103 Cohort 1 (n=11, ages 4-7) found participants improved 3.0 points on NSAA six months after treatment
Note a couple of things - the 102 data is still relatively weaker; and second, these are not placebo compared data, but natural history is the comparator. We still don't have placebo. Meanwhile SRPT is running with the MOMENTUM trial for SRP-5001 also with dystrophin in skeletal tissue as the mark.
Janet Woodcock, M.D., then director of the FDA's Center for Drug Evaluation and Research, who controversially approved eteplirsen despite strong opposition from specialists, said: "... we eagerly await learning more about the efficacy of this drug through a confirmatory clinical trial that the company must conduct after approval." This trial was supposed to study clinical improvements, including motor function, compared to placebo; that, however, has still not happened.
Financials
SRPT has a market cap of $6.88bn and a cash reserve of $1.6bn as of the last quarter. They just raised $500mn through an equity offering. The company expects net product revenues to reach $166.9mn this quarter, up 37.5% from the same quarter in 2020.
Nearly 80% of the stock is held by institutions and funds. Top holders are Vanguard, BlackRock, Janus Henderson, Sands Capital Management and FMR LLC.
Insider data shows zero insider purchases, a few sales: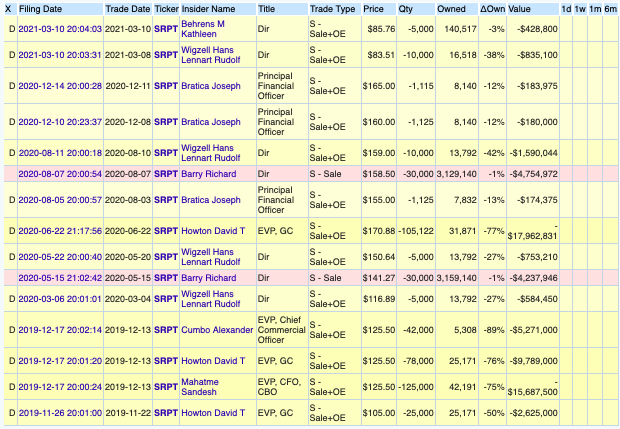 Bottomline
I presented a dire picture of SRPT here, but it could be entirely different. They already have the sales, just that the data has been confusing; they could generate really solid data in a couple years. There's really no hurry, because there's nobody else in the race. Meanwhile, the FDA keeps approving new therapies from Sarepta (skipping different exons) regularly, based on dystrophin increase alone. Current prices are low compared to SRPT's historical performance. I am not going to recommend a buy or sell, but I will certainly say this, Sarepta is always an interesting stock.
About the TPT service
Thanks for reading. At the Total Pharma Tracker, we offer the following:-


Our Android app and website features a set of tools for DIY investors, including a work-in-progress software where you can enter any ticker and get extensive curated research material. 
For investors requiring hands-on support, our in-house experts go through our tools and find the best investible stocks, complete with buy/sell strategies and alerts.
Sign up now for our free trial, request access to our tools, and find out, at no cost to you, what we can do for you. 
This article was written by
Avisol Capital Partners is made up of a team of medical experts, finance professionals and techies, all of whom invest their own money in the picks they share. They aim to help readers find the middle ground between value and growth investing, as they demystify the biopharma industry.
They lead the investing group
Total Pharma Tracker
where they offer a monthly updated catalyst database, an investability scoring system for quick reference ideas, and direct access in chat for dialogue and questions.
Learn more
.
Analyst's Disclosure: I/we have no stock, option or similar derivative position in any of the companies mentioned, and no plans to initiate any such positions within the next 72 hours. I wrote this article myself, and it expresses my own opinions. I am not receiving compensation for it (other than from Seeking Alpha). I have no business relationship with any company whose stock is mentioned in this article.
Seeking Alpha's Disclosure: Past performance is no guarantee of future results. No recommendation or advice is being given as to whether any investment is suitable for a particular investor. Any views or opinions expressed above may not reflect those of Seeking Alpha as a whole. Seeking Alpha is not a licensed securities dealer, broker or US investment adviser or investment bank. Our analysts are third party authors that include both professional investors and individual investors who may not be licensed or certified by any institute or regulatory body.