Udemy Is Getting Closer To Profitability
Summary
Udemy operates a two-sided marketplace. Although there is a myth that marketplaces tend toward economies of scale and enjoy winner-take-all benefits, this is not supported by evidence.
Udemy conforms to the evidence and still lacks economies of scale and profitability, however, its losses have narrowed and the possibility has emerged that it will become profitable.
The company is riding high on two major trends: a rising demand in online skills development and continued learning; and a change in the nature of education.
Nevertheless, the company remains unprofitable, but its narrowing of its losses suggests that it may become one of the rare network-effects businesses to be a winner.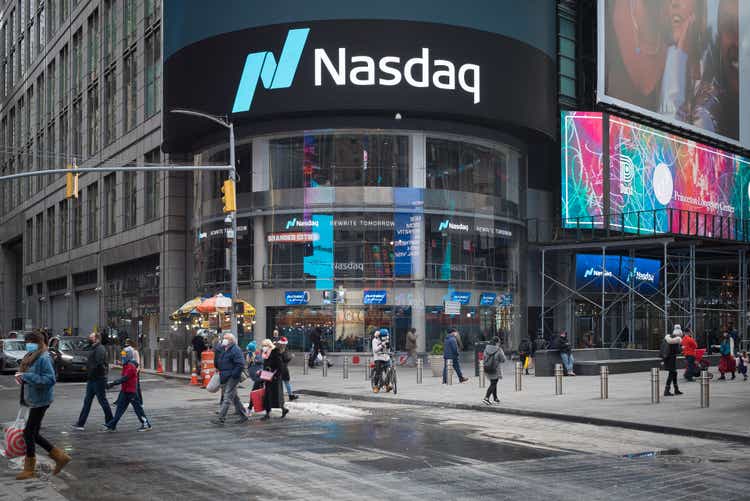 Online learning marketplace, Udemy, Inc. (NASDAQ: NASDAQ:UDMY) raised $421 million in its initial public offering (IPO). The company had priced its initial share price at $29 per share. The company sold 14.5 million shares at that price and granted underwriters a 30-day option to purchase an additional 2.175 million shares at the initial share price. Based on its post-IPO outstanding shares count of 139,602,466 shares (assuming that underwriters exercise their option), the business earned a valuation of nearly $4.05 billion. A fully diluted valuation of Udemy shows that the company is worth more than $4.05 billion. Prior to the IPO, Renaissance Capital estimated that at the midpoint of the company's initial share price range -$28 per share- the company was worth $4.3 billion. A fully diluted valuation at $29 per share gives the company a valuation of $4.45 billion. All these valuations are higher than what the company was worth in November 2020, when Udemy was valued at $3.25 billion, after a funding round in which it raised $50 million in a Series F funding round. Udemy's IPO comes in a year in which there has been a flurry of edtech IPOs , such as the language learning company, Duolingo, edtech software firm PowerSchool and tutoring marketplace Nerdy.
A Two-Sided Marketplace
Udemy operates a two-sided marketplace, with instructors and their content on the one end and learners on the other. The value of the platform is determined by the network effects which instructors and learners enjoy. Network effects tend to be positive, growing in value as other users join a two-sided marketplace like Udemy. As more instructors enter the marketplace and develop more content, the network becomes more valuable to learners and as more learners enter the marketplace, the network becomes more valuable to instructors.
The success of multi-sided marketplaces such as Microsoft's (MSFT) operating system and Facebook's (FB) social network, has convinced many venture capitalists that momentum driven flywheel of network-effects businesses march inexorably toward economies of scale and barriers to entry, which in turn enhances the value of the marketplace. However, research is less enthusiastic about the prospects of a marketplace to generate winner-take-all network benefits. The reality is that these winner-takes-all benefits are rare. For every dominant marketplace, there are many marketplaces riddled with competition and struggling for profitability.
Udemy is Benefitting From a Focus on Skills Development and Continued Learning
At this juncture, the minimum that can be said is that Udemy has not attained economies of scale, nor does it enjoy winner-take-all benefits.
Udemy grew revenue by a sensational 55.6% between 2019 and 2020, from $276.3 million in 2019 to $429.9 million in 2020. For a company as large as Udemy and which has already attained annual recurring revenue (ARR) of $100 million, to still be growing at that rate is quite an achievement. In the first six months of the year, Udemy continued to grow at a sensational rate, growing revenues by 24.5% compared to the same period last year, to some $250.6 million, up from $201 million for the same period in the year prior. Although growth slowed down in 2021, this makes sense in the context of the shift online that occurred as a result of the pandemic.
Udemy has grown at such an amazing rate as software continues to eat the world. Technological developments and the emergence of remote and hybrid work models, have transformed the nature of work and forced workers to play a game of catch-up. Workers have to adapt to emerging and ever-changing conditions in order to remain relevant, and employable.
Work is not the only sphere of life transformed by the present revolution. As businesses change, they need their workers to do new things. It is not just work that is changing, but business itself. According to the 2021 Workplace Learning Trends Report, many businesses are in need of workers who are comfortable with data analysis, and given the shortage of skilled workers in that field, they have a huge appetite for data science training. Between 2019 and 2020, companies increased training in data modelling by 466%. At the same time, there was a 1,488% increase in data warehouse training.
The intense focus on skills training and continued learning is a major trend raising the Udemy boat.
Education Itself is Changing
According to a 2020 Udemy report, the demand for online education has risen across all Udemy's segments, as a consequence of the global pandemic. This includes a:
55% increase in course creation

8% increase in business usage

425% increase in enrollments
Before the pandemic, most corporate training was done offline, but the pandemic forced businesses to shift online for the skills development needs. Online education has the benefit of being scalable and more affordable than offline education. With more and more people getting access to the internet, the technological advances of our era, and the emergence of low cost interactive tools, the shift to online education is likely to continue for a long time.
Udemy Remains Unprofitable
Venture capitalists like to point out that companies like Amazon (AMZN) were unprofitable in the first five years of their life, so a lack of profits is not an indicator of the future returns a business can generate, Tat analysis is flawed because it does not factor in that Amazon went public very early in its life but found a way to profitability as it matured. Udemy has not found a way to be profitable. However, as the company's S-1/A registration statement shows, the company is narrowing its losses: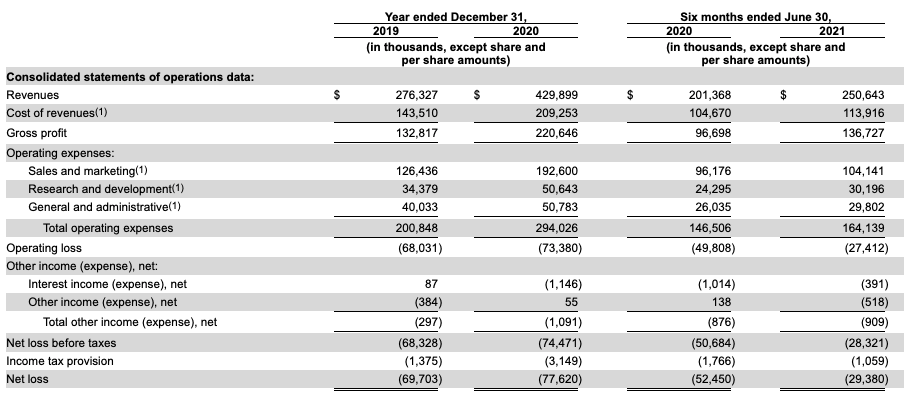 Net income exclusive of the cost of share-based compensation can be derived by subtracting $20.6 million from net income for the first half of the year and $16.5 million for net income in the same period in 2021. The latter gets you to a net loss of under $13 million for the first half of the year. The company has never been so close to profitability. This suggests that the company has enjoyed operating leverage since the pandemic began and been able to cut its losses even as revenues rose.
Given Udemy's success in narrowing its losses and getting closer to profitability, I believe that the business is a good long-term pick.
This article was written by
I'm an independent investor with experience trading forex, cryptocurrency and stocks. I'm particularly interested in tech and biotech stocks with a long term growth philosophy. Originally from the UK, I worked for Barclays bank in London for 10 years before moving to the East coast of England. I currently run several online businesses while writing about investment as a hobby. None of the views I express should be taken as investment advice and is purely my own musings on a stock's investment potential.
Analyst's Disclosure: I/we have no stock, option or similar derivative position in any of the companies mentioned, and no plans to initiate any such positions within the next 72 hours. I wrote this article myself, and it expresses my own opinions. I am not receiving compensation for it (other than from Seeking Alpha). I have no business relationship with any company whose stock is mentioned in this article.
Seeking Alpha's Disclosure: Past performance is no guarantee of future results. No recommendation or advice is being given as to whether any investment is suitable for a particular investor. Any views or opinions expressed above may not reflect those of Seeking Alpha as a whole. Seeking Alpha is not a licensed securities dealer, broker or US investment adviser or investment bank. Our analysts are third party authors that include both professional investors and individual investors who may not be licensed or certified by any institute or regulatory body.