Vaxxinity IPO: Pioneering Vaccines For Chronic Diseases
Summary
Vaxxinity is pioneering the development of vaccines for chronic diseases.
The Company uses a proprietary synthetic peptide based technology in-licensed from a related party and significant investor.
The Company has filed a registration statement for an IPO of $100 million worth of Class A Common Stock.
Looking for more investing ideas like this one? Get them exclusively at The Total Pharma Tracker. Learn More »
About

Vaxxinity, Inc. (NASDAQ:VAXX) is a clinical stage biotechnology company advancing its synthetic peptide vaccine platform ('Vaxxine platform) that has the potential to enable a new class of therapeutics harnessing the human body's innate immune system, to provide improved quality and convenience of care, increase availability of lower-cost treatments for a wide range of indications. The Company states that its mission is to reduce the inequity in healthcare access. The current drug development efforts seem to be intended primarily for the U.S. market, mostly at price points accessible only to healthcare systems in the developed countries. Of the ten top selling drugs in the U.S. in 2019, eight were biologics, of which seven were monoclonal antibodies ('mAbs). In the same year, the total global market for mAbs was approximately $163 billion, which was approximately 70% of the total sales for all biopharmaceutical products. Due to their high cost, mAbs are often limited to moderate to severe disease and to later lines of treatment, benefiting less than 1% of the worldwide population. The alternative to mAbs based treatments tend to be small molecules, which though accessible to most patients, are comparatively less effective with more side effects. The Company sees a substantial "social and market" opportunity in developing an alternative paradigm in this segment.
Platform and Pipeline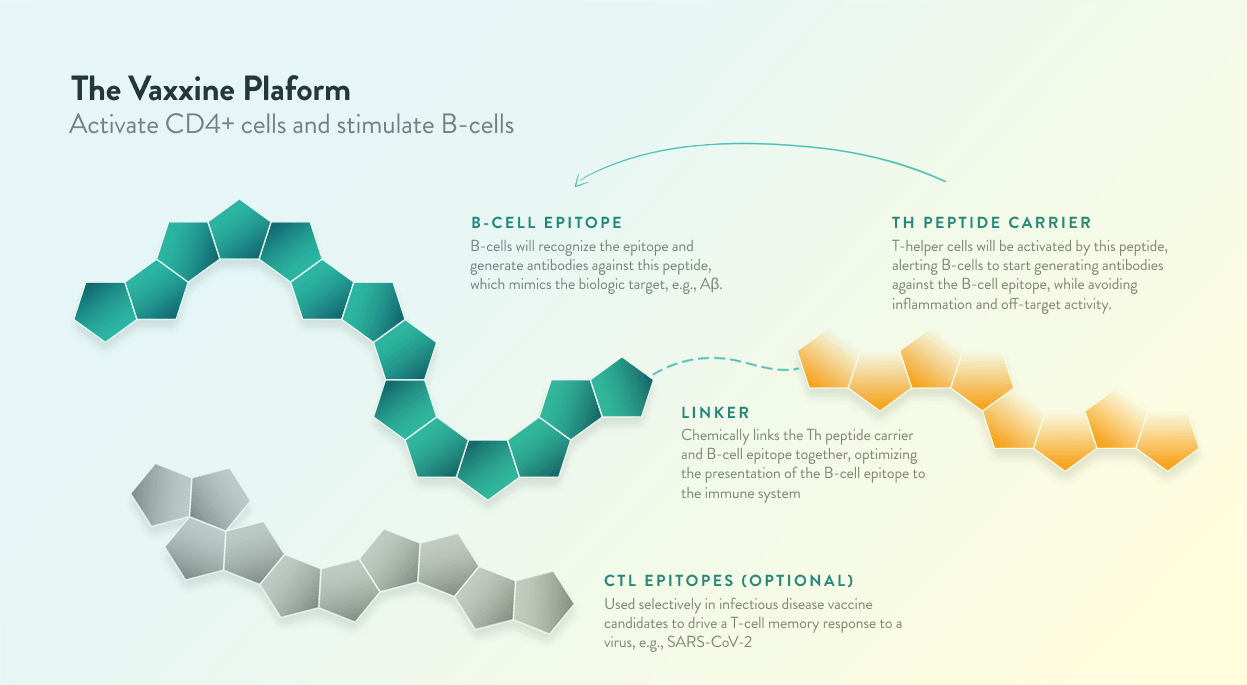 (Image: Vaxxine technology; source: company website)
The Company's technology uses "synthetic peptides to mimic and optimally combine biological epitopes in order to selectively activate the immune system, producing antibodies against only the desired targets, including self-antigens, making possible the safe and effective treatment of chronic diseases by vaccines." The modular and synthetic nature of the Company's Vaxxine Platform provides speed and efficiency in candidate development. The Company has generated multiple product candidates and is designing them to have safety and efficacy equal to or greater than the standard-of-care ('SoC) treatments for many chronic diseases, while being more convenient to administer at lower costs.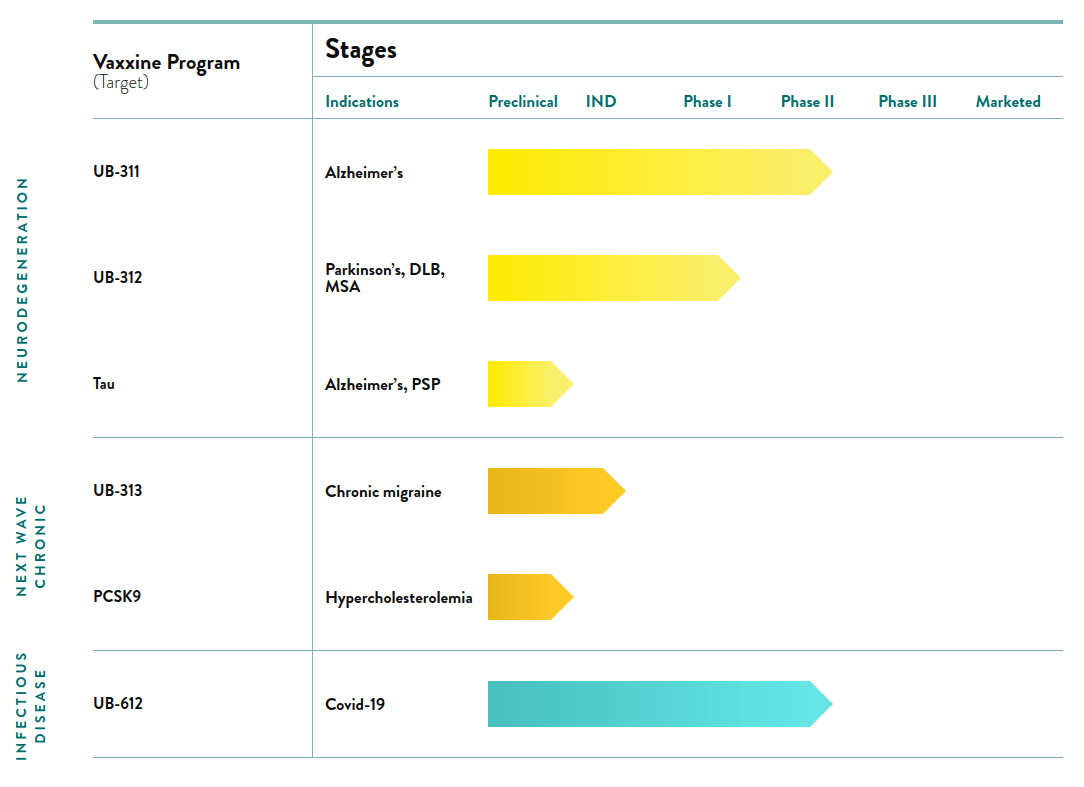 (Image: pipeline; source: company website)
Vaxxinity's current pipeline consists of five chronic disease product candidates across multiple therapeutic areas including Alzheimer's Disease ('AD), Parkinson's Disease ('PD), migraine and hypercholesterolemia. The Company believes that its platform can be used to develop therapies for a wide range of other chronic diseases, including those that are targeted by mAbs, as well as infectious diseases.
UB-311 targets toxic forms of aggregated Aβ in the brain to fight AD. The candidate is highly immunogenic with a high responder rate and antibodies that bind to the desired target. It was observed to be well tolerated in early AD patients over three years of repeat dosing, in Phase 1, Phase 2a and Phase 2a LTE trials. The safety profile was comparable to placebo, with no cases of amyloid-related imaging abnormalities-edema ('ARIA-E).
UB-312 targets toxic forms of aggregated α-synuclein in the brain to fight PD and other synucleinopathies, such as dementia with Lewy Body ('DLB) and multiple system atrophy ('MSA). The first part of a Phase 1 trial in healthy volunteers showed the candidate to be well tolerated, with no significant safety findings. UB-312 was immunogenic, with a high responder rate and antibodies that cross the blood-brain barrier ('BBB).
Intellectual property ('IP) protection related to UB-311 and UB-312, and artificial T helper cell epitopes and a CpG delivery system depend on patents set to expire between 2022 and 2039.
The Company is developing an anti-tau product candidate that can potentially address multiple neurodegenerative conditions, including AD, and progressive supranuclear palsy ('PSP) by targeting abnormal tau proteins, alone or in potential combination with other pathological proteins such as Aβ to address multiple pathological processes at once.
UB-313 targets calcitonin gene-related peptide ('CGRP) to fight chronic migraines. The Company has initiated investigational new drug ('IND) enabling studies. IP protection is available up to 2039.
An unnamed product candidate in the discovery stage targets PCSK9 to lower LDL cholesterol and reduce the risk of cardiac events. IP protection is available up to 2041.
The Company quickly reallocated its resources to develop a vaccine for COVID-19 when the pandemic struck the world in March 2020. UB-612 uses a "multitope" approach - triggering a well-balanced B and T-cell response against multiple viral epitopes, to neutralize the SARS-CoV-2 virus. In Phase 1 and Phase 2 trials, UB-612 was observed to be well tolerated, with no significant safety findings, and inducing neutralizing titers against Wuhan as well as other variants. The Company is also developing a second COVID-19 candidate, UB-612A with a new formulation using different adjuvants. IP protection is available up to 2042.
The Company's enzyme-linked immunosorbent assay ('ELISA) test has received an emergency use authorization ('EUA) from the U.S. Food and Drug Administration ('FDA).
Financials
Vaxxinity, Inc. was incorporated in February 2021 as a reorganized Company subsequent to a spinoff from United Biomedical, Inc. ('UBI), and acquisition of the erstwhile United Neuroscience and C19 Corp. The Company filed a form S-1 registration statement with the SEC on 10/8/2021, for an initial public offering ('IPO) of $100 million worth of Class A Common Stock, and has applied to list them on the Nasdaq Global Market under the symbol "VAXX." The Company intends to use the net proceeds from this offering, together with the existing cash and cash equivalents, to advance its existing product candidates, invest in the Vaxxine Platform and new product candidates and for general working capital, capital expenditures and other general corporate purposes. As of 6/30/2021, the Company had cash and cash equivalents of approximately $110.8 million, which is anticipated to provide a cash runway of at least 12 months. The proceeds from the IPO are expected to extend the cash run through 2024.
As I have said before, it is nearly impossible to do a valuation of an emerging biopharma, and especially impossible to do that for a pre-IPO stage biopharma. Take Vaxxinity, for example: these people are developing treatments in Alzheimer's - that's a $6bn market merely because there's no treatment; Parkinson's - that's a $5bn market for the same reason; chronic migraine - that's a $2bn market; hypercholesterolemia - that's a $22bn market; and covid-19 - that's an unthinkable multi-hundred billion dollar market. So what am I going to do - add these numbers and apply a discount percentage for trial success? That's the tricky part, and something biopharma investors must learn to understand - nobody with even a bit of medical training is going to be able to conjure up such a percentage for a pre-IPO company with no trial data.
So the only other way is to stop covering such companies, but I do want to cover these earlier stage startups, because some of them will one day become giants. Bottomline is, a numerically sound valuation is not possible for these companies, just a subjective one - and I think I like the basic premise of this company. So if you ask me how I value this company, all I can say is, it's a very cautious, no strings attached, non-predictive, "like."
Let them come up with trial data - efficacy data - and I can give you a more concrete figure.
Risks
The Company is an "emerging growth company," and a "smaller reporting company," and a "non-accelerated filer," and has elected to take advantage of certain reduced public company reporting and disclosure requirements.
The Company had an accumulated deficit of $150.9 million as of 6/30/2021. For a definition of "accumulated deficit," see here.
The Company's business fully depends on the successful development, regulatory approval and commercialization of product candidates based on its Vaxxine Platform.
The Vaxxine platform depends heavily on intellectual property ('IP) licensed from UBI and its affiliates, a related party and a significant commercial partner.
Bottomline
Vaxxinity has a very interesting platform with significant potential, and offers an interesting prospect.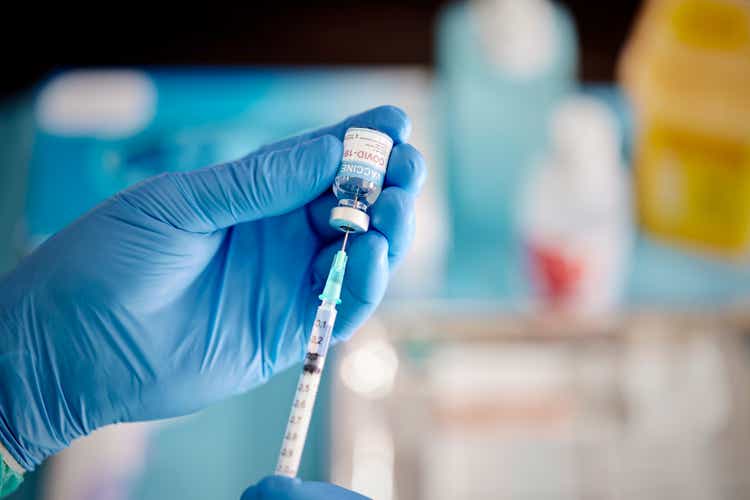 About the TPT service
Thanks for reading. At the Total Pharma Tracker, we offer the following:-


Our Android app and website features a set of tools for DIY investors, including a work-in-progress software where you can enter any ticker and get extensive curated research material. 
For investors requiring hands-on support, our in-house experts go through our tools and find the best investible stocks, complete with buy/sell strategies and alerts.
Sign up now for our free trial, request access to our tools, and find out, at no cost to you, what we can do for you. 
This article was written by
Avisol Capital Partners is made up of a team of medical experts, finance professionals and techies, all of whom invest their own money in the picks they share. They aim to help readers find the middle ground between value and growth investing, as they demystify the biopharma industry.
They lead the investing group
Total Pharma Tracker
where they offer a monthly updated catalyst database, an investability scoring system for quick reference ideas, and direct access in chat for dialogue and questions.
Learn more
.
Analyst's Disclosure: I/we have no stock, option or similar derivative position in any of the companies mentioned, and no plans to initiate any such positions within the next 72 hours. I wrote this article myself, and it expresses my own opinions. I am not receiving compensation for it (other than from Seeking Alpha). I have no business relationship with any company whose stock is mentioned in this article.
Seeking Alpha's Disclosure: Past performance is no guarantee of future results. No recommendation or advice is being given as to whether any investment is suitable for a particular investor. Any views or opinions expressed above may not reflect those of Seeking Alpha as a whole. Seeking Alpha is not a licensed securities dealer, broker or US investment adviser or investment bank. Our analysts are third party authors that include both professional investors and individual investors who may not be licensed or certified by any institute or regulatory body.