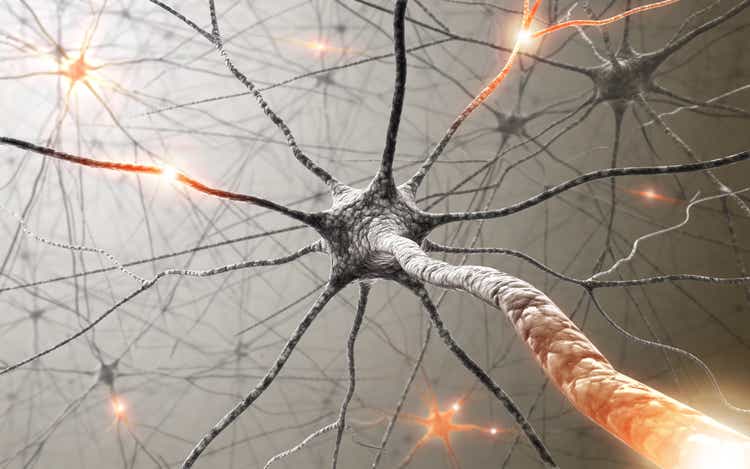 Numbing the pain for a while will make it worse when you finally feel it." - J.K. Rowling
News flow seems to have picked up around Cara Therapeutics (NASDAQ:CARA) of late. The company also got a key FDA late this summer. Since our last piece on this small-cap concern was in February when we said the company looked like it would have an eventful year, it seems a good time to update the investment thesis around this name as we head towards the close of the year. A full analysis follows below.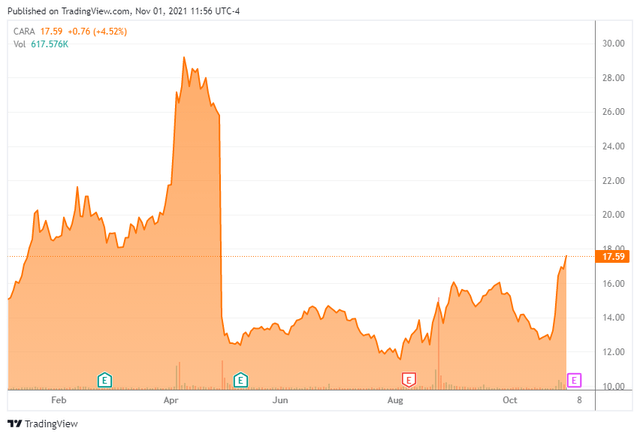 Company Overview:
Cara Therapeutics is based just outside of New York City. The company is developing chemical entities (targeting the body's peripheral nervous system and immune cells) with a primary focus on pruritus and pain by selectively targeting kappa opioid receptors in the United States. The stock currently trades just below $17.50 a share and sports an approximate market capitalization of $850 million. The company's primary asset is KORSUVA which recently received its first FDA approval for one of the several Pruritus indications it is targeting.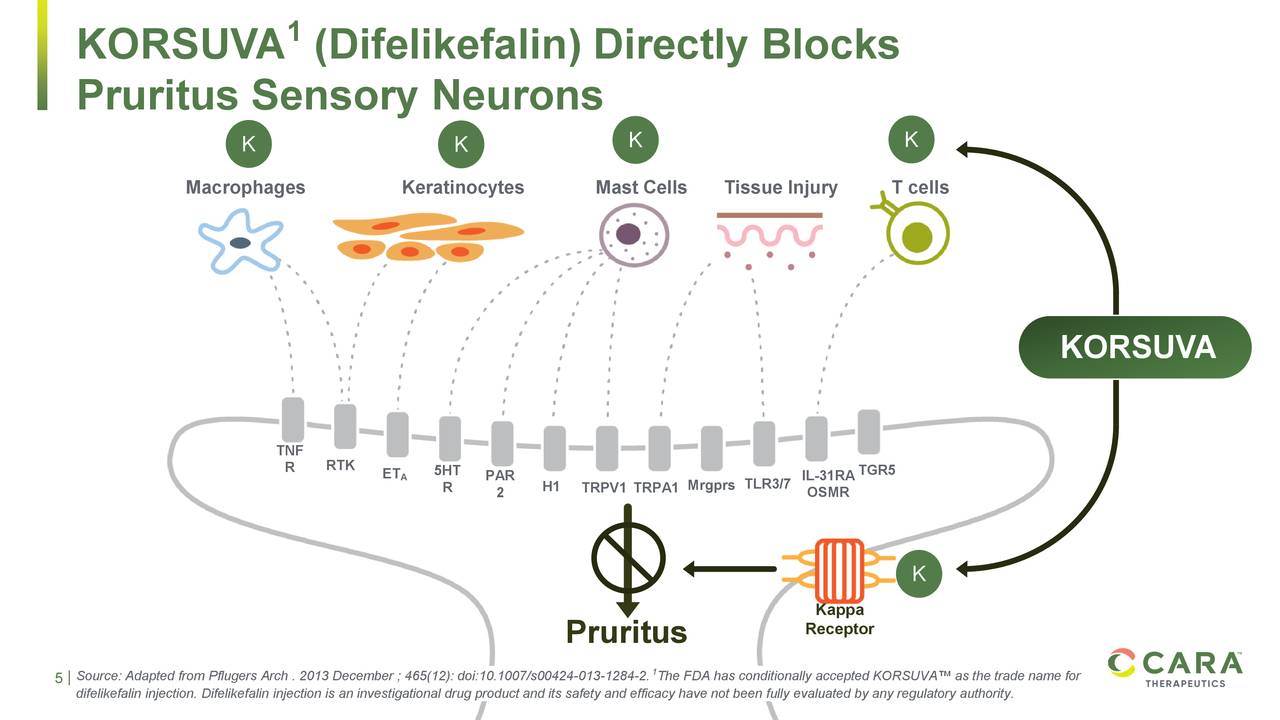 Source: May Company Presentation
Recent Events:
In late August, the company's partner Vifor Fresenius Medical Care Renal Pharma got greenlighted by the FDA for an injectable version KORSUVA as a treatment for moderate-to-severe itching in adults with chronic kidney disease undergoing hemodialysis. The companies have partnerships and an exclusive license to commercialize KORSUVA in the United States. This profit-sharing covers non-Fresenius Medical Care clinics in the U.S. where Cara has a 60% stake while Vifor retains the remaining 40%.
Source: May Company Presentation
Above are more details of what Cara garnered in this profit-sharing arrangement both in royalties/milestones as well as investment/salesforce. The company also has deals in place once KORSUVA gets approved overseas. Approval for the FDA-approved indication should come in the second quarter of next year in Europe. Under an established licensing agreement with Vifor, Cara can receive tiered double-digit royalty payments based on annual net sales and up to $440 million in tiered sales-related commercial milestones.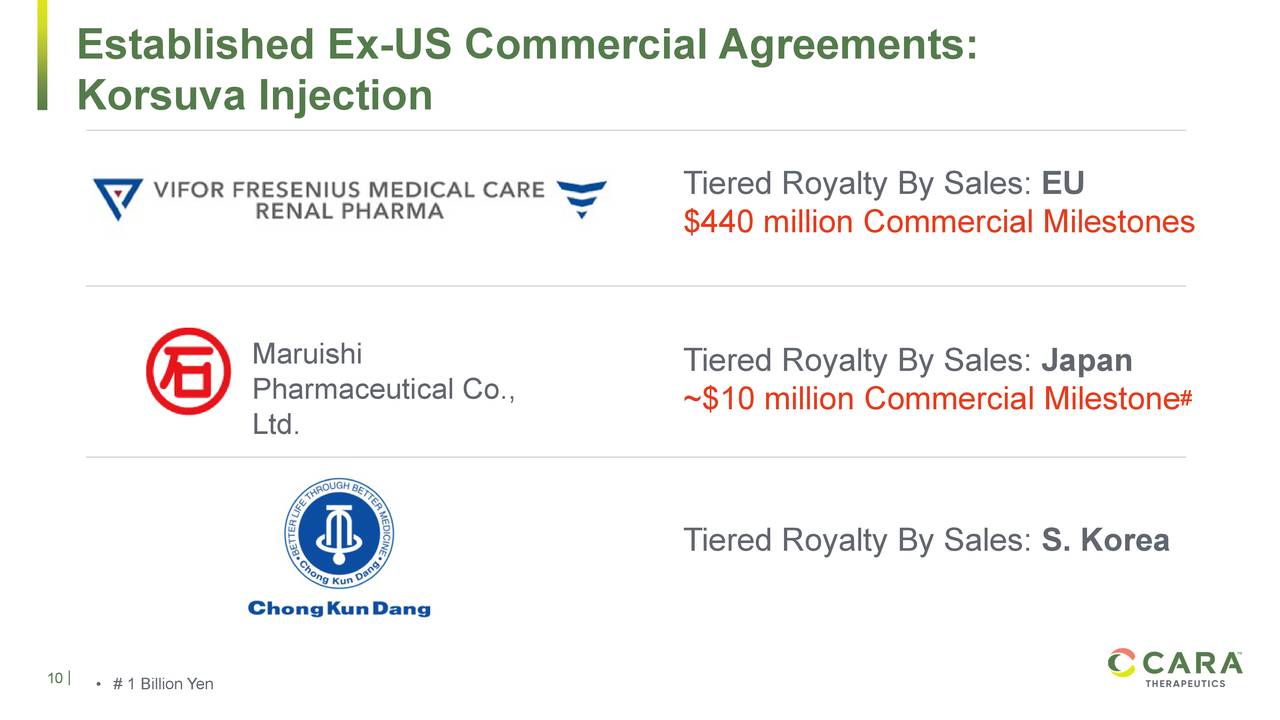 Source: May Company Presentation
Jefferies estimated this summer that KORSUVA could see $900 million in peak annual sales by FY2030. The drug is expected to be priced at approximately $17,000 annually.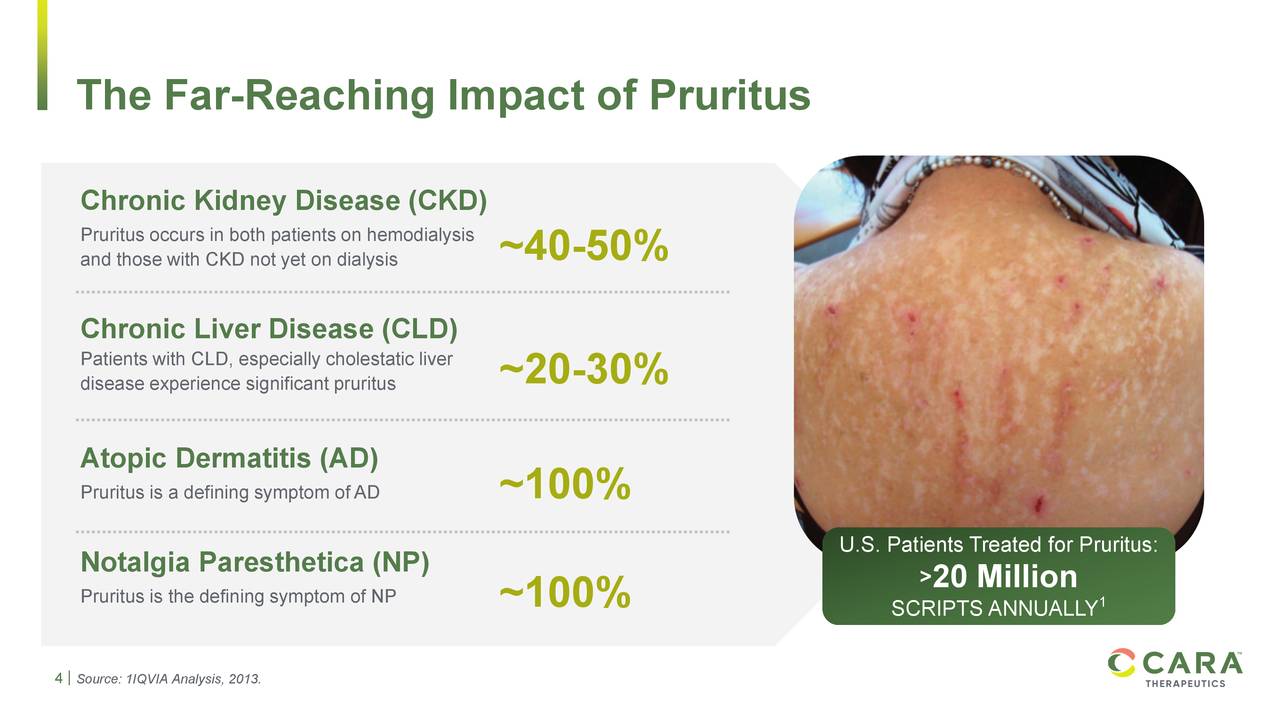 Source: May Company Presentation
Vifor expects to begin promoting the approved KORSUVA injection in the first quarter of next with reimbursement expected to take place from Medicare and Medicaid sometime before the first half of 2022 is closed.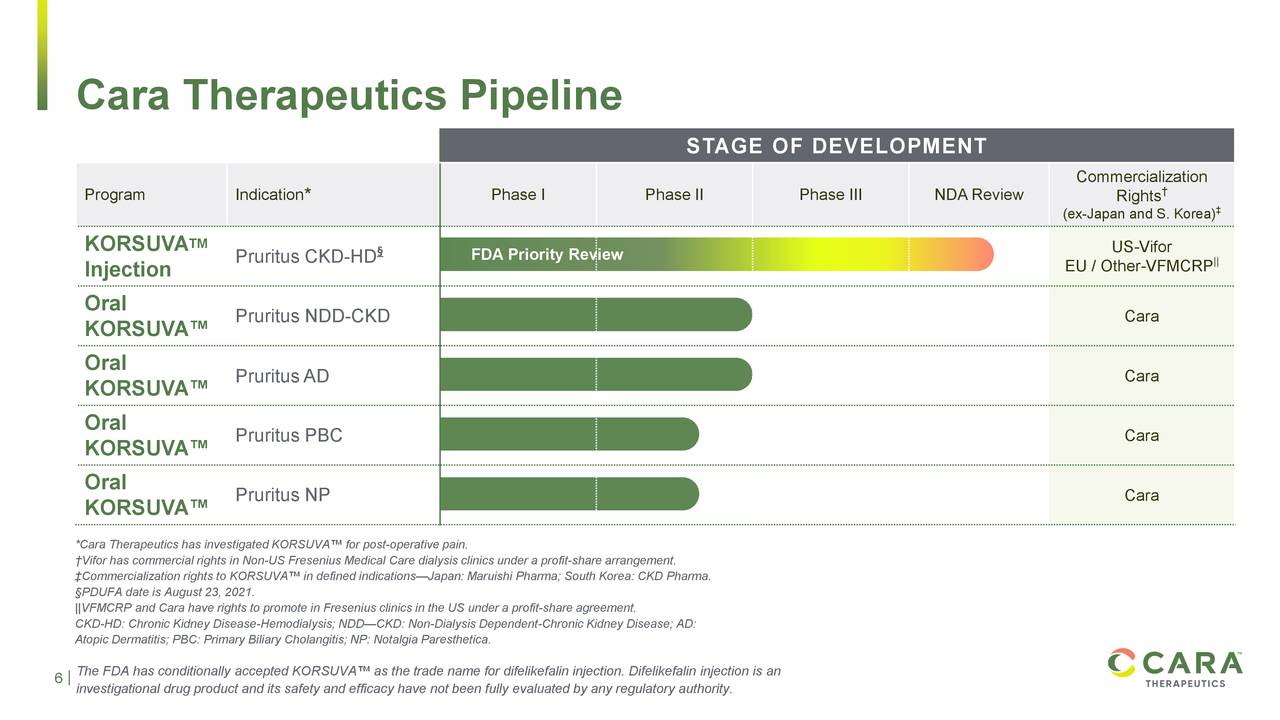 Source: May Company Presentation
This is the first of many Pruritus indications Cara hopes KORSUVA is eventually approved to treat. In late April, the stock was almost cut in half when the company announced that the oral version of KORSUVA failed to meet the primary endpoint in Phase 2 dose-ranging clinical trial in atopic dermatitis patients with moderate-to-severe pruritus.
However, Cara's management believes it has identified the 'appropriate patient population and dose strengths to move forward and depending on the outcome of discussions with the FDA'. The company plans to initiate a Phase 3 registration program for this indication by yearend. The company also continues to enroll patients in ongoing trials in both PBC and notalgia paresthetica. The aim here is to establish KORSUVA's efficacy across a range of patient pathologies for the treatment of chronic pruritus.
Analyst Commentary & Balance Sheet:
Over the past couple of months, H.C. Wainwright ($35 price target), Needham ($26 price target), and Piper Sandler ($30 price target). Here is the commentary from Needham on August 24th right after FDA approval of Korsuva:
We estimate ~475K US dialysis pts and estimate 35% w/ mod/severe pruritus (~166K target pts). Our net/rev/ pt/yr is $21,250 (2% price increase/yr) is derived from $25K WAC and 15% g:n. We model ex-US sales ~50% of US sales. We model peak WW revenues in 2024 and project inclusion into the ESRD bundle starting in 2025. Our peak WW revs to CARA outside-bundle is ~$180M in 2024. Our peak revs in-bundle is ~$160M in 2030."
JPMorgan seems the lone pessimist on Cara's prospects at the moment. The investment bank initiated Cara Therapeutics with a Neutral rating and $16 price target on August 3rd, three weeks before FDA approval.
The company ended the first half of 2021 with just over $205 million in cash and marketable securities. On the press release that accompanied second quarter results, leadership stated this cash balance is sufficient to:
Fund its currently anticipated operating expenses and capital expenditures into 2023, without giving effect to any potential milestone payments or potential product revenue under existing collaborations."
Verdict:
The company obviously made some nice progress advancing its primary asset KORSUVA since we last looked in on it back in February.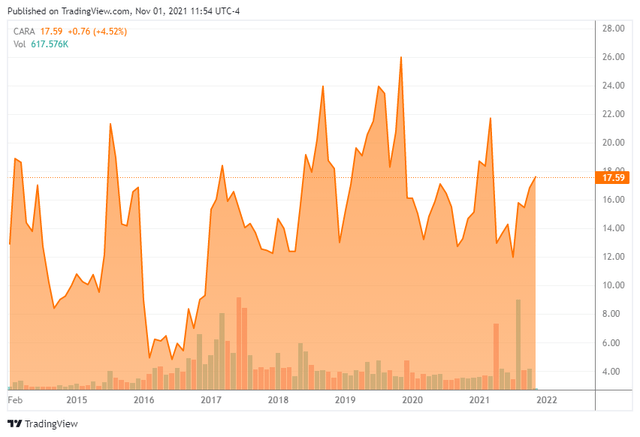 Yet, the stock is slightly below where it was as of our last article. Given how poorly the small biotech sector has done since then, that should not be surprising. The stock has behaved better of late. This equity has also been largely range bound since Cara came public. Over that time frame, the shares have spent the majority of their time in the $10 to $20 a share range with a couple of spikes in either direction.
Initial sales of injectable KORSUVA and approval in Europe for KORSUVA for moderate-to-severe itching in adults with chronic kidney disease undergoing hemodialysis are two key things investors will be watching for in the first half of 2022.
I have been successfully using covered call holdings to maintain a position in Cara Therapeutics for quite some time. The options on the equity are both lucrative (The May $17.50 call strike currently trades right at $3.50 a share as we submit this article for publication) and liquid. Given KORSUVA is in the initial stages of rollout and the large range bound nature of the shares, this is how I plan to maintain/profit from my holdings in Cara Therapeutics going forward as well.
There are wounds that never show on the body that are deeper and more hurtful than anything that bleeds." - Laurell K. Hamilton
Live Chat on The Biotech Forum has been dominated by discussion of lucrative buy-write or covered call opportunities on selected biotech stocks over the past several months. To see what I and the other season biotech investors are targeting as trading ideas real-time, just join our community at The Biotech Forum by clicking HERE.