Twilio 2.0 Starts Now, Don't Miss The Train
Summary
Twilio announced its Q3 2021 results last week and the stock got punished with a steep drop.
I see a lot of "explaniorism" the desperate need to explain price drops and find what looks like fundamental reasons but give elements that are essentially noisy.
We look at the so-called red flags: the COO leaving, lower organic revenue, lower EPS guidance and lower revenue growth for the next years.
Twilio is transforming itself completely and is becoming Twilio 2.0. It has even written a new mission statement.
Twilio Engage could be a real gamechanger and the more privacy rules (Apple's IDFA, for example) the better for Engage. The future looks bright.
This idea was discussed in more depth with members of my private investing community, Potential Multibaggers. Learn More »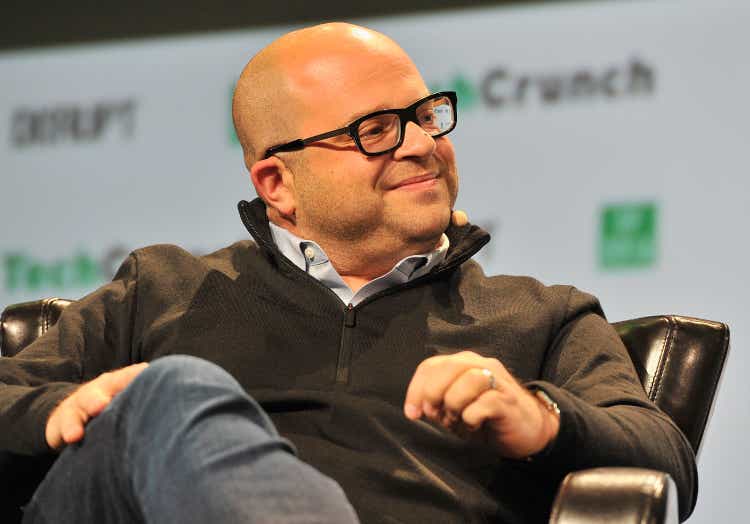 Introduction
Last Wednesday, Twilio (NYSE:TWLO) reported its Q3 2021 earnings despite another beat-beat-raise quarter, the stock price dropped like a rock, down 19% from its Wednesday opening price.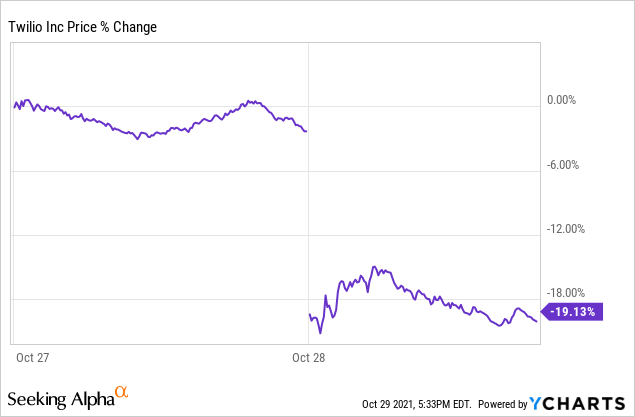 The earnings results
If you would see the earnings and not the stock price chart, what would you think the price reaction would have been? Let me sum up the facts:
revenue $740.2M +65.2% YoY vs. guidance of 50%-52% and a consensus of $681.09M, which would

have meant +52.0% YoY, a beat of 8.7%, which is really high for a revenue beat.

Organic growth 38% YoY
Dollar-based net expansion rate (how much more customers that were already there last year and who didn't leave spent versus last year): 131%
Customers: 250,000, up 20% YoY.
Q4 guidance: $760M to $770M, 40% YoY growth and at the high end (which Twilio always beats) 2.5% higher than the consensus of $750.7M.
To be honest, without looking at the charts, I would have been pretty convinced that that stock would have traded upward or at least flat. But we have seen the reality: the stock price dove. This is the market, this is what happens and especially with highly volatile stocks. The question many ask then, especially with such excellent results is 'But why?'
Explaniorism
I have written about explaniorism before. It's a term that I have coined myself (I think, at least I have never heard it anywhere else). With that term, I mean that a lot of people, especially analysts, but also a lot of other commenters and a majority of investors, really crave an explanation for short-term price drops.
Of course, sometimes there are good explanations. If a company doesn't live up to the expectations, if there are accounting problems, if the company loses an important customer or reveals headwinds that will have quite an impact on the company's results in the future, that's not explaniorism.
Explaniorism is when those things are not there. There is no fundamental shift in the business, but the stock price drops and the 'explaniorectics' need an explanation, any explanation. So, of course, with such a violent drop in Twilio's stock price, plenty of explanations were floating around on forums. Let's look at them and put them in context.
The COO is leaving: that's a red flag!
George Hu, Twilio's COO (Chief Operating Officer) since 2016, will leave the company.
George Hu, our COO, is resigning from his COO role, effective today, and will remain with the company through the end of the year as a strategic advisor. After doing an amazing job scaling Twilio from a run rate of $300 million to nearly $3 billion, and building an incredible go-to-market team that can take Twilio far into the future
(Source, all the quotes and pictures that are in this article without an explicit source are from this source, the prepared remarks of the conference call)
I have a strong suspicion that there are trading algorithms that have as one of their rules "CXO is leaving = selling" (where X can be O, F, E...), especially if it's combined with the sentence 'effective today'. If that happens, very often there is a reason to be suspicious, as it often has to do with something that went terribly wrong and stepping down immediately is the only way left.
That initial sell-off can trigger stop-losses, which makes that the stock price often go down even more. It sounds stupid, but sometimes, that's just what happens. Of course, quant systems don't decide on one rule, but COO leaving combined with EPS miss (on a GAAP basis, as on a non-GAAP basis, Twilio beat the expectations by $0.15, positive $0.01, while negative $0.14 was expected)...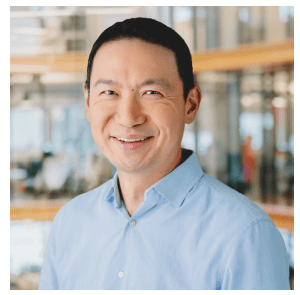 (George Hu, from the company's website)
But there is no reason to panic here at all. This is what Jeff Lawson had to say about George Hu leaving:
George and I have had an open dialogue about his desire to eventually move beyond a COO role -- something that he is absolutely ready for. George will take a well deserved break before pursuing that next step in his career. I wish him the absolute best and I can't wait to see what he does next.
Hu was not as clear, but with what Lawson said, I think this can be read as a confirmation:
I will be taking some time off to spend with my family and then pursue what's next.
And this sentence from Hu also doesn't show bitterness or so, to the contrary:
I will be cheering Twilio on from the sidelines, and I can't wait to see what the company builds.
So, this could be a matter of ambition. George Hu is not just anybody. Before Twilio, he worked for Salesforce (CRM) for 13 years, in functions such as VP of Product Marketing, SVP of Applications, EVP of Products, and Chief Marketing Officer. In 2010, he became the COO of Salesforce. In 2014, he left (there too!) and started his own company, Peer, which was bought by Twitter (TWTR) and Hu moved to Twilio. It's simple: management comes and goes in companies. If Jeff Lawson would leave, that could be a dealbreaker for me, but not George Hu, despite the fact that he has done great work.
I also wonder if this move of Hu has to do with his previous job at Salesforce, for 13 years. Jeff Lawson says that Engage is not competing with Salesforce, as that is traditionally B2B and this would be B2C (more about that later) but nevertheless, over the longer term, if Engage is successful, it could eventually become a competitor to Salesforce anyway.
Hu's main merit was that he completely built out Twilio's go-to-market strategy. That will be taken over by Marc Boroditsky, Twilio's CRO. George Hu about Boroditsky:
I am glad to be leaving the go-to-market function under Marc's leadership. I have long believed Marc would eventually run all of Twilio go-to-market, and I have been working with Jeff to prepare him for this day by expanding his responsibilities over time. Marc has been an amazing partner to me and I could not be happier for him. I have absolute confidence in Marc and the broader GTM leadership team to bring Twilio and it's into a wildly successful future.
Marc Boroditsky
Jeff Lawson about Boroditsky:
For those of you who do not know Marc, he has been the one driving our revenue organization to exceed expectations quarter after quarter now for the last four years. Marc will now report to me and assume responsibility for all of our customer- and partner-facing teams.
The go-to-market strategy was the most important part of Hu's role. The rest of his responsibilities will be taken over by CFO Khozema Shipchandler, who also becomes the COO of Twilio. It's impressive what Shipchandler does:
His responsibilities previously included finance, corporate development, information technology, cyber security, sourcing, real estate and business operations, and he will now also oversee the legal function. Khozema will continue to serve as the principal financial officer for the company.
Some will debate that it's not great that one person does so many things at the same time, but that could be solved in a few months. It looks like Hu only notified Jeff Lawson after Twilio's Signal conference in the week preceding the earnings release. Having to replace such an impressive COO is a work of months, not days. So, I'm comfortable with Shipchandler taking over for now, especially with the GTM strategy going to Marc Boroditsky.
Organic revenue was not good: red flag!
Another headline that tried to deal with the uncertainty surrounding the stock price drop is that organic revenue plummeted.
Maybe you have already seen this slide from Twilio's earnings slide deck because it circulates on quite a few forums.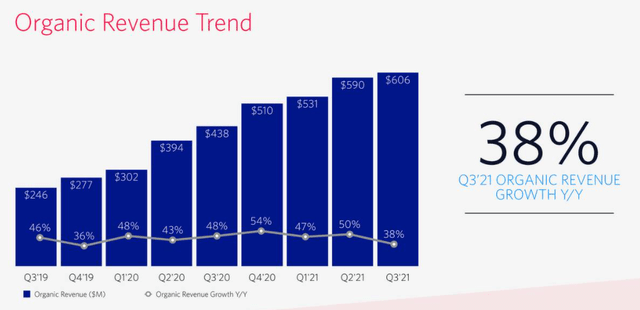 Awful, right? 38% organic YoY growth. But don't forget that 2020 was an election year and that meant $23M extra revenue for Twilio in Q3 2020. If you exclude that revenue, organic growth would have been almost 43%. That's not that different from the other quarters: 46%, 36%, 48%, 43%, 48%, 54%, 47%, 50%. The last quarters were a bit higher because of the pandemic, but there is always lumpiness in the quarters. What do they have in common? They are always 35%+. Q4 2019, reported on February 5, 2020, was the lowest organic growth with 36%, lower than this headwind-quarter and you could have sold your shares. This is what you would have missed: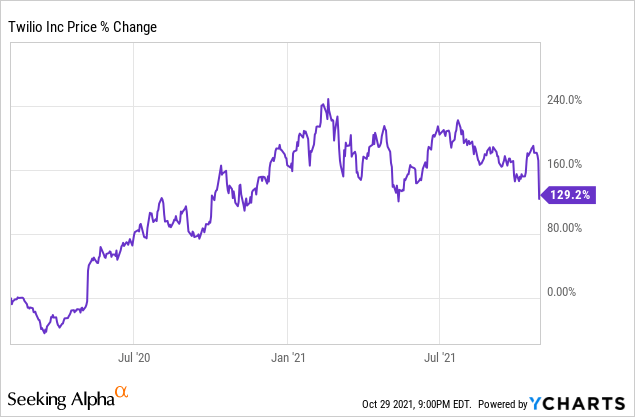 And with these acquisitions, the company has started a whole new product, Engage, which opens the gigantic CRM market for Twilio. I have already written about that in the Overview Of The Week and I will go into it later in this article.
Lower revenue growth for the next years: red flag
There were others who said that management that guided for 'just' 30% annual revenue growth was the reason why the stock price plummeted. They are wrong too, because this is what management said (my bold):
When we look to 2022 and beyond, we remain very confident about our ability to deliver 30%+ annual revenue growth over the next three years.
30%+ is not the same as 30%. And if you know Twilio's management a bit, you should know that they always guide very conservatively. If they guide for the next three years, it will probably be even more conservative. But if they guide for 35%+ growth and one year it would be 'only' 35%, the headlines would be that Twilio doesn't live up to its promise.
On top of that, this is the 'organic' growth for the next years. Of course, that includes the acquisitions of the past, but not those of the future. I would be surprised if Twilio doesn't acquire more companies in the next three years.
To round this off, if Twilio guides for 30%+ revenue growth and you look at the consensus estimates for the next two years (there's only one analyst who projects three years out, so we don't take this into account here) you see just 30% growth.

So, probably Twilio will beat that by quite a bit, as I'm pretty sure that Jeff Lawson keeps his own version of the margin of safety: the margin of prudent guidance.
I'll make a bold prediction here: Twilio will continue to grow at 30%+ for much longer than just three years. I can even see it grow 25%+ for the next decade or so and that makes the stock interesting. Twilio's valuation has basically been cut in half because of the results and the stock price drop.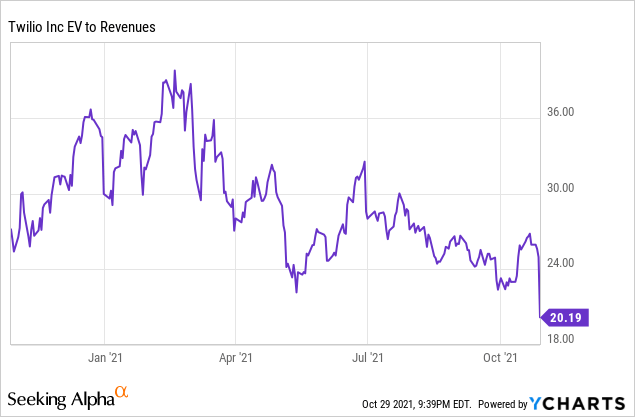 EPS guidance is awful
When it comes to EPS, Twilio also beats the consensus by a wide margin again in Q3 2021. Non-GAAP EPS came in at $0.01 beating the estimates by $0.15. Do you know what the company had guided for? ($0.17)-($0.14), while the analysts had expected ($0.07). Analysts rerated their EPS guesstimates to the upper side of Twilio's guidance ($0.14) but Twilio beat the original estimate ($0.07) by a wide margin.
This is typical Twilio behavior. The company likes to guide low on EPS and then beats the hell of that guidance and the consensus. In almost every quarter, it beats the EPS consensus by more than 100%.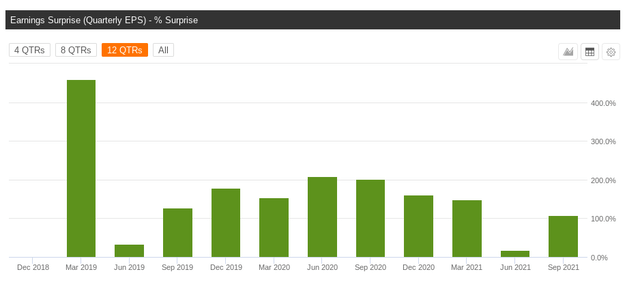 This time we see the same again. Investors very familiar with this company shrug or have a smile on their face, investors who know the company know that it's very conservative in its guidance and the company takes the bottom of what it expects. So, why would I worry about the EPS guidance? Twilio will probably beat its guidance by a huge margin again. On top of that, EPS are not important for companies growing that fast.
You should not forget that Twilio is a SaaS business that is usage-based, not subscription-based. That makes the business a bit more difficult to predict. That is also the explanation why the quarterly organic growth numbers jump up and down a bit. I rehash the same graph that I shared before: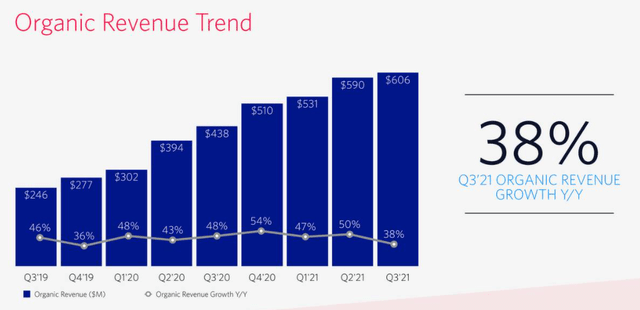 46%, 36%, 48%, 43%, 48%, 54%, 47%, 50% and 38%. You see some deceleration and re-acceleration in those numbers.
Usually, I prefer to have DBNRR (dollar-based net retention rates) of companies because they look at what all customers spent last year, including those that left the platform in the last year and compare that to what these customers have spent this year. So, DBNRR includes churn.
But because of the nature of the business of Twilio, I completely agree with reporting the DBNER or dollar-based net expansion rate for Twilio. That only looks at how much customers that have not left the platform have spent more. If there is no election, several customers leave of which you know of they will come back with the next election. And Twilio's DBNER is very impressive.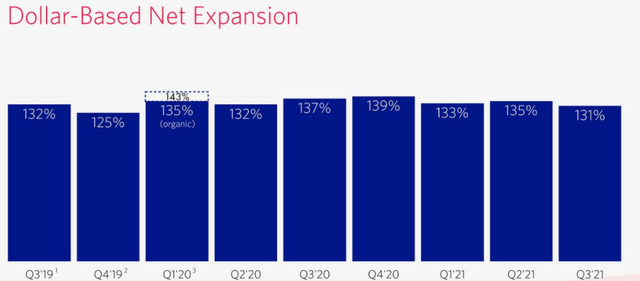 Being worried about this quarter and the next is not necessary if you know this context, I think. For Q4, 40% revenue guidance is given, excluding SendGrid and Segment. That would have been 47% without the $23M that came in extra last year because of the elections. Next year, there are already mid-term elections again and that will be a tailwind again. Put the numbers in a wider context, and I think you see there is not much to worry about.
The last element that I want to point out in this context is that Twilio has a net cash position of $3.6B, even after the multiple acquisitions. This company has a fortress of a balance sheet.
Engage: Twilio 2.0
On its SIGNAL 2021 conference, held a week before the earnings call, Twilio announced the launch of Twilio Engage. It's not there yet, you have to use some imagination, but I'm convinced that Engage will be a gamechanger and will boost Twilio's core business and its Segment division even more.
Twilio has had many shifts before but always in the CPaaS space, which stands for Communication Platform-as-a-Service. Its main goal as a company is to help businesses grow through customer engagement. The company started out with automated SMS texts, but has shifted to all kinds of communication: emails, phone calls, videos, helpdesk centers, even IoT communication (The Internet of Things) and much more.
Twilio works with APIs, which allow much more flexibility for developers to customize what they build. The developers are like bricklayers who don't have to bake their own bricks anymore (=building an app from scratch) or live in a pre-built house (=buying an app). Twilio provides bricks that can be easily stacked and adapted to your need and taste.
With Twilio Engage, Twilio now goes outside of pure communication for the first time. Twilio's Founder and CEO, Jeff Lawson had this to say in regards to the launch of Engage:
In today's digital world, the most innovative companies are able to use their data to deliver exceptional, personalized customer engagement. That should be something that's achievable for every brand, not just the biggest tech companies. It's only possible with the best data, the best communication layer, and a building blocks approach to software — which is what we're bringing together for the first time with Twilio Engage. Our vision is to democratize personalization, so companies of every size can.
This is a very important new path for Twilio, as it goes into CRM (customers relation management). It's a direct consequence of the company's $3.2B acquisition of Segment. Jeff Lawson:
The major difference between Twilio and everyone else is that everyone else is trying to sell you an app.
With this launch, Twilio wants to disrupt the gigantic CRM market from the bottom up. Segment, acquired in October last year, is crucial in this new initiative. It is a company that collects and analyzes data about the customers of a business.
Segment didn't want to sell to Twilio and it took a year before they even wanted to start talking. Jeff Lawson explained his vision of Twilio and Segment together constantly to Segment's management. The reason why Segment changed its mind about the acquisition? According to Segment co-founder and then-CEO Peter Reinhardt:
I started to notice customers using the same words that Jeff had been using.
This comes down to the fact that customers were begging Segment to just have the insights in their data, but that they also wanted to reach out to the customers with the knowledge that they had found.
When Twilio bought Segment, it identified four sectors it could move into. One of them was marketing, which has now already come to fruition with this launch. The three others are customer services, product, and sales. Marketing seemed like the first logical step to venture into. Again Reinhardt:
What we noticed is that most of the data that Segment brings to bear today is used for marketing, and most of the communications that Twilio sends are used for marketing. That became the most natural overlap point.
You want a product that is fitted for each and every customer, but in such a way that the company can still manage that. Engage will give that possibility. Engage will have a personalization algorithm that will help in predicting which messages are suited for the profile of a customer. You can compare it to Netflix recommending certain movies or series for you or Amazon's suggestions when you are shopping. If we see how big Salesforce has become with CRM (it has a market cap of almost $300B), this is a very exciting launch.
Twilio won't go head-to-head with Salesforce, though. It will be consumer-facing, not B2B. But eventually, these two may meet each other. Another company that could have some overlap with Twilio is Zoom (ZM) which is also building a communications platform, but more focused on B2B. Jeff Lawson:
Contrast that with B2C businesses: there is no salesperson typing notes, nor is there a "source of truth" about the customer. The sum of all the data points the company can see is the emergent source of truth.
Twilio also changed its mission statement from 'Fuel the Future of Communications' to 'Unlock the Imagination of Builders' to reflect that it's becoming Twilio 2.0, which goes beyond just communications into new territories.
With Apple's IDFA strictness (Identifiers for Advertisers), where consumers have to sign in for ad targeting instead of sign out, companies like Facebook (FB) and Snap (SNAP)) have seen an impact on their ability to reach customers; Twilio can solve that problem because it can integrate 1st-party data and immediately couple communications solutions to that. That's what Engage will do and the phase-out of cookies and Apple's sign-in for IDFA will be strong tailwinds. As Jeff Lawson remarked in the prepared notes of the conference call:
To me, this represents the biggest, and most exciting, enterprise software opportunity of our time because I see multiple tailwinds at our back. Secular shifts, brought about by digital disruption, by the digital acceleration of COVID, and by societal changes in privacy are all pushing customers toward what Twilio has to offer.

... However, the communication layer is the last mile of customer engagement -- transmitting the message is just the last step. What you say, to whom, when, and on what channel -- that's the intelligence component, and it's incredibly hard to get right. That's the next phase for Twilio -- helping customers deliver more relevant and impactful messages, not just more of them.
The fact that Big Tech has created such big monopolies is a big opportunity for players like The Trade Desk (TTD) and also Twilio. Jeff Lawson on the questions he gets from CEOs about Big Tech.
Can I let them sit between me and my customers? Should I have to pay a transaction fee to keep re-acquiring my own customers from the few Digital Giants who have all the relationships? Or...should I be building my own, deep, and unbreakable customer relationships? The answer, of course, is the latter... Great businesses know that the key to winning is to own their data, own their customer relationships, and ultimately, own their future.
This is what that other Jeff, Jeff Green from The Trade Desk calls the open internet, in contrast to the walled gardens like Google (GOOG) (GOOGL) and Facebook, that make money from the data of companies. Jeff Lawson too has seen this very well and that's why I like Engage so much. Jeff Lawson thinks messaging customers directly will impact advertising profoundly:
We believe that messaging is such a cost-effective channel, that when used wisely with good targeting, has the opportunity to displace ad spend in general and re-targeting and re-engagement in particular
Twilio is doing here what all great companies have done before: become so essential for customers that they never want to leave, expanding the platform's products at lower and lower costs to improve profits over time. I think Engage will be key in this respect, but it won't be Twilio's last expansion.
Conclusion
It's very important to understand that Twilio is a platform and platforms are extremely powerful. Think of the App Store or Shopify (SHOP), which has become the standard platform for small to huge independent merchants. It's extremely hard to become a platform, but once you are a platform, the switching costs are very high, but financially as mentally, and the expansion costs for the company become more and more profitable.
Therefore, it makes no sense to just look at a quarter. Look ahead. The analysts project 30% growth in 2022 and 2023, but that is because they don't take innovation into account. They judge on what is, not on what comes. If Twilio would still be what is it would still only be an SMS platform, with a relatively small TAM (total addressable market). Instead, it has become a monster force in communication, the clear leader in the space and it's ready to change again.
In the meantime, keep growing!
Stocks that go up 10x or more, completely change your life and that is what Potential Multibaggers mainly focuses on. 
Potential Multibaggers is not for those who trade in and out of stocks but for long-term investors.
Shopify +1,740%, Sea +550%, Okta and The Trade Desk +300%, Cloudflare +230%, Upstart +200%... That's from just 23 picks. The average return per pick outperforms the S&P500 by triple digits.  
At Potential Multibaggers, you get exclusive updates, live portfolios, a watchlist, personal contact, a great community and much more. 
Feel free to start the free trial now!
This article was written by
From Growth To Value is an individual investor with a long-term perspective. He targets high-quality disruptive businesses who have early multibagger potential. His rigorous research process provides him and his readers conviction in these companies.
He invests personally in the ideas he shares and leads the investing group
Potential Multibaggers
. Features of the service include: best buy list, access to his personal portfolio and watchlist, 5+ articles of individual stock coverage, weekly review regular webinars, overall quality scores, and a vibrant chat for discussions.
Learn more
.
Analyst's Disclosure: I/we have a beneficial long position in the shares of CRM SHOP TTD TWLO ZM either through stock ownership, options, or other derivatives. I wrote this article myself, and it expresses my own opinions. I am not receiving compensation for it (other than from Seeking Alpha). I have no business relationship with any company whose stock is mentioned in this article.
Seeking Alpha's Disclosure: Past performance is no guarantee of future results. No recommendation or advice is being given as to whether any investment is suitable for a particular investor. Any views or opinions expressed above may not reflect those of Seeking Alpha as a whole. Seeking Alpha is not a licensed securities dealer, broker or US investment adviser or investment bank. Our analysts are third party authors that include both professional investors and individual investors who may not be licensed or certified by any institute or regulatory body.