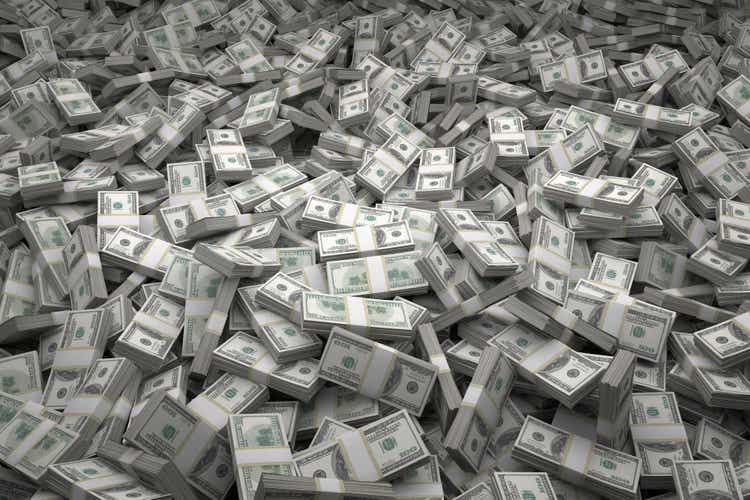 Background
It's very simple really. What's growth really mean for Palantir (NYSE:PLTR) investors in 2022, 2023, 2024 and beyond? This is more difficult to answer than it might appear on the surface but all will be revealed.
Here's how the article will play out.
First, I look at PLTR's early growth from $10 to $25 or so today. I don't expect the same year-over-year growth, but PLTR investors today could still do very well.
Second, I review PLTR's growth assumptions once again showing how 30% growth per year is too probably too modest. I still believe PLTR is sandbagging.
Third, I show how leverage on PLTR using long-dated options probably isn't going to greatly accelerate investor gains over the next 2-3 years. That's not to say options are bad, but LEAPS don't look sexy here.
Lastly, I explain how many shares are needed right now to reach $1 million in PLTR stock by the end of 2025, given rational growth models. This is not "get rich quick" at all, but instead it's meant to be an intriguing way to frame future growth for any investor.
Past Performance Won't Get You There
Let's start with a basic approach. Here's how PLTR looks thus far: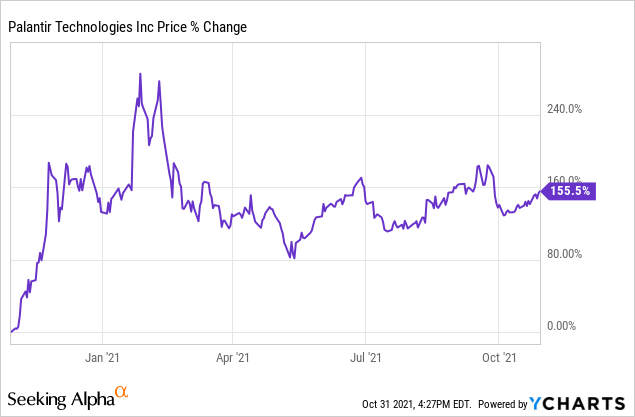 In one year, PLTR has gone up 155% going from $10 on September 30th, 2020 through $25.88 on October 29th, 2021. (I'm seeing $26.47 right now.)
Although I don't expect similar results going forward, we can roughly estimate how things would look. It's been about 400 days since PLTR's DPO. Therefore, very grossly speaking, PLTR is gaining about 0.23% per day compounded. I did that fast, and very back-of-napkin, but it's still fun and interesting, if not ridiculous. Here's how things would look now if you bought at the DPO:
10 shares at DPO for $100 = $250
100 shares at DPO for $1,000 = $2,500
1,000 shares at DPO for $10,000 = $25,000
10,000 shares at DPO for $100,000 = $250,000
In other words, even with $100K invested you would not yet be a PLTR millionaire. How many more days at 0.23% would it take to reach $1 million in PLTR stock in this case? Here's the math:
10 shares at DPO = 4,000 days (about 11 years)
100 shares at DPO = 3,000 days (about 8 years)
1,000 shares at DPO = 2,000 days (about 5.5 years)
10,000 shares at DPO = 1,000 days (about 2.5 years)
Of course, this is mostly absurd. Getting 150% returns per year is outlandish and it would have required buying right at the DPO for $10 per share. Plus, you'd need to keep getting 150% per year. Also, it would require zero selling. And, much more. Although this is all fun, it's unrealistic for most investors.
So, the first big point is that even starting with a lot of money and lot of shares, very few investors are hitting $1 million with PLTR right now. And, even with robust assumptions, it'll take many more years to hit the big goal. Therefore, patience is required. There's no way around the math.
More Reasonable Assumptions
For a moment, let's review one basic ratio.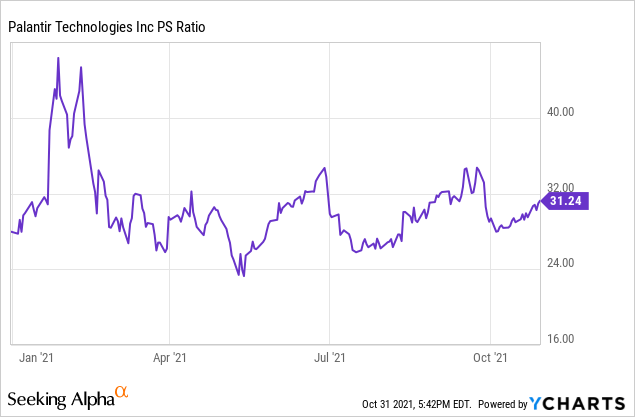 Squinting a bit, you can see that PLTR's average price-to-sales ratio is about 28. Next, here are several more mature software companies, plus PayPal (PYPL), CrowdStrike (CRWD) and Snowflake (SNOW) for a bit of fun, and added perspective.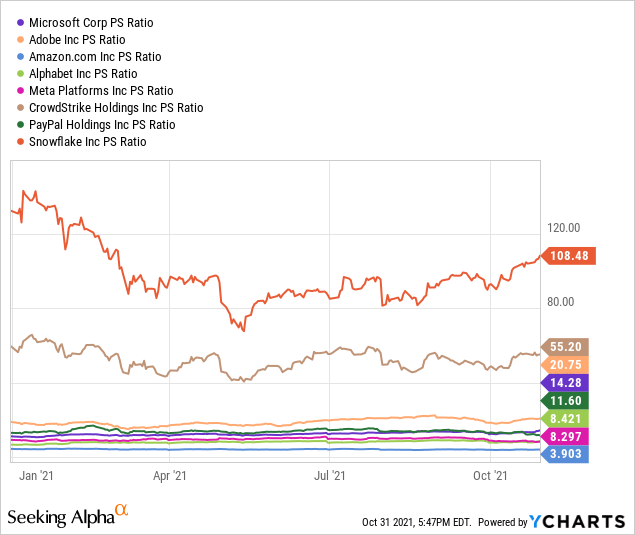 Not surprisingly, SNOW still has a much higher P/S ratio than PLTR. That's been the case for a while. And, CRWD is quite a bit higher. Then, naturally, all the older and bigger software companies I've shown here have significantly lower P/S ratios. Maturity acts like gravity, pulling P/S down.
However, with PLTR, I could easily see the P/S hold around 28 for the next several years as long as strong growth is maintained. In fact, we could see the P/S grow upwards to 40-50, or perhaps higher. On the other hand, it could drop down into the 18-22 range. Of course, anything is possible but I'm trying to establish some guardrails.
Here's why this matters: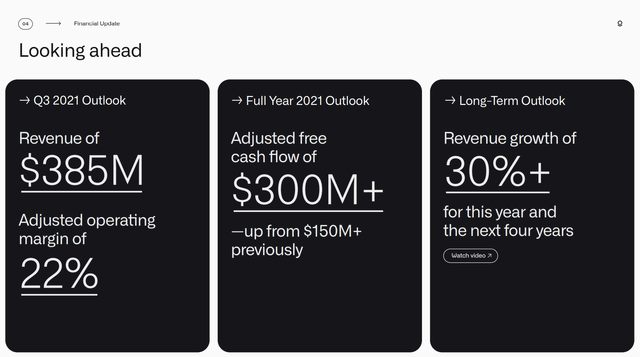 Source: PLTR Q2 Earnings Slides
If revenue growth holds at 30% and price holds with respect to those sales, as the ratios indicate at this point, then we can do a bit of extrapolation. In other words, assuming 30% share price increases year over year isn't too crazy. Here's how that looks, assuming we start with a price of $25 right now:
2022 = $32.50
2023 = $42.25
2024 = $54.93
2025 = $71.40
But, here's the rub. I think that maybe PLTR is sandbagging. I wrote an article all about this with a ton of interesting proof.
In fact, 40% growth might also be too conservative, and according to my projections, PLTR is actually quite capable of 50% CAGR through 2025. For reference: Palantir Is Sandbagging Growth Projections.
Now, stick with me. Because at this point, we're moving from 30%, to a much higher set of numbers.
Follow The Math
I ran some numbers back in that article back in June 2021 when PLTR was trading a little bit lower, at $24. Here are those projections:
2022 = $34 (40% growth)
2023 = $47 (40% growth)
2024 = $66 (40% growth)
2025 = $92 (40% growth)
Then...
2022 = $36 (50% growth)
2023 = $54 (50% growth)
2024 = $81 (50% growth)
2025 = $122 (50% growth)
Again, for reference: Palantir Is Sandbagging Growth Projections. The math tells us that if PLTR is expecting $4 billion in revenue by 2025, then it's got to grow way above 30%. So, going way above $100 is perfectly rational.
Therefore, in 2025, being a PLTR millionaire would require just under 11,000 shares assuming 40% growth and hitting $92. Being a PLTR millionaire would require about 8,200 shares assuming 50% growth and hitting $122 per share.
Getting your hands on 11,000 shares right now at $26 would set you back $286K and 8,200 shares would cost you about $213K. Roughly speaking, you'd need $200-300K of PLTR, depending on your assumptions, and then how things actually work out.
Obviously, you can run your own numbers for your own portfolio from this point. The frameworks are simple, but clear. While I don't expect any kind of smooth growth from here, I do expect tremendous and growing strength over the coming 3-5 years, let alone the next 8-10 years.
With a substantial "down payment" becoming a PLTR millionaire isn't impossible, but that's not exact the point. Instead, it's to consider the tremendous growth in PLTR itself, but also the share price along the way. Even a modest amount of PLTR could turn into a handsome pile; thank you, growth.
Is Leverage Worth It?
Maybe we could use options to exploit leverage:
Options can provide leverage. This means an option buyer can pay a relatively small premium for market exposure in relation to the contract value (usually 100 shares of the underlying stock). An investor can see large percentage gains from comparatively small, favorable percentage moves in the underlying product.
Just remember the key risk if you're buying options:
Leverage also has downside implications. If the underlying stock price does not rise or fall as anticipated during the lifetime of the option, leverage could magnify the investment's percentage loss. Options offer their owners a predetermined, set risk. However, if the owner's options expire with no value, this loss can be the entire amount of the premium paid for the option. [Emphasis: Author's]
And, depending on your belief or "faith" in PLTR's growth, you could use long dated options or "LEAPS" to become wealthy with PLTR.
For example, we can easily go out all the way to early 2024: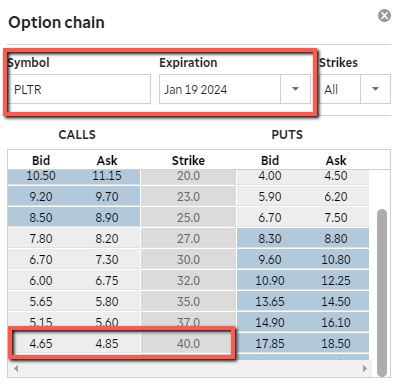 Source: TD Ameritrade
Assuming you could buy PLTR LEAPs for $4.75 with a strike price of $40, then you could potentially do quite well if PLTR's growth numbers play out.
With 40% share price growth, PLTR would hit $47 by the end of 2023. And, with 50% growth, PLTR would hit $54 by the end of 2023.
At a glance that sounds good, but it's not fantastic. I don't even really have to run the numbers because at a glance you can see that you'd maybe 2x to 3x your money invested right now using PLTR LEAPS with a $40 strike.
Instead, maybe we'd want to look more closely at the $27 strike, for example: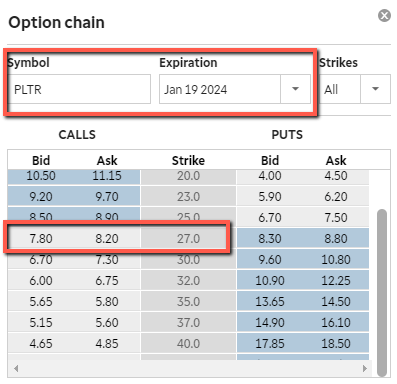 Source: TD Ameritrade
At this point, assuming $8 for each PLTR Jan 2024 LEAP with a $27 strike, we're looking at $12 assuming gains per LEAP with 40% growth. Furthermore, we're look at about $19 gains per LEAP with 50% growth.
To be clear, what I'm doing is adding the $8 LEAP cost and the $27 strike price. That's $35. Then, I'm taking $47 which assumes 40% growth, and subtracting to get the difference, which is $12. And, I'm taking the $54 which assumes 50% growth, and subtracting the same way to get $19. Nothing too fancy here, and no complicated math. Either way, it falls short again.
Putting $8 in maybe gets us 1.5x to 2.5x returns in about 2 years. Of course, it could be more like 3x, or even maybe a bit higher. However, buying and holding is likely to generate similar gains, with less risk.
The message is this. The options market is smart, and forward looking. And, in this case, it's basically letting us know that PLTR's growth is likely to be in the 40-50% range, as I've explained above. The deeper lesson is to have patience with PLTR common equity. The growth is there and leverage won't accelerate gains without adding too much risk.
At this point in time, I'm not investing in PLTR LEAPS. Buying and holding, with strong growth tailwinds is plenty good enough for most investors. Or, at a minimum, buying PLTR and holding is good enough for my portfolio.
Wrap Up
First, I looked at PLTR's early growth from $10 to $25 or so today. I'm not expecting 150% gains every year, however. That's far too greedy and besides, the uncertainty around PLTR is slowly fading, thereby stabilizing things quite a bit. In part, this is what's holding PLTR in the $22 to $28 range, I believe. The burn off of uncertainty has built a floor, or trading zone. I'm confident this floor will move upwards in 2022.
Second, I reviewed PLTR's growth assumptions once again, showing how 30% growth per year is too probably too modest. Instead, it's looking like we'll see more like 40-50% per year for the next 3-5 years. Furthermore, assuming there's not a collapse in the P/S ratio, investors could enjoy 40-50% capital gains per year, although it might be quite lumpy along the way. If this is true, then hitting $90 to $120 in 2025 is rational.
As a quick sidebar, I can see PLTR hitting somewhere between $65 to $85 by the end of 2023, along the way. If PLTR can show concrete growth, and if they can taper stock-based compensation, this seems quite plausible.
Third, I've used long-dated options and some rough math to show that using leverage on PLTR in the market probably isn't going to greatly accelerate gains over 2-3 years. However, even it does work out, the risk to capital goes up. While there are some times where options work well, e.g., selling PLTR puts, using LEAPS right now doesn't look favorable enough. Better to buy and hold, in most cases.
As another sidebar, I enjoyed looking at PLTR LEAPS, which gives investors some added confidence in PLTR's growth over the next 2-3 years. The options market is rather intelligent as a wisdom of the crowds prediction model. I'm seeing an optimistic "thumbs up" right now. Growth Stock Renegade subscribers got an extra special view of this phenomenon, I might add.
And lastly, as a fun exercise, I've shown that you'd likely need 8,000 to 12,000 shares, and 40-50% CAGR on those shares, to reach $1 million. That would require setting aside $200-300K, and waiting patiently until 2025. Maybe that's acceptable, and maybe not, but at least you have a framework now to understand the potential. That's the real point.
Obviously, you can take all of this data plus the growth rates and come to your own conclusions. What I know is that my confidence in PLTR is still quite high and I continue to maintain my bullish position.

Best-of-Breed Growth Stock Ideas Targeting Oversized Returns
I'm not sure this is for you but I've just launched a brand new premium service called Growth Stock Renegade.
Proven research methods championed by growth stock investors like Peter Lynch, Richard Koch, and Phil Fisher.
Join today for less than $2 per day. And when you join, I'll instantly share my actively managed growth stock portfolio. (New pick just posted.)
Right now is the perfect time to subscribe because it's affordable for any budget. Plus, there is a 14-day FREE TRIAL.
(You are fully protected by Seeking Alpha's unconditional guarantee.)