Dover Motorsports: Change Is A Good Thing
Summary
DVD stock has been dead money for nearly a decade, as a seemingly obvious case for Dover as a takeover target hasn't played out.
But a reopened track in Nashville, upheaval in the NASCAR schedule, and changes to Dover's ownership suggest there should be some urgency around a sale.
A rally over the past year-plus adds a bit of risk, and lessens reward, but Dover stock still seems like it should have more upside ahead.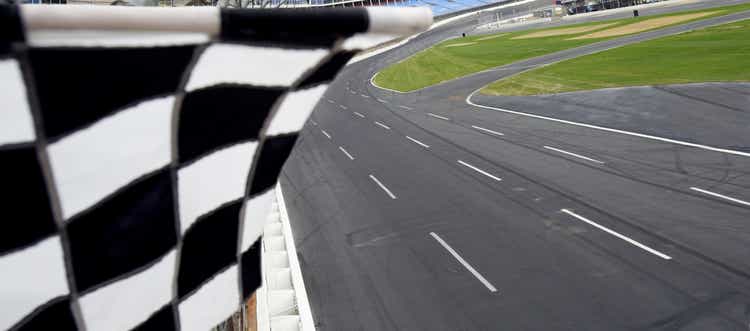 At some point, investors will wake up to find that Dover Motorsports (NYSE:DVD) has been sold. The question is when that sale happens, and at what price DVD stock is acquired.
A sale simply makes too much sense not to happen. Dover owns two NASCAR-sanctioned tracks while International Speedway (itself now owned by NASCAR) and Speedway Motorsports have close to a duopoly on the remaining part of the 36-race schedule. Either ISC or SMI would seem a logical buyer, as each could cut Dover's administrative costs and immediately boost profit.
In fact, Dover doesn't really make sense as a public company. Even with NASCAR quickly expanding the number of tracks featuring Cup Series (i.e., top-level) racing, there really aren't any acquisitions the company could logically make. Against ~$13 million in 2021 EBITDA (excluding one-time and non-cash items), and a market capitalization of about $81 million, the cost of being public not only seems to outweigh the benefit, but appears material against the current equity value.
There is one big catch: in some form, this story has held for close to 15 years now. According to a letter from a Dover executive, all the way back in May 2007 Dover was negotiating a sale to an "alliance" between ISC and SMI. That executive believed that public pressure from an activist investor tanked his company's negotiating position, but whatever the cause a sale never happened. Since then, total returns in DVD have been sharply negative; even over the last eight years, shares have barely moved (though a usually healthy dividend has provided some measure of return).
The clear risk to DVD stock is that history repeats, and that a sale that makes too much sense not to happen still doesn't happen. But, increasingly, it looks like the status quo simply doesn't work for anyone involved. The long-awaited end for Dover might finally be arriving, and there are reasons to believe that in turn will drive some long-awaited upside in Dover Motorsports stock.
Nashville Changes The Story
"You know that there are only two buyers for your company and that they're both sitting at this table. You have to do something. And you don't have a choice but to sell to us." Mr. Smith proceeded to offer to buy the company at market value with no premium. After about an hour of discussions, he offered an additional nickel per share. Why he chose to be so insulting is anyone's guess, but the meeting adjourned shortly after this.
That passage from the aforementioned letter, from former Dover general counsel Klaus Belohoubek to activist investor Mario Cibelli, gets to the heart of why Dover Motorsports remains public. Former SMI head Bruton Smith was right: there really were only two buyers for Dover. Because of the so-called Ferko settlement, ISC and SMI couldn't unilaterally pull races from Dover's namesake track in Delaware. But because of the reach of those two companies (which control the vast majority of NASCAR tracks), there were no other buyers that made any sense.
Meanwhile, Dover was and is controlled by the RMT Trust, made up of Henry Tippie and members of the Rollins family. RMT's far larger and more valuable asset is ownership in pest control provider Rollins (ROL), which left Dover as something of an orphan (and perhaps, though this is speculation, even something of a liability when it came to the tax impacts of a sale on that trust). The result was a stalemate that in retrospect seems somewhat unsurprising.
But last year, Dover got a jolt. Its Nashville Superspeedway (actually located a good deal east of downtown Nashville) had been dormant for a decade, but NASCAR announced that it would receive a four-year Cup Series sanctioning agreement starting this year. Given that Dover had spent years trying to sell the property — including a 2014 agreement that wound falling up through — the reopening of the track was a massive surprise.
Dover did lose a race in Delaware in the process, but at least this year the trade-off has been well worth it. Nashville's June race sold out, with some 38,000 fans filling both permanent and temporary grandstands. The superspeedway's capacity admittedly is lower than most other Cup Series tracks, but the financial impact seems positive. With the 2021 schedule complete, Dover has generated operating income of over $10 million excluding one-time items. Even assuming Q4 losses from corporate spending, profit should come close to doubling relative to the similarly adjusted full-year figure for 2019.
DVD stock has responded in kind. Shares jumped on the track news last year, and they've kept climbing; they're now up 58% from where they closed on June 2, 2020, the day before the return to Nashville was announced.
The Fundamental Case for DVD Stock
Of course, most stocks are up sharply from where they traded 17 months ago. And in the context of longer-term trading, DVD's move simply looks like a return to pre-pandemic levels, rather than an expression of increased investor optimism toward its future: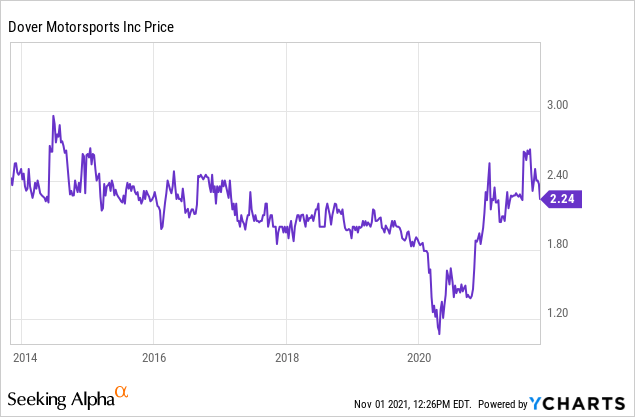 eight-year chart
But this actually does seem like a stronger story now than it was in years past. The fundamentals are better and the odds of a buyout seem more likely.
As far as profits go, the shift of a race from Dover to Nashville seems like a net positive going forward as well. Nashville is a smaller track, but Dover has been suffering from lower attendance for years: admissions revenue fell by more than half between 2012 and 2019. Dover in fact has been steadily pulling seats out of its grandstands over that stretch, in a bid to preserve some kind of pricing power (and perhaps to avoid running afoul of NASCAR attendance guidelines).
Between pent-up demand and the novelty of the race, Nashville no doubt got a bump this year, but the Dover track also faced restrictions on its attendance. All told, looking ahead it does seem like Dover Motorsports has a far better chance to generate consistent admissions revenue in Tennessee than with a second race in Delaware. Again, results sharply improved this year; operating cash flow of $9.4 million year-to-date suggests strong free cash flow potential, as capital expenditures should recede following a roughly $10 million investment in Nashville's reopening this year.
NASCAR's TV deal has three more years of contracted increases remaining. Dover has an enterprise value of about $70 million including $11.2 million in county-issued bonds backed by sales tax revenue from the Nashville property. That liability should be reduced by Nashville events (which are guaranteed through 2024), while even flat attendance, 3%-plus media revenue hikes, and $2-3 million in maintenance capex suggests free cash flow should total ~$20 million over the next three years. Even assuming both Nashville and Dover shut down at that point, Dover still has 650 acres in Tennessee, where per SEC filings it's sold land for an average of nearly $50,000 an acre, and the Delaware property, which is assessed at over $80 million (though that includes a casino now owned by Bally's Corporation (BALY)).
In a no-sale scenario, it does seem like DVD stock can and probably should hold up, even though there are risks. NASCAR interest continues to flag. NASCAR's TV deal expires after the 2024 season, and the current deal was negotiated at what obviously was a peak, as Comcast (CMCSA) unit NBC and Fox (FOX) (FOXA) both were launching new sports-focused channels. Amid steadily declining ratings, it seems exceedingly likely that the new rights deal will see a step down, which in turn could wipe out a large chunk of Dover's profits. (Broadcasting has accounted for over 70% of total revenue for the company year-to-date, and nearly three-quarters of the total in full-year 2019.)
But with land value (on paper) likely over the current enterprise value, the county bond liability dropping to ~$8 million at the end of 2024 (based on this year's $1.1 million reduction), and positive free cash flow coming in for at least three years, it does seem like the downside is reasonably protected. Put simply, there are multiple ways to generate ~$2 per share in value over the next few years, and while that kind of value would suggest some losses and some opportunity cost, even a worst-case scenario for the business doesn't seem to suggest a worst-case scenario for Dover shareholders.
Why A Sale May Finally Be Imminent
Again, DVD has been a "heads I win, tails I don't lose much" case for years now; I personally first highlighted that case back in 2015, while pointing to the still-extant catalyst problem.
But the positive side of the case now looks different in two ways. First, former Rollins chairman R. Randall Rollins passed away last year. Perhaps not coincidentally, rumors swirled at the same time that his namesake company was up for sale. Henry Tippie is in his mid-80s; between Rollins, Marine Products (MPX), and Dover, there may be increased interest in the succeeding generations to monetize the public holdings.
More importantly, NASCAR is making enormous changes to its schedule. After the 2021 expansions to Nashville, Wisconsin and Austin, Texas, the Cup Series is racing outside St. Louis in 2022 (ironically, at a track that Dover itself shuttered a decade ago). There will be an exhibition at a football stadium in Los Angeles, the return of a 2021 dirt-track race at Bristol, and racing at the historic Indianapolis Motor Speedway.
It seems highly unlikely those will be the only changes. In fact, NASCAR and SMI still are trying to get a race at the Fairgrounds in downtown Nashville, though such a race at this point won't arrive until 2023 at the earliest. An industry observer has said that the market could support two races — but if that were the case, from where would the slot for the Nashville Fairgrounds race be pulled? Again, because of Ferko, SMI/ISC/NASCAR can't unilaterally pull Dover's slot, or move the Nashville race from a Dover property to an SMI track.
The slot needs to come from a track that NASCAR and its partners own. And, at this point, finding that slot by shuttering Dover looks like a far better option than giving up a second race at, say, Richmond or Darlington. (Admittedly, the relative unattractiveness of Dover International Speedway creates a rather counterintuitive argument in favor of DVD stock, but here we be.)
So there's a very real scenario in which in 2023 or 2024, NASCAR has a successful race at Fairgrounds — so beloved that its most popular driver has consistently pressed for a return to the track — and one of its weakest races during Dover's remaining date at the same time it's trying to negotiate an absolutely crucial media rights deal.
What then? We know those operators will dispose of underperforming tracks — SMI's Kentucky Speedway was taken off this year's Cup schedule, and isn't returning in 2022 — and we know the Dover and Nashville properties have residual value. At some point, NASCAR/ISC/SMI may well choose to pay, say, $100 million net (~$3.50 per DVD share, when considering cash on the books) to add much-needed flexibility, figuring that between maximizing their schedule and monetizing the physical assets, they can garner some kind of return on their investment.
And so what makes DVD interesting here, and the story different from what it's been, is that the leverage has completely flipped. 14 years after Bruton Smith reportedly taunted Dover executives about their lack of options, it's now NASCAR and its major track operators that face a relatively small menu of choices. In 2007, there were just two potential buyers. In 2023, there will be only a handful of potential sellers (and maybe only this one). Meanwhile, the status quo no longer looks like it will be tenable. Dover's controlling structure is in flux, its minority interests would welcome a sale at a premium, and NASCAR and its operators are facing an important negotiation amid a media landscape that would have been unrecognizable when its current deal was made.
Simply put, this story has changed, and it certainly seems like it's changed in Dover's favor. Yet DVD stock, even with the rally off of last year's lows, doesn't seem to really incorporate the fact. As it was before, DVD is a "heads I win, tails I don't lose much" case. Only now it's a case that seems far more likely to play out over a reasonable timeframe.
This article was written by
Overlooked Alpha launched April 2022 - subscribe at overlookedalpha.com. Some OA articles are also available here at Seeking Alpha.I've been contributing to Seeking Alpha and other investment websites since 2011, with a general (though far from rigid) focus on value over growth. I got my Series 7 and 63 back in 1999, and watched the dot-com bubble peak and then burst in real time at a small, tech-focused retail brokerage in NYC.
Analyst's Disclosure: I/we have a beneficial long position in the shares of DVD either through stock ownership, options, or other derivatives. I wrote this article myself, and it expresses my own opinions. I am not receiving compensation for it (other than from Seeking Alpha). I have no business relationship with any company whose stock is mentioned in this article.
Seeking Alpha's Disclosure: Past performance is no guarantee of future results. No recommendation or advice is being given as to whether any investment is suitable for a particular investor. Any views or opinions expressed above may not reflect those of Seeking Alpha as a whole. Seeking Alpha is not a licensed securities dealer, broker or US investment adviser or investment bank. Our analysts are third party authors that include both professional investors and individual investors who may not be licensed or certified by any institute or regulatory body.