DallasNews: Despite Positive Developments, The Path Still Seems Too Tough
Summary
DallasNews has weathered the novel coronavirus pandemic surprisingly well.
The Dallas Morning News seems to be hanging in, while the marketing businesses have stabilized after customer losses in past years.
Yet by the company's own admission, growth still is some time away, and in the meantime a still-strong balance sheet is likely to erode.
DallasNews is a company worth rooting for, but DALN stock remains a tough name to own.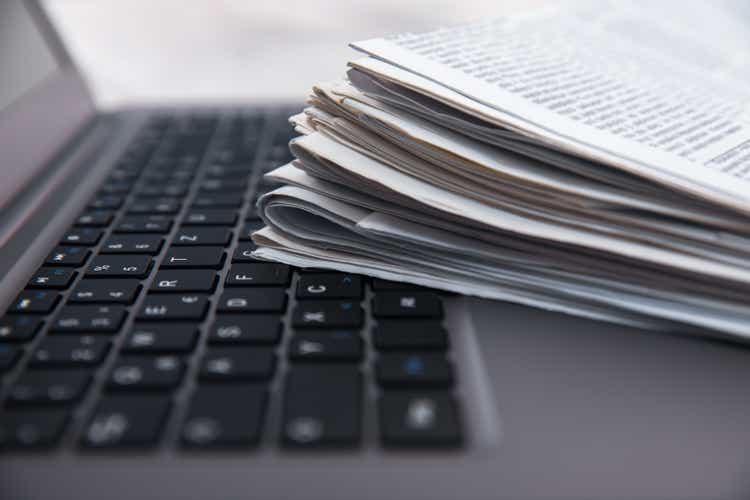 2021 performance for DallasNews (NASDAQ:DALN) seems surprisingly positive. Despite the novel coronavirus pandemic, and continuing pressure on newspapers nationwide, results here have held up — and so has DALN stock.
Indeed, shares are up 15% so far this year. Including a healthy dividend that yields over 9%, total returns clear 20%. The gains make some sense in the context of stabilized revenue and signs of improved performance at the company's marketing services business. Add in a seemingly rock-solid fundamental profile and DALN stock seems like it could have more upside ahead.
Certainly, it's possible. And given what that upside would mean for the struggling industry, success here is something to root for. That said, I'm not sure it's yet something to bet on.
The DallasNews Bet
With one significant exception, the newspaper business mostly has been a source of value destruction for public investors:
The New York Times Company (NYT) has been a huge winner, thanks to impressive performance from its digital business. But smaller outlets have struggled to make the same transition. Shareholders of the legacy Gannett (GCI) made out reasonably well when their company was acquired by New Media (who took the target's name), and Tribune Publishing was sold at a premium to hedge fund Alden Global.
But even Tribune went private at the same level at which it traded in late 2016. Meanwhile, McClatchy went bankrupt and DallasNews (the former A.H. Belo) and Lee Enterprises (LEE) have posted negative returns. Alden Global's strategy of slashing costs has raised alarms in the industry, but also proves that fund sees newspapers as a "cigar butt" investment.
DallasNews is taking a different tack. As chairman, chief executive officer, and controlling shareholder Robert Decherd put it on the Q3 2020 conference call, "this is going to be the model for how the transition to a sustainably profitable digital newspaper is made." By combining its local and regional marketing agencies with the Dallas Morning News, Decherd and DallasNews plan to create a business that cannot just survive, but even thrive, when printed newspapers inevitably disappear.
Again, in the context of the industry, it's a hugely ambitious bet. The New York Times has succeeded on this front, but its reach is literally global. And in the context of shareholder value, it's a risky bet.
As I wrote last year, pretty much anyone could turn the current collection of assets into upside from the current $7 share price. DallasNews has a market capitalization of about $37.5 million at the moment. It closed the third quarter with $34.6 million in cash.
The company also has a promissory note worth $22.4 million, relating to the sale of its former headquarters last year. While repayment of that note has been extended again (this time to next year), it's collateralized by a building in downtown Dallas whose value no doubt exceeds the amount owed. The company's printing facility in North Dallas is assessed at more than $16 million. And, of course, there's the paper and the marketing services business, the latter built largely through acquisitions that in total cost some $23 million.
A couple of years ago, DallasNews' pension liability, carried at a current $14.3 million, needed to be netted against any SOTP valuation. But years of strong performance have left that liability as largely an accounting technicality. Chief financial officer Katy Murray said on the Q3 call that any mandatory contributions were unnecessary "for the foreseeable future." DallasNews in fact has switched to protecting its principal, rather than attempting to drive asset growth. The pension's improved health alone is worth at least a few million in terms of valuation, no small matter against a market capitalization that, as noted, still sits below $40 million.
All told, given net operating loss carryforwards that can minimize taxes, simply shutting down the business probably results in cash distributions over $10 per share. Selling the DMN to Gannett or Alden can probably drive 100%-plus returns ($25 million does not seem an unreasonable purchase price, and that plus cash plus the promissory note gets DALN above $15 per share).
But Decherd is not going that route. He said so before the pandemic, and he's said so since. A disgruntled/activist investor last year called for a special dividend and consideration of a go-private transaction, but nothing's been heard on that front since. And since Decherd controls DallasNews through a dual-class structure (in part because, as that activist noted, he bought more high-vote shares in 2019 and 2020), the lack of response is not surprising. Decherd says he wants DallasNews to be "the model" for its industry, and all evidence suggests he means it.
The Business Stabilizes
What's interesting is that, at least for now, the bet Decherd is taking seems to be going well. DallasNews has driven reasonably solid results so far this year.
Through the first three quarters, adjusted net revenue (which adds back "contra revenue", as sometimes DallasNews only reports advertising and circulation revenue net of third-party costs) has risen 12%. Obviously, the comparison against pandemic-affected 2021 is a big factor here, but the figure is down just 9% from 2019 levels. And that's with some lingering impacts in key categories, with Decherd on the Q1 call highlighting tourism and events as examples. Those categories generally offer higher-margin business on the marketing side, as opposed the lower-priced programmatic ads that have rebounded amid online advertising strength for most of 2021.
Circulation figures are even more promising. The two-year stack for circulation revenue is just -5.5%. Digital subscriptions haven't quite offset print losses, but paid volumes closed Q3 2021 up 65% from year-end 2019 levels, and Decherd and CFO Murray have noted that the DMN is not discounting heavily to drive unit growth.
The marketing services businesses, which turned south before the pandemic, too have stabilized. DallasNews had pointed to the loss of a number of key customers as driving surprising and disappointing revenue declines, but after last year's Q4 the company said its top 15 advertisers all had been retained. As a result, excluding sales of personal protective equipment last year, per the Q3 call digital ads and marketing service revenues are up double-digits year-to-date, including a 26% jump in Q3.
Admittedly, DallasNews still is posting losses, and bigger losses. Year-to-date operating income is negative $4.1 million, an improvement against 2020, but almost $2 million worse than the 9M 2020 figure. Q3 saw a year-over-year erosion as well. But costs last year were temporarily reduced (mostly through salary reductions which have since reversed), and the company is investing behind the business, a plan that Decherd envisions taking up until the end of next year. At that point, DallasNews hopes to grow — and this year's results provide some hope that the company might well be able to do so.
And Yet...
As a result, there is a bull case that looks somewhat similar to the one I myself made a few years back, a case which led me to own what was then AHC stock for some time: this is something of a "heads I win, tails I don't lose much" scenario.
After all, there are two broad scenarios here: the plan works, or it doesn't. If the plan works, even assuming cash burn continues for the next five quarters, the asset base still exceeds the current market capitalization, and DallasNews now offers a viable, profitable business on top of it. Obviously, that scenario augurs solid returns — and, again, a simplistic back of the envelope valuation suggests those returns could and maybe should clear 100%.
Alternatively, the plan doesn't work. The DMN doesn't have enough scale, the marketing businesses are too labor-intensive, the erosion of profitable preprint and classified advertising provides too large a headwind. At some point, even Decherd presumably throws in the towel (he does own ~$4 million in DALN stock, after all), and there's probably still a path to finding $7 per share in value between residual cash, the headquarters note, and a sale of the business.
I'm sympathetic to that case, and certainly more sympathetic than I've been since I sold my shares. But it's important to fully understand Decherd's motivations. This is his family business. He's been credited with literally saving the paper back in the 1970s. And as I detailed last year, he made at least $60 million in the sale of Belo's TV stations to Gannett last decade.
The common risk to asset-based bull cases is when and how management will actually unlock the value on paper. The common problem is that management teams believe they can 'fix' businesses, even when disinterested shareholders believe otherwise. The fact that those management teams are incentivized to fix the businesses — if only to keep their own jobs and salaries — usually contributes to the disagreements in some fashion.
For Decherd, the motivation arguably is even more pressing: to protect a family business that serves the city in which he's spent essentially his entire life. He's 69 years old; this is his last major project. It seems exceedingly unlikely that in that context he will sell to Alden or Gannett or whoever under any circumstances. If this plan doesn't work, another one almost certainly will be tried.
That aside, trends have improved, but remain negative. And while the pandemic is causing some problems, it's likely benefiting digital subscriptions and probably some aspects of the digital ads and marketing businesses. It's far too early to bet that DallasNews has found a way to succeed where, quite literally, essentially no regional paper has yet done so.
This can work. Honestly, I hope it does. But there's still a long way to go, and a lot more risk than might appear. That's enough to keep me on the sidelines for now.
This article was written by
Overlooked Alpha launched April 2022 - subscribe at overlookedalpha.com. Some OA articles are also available here at Seeking Alpha.I've been contributing to Seeking Alpha and other investment websites since 2011, with a general (though far from rigid) focus on value over growth. I got my Series 7 and 63 back in 1999, and watched the dot-com bubble peak and then burst in real time at a small, tech-focused retail brokerage in NYC.
Analyst's Disclosure: I/we have no stock, option or similar derivative position in any of the companies mentioned, and no plans to initiate any such positions within the next 72 hours. I wrote this article myself, and it expresses my own opinions. I am not receiving compensation for it (other than from Seeking Alpha). I have no business relationship with any company whose stock is mentioned in this article.
Seeking Alpha's Disclosure: Past performance is no guarantee of future results. No recommendation or advice is being given as to whether any investment is suitable for a particular investor. Any views or opinions expressed above may not reflect those of Seeking Alpha as a whole. Seeking Alpha is not a licensed securities dealer, broker or US investment adviser or investment bank. Our analysts are third party authors that include both professional investors and individual investors who may not be licensed or certified by any institute or regulatory body.