Crypto: Faster Than You Imagine
Summary
The digital world is moving faster than you can imagine as information technology grows and spreads throughout the world.
It is difficult to keep up with all that is going on and with all the major changes that are taking place in "missing markets" all around us.
Digital Currency Group represents a leader in this space as it tries to build "a profitable, private company that has divisions in every aspect of its market."
DCG represents what is taking place all around us, and it shows us why we must adapt and be prepared for the changes that are inevitably coming.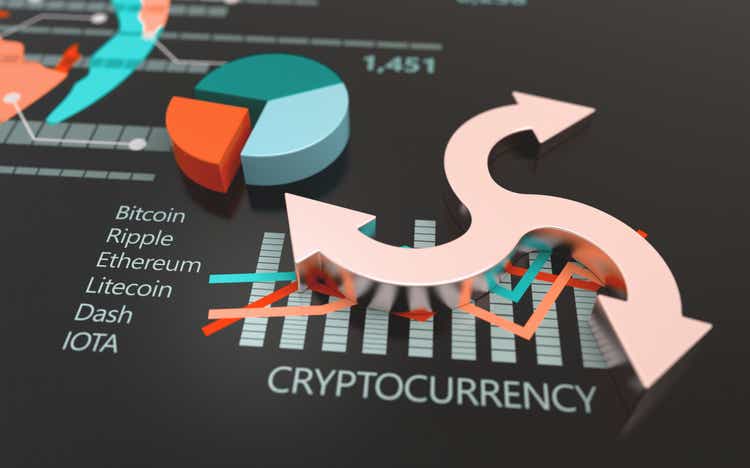 "Crypto is a broader thing than just bitcoin."
This statement is from David Lawee, General Partner of CapitalG, the private equity growth fund of Alphabet Inc. (GOOG) (GOOGL).
Note three things that are now taking place.
First, crypto companies have raised record amounts of capital this year.
Paul Vigna writes in the Wall Street Journal that crypto companies have raised $7.5 billion in the third quarter of 2021. The previous record came in the first quarter of the year when a total of $7.0 billion was raised.
In 2020, only $5.3 billion was raised in the whole year.
Second, Mr. Vigna attributes this success to all of the liquidity floating around in the financial institutions and the financial markets as a result of the Federal Reserve's security's acquisition program.
"With the returns on safe assets driven to below the rate of inflation and an ocean of liquidity on tap, investors have been more willing to venture into risky assets.
Talk about funding a major economic transition. The times were changing anyhow, but to have such an abundance of money available to a startup industry during a time of pandemic is historically remarkable.
Third, companies like Digital Currency Group, Inc., a cryptocurrency conglomerate started in 2015, were just in the right spot at the right time to take advantage of all this money floating around.
Digital Currency Group, or DCG, is a venture capital company that focuses upon the digital currency market. Barry Silbert is its founder and its CEO. DCG holds, among other organizations, Grayscale Investments, a digital currency manager who offers funds privately for institutions and accredits investors and publicly traded products. Grayscale is the world's largest asset manager for digital currency.
DCG also owns CoinDesk, a global media, research, and events platform. It hosts a conference on digital currencies and blockchain technologies."
The big news here is that DCG has just raised $700 million, which was the second largest raise in the crypto space. And these monies were not raised for the expansion of the company.
The company is now valued at $10 billion.
These funds were raised to help some early investors exit the company and take profits.
"All the money raised went to the selling shareholders, and none sold their entire stake."
The Conglomerate Of The Century
The picture of DCG that Mr. Silbert has in mind is the 19th century conglomerate, Standard Oil.
The crypto world is expanding and Mr. Silbert wants to play a role in how the industry grows and how the industry is constructed.
Mr. Silbert wants "a profitable, private company that has divisions in every aspect of its market."
Besides Grayscale Investments and CoinDesk, DCG owns the brokerage business Genesis, the data firm TradeBlock and mining company Foundry. And it has invested in more than 200 different companies including payments network Abra, brokerage firm iToro, and the crypto exchange FTX.
And it has no plans to go public. Silbert brags that this idea isn't even being discussed.
Mr. Vigna, writes
"The company has enough liquidity to buy shares from shareholders and employees who want to sell and it pays a dividend to the rest."
Sounds like it is doing pretty well.
And Mr. Silbert claims that he "has enough confidence" to keep planning for the long term.
The Future
And this is not the only story being told these days.
The world was already changing due to the growth and spread of information technology that serves as a foundation for the transition.
The spread of the pandemic has opened up opportunities for people, almost all people, to spread out and to test and examine and use the new technologies being created. In many cases, individuals are having no choice but to use the new technologies.
But this just opened the door to people seeking "missing markets" and how they could fill these missing markets with the qualities of the new technology.
I work a lot in the area of angel financing as well as venture capital and it has been amazing to me to observe the wellspring of new ideas and new entrepreneurs that have stepped forward during this time to look for and exploit these missing market opportunities.
Then you had the Federal Reserve almost overwhelm the markets with liquidity. Think about it. We are in the middle of a pandemic, which also resulted in an economic recession, but all these innovators and entrepreneurs saw millions and millions of dollars dangling from the hands of investors that were looking for a place, almost any place, to invest their money.
Now, we are moving along to the other side of this picture. The side where the new technologies take off, where the re-structuring works itself out, finding out what works and what doesn't work.
We know that not all the "new" is going to work out. Mr. Silbert of DCG knows that not everything he invests in is going to work out. But the "weeding out" has to take place. And it will.
What I see, however, is that the new era is going to take place. And this is what I have tried to express in many of my posts.
Yes, banking and finance is going digital. IT integration into the world as we knew it is going to accelerate. Executives and regulators must accept this fact and accelerate their responses to what is going on.
After all, this is not just something that is impacting the United States. This is worldwide and the United States needs to become a leader in designing and regulating the new world.
"Crypto is broader than just bitcoin," but it is also broader than just being isolated in the United States. And its future is approaching us, faster and faster.
This article was written by
John M. Mason writes on current monetary and financial events. He is the founder and CEO of New Finance, LLC. Dr. Mason has been President and CEO of two publicly traded financial institutions and the executive vice president and CFO of a third. He has also served as a special assistant to the secretary of the Department of Housing and Urban Development in Washington, D. C. and as a senior economist within the Federal Reserve System. He formerly was on the faculty of the Finance Department, Wharton School, the University of Pennsylvania and was a professor at Penn State University and taught in both the Management Division and the Engineering Division. Dr. Mason has served on the boards of venture capital funds and other private equity funds. He has worked with young entrepreneurs, especially within the urban environment, starting or running companies primarily connected with Information Technology.
Analyst's Disclosure: I/we have no stock, option or similar derivative position in any of the companies mentioned, and no plans to initiate any such positions within the next 72 hours. I wrote this article myself, and it expresses my own opinions. I am not receiving compensation for it (other than from Seeking Alpha). I have no business relationship with any company whose stock is mentioned in this article.
Seeking Alpha's Disclosure: Past performance is no guarantee of future results. No recommendation or advice is being given as to whether any investment is suitable for a particular investor. Any views or opinions expressed above may not reflect those of Seeking Alpha as a whole. Seeking Alpha is not a licensed securities dealer, broker or US investment adviser or investment bank. Our analysts are third party authors that include both professional investors and individual investors who may not be licensed or certified by any institute or regulatory body.