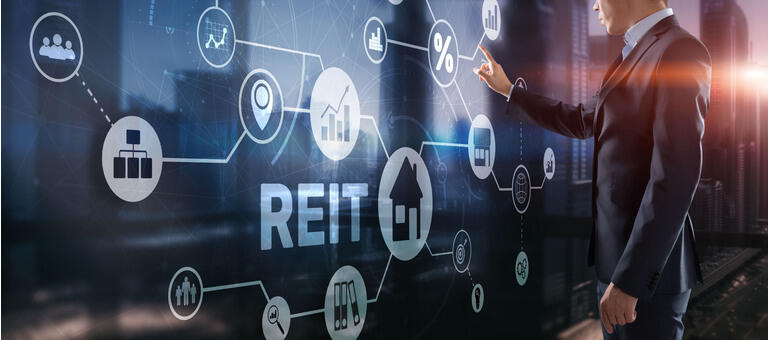 Generally speaking, the REIT space offers attractive opportunities for investors who are interested in significant cash payouts and strong returns over an extended period of time. Having said that, not all REITs are created equally. For instance, one category of REIT that suffered during the COVID-19 pandemic was the office space REIT. Due to social distancing and the growth of remote work, the demand for office space took something of a beating. However, this is not all bad.
For investors who are bullish in this space and who end up being right about that bullish stance, the past several months have likely been a good time to consider buying into this market. One prospect that I was generally bullish on, but only marginally so, is a company called Brandywine Realty Trust (NYSE:BDN). Recently, however, I have started to become a bit more worried about the firm's fundamental condition. At the end of the day, shares do still offer attractive prospects. But that is only if the firm can stabilize its operations in the near future. Otherwise, the end result could be further pain for shareholders down the road.
Recent developments are disappointing
The last time I wrote an article about Brandywine was in July of this year. In that article, I came out his bullish about the company. But I warned that in order for it to pay off, stabilization at the firm would be needed. Since then, the company has generated a return for shareholders of negative 0.2%. This compares to the 5.7% achieved by the S&P 500. More likely than not, this lackluster performance, on a relative basis at least, is attributable the market digesting fundamental performance that indicates the worst may not be over for the enterprise.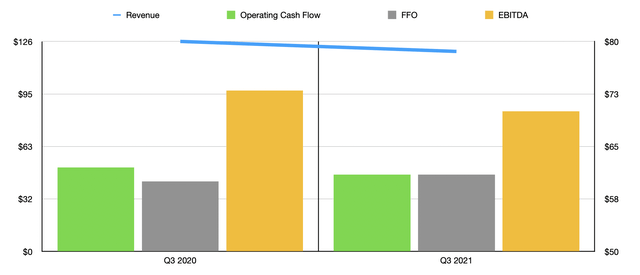 *Created by Author
As an example of this, we need only look at recent financial performance for the company. During the first three quarters this year, the company generated revenue of $361.29 million. That represents a decrease of 11.5% compared to the $408.03 million the company generated the same time a year earlier. This decrease actually came despite the fact that the year to date occupancy rate, of the company remained flat at 90%. For the third quarter alone, however, occupancy was 90.2%, down from 90.7% a year earlier. For the third quarter, revenue came in at $120.42 million compared to the $126.11 million seen in the third quarter of 2020.
Revenue was not the only thing to take a hit according to the company. During the past three quarters, operating cash flow totaled $140.72 million. That compares to the $162.46 million in operating cash flow the company generated in the same period of its 2020 fiscal year. Fortunately, this was the worst profitability category for the company. Other metrics fared better, but none of them fared well. For instance, FFO, or funds from operations, dropped from $179.06 million to $177.19 million. And EBITDA dropped from $231.21 million to $203.85 million. For the third quarter alone, operating cash flow was $60.89 million, down from the $62.14 million seen a year earlier. FFO actually increased from $60.02 million to $61.06 million, while EBITDA fell from $73.05 million to $69.83 million.

*Created by Author
Management has not provided detailed financial guidance for the full fiscal year. But they have provided enough to make us realize that the pain for the company isn't over yet. As an example, management recently narrowed guidance for the company from between $1.33 per share to $1.41 per share for FFO to between $1.35 per share to $1.39 per share. The midpoint figure is still the same at $1.37, but that implies total FFO for the year of $234.14 million. This should be achieved with a year-end core occupancy rate of between 91% and 93%.
To put this in perspective, FFO in 2020 was $240.49 million. The year before that, it was $253.35 million. If we assume the same kind of weakness for operating cash flow and EBITDA, then we should anticipate the former totaling $222.53 million, while the latter should be $294.77 million. To put this in perspective, 2020's figures were $225.81 million, and $299.10 million, respectively. A year earlier, these readings were $234.23 million and $322.42 million, respectively.
Shares are cheap but for a reason
This leads me back to my original fear about the company. Shares of the enterprise are trading at attractive levels. But it is difficult to catch a falling knife, and that is precisely what Brandywine is starting to look like. Speaking of valuation, it would be useful to touch on what these members look like. Using the 2021 estimates, the company is trading at a price to operating cash flow multiple of 10.3. This compares to the 10.6 if we use data from the company's 2020 fiscal year. Meanwhile, the price to FFO multiple is 9.7, down from the 9.9 if we used data from a year earlier. And the EV to EBITDA figure would be 13.7 compared to the 14.1 if we use the 2020 figures. This shows the company has gotten cheaper, even relative to its weakness for the year.
| | | |
| --- | --- | --- |
| Company | Price / Operating Cash Flow | EV / EBITDA |
| Highwoods Properties (HIW) | 13.2 | 13.2 |
| Postal Realty Trust (PSTL) | 14.0 | 26.5 |
| Cousins Properties Inc. (CUZ) | 15.4 | 17.9 |
| Hudson Pacific Properties (HPP) | 12.3 | 18.6 |
| City Office REIT (CIO) | 13.0 | 11.1 |
As part of my analysis, I decided to compare the company to the five peers that I had previously compared it to in my aforementioned article. On a price to operating cash flow basis, these companies ranged from a low of 12.3 to a high of 15.4. Our prospect was the cheapest no matter which years data we use. I then did the same thing using the EV to EBITDA approach, ending up with a range of 11.1 to 26.5. Here, in both scenarios, our prospect was cheaper than three of the companies but more expensive than the other two.
Takeaway
At this moment, Brandywine is an interesting company. The business is cheap on both an absolute basis and relative to its peers. However, the company has had issues for years and this year looks like a continuation of that long term trend. Certainly, if management can return the company to growth, shares at current prices should rise considerably. But I don't like the idea of speculating that a company that has been unable to break an important negative trend will ultimately do so in the near term. And for that reason alone, I will wait until shares fall further or fundamentals improve before considering an investment in the business.