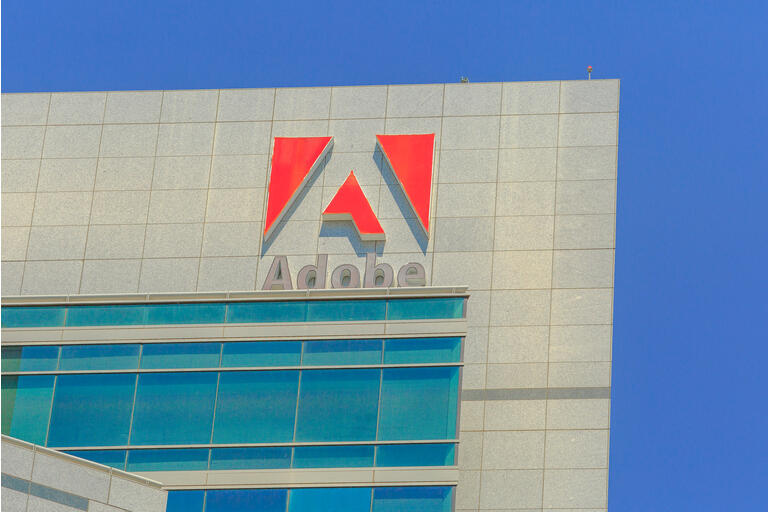 Investment Thesis
Adobe Inc. (NASDAQ:ADBE) operates an incredibly profitable and resilient business model. It's also a wide moat business with no close competitors, especially in its creative cloud business. Despite reporting a solid set of results in FQ3, the market sold the stock off.
Moreover, the stock also joined the rest of the market in the September/October retracement. Members in our service managed to capitalize on the retracement and added the stock. At one point in early October, ADBE stock was down almost 18% from its all-time high (ATH). We have managed to ride the way back up since those bottoming days in October.
ADBE is also a solid stock. It has an undisputed long-term uptrend bias. We have always taken the opportunity to add the stock at significant dips. In the recent May dip, we also encouraged readers to add the stock. The stock has been up 31.2% since the article was published.
Given the stock's incredible recovery from its October bottom, we discuss whether it is still a buy now.
Adobe Reported Solid (But Not Great) Results in FQ3'21
Adobe delivered a solid FQ3 report card. Despite that, we think the results were broadly in line with expectations.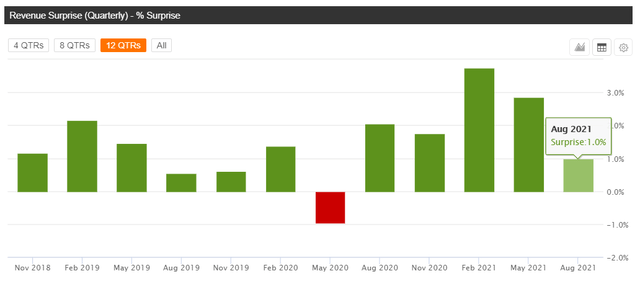 ADBE revenue surprise (quarterly). Source: Seeking Alpha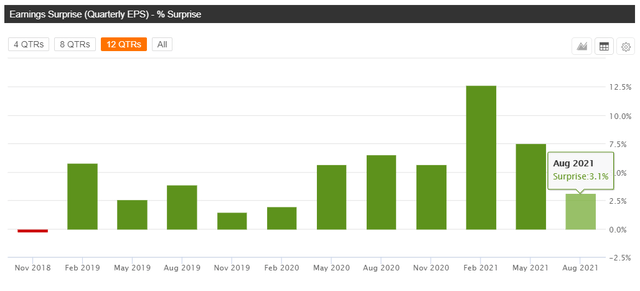 ADBE EPS surprise (quarterly). Source: Seeking Alpha
While revenue and EPS surprised on the upside, we think they were not fantastic beats. Coupled with a relatively expensive valuation before the earnings release, investors might have been expecting more. Nevertheless, we believe it isn't meaningful to determine why market participants (especially institutional investors) chose to sell. It's a waste of time. We should instead focus on whether Adobe's fundamental thesis remains intact. And if it is, then we will pay attention to its valuations and whether lower-risk entry points are present. That will determine whether we think the opportunity in Adobe stock is timely and actionable.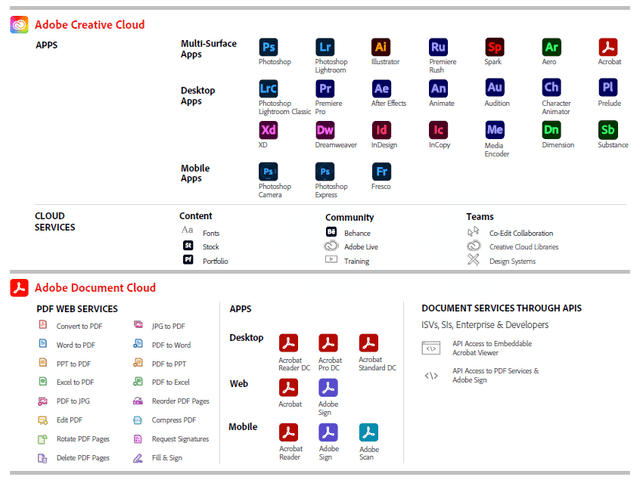 Adobe Creative Cloud and Document Cloud. Source: Adobe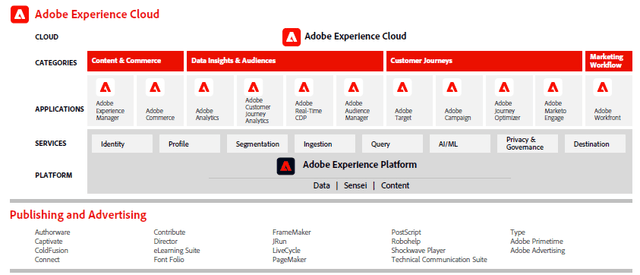 Adobe Experience Cloud, Publishing & Advertising. Source: Adobe
Members can quickly glean the scale of Adobe's business. We are pretty sure that most of us have used at least one of their products before. Members in the digital media or design industries would likely use many of their products in their daily work. Adobe Creative Cloud is their most important segment, and it's also their core segment. We believe that Adobe is so dominant in this segment that they have no close rivals.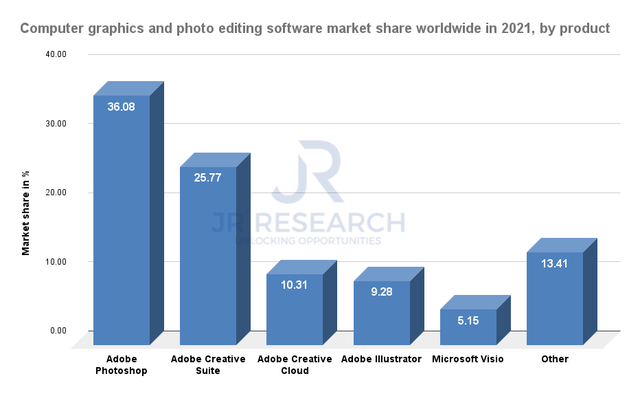 Computer graphics and photo editing software market share worldwide in 2021. Data source: Enlyft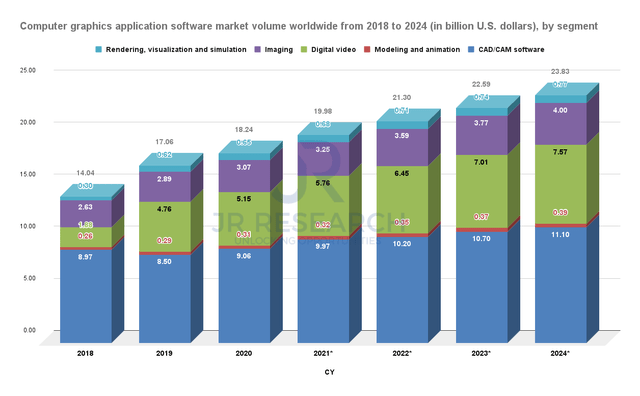 Computer graphics application software market volume worldwide from 2018 to 2024. Data source: Jon Peddie Research
Members can easily glean Adobe's leadership prowess above. In its creative cloud segment, they have a "stranglehold" in the market. It leaves its smaller competitors to feed off scraps. The second chart shows the market opportunity for Adobe's Creative Cloud. The market is expected to grow at a CAGR of 6.9% over the next four years.
However, Adobe has been growing much faster. As we shall observe below, it's also estimated to continue growing faster than the market. In addition, Adobe has an incredible monetization machine. Therefore, it isn't very smart to bet against this company.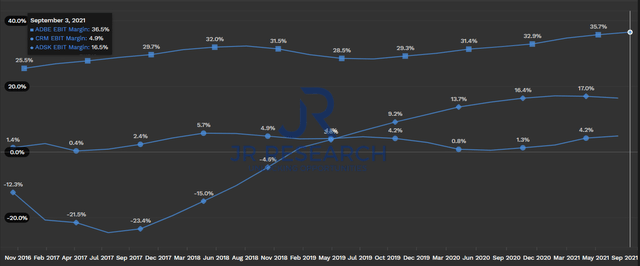 [ADBE, ADSK, CRM] last twelve months [LTM] EBIT margins. Data source: S&P Capital IQ
ADBE also reported a fantastic LTM EBIT margin of 36.5%. Its consistently strong EBIT margins are way superior to Salesforce's (CRM) and Autodesk's (ADSK) margins. CRM and ADSK reported LTM EBIT margins of 4.9% and 16.5%, respectively. It demonstrates the tremendous pricing power of Adobe's very sticky Software-as-a-Service (SaaS) business model.

Selected Leading SaaS players' annual recurring revenue (ARR). Source: atom finance
Members can easily glean the clear revenue runway that ADBE and CRM generate. Their core products are so sticky that it's almost "unthinkable" to switch to a lesser platform. As a result, both also report massive ARRs. No other player comes close.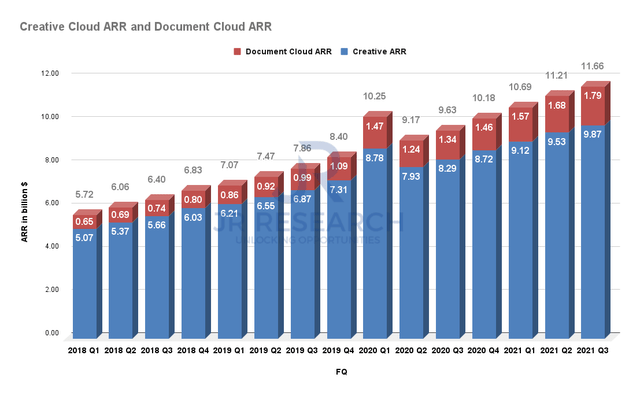 Adobe Creative Cloud and Document Cloud ARR. Data source: Company filings
Take a look at Adobe's gangbusters ARR growth. Its core Creative Cloud segment grew its ARR by a CAGR of 20.4% over the last three years. Its Document Cloud segment also grew its ARR by a CAGR of 34.2%. Adobe is vying for market leadership with DocuSign (DOCU) in its Document Cloud segment. Both companies are in the business of digitizing workflows across the world. Therefore, it's a massive market opportunity for Adobe to leverage.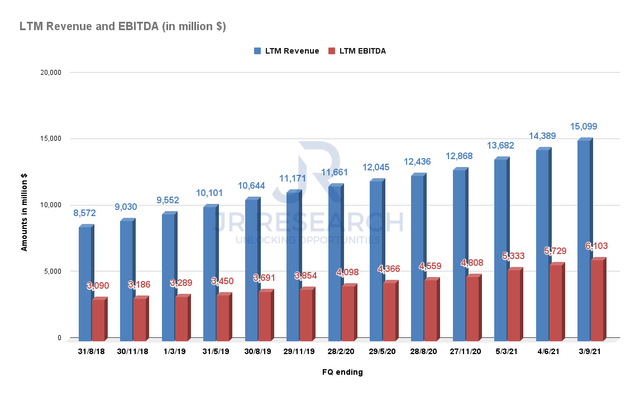 ADBE LTM (Revenue and EBITDA). Data source: S&P Capital IQ
In addition, Adobe has also improved its operating leverage markedly over time. It demonstrates that Adobe has been able to consistently deliver significant improvement in operational efficiencies as it scales. There's tremendous flow-through from its remarkable topline growth.
From the chart above, members can quickly glean that Adobe is an incredible growth machine. It has grown its revenue by a CAGR of 20.8% over the last three years. Notably, its EBITDA grew even much faster. Adobe's LTM EBITDA grew by a CAGR of 25.5% in the previous three years. On a YoY basis, Adobe's LTM revenue grew by 21.4%. Its EBITDA also clinched a 33.9% YoY growth.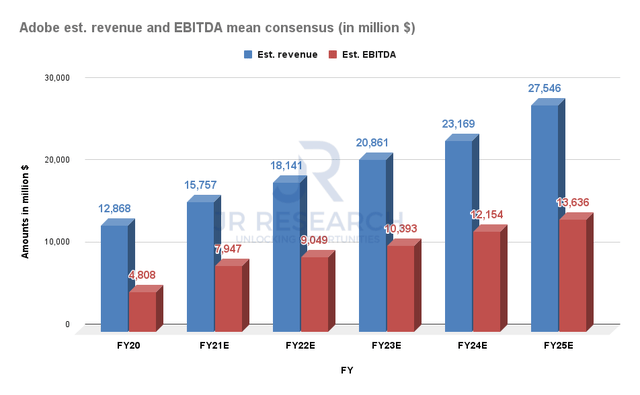 Adobe est. Revenue and EBITDA mean consensus. Data source: S&P Capital IQ
Nevertheless, we observe that Adobe's gangbusters growth momentum may be slowing down. Adobe is estimated to grow its revenue by a CAGR of 16.4% through FY25. In addition, its EBITDA CAGR is estimated to be 23.2%. Comparing it to its 3Y historical CAGR for both metrics, it seems to be a discernible slowdown.
However, these growth rates are by no means slow. It shows that Adobe is still expected to gain significant operating leverage as it continues to scale.
So, is ADBE Stock a Buy Now?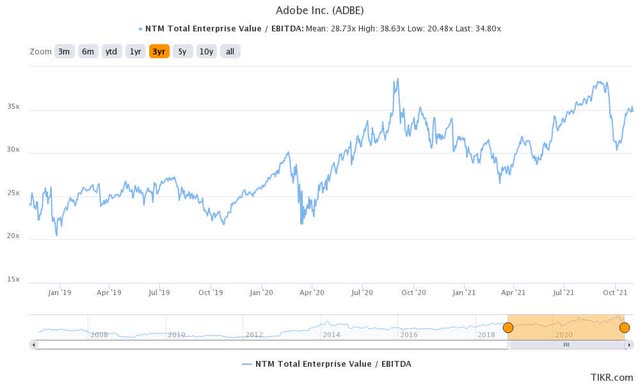 Adobe stock EV/NTM EBITDA 3Y mean
Adobe stock is currently trading at an EV/NTM EBITDA of 34.8x. At the recent October bottom, ADBE stock was trading at just 30.3x NTM EBITDA. We emphasized to the members of our service back then that we thought ADBE's valuation was very attractive. Its 3Y NTM EBITDA multiple mean is 28.7x. Moreover, ADBE stock was also way below our fair value estimates at its October bottom. Hence, we were very confident of adding the stock.
The stock has recovered well from its October bottom, along with the broad market recovery. Despite that, we believe that it's still reasonably valued. Although the price action is no longer optimal, investors with a long-term perspective can still consider adding now. In addition, remember to add aggressively at its next significant dip. Adobe stock has such a remarkable long-term uptrend that we think it should be an anchor stock for most growth investors' portfolios.
Therefore, we reiterate our Buy rating on Adobe stock.