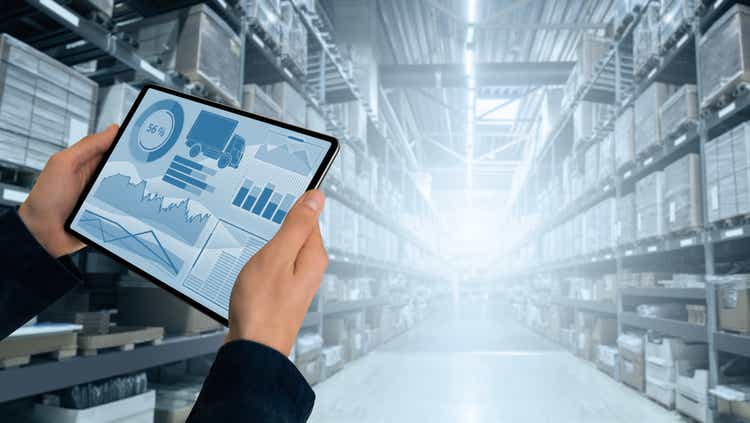 "Only people with full stomachs become environmentalists." - David Brin, Earth
Today, we take our first look at a mid-cap concern that occupies a niche in the fast-growing cloud-based software services space. The company is also in the midst of digesting a recent acquisition and sells at a lower valuation than some peers. A full analysis follows below.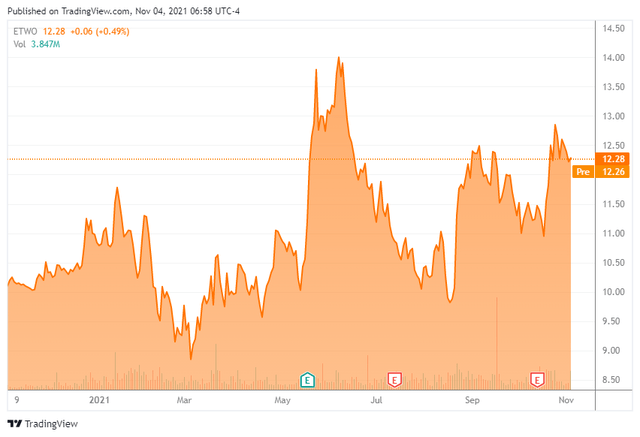 Company Overview:
E2open Parent Holdings, Inc. (NYSE:ETWO) is an Austin, Texas-based provider of cloud-based SCM software to ~6,900 customers, comprising a network of ~270,000 trade partners in ~183 countries – metrics that were partly a function of its September 1, 2021 purchase of BluJay Solutions. BluJay is the company's latest and largest in a series of acquisitions dating back to 2013. E2open was founded in 2000 and initially went public in 2012. It was bought by private equity shop Insight Partners in 2015 for $273 million and went public again in February 2021 via a reverse merger with SPAC CC Neuberger Principal Holdings I, which raised gross proceeds of $414 million at $10 per unit, with each unit consisting of one share of common stock and one-third of a warrant. Each full warrant entitles the holder to purchase one share of common stock at $11.50. E2open trades just above $12.00 a share, translating to a market cap of ~$4.1 billion.
The company's reverse merger was a complex transaction involving many financiers and multiple classes of stock in which Insight remained the single largest shareholder. For simplicity purposes, there are essentially two classes of common stock: ~300 million shares of publicly traded Class A common stock, which bestow economic interest and one vote per share; and ~36 million shares of privately held Class V stock, which confer no economic interest until they are converted to Class A shares but give the holder one vote per share. This arrangement leaves Insight with ~20% of the voting power and – after V stock conversion – economic interest.
E2open operates on a fiscal year (FY) ending the last day of February. FY21 finished February 28, 2021.
SCM Market
E2open has a very stable and visible top line arising from the fact that 82% of its revenue emanates from subscription contracts – usually three years or longer – and 77% of its business derives from customers with an average relationship of 14 years. Labor dislocations from both the economic shutdown and federal government vaccine mandates, as well as unforeseen events like the Suez Canal blockage have crippled the supply chain, highlighting the need for SCM software solutions from providers such as E2open.
The company estimates its 2021 total addressable market for digitizing the supply chain at $54 billion, a market it expects to grow at 12+% CAGR through 2024. With that said, it operates in a fairly mature market with entrenched relationships, consisting of on-premise (non-cloud) and cloud solutions covering supply chain planning from concerns such as Kinaxis (OTCPK:KXSCF); transportation management (execution) offerings from Oracle (ORCL), SAP (SAP), and Manhattan Associates (MANH); as well as procurement solutions from companies such as SPS Commerce (SPSC). Owing to the spotlight recently shined on the supply chain, the stocks in this sector are generally up 35%-65% since the end of March 2021. By contrast, E2open is only up just over 20% – more on this dynamic below.
E2open Approach
With new customers, E2open looks to solve their primary need, which usually relates to a specific portion of its end-to-end platform, which is comprised of the following seven applications: channel shaping; demand sensing; business planning; global trade management; transportation and logistics; collaborative manufacturing; and supply management. The company then tries to sell other solutions across its platform. With that said, about half of E2open's customers only employ one of its SKUs. To expand and deepen its offerings across its full-spectrum platform, the company began adding other providers via acquisition in 2013, including 12 in the past five years.
BluJay Acquisition
The largest and most recent of these acquisitions is BluJay, a SaaS platform centered on logistics and customs compliance, for which E2open paid a total consideration of $1.6 billion, consisting of 72.4 million shares of stock and cash of $760 million – $317 million of which went to retire BluJay's debt. This price equated to 25.0x BluJay's FY22E EBITDA (GAAP) of $64 million, 19.0x the same metric if $20 million in expected cost synergies are factored into the algebra, and 8.5x its FY22E revenue. The deal was announced in mid-May of this year and closed at the end of summer.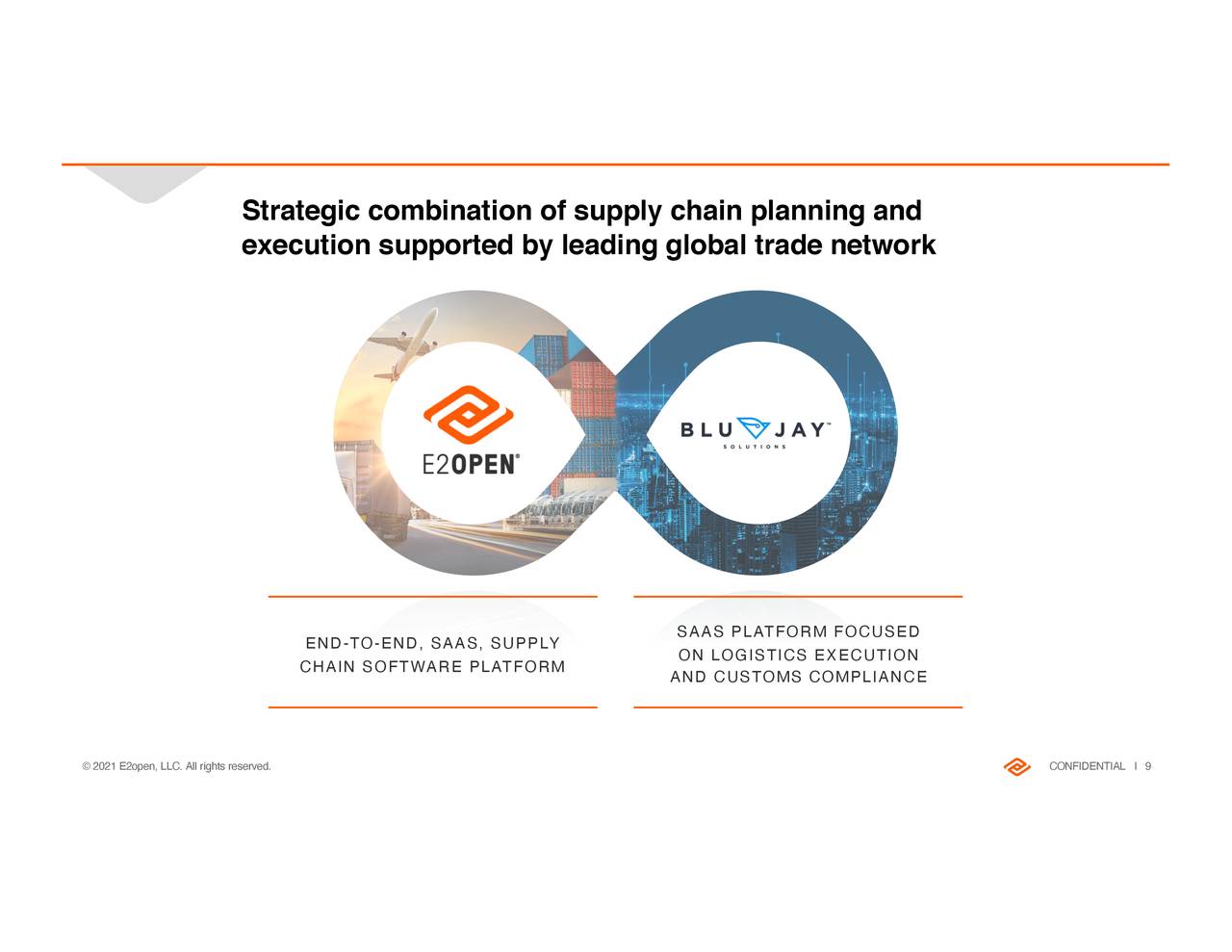 In addition to savings anticipated on the expense portion of the income statement, E2open adds 300+ enterprise clients to its 300+ enterprise clients with only ~10% overlap, providing a significant opportunity to cross-sell and upsell. Furthermore, BluJay provides important logistical capabilities – especially in transportation management, as well as in freight forwarding, multi-modal solutions, and customs declarations – to E2open's platform.
FY22 Outlook:
As a result of this combination, the company expects to generate FY22 pro forma revenue of $558 million (of which 82% will come via subscription revenue), pro forma adj. gross margin of 71%, and pro forma adj. EBITDA of $204 million, representing 37% margin. It also foresees a ~$1 billion value creation opportunity within its own installed base.
Balance Sheet & Analyst Commentary:
To finance the cash portion of this transaction, the company added debt of $380 million, raised $300 million in a private placement under which it issued an additional 28.9 million Class A common shares, and spent $154 million of balance sheet cash, leaving it with $71 million. Total debt now stands at $902 million, equating to leverage of 4.1x based on FY22E adj. EBITDA projections.
Street analysts are somewhat of a mixed bag on E2open, featuring two buy ratings and two hold ratings, with a relatively tepid median price target of $13.50. They expect the SaaS firm to turn profitable in FY23, earning $0.13 a share (adj.) on revenue of just over $590 million, representing top-line organic growth of 6% over the company's pro forma FY22 projections.
In contrast to some of the Street analysts, the CEO and CFO of the company seem more bullish on the company's prospects. Combined, they purchased just under $1.5 million of company stock from October 18th to October 21st.
Verdict:
Based on its presentation, management is committed to 10+% long-term top-line growth and has unveiled initiatives to accomplish those ends. Its best opportunity to succeed is from exploiting the whitespace within its own customer base, as its 94% gross and 106% net retention rates are indicative of its strong relationships. However, they also epitomize an industry-wide dynamic of entrenched relationships, meaning 'stealing' enterprise customers from its competition – even with its comprehensive platform – may prove challenging.
One investment thesis is to say E2open is 'cheap' relative to its peers – and on some metrics, this is true. On a price-to-CY (calendar) 2022 sales basis, competitors who don't provide the same bandwidth of offerings such as Kinaxis, Manhattan Associates, Descartes (DSGX), and SPS Commerce are trading at ~15.0x to ~17.5x while E2open trades at approximately seven times FY23E sales. [Please note that FY23 estimates are employed for E2open and Descartes as they are closest to calendar 2022.] And on other metrics, such as EV/CY21E sales and EV/CY21E EBITDA multiples, E2open is clearly the cheapest.
However, on an earnings basis, E2open is comparable, trading at 90x FY23 while competitors trade near 80x CY22 estimated earnings. Furthermore, E2open has high leverage at 4.1x and is a newly public company. It is trading at valuations near what it just paid for BluJay. Net net, it can be argued that E2open will catch up to its competition. But it can be also argued that the valuations bestowed on its competitors are nosebleed given the company's forecasted TAM CAGR of 12+% through 2024 and its own projected top-line growth of 10+%. One would normally expect revenue growth of 30-50% for ~15.0x to ~17.5x price-to-next year's sales valuations.
The bet here is that E2open does make up some ground relative to its competition, but that will be accomplished more from the competition's valuations collapsing back towards E2open's and less from E2open's metrics expanding. Therefore, we are passing on any investment recommendation on this name for the time being.
"Amateurs obsessed over strategy, and professionals obsessed over logistics." - R.F. Kuang, The Burning God
Bret Jensen is the Founder of and authors articles for the Biotech Forum, Busted IPO Forum, and Insiders Forum