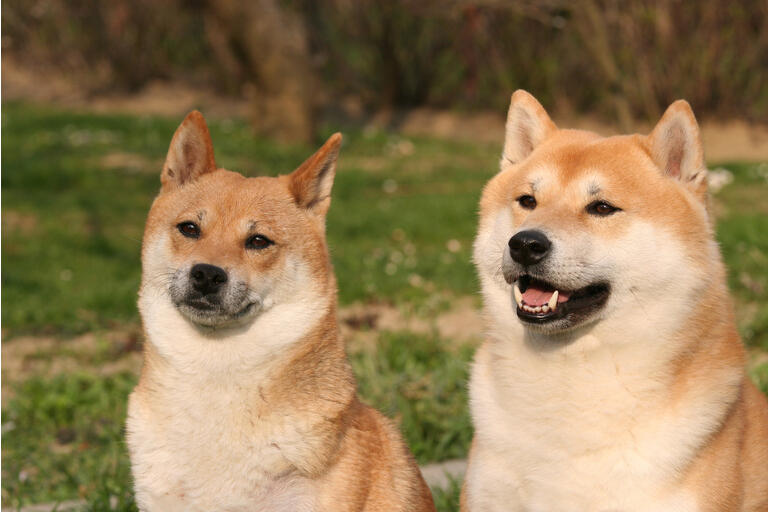 Thesis Summary
Investing has certainly become a very different beast in the last few years. Meme stocks, cryptos and SPACs have made for a very interesting investment environment while also making many millionaires in a matter of months. Of course, some have been burned trying to catch a ride on these "assets". It's hard to separate the wheat from the chaff, and these stocks/cryptos are very risky. But it is also hard to sit idly by and watch so many great money-making opportunities go by without taking some action.
In this article, I will discuss the key differences between two of the most popular yet unconventional cryptocurrencies in the space. Shiba Inu (SHIB) and Dogecoin (DOGE). On the surface, they seem similar, but they have very different "fundamentals" and, in my humble opinion, one is a superior coin to the other.
Shiba vs. Doge Technology
Shiba and Doge have some similarities, and we can observe some correlation in the price.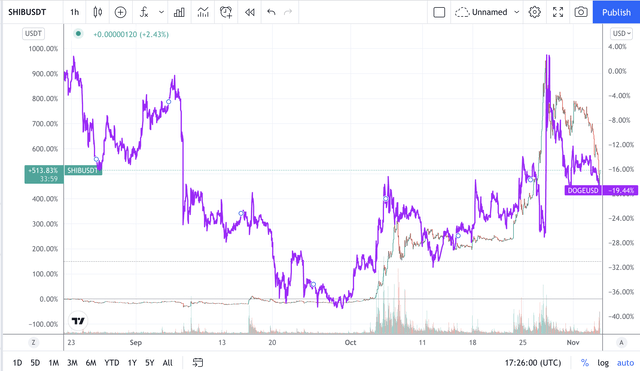 Source: TradingView
Both have been moving in sync in the last month, but the returns have been very different. Doge peaked back in June and has since fallen considerably. Meanwhile, Shiba has been on a tear, returning over 900% at its ATH. Shiba briefly surpassed Doge in terms of market cap but it has now lost its place after plummeting over 42% in the last week alone.
Having said this, the technology behind Shiba Inu and Dogecoin is significantly different, though neither is particularly unique or special.
Dogecoin is, in terms of code, quite similar to Bitcoin (BTC-USD). Dogecoin comes about as a fork of Lucky Coin, which in itself forked out of Litecoin (LTC-USD) which is a fork of Bitcoin.
Doge was actually conceived as a "joke" by software engineers Billy Markus and Jackson Palmer. However, a key difference is that Dogecoin has a much higher circulating supply than Bitcoin, with over 129 billion Doge in circulation, and no mining cap. In terms of mining, Doge is "merge-mined" with Litecoin. So anyone who mines Litecoin can choose to mine Dogecoin instead.
Moving on to Shiba Inu, this is a token created on the Ethereum (ETH-USD) network. More specifically, it is an ERC-20 token. This means that SHIB can leverage the smart contract functionality, which it does plan to use.
Ultimately, Doge and SHIB are very different because one is based on Bitcoin and the other on Ethereum. The BTC-ETH dichotomy applies to these coins as well.
SHIB vs. DOGE Supply
Before we get into the functionalities of each coin and which is a better buy, it's also important to look at how the supply of both DOGE and SHIB work. Let's not forget that, at the end of the day, these are currencies, so it is important to keep track of what their supply is and how it will evolve.
Dogecoin was originally started with a limited supply of 100 billion coins. By 2015, all Dogecoin had been mined, at which point, the supply limit was changed so that another 5 billion coins could be mined every year. There is no theoretical limit to how many Doge can be mined. The currency is, therefore, "inflationary", but it's important to take into account that, as long as mining parameters don't change, the rate of inflation will decrease, since there are relatively more coins out in circulation.
Shiba, on the other, has a different supply system. The total supply of SHIB was set from the start at one quadrillion. At that point, 50% of these tokens were sent to Uniswap, a cryptocurrency exchange, while the other 50% were sent as a "gift/tribute" to Ethereum's founder, Vitalik Buterin. What's interesting is that Vitalik burned (destroyed) 90% of the SHIBA he was sent, and the other 10% was donated to the Indian Covid Relief Fund. Furthermore, SHIBA, can't be mined, and part of it also gets burned every time someone buys the coin.
Therefore, unlike DOGE, SHIB is a deflationary currency, which can't be mined and is in fact destroyed every day.
Which is a Better Buy?
Out of DOGE and SHIB, I would have to argue that the latter is a better buy. DOGE coin was created, as mentioned above, as a joke, and has no real practical value or much potential for it. DOGE is essentially a clone of Bitcoin, and the appeal of Bitcoin is that it can act as a store of value, which is facilitated by its limited supply. However, DOGE does not follow these rules, making it simply a worse version of Bitcoin, in my opinion.
Shiba, on the other hand, does offer some more potential applications, and could therefore still see the increased value, especially given the momentum it has gathered. Shiba can actually enable smart contracts, which means it can find uses beyond being a store of value.
In July, the cryptocurrency's developers launched ShibaSwap, a decentralized exchange that allows SHIBA owners to stake their coins in return for BONE and LEASH, which are two other tokens that together form the SHIBA ecosystem. More recently, SHIBA has announced that it will release an exclusive NFT, the Shiboshi. These NFTs will, apparently, also double up as game characters.
There are plenty of DeFi applications and exchanges out there at the moment, and SHIBA is not special. However, it does have some momentum going for it. If people are already owning SHIBA why not stake the coins to earn other tokens or use them to buy NFTs?
Takeaway
With all that said, should you invest in SHIBA following the recent decline? As always, it's hard to say. The fate of SHIBA will depend on both its future success and the state of the surrounding cryptocurrency market. For the time being, I expect this bull market to continue, as I have talked about here. This will, of course, be good for SHIBA. However, I expect this to crash hard once the bear market takes hold. Against my better judgement, I have initiated a small position. It is too early to tell what will happen, but at least SHIBA has some potential to become something more than a meme.
Invest at your own risk.