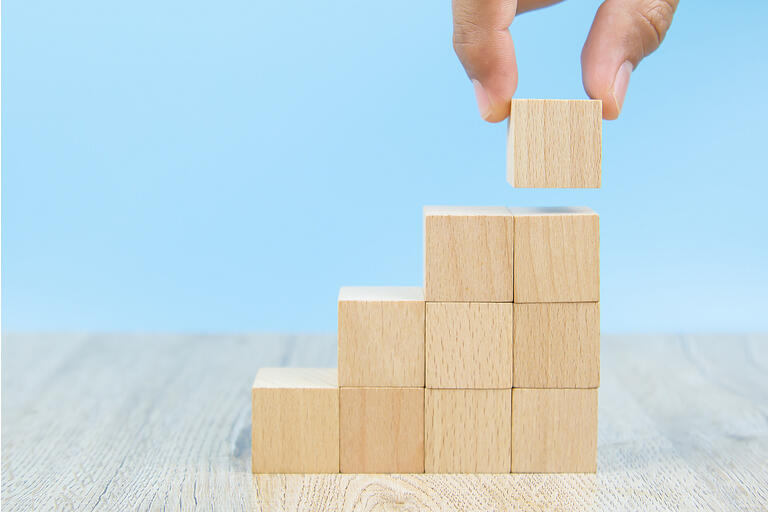 Thesis: The Narrative Will Change Soon
In the past, I've described the net lease model as a beautiful thing, and it is. But nothing under the sun, even beautiful things, are flawless or perfect. That includes the net lease model.
As I've explained in my previous two Net Lease REIT Reports...
... the two-pronged arch-nemesis of net lease REITs, the double-headed serpent that ruins the beauty of the model, is an economic environment characterized by rising interest rates and high inflation rates.
Generally, net lease property cap rates (the unlevered initial yield measured as NOI/purchase price) follow the broad movements of interest rates only slowly and with a lag. But when rates rise, there is strong resistance to rising cap rates because sellers do not like to lower prices. They will only do so reluctantly, after trying for a while to sell their properties at what used to be the market value, when interest rates were lower.
So, rising interest rates hurt the net lease model in at least two ways:
By narrowing the crucial spread between buyers'/acquirers' cost of capital and cap rates, and
By causing stagnation in, or eventually lowering, the market values of the properties in one's portfolio.
Moreover, to the extent that inflation rates outpace contractual rent escalations (if any), high inflation also erodes the real value of net leases' revenue streams.
As such, during times of rising rates and heightened inflation, REITs owning properties with shorter lease terms (think residential and hospitality) such as those in the Nuveen Short-Term REIT ETF (NURE) should outperform the long-term, largely fixed rent rates of net lease real estate such as that owned by the constituents of the NETLease Corporate Real Estate ETF (NETL).
The title of my recent article on NURE says it all: "The Nuveen Short-Term REIT ETF Should Continue To Outperform As Long As Inflation Remains Elevated."
Unfortunately, neither NETL nor NURE have been around for all that long. Fortunately, though, they have both been around long enough to measure performance during a falling rates / low inflation environment as well as a rising rates / moderately high inflation environment.
When rates are falling (in this case, from March 2019 to February 2020), NETL outperforms NURE: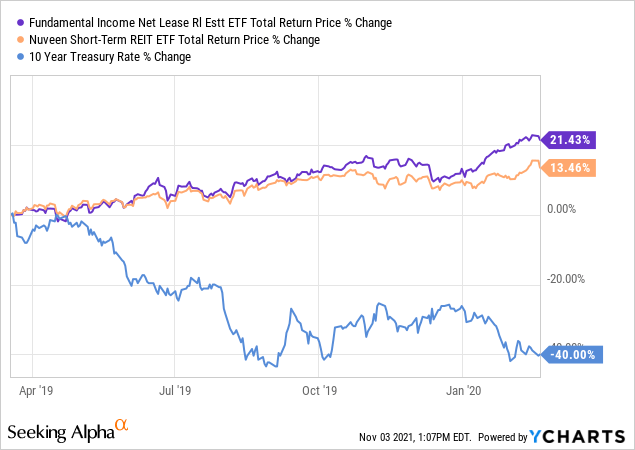 And when rates are rising (especially due to elevated inflation), NURE outperforms NETL: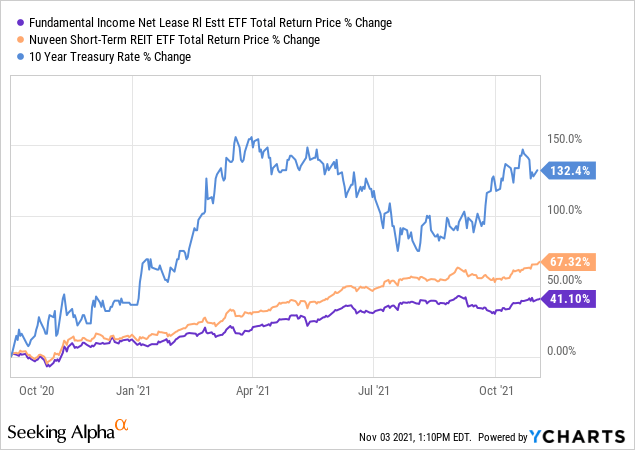 My thesis is that the inflation we are experiencing right now will prove transitory, and thereafter we will return to a low interest rates/low inflation environment in which net lease REITs will shine brightly once again.
Admittedly, I've said that before. I've been saying it for a while. The few of us battered and beleaguered soldiers still hunched around the fire in the "transitory inflation" camp have suffered huge setbacks in our intellectual battle against the "sticky" or "long-lasting" inflationists. High CPI rates have lasted much longer than most of us thought they would.
But as the inflationistas sip champagne and boast of their Bitcoin riches, we huddled souls in the "transitory" camp comfort each other with the assurance that we have been here before. Our circumstances are not really that different than they have been in the past.
As the Federal Reserves moves forward with its plans to taper bond purchases and eventually raise interest rates, we remind ourselves of history. We've seen the Fed tighten monetary policy in the face of a heavily debt-addicted economy before, and we know how it ends.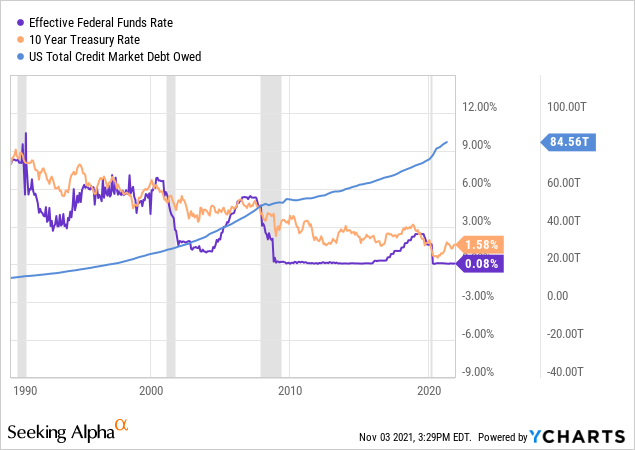 Total US credit market debt reached 389% of GDP in Q2 2021. That is up from the 366% of total credit market debt to GDP in Q1 2010 and substantially higher than the 273% level of Q1 2000. While household debt to GDP is down from its housing bubble peak in 2007, Treasury and business debt to GDP are both at all-time highs.
Structurally, the economy cannot bear as high of interest rates as it could before the pandemic. As such, the most likely outcome is that history will repeat: the Fed will tighten monetary policy and raise interest rates until it breaks not just inflation but also the economy and the stock market.
Then, voila! We are back to the sort of low rates / low inflation environment that is ideal for net lease REITs. Of course, it would be most ideal for net lease REITs if the economy had low rates, low inflation, and strong GDP growth. But if one could only have two of those three, the first two are best for net lease.
Let's fill in some of the missing details of this macroeconomic thesis, then dive in to net lease updates.
Buckle up. This quarter was fun.
Macro Update: Supply-Demand Imbalances Don't Last Forever
My original plan was to write a grand, theory-of-everything type case that we will shortly return to a low inflation, low interest rate environment as pandemic-era stimulus fades and supply lines are reestablished. But in the interest of time and space, I'll save the prolonged remonstration of the inflationist argument for another day.
Instead, I'll say just a few more things on the macro backdrop.
COVID-19 changed consumer behavior very suddenly. Combined with pandemic-related constraints on production and distribution, a sudden surge of demand for certain products and methods of delivery forced an unprepared economy to adapt (as best it could) very quickly. "Just-in-time" manufacturing and the relatively low sitting inventory with which it comes has resulted in a huge lag between consumer demand and supply of products.
Due to ongoing issues like the labor shortage (especially of truck drivers) and import constraints, this lag between consumer demand and production/delivery capacity will continue through at least the end of this year and probably well into 2022.
Nevertheless, the Five Horsemen of Secular Disinflation are still present and not going away. What are the Five Horsemen? The ever-insightful Cullen Roche identifies four of them:
Demographics. Trends such as aging populations and slowing/declining population put downward pressure on aggregate demand.
Technology. Innovation in the tech sector is inherently deflationary.
Inequality. Less money in the hands of those with a higher propensity to consume means lower relative aggregate demand.
Globalization. Globalization puts downward pressure on domestic wages and prices.
I would add a fifth horseman of secular disinflation: Over-indebtedness. Realty Income (O) covers all but one (inequality) of these "horsemen" in a slide from a recent presentation: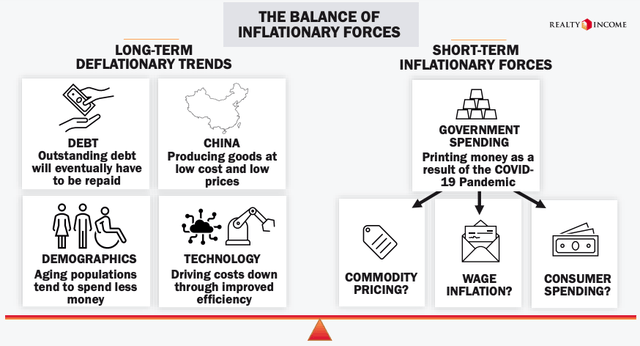 Chief among the Five Horsemen is the demographic issue. Consider this:
The US population has grown from 308 million in 2010 to 331 million in 2020, which is the slowest rate of growth (7.5%) over a decade the country has ever experienced.
Most of the slowing growth rate is attributable to ever lower fertility rates, illustrated shockingly by the fact that we have fewer children in our country now (73.1 million) than we did ten years ago (74.2 million).
Over the last decade, more people died than were born in half of all US counties. (If you were to map out these counties against ones in which the opioid epidemic is particularly pronounced, I imagine you would find startling overlap.)
A slower growth rate of the total population is usually followed by a slower growth rate in the labor force.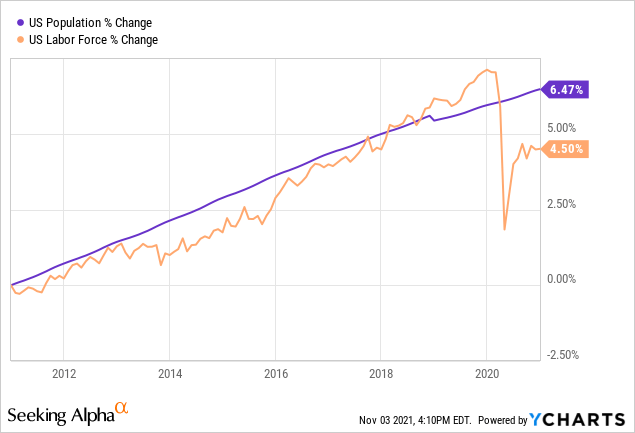 The only way to maintain GDP growth in the face of slowing growth in the labor force is through a corresponding uptick in labor productivity. Unfortunately, the US suffered a trend of declining labor productivity growth from the early 2000s to 2014: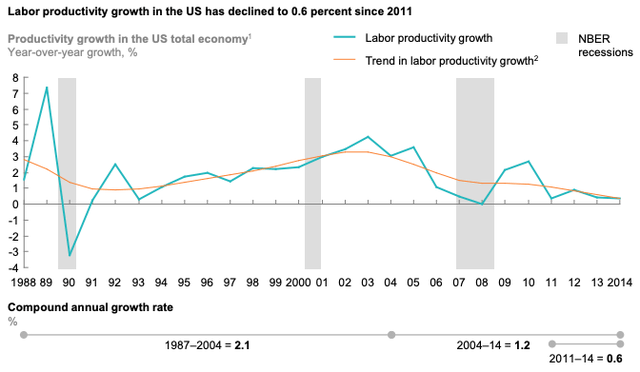 Source: McKinsey Global Institute
Since 2014, when this chart ends, productivity growth has begun to rebound:

In 2020, US productivity growth actually surpassed the long-term average of 2.1% with a remarkable 2.4% growth rate as the smaller workforce had to learn new technologies to get tasks done from their at-home work stations. In the first half of 2021, productivity has surged even higher to 2.9% year-over-year growth.
Will this persist into a new uptrend in productivity? Or will it drift back to the pre-2014 trend as COVID-era investments in workflow efficiency fade? Who knows.
In any case, the Five Horsemen aren't going away just because of the current supply issues. As Roche says,
Every time the government steps on the fiscal policy gas pedal we see a brief surge in inflation only to be drawn back lower as these secular trends pull it back lower whenever the government takes their foot off the gas.
To boot, here's Morningstar's Preston Caldwell on why high inflation rates are temporary:
We still think high inflation will be temporary, as we're expecting only about 2.2% inflation in the core Personal Consumption Expenditures Price Index over 2022 to 2025. First, vehicles are driving the bulk of the excess inflation today, as supply is constrained by the semiconductor shortage. Yet we see no reason the shortage won't eventually end.

Second, even if high inflation does spread to other sectors, we don't expect it to prove any more lasting than in the vehicle sector. Global supply chains have been strained by unexpectedly strong demand. But supply should catch up eventually, and pressures should also ease as consumers continue to rotate their spending from goods to services.
Enough already about all this macro stuff. On to net lease REITdom.
Overview Of Trends
Retail Trends
Consumer spending accounts for almost 70% of US GDP and is very important for the net lease sector.
The growth rate of retail sales remains higher than at any time in the last five years as the stimulus-fueled economic reopening has not yet played itself out.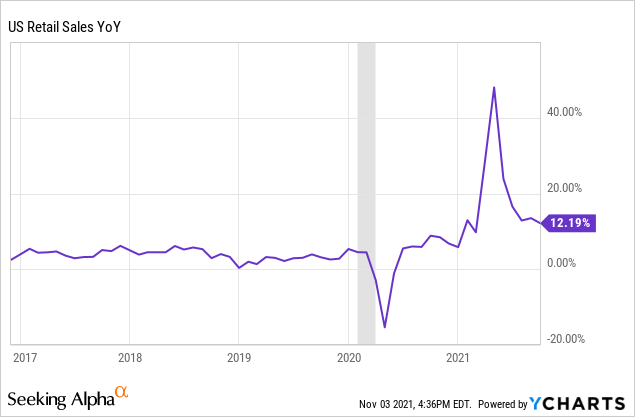 This is great news for net leased retail and industrial. Even industrial properties leased to business-to-business tenants ultimately rely on consumers spending money.
E-commerce vs. Omnichannel
Though e-commerce sales are expected to make up a little over 15% of total retail sales this year, most retailers are not abandoning their physical store presences. Rather, they are rapidly building out their omnichannel capabilities in order to give customers the most optionality as possible in both the purchasing and delivery of goods.
A recent report by Colliers indicates that while 22% of digital (online) sales were fulfilled by physical stores in 2020, that number should shoot up to one-third of digital sales in the near future. Target (TGT), for instance, saw a 600% increase in utilization of its parking lot pickup service in 2020 alone.
This is spurring retailers to expand their logistical operations to new micro-fulfillment centers ("MFCs"), which creates further demand for industrial real estate.
But in-store foot traffic is not, for the most part, being cannibalized by these omnichannel options. For example, Target's comparable sales growth of 8.9% in Q2 2021 (against a very strong comp from last year!) was almost entirely fueled by foot traffic, as in-store comparable sales rose 8.7% YoY.
But Target has not been alone in its strong pandemic and post-pandemic performance. Using Placer.ai data, we find that foot traffic in Q3 for all major superstores (including Walmart, Target, Costco, Sam's Club, Big Lots, and others) rose not only quarter-over-quarter or year-over-year but also year-over-two-years (Q3 2019 numbers).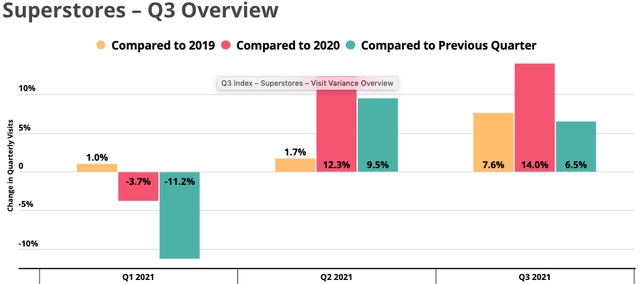 Source: Placer.ai
Perhaps this strong physical retail traffic data has influenced Amazon's (AMZN) recent decision to (reportedly) get into the department store biz by opening superstores of its own. This would be a significant new step for the digitally native e-tailer. Though it purchased Whole Foods and is expanding its portfolio of high-tech Amazon Fresh grocery stores, Amazon has shown caution about expansion into non-essential retail.
In Agree Realty Corporation's (ADC) recent Q3 conference call, the high-quality retail net lease REIT announced that it now owns three Amazon Fresh grocery stores.
Speaking of grocery stores, this category of essential retail continues to experience elevated store traffic - 8.5% YoY and 7.6% over Q3 2019's levels.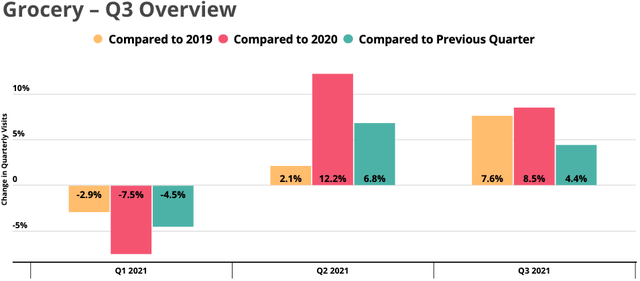 Source: Placer.ai
With restaurants opening back up, why has foot traffic to grocery stores remained elevated? Consumer staples company Conagra Brands (CAG) offers several reasons, including some that the pandemic created, such as an increased number of people working from home or not working at all.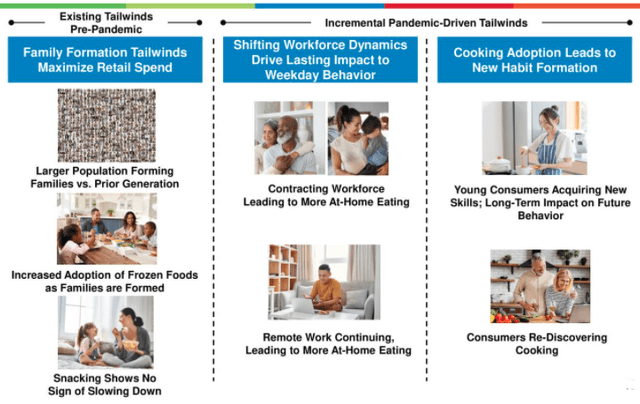 Source: CAG FQ1 2022 Presentation
As one of those workers who now works entirely from home (stopped going to an office in Summer 2020), it is not difficult for me to believe this narrative about WFH increasing at-home eating and thus grocery store sales.
Perhaps nothing illustrates this shift from restaurant dining to at-home eating like this week-by-week comparison of grocery and restaurant visits against 2019 levels: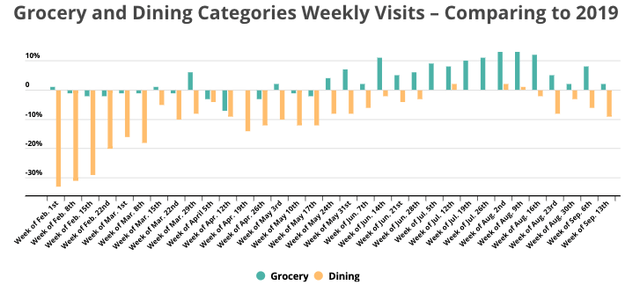 Source: Placer.ai
Agree Realty, Realty Income, and NetStreit (NTST) are three net lease REITs that benefit from increased store traffic at grocery stores and superstores as they are heavily exposed to these types of stores.
Moreover, of interest to anyone who enjoyed my article "STORE Capital Vs. Agree Realty: Battle Of Two Divergent Net Lease All-Stars," note that while national retailers paid 95% of contractual rent due in August 2021, slightly less than 90% of rent due from non-national retailers was paid that month.
And what about home improvement stores? These retailers, including Home Depot, Lowe's, IKEA, At Home, and others, experienced a massive tailwind during the pandemic as everyone decided at once to fill their free time with home projects. While traffic in these stores remains 10% over pre-pandemic levels, it dropped YoY and QoQ in Q3.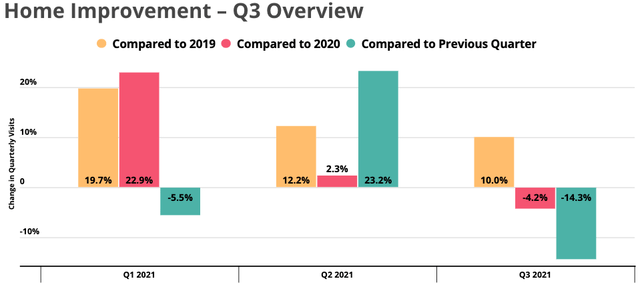 Source: Placer.ai
Foot traffic at pharmacies like CVS and Walgreens, meanwhile, was hitting all-time highs in September — up 22.1% for CVS and 26.2% for Walgreens. And that is compared to September 2019 levels.
Net Lease Market
In last quarter's report, I talked about the record demand for net lease properties as new buyers have seemingly come out of the woodwork in search of yield. Institutional investors like pension funds and life insurers have taken a newfound interest in net lease, but (at least for a while) private 1031 exchange buyers were also rushing to replace properties for fear of the tax deferral rule being axed by Congress.
That momentum has persisted into the second half of the year. Ryan Severino, chief economist of JLL, recently forecast that total net lease investment volume would surpass 2019's level to set a new record.
"Given massive amounts of wealth and capital seeking placement and adequate low-risk return, our data is showing a surge in demand for net lease investment," says Eli Randel, Chief Strategy Officer of CREXi.
Net lease REITs, which collectively own over $250 billion in gross real estate assets, are eagerly participating in this high investment volume. In Q2 2021 alone, net lease REITs raised $1.8 billion of new capital for investments, the highest quarterly raise since Q3 2019. And they acquired $4.5 billion of properties during the quarter, up 40% QoQ, reaching the highest volume since Q4 2019.
Cap rates for net lease assets hit all-time lows across almost all asset types in Q3, driven by the aforementioned massive demand as well as smaller supply delivery due to construction delays. (The average construction project is running 15% over-budget, and 77% of projects are running behind schedule.)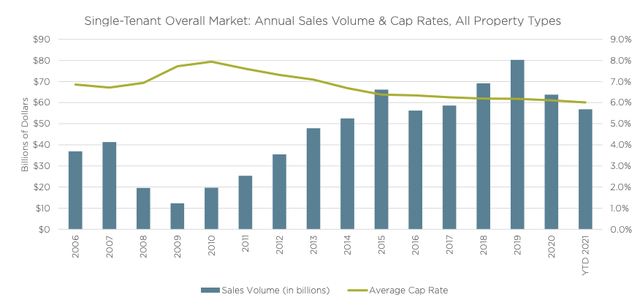 Source: Stan Johnson Q3 Market Snapshot
In particular, cap rates for credit-rated quick service restaurants and pharmacies with long remaining lease terms reached historic lows in Q3. This is largely a supply-demand phenomenon for pharmacies, as development of new stores has slowed dramatically even as demand for their real estate has surged.
Meanwhile, both of these property types are a favorite for 1031 exchange buyers who, desperate to avoid large capital gains tax bills, will often bid prices up well over asking rates. This is not particularly beneficial to net lease REITs that do much more buying than selling.
According to CRE brokerage firm Stan Johnson, using data on publicly marketed transactions (excluding off-market and sale-leaseback deals), cap rates compressed for all but office properties in Q3.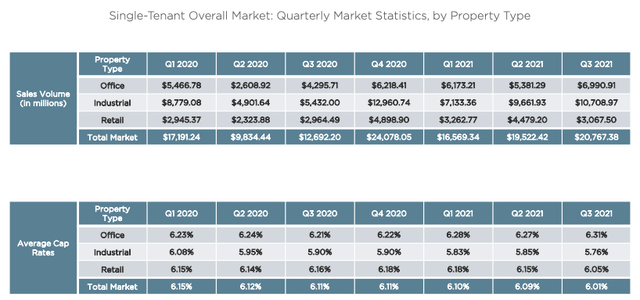 Source: Stan Johnson Q3 Market Snapshot
Year-to-date, overall cap rates across net lease have fallen 10 basis points from 6.11% to 6.01%. While cap rate compression is always a bit depressing for buyers of real estate, it's important to note that the spread between average overall net lease cap rates and the 10-year Treasury rate remains on the high side.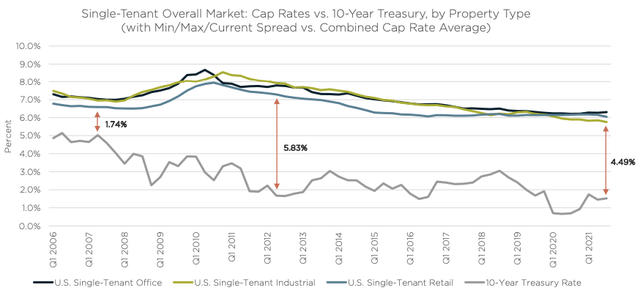 Source: Stan Johnson Q3 Market Snapshot
That spread may tighten next year as cap rates continue to compress and interest rates are pushed up. But if my macroeconomic thesis plays out, then this will only be a temporary phenomenon before interest rates drop again and widen out the spread.
Taking a look at the buyer distribution for all types of net lease properties, we find that private capital continues to flock to the space. For instance, Ares Management (ARES) views net lease as a "compelling investment opportunity" and recently hired three former Realty Income executives (including former CEO John Case) to ramp up their investments in the asset class.
Private capital and institutional investors make up the lion's share of buyers in brokered/marketed transactions, with international investors increasing their share as well.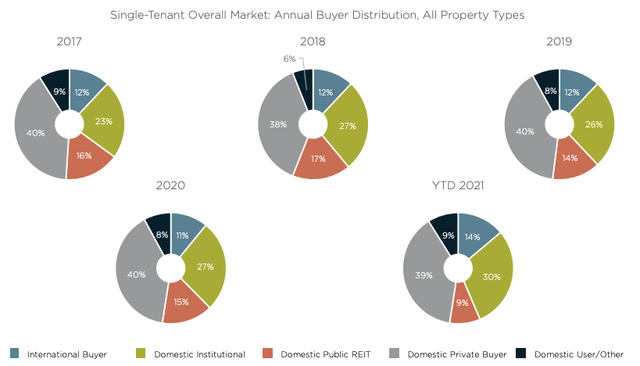 Source: Stan Johnson Q3 Market Snapshot
Notice that REITs have accounted for a smaller share of on-market buying activity this year. This is primarily due to less REIT on-market acquisitions in the industrial and retail spaces. From 2017 through 2020, REITs accounted for an average of 18% of on-market industrial buying and 15% of retail buying. Compare that to this year's 9% and 9%, respectively.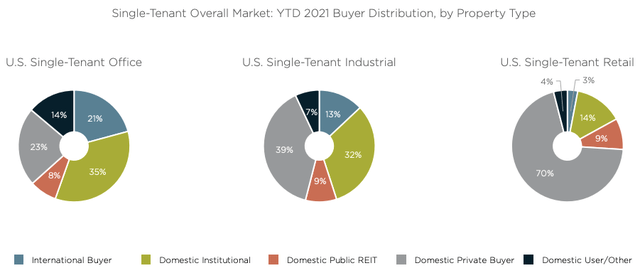 Source: Stan Johnson Q3 Market Snapshot
Don't be alarmed by this. Net lease REITs have been ramping up their acquisitions this year, and most of them have raised acquisition guidance at least once. But for the most part, they are steering clear of the frothy brokered auction market.
Instead, net lease REITs are increasingly focusing on off-market deals with relationship tenants and sale-leasebacks with companies seeking to take advantage of historically low cap rates. Of course, what happens in the brokered auction market has an effect on off-market deal pricing, but doing deals behind the scenes allows REITs to negotiate their preferred lease terms and may even give them some pricing power.
Notable Net Lease News
Casino/Gaming
Though the mega acquisition of MGM Growth Properties (MGP) by VICI Properties (VICI) appears to be advancing smoothly, the former still trades at a slight discount of about 2% to its acquisition price, based on a share conversion rate of 1.366 shares of VICI for each MGP share.
These REITs continue to look attractive as the good times return to Las Vegas. Though Vegas occupancy took a dip this year after the peak summer months, as it is wont to do, average daily rates were up 14% in September over the comparable month in 2019 and revenue per average room was down only 6%.

Source: Las Vegas Visitors & Convention Authority
Visitor volume in September remained 16% below the comparable month in 2019, but Las Vegas should benefit from the lifting of the international travel ban (for vaccinated travelers) starting on November 8th, just in time for the World Series of Poker. For perspective, in 2019, Las Vegas hosted 5.7 million international travelers who made an estimated $4.8 billion economic impact on the city.
Things look bright for Sin City.
Restaurants
Consumer spending at restaurants has been on a slow and steady rebound this year, though total spending at restaurants remains below pre-pandemic levels. In Q2, restaurant spending was up 32% QoQ but basically flat against the comparable period in 2019.
Retail and food services sales are still up ~14% YoY as of the latest reading.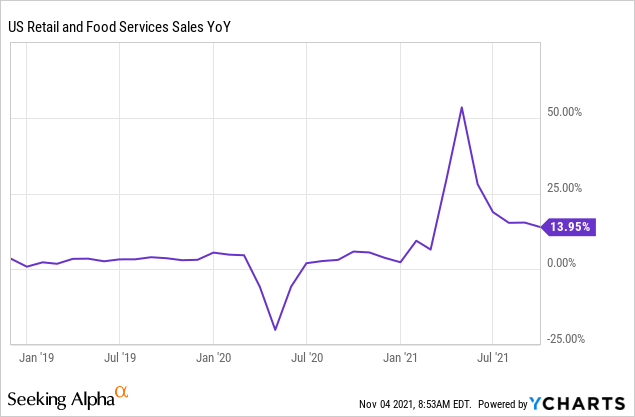 This level of growth is higher than retail alone's YoY growth of 12.2%, meaning that the rebound in consumer spending at restaurants has been robust coming into the Fall.
Indeed, restaurant-focused net lease REIT Four Corners Property Trust (FCPT) recently revealed that rent coverage at its Darden (DRI) branded restaurants (e.g. Olive Garden, Longhorn Steakhouse, Cheddar's, Yard House) was higher in Q3 than it was in Q4 2019 — 5.5x today versus 5.1x pre-pandemic. Darden accounts for 61% of FCPT's base rent.
According to a Baird survey of restaurants, same-store sales were running 12% higher on average for the food service sector in October, with QSRs especially hot.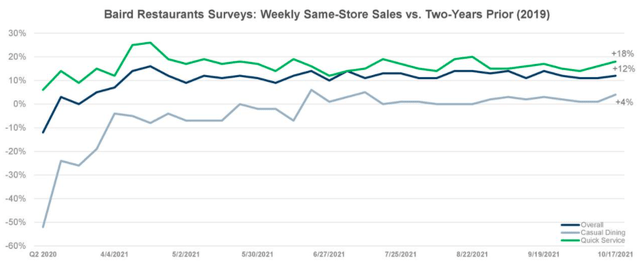 Source: FCPT Q3 2021 Presentation
Compare this research, however, to Placer.ai's foot traffic data showing that customer visits to restaurants remained down from 2019 levels for most of the summer and going into September.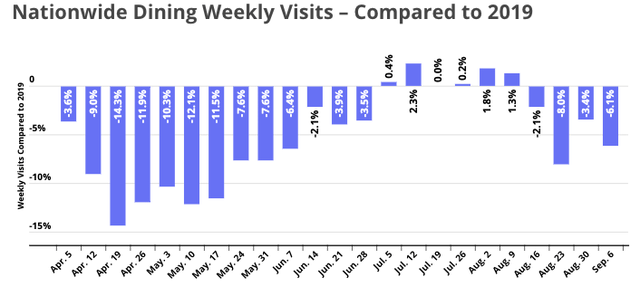 Source: Placer.ai
If both data sources are accurate, then that must mean fewer customer visits are resulting in greater total spending at restaurants. Maybe prices are going up, or maybe customers are ordering that extra appetizer, or maybe a little of both.
Office
Office real estate is not dead, but it is wounded.
One Green Street analyst believes office occupancy will likely never return to pre-pandemic levels because of the newfound work-from-home uptrend.
To put it simply, if remote work causes a reduction in office demand, and if the US supply growth continues at about 1% per annum, unless you have a mass conversion of office space, or demolish office space over the next few years, you're going to get elevated vacancies across the US.
Though the technologies existed already, COVID-19 created a convenient excuse for firms and workers to make the upfront investment in the equipment and training to begin remote or at-home work.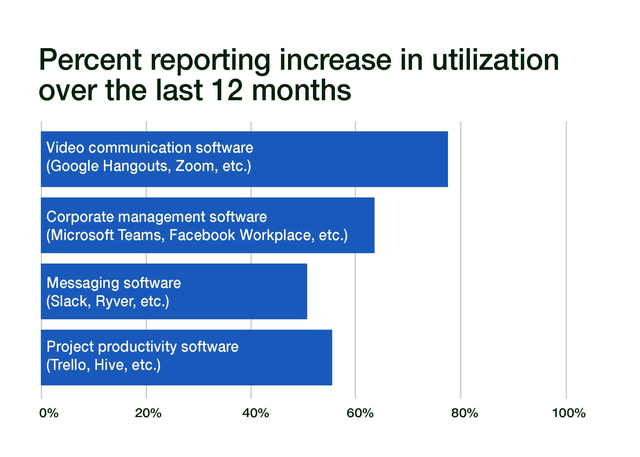 Image Source
To quote a July article in Harvard Business Review:
[T]he biggest cost of switching to remote or blended work — the cost of adopting to the new technology — has already been paid. Nobody should commit to long-term remote work because they want to recover the sunk cost of moving online due to the pandemic. However, the pandemic irreversibly reduced the cost of switching to remote work and made this choice cheaper. This means that it now becomes easier to switch in and out of remote work when convenient or necessary.
Many workers have demonstrated their preference for working at home, despite numerous expert predictions that most workers will eventually want to return to the office.
An October 2021 report by JLL shows that leasing activity for office space remained sluggish in Q3, though Sunbelt "growth markets" are rebounding much faster than coastal "gateway markets."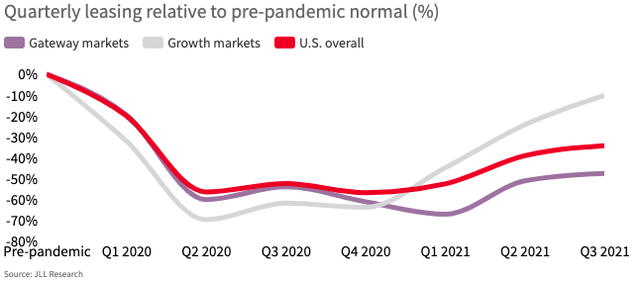 Source: JLL
Particularly grim for office real estate is the fact that net absorption (newly occupied square footage minus newly vacated and delivered square footage) remained negative in Q3 - the sixth quarter in a row of negative net absorption.

Source: JLL
Single-tenant net lease office is a different animal, but it isn't immune from the headwinds facing office real estate more broadly.
Industrial
Net lease REITs, even those not traditionally focused on industrial real estate, have been making more industrial acquisitions.
Spirit Realty Capital (SRC), formerly an almost exclusively retail-focused REIT, has doubled its industrial exposure in recent years to 17.5% in Q3, with the vast majority of it being in distribution & logistics buildings. In Q2 2021, two-thirds of acquisitions were of industrial properties.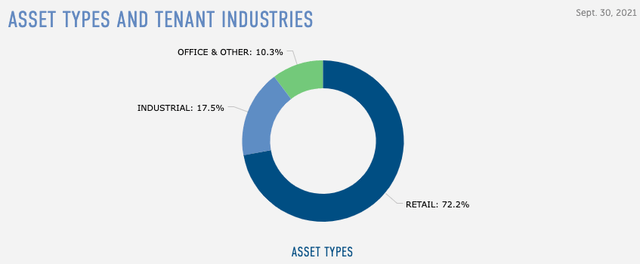 Source: Spirit Realty Portfolio Overview
W. P. Carey (WPC), which has long maintained a diversified portfolio, has steadily shifted to focus almost entirely on industrial properties over the last few years, now boasting that almost 50% of its assets are industrial.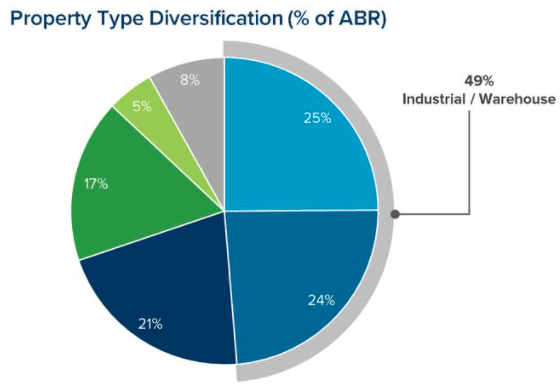 Source: WPC Q3 2021 Presentation
To quote my October article on One Liberty Properties (OLP): "In recent years, OLP has been disposing of non-industrial properties, mostly retail, in order to buy and increase its portfolio share of industrial properties."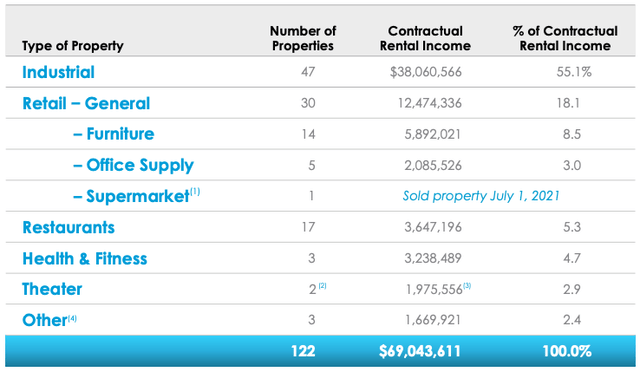 Source: OLP August Presentation
Realty Income, likewise, has built up a 132-property portfolio of industrial properties that now make up 12.2% of base rent.
Stag Industrial (STAG), which has always had a value investing strategy in the industrial real estate space, now has a lot of competition among fellow net lease REITs for properties.
Gyms/Fitness Centers
Contrary to popular opinion, Americans have not decided to cancel their gym memberships en masse now that they've plunked down thousands of dollars for a Peloton (PTON) bike. In fact, it's instructive to note that while PTON is collapsing after lowering its full-year guidance, visits to gyms were down only 9.1% in Q3 compared to 2019 levels.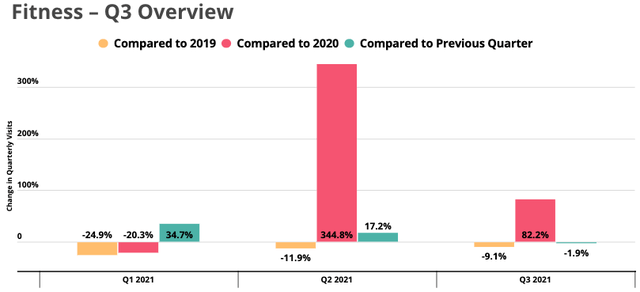 Source: Placer.ai
Senior Housing And Care
As I detailed in a recent article on National Health Investors (NHI), things have turned from bad to worse for senior housing and care real estate this year. The Delta variant was bad enough, but a persistent labor shortage has also limited growth in occupancy after demand started to return. And the vaccine mandate has likely made the labor shortage worse, at least for now.
But there is some good news. Average senior housing occupancy across the nation was 80.1% in Q3, up from 78.7% in the prior quarter.
Moreover, developers have cut back on development. Senior housing construction starts amounted to 1.9% of existing inventory in Q3, the lowest level since 2011. And the number of units under construction is at its lowest level since 2015.
Though the Delta variant caused a significant spike in the number of reported COVID-19 cases in the general population...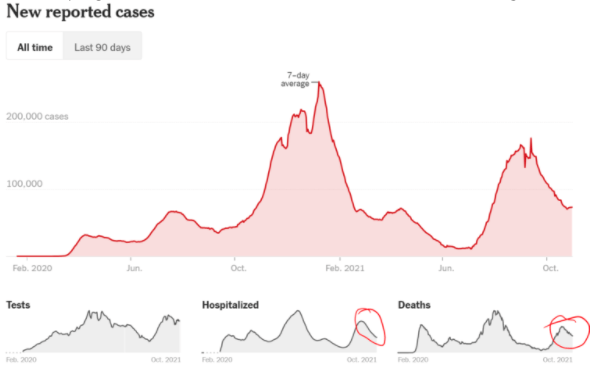 Source: New York Times via Dividend Cafe
... the spike was MUCH smaller for residents and even staff members of nursing homes / senior care centers: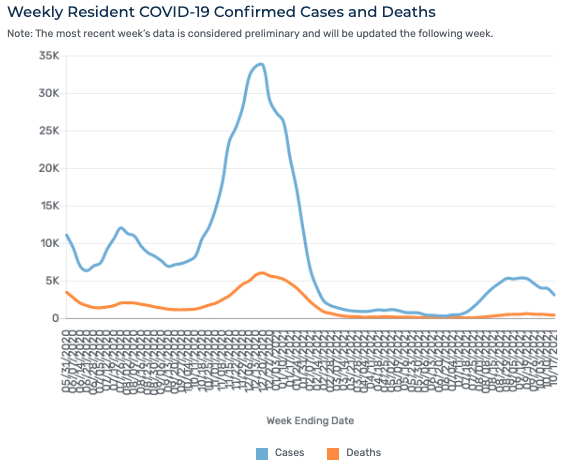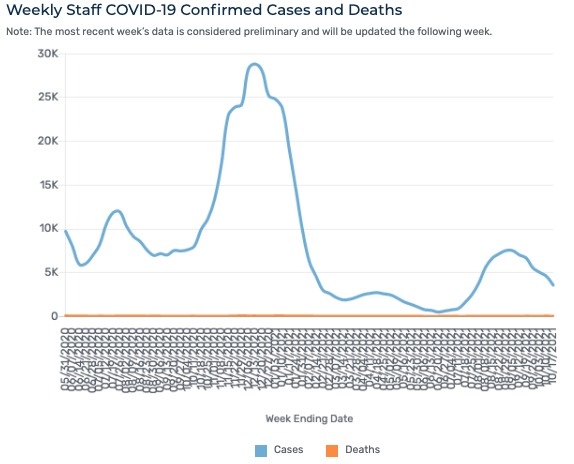 Source: Centers for Medicare & Medicaid Services
Perhaps this is due to the disproportionately high vaccination rate among senior care residents and workers. As of the week ending October 17th, 85.9% of senior care residents and 71.2% of staff were vaccinated. Compare this to the US population as a whole, where in the same week 67% had received at least one dose of the vaccine and 58% had been fully vaccinated.
Notice also the very important point that COVID cases have been falling precipitously in both the general population and among those in senior care centers. Hopefully, this will somehow ease tension between employers and vaccine-skeptical care workers.
Though LTC Properties' (LTC) CEO Wendy Simpson expressed optimism in early October, saying that "for the first time in six quarters, I'm somewhat looking forward to our earnings call in October," the market was anything but impressed by LTC's big earnings miss, or the additional $970K of rent abatements (2.5% of ABR) during the quarter, or the $4.8 million of delinquent rent.
Things will continue looking bad for senior housing/care until occupancy makes a substantial comeback.
Movie Theaters
Speaking of a substantial comeback, movie theaters are enjoying a nice resurgence as big budget films return to the silver screen.
After Q3 2020's 96% YoY drop in box office revenue, box offices reported a 996% YoY gain in Q3 2021, according to Box Office Mojo.
That sounds very impressive until you realize that Q3 2021's domestic box office haul of $1.37 billion is less than half of Q3 2019's $2.81 billion. Admittedly, it is a big improvement, as Q2 2021's $798 million box office haul was over 75% below Q2 2019's $3.26 billion.
In the first three quarters of 2021, domestic box office receipts totaled $2.4 billion. Fourth quarter receipts would need to be an implausible $3.2 billion to even reach Goldman Sachs' dour projection of 2021 box office revenues from back in December 2020.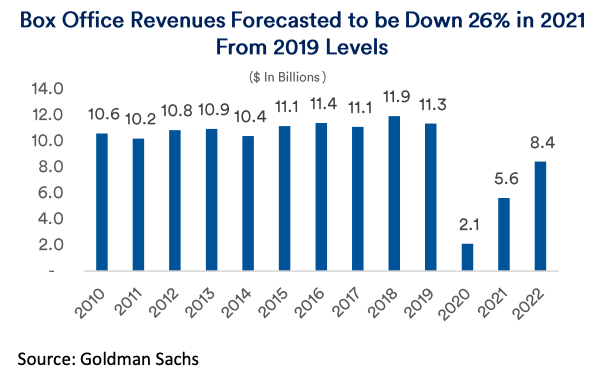 Image Source
Despite my overall long-term bearishness on theaters, I would like to think I have a nuanced view of the property type.
In the short term, theaters should continue their rebound as people crave out-of-home experiences and the feeling of going back to pre-pandemic normalcy. Not to mention the upcoming slate of tentpole movies set to come out in the next few years.
But in the long run, the US has too many theaters for all of them to survive in a world of ever more popular streaming entertainment, video games, etc. As in the mall space, I foresee the best located, most highly trafficked theaters continuing to thrive well into the future but the less well-located, lower-quality theaters eventually seeing a steady decline in traffic.
As I stated in last quarter's report:
I'm not saying every movie theater will shutter, nor that all will suffer. Like malls, I envision a select number of movie theaters in great locations continuing to thrive, while less well-located theaters struggle on for a while. According to the National Association of Theater Owners, there were about 5,500 indoor movie theaters in operation in 2020. It would not surprise me to see that number halved by the end of 2030.
As for theater real estate, the market will probably price in the decline for the weaker properties well in advance.
The net lease REIT team with the stated view of theaters that comes closest to my own seems to be National Retail Properties (NNN). On the Q3 conference call, CEO Jay Whitehurst had this to say about the property type:
The movie theater industry is one where we are still remaining very cautious. Our tenants are paying us rent right now... But that's an area -- a line of trade that we still want to be cautious about going forward. So you're not likely to see us buy any or many movie theaters going forward.
Good Buys Today
Since I've held forth for so long already, I will conclude briefly with three REIT picks that seem like good buys today.
I would identify at least three margins of safety upon which one can concentrate in net lease investing:
Low-cost properties (compared to replacement value) with low rent (compared to market rates) in good locations (measured on a case-by-case basis)
Tenant credit and balance sheet strength
Landlord-friendly lease provisions like cross-default protection, above-average rent escalations, and store-level financials
Now, probably most REITs would claim to have all three margins of safety to some degree or another. But I think each net lease REIT tends to focus primarily on one of these three.
NNN is an excellent example of a REIT that focuses on low-cost properties with low rent rates in good locations, and this strategy has served them well over the decades.
ADC is my favorite REIT focused primarily on establishing a margin of safety based on superior tenant credit and balance sheet strength. This gives its retail tenants ample capacity to invest in their omnichannel platforms in an environment of increasing online compeition.
Though the third margin of safety will immediately bring to mind STORE Capital (STOR) and Essential Properties Realty Trust (EPRT) for most investors, I would suggest SRC as a better-valued play right now.
SRC has worked tirelessly to transform its portfolio in recent years, turning over about $3.8 billion of real estate. In so doing, SRC has reshaped its portfolio such that 42% of properties operate under a master lease, its weighted average rent escalation of 1.1% continues to go up, 47% of properties report store-level financials, and 94.2% have corporate financial reporting.