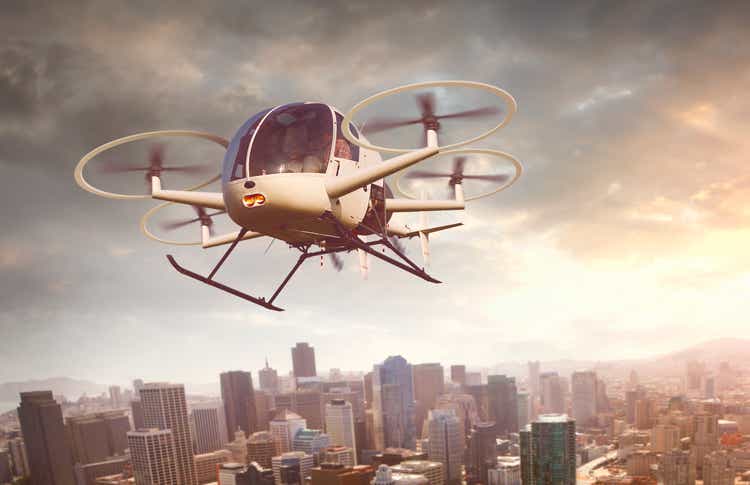 Macro-economic Overview
It was only several days ago that President Biden, attending COP26, showcased America's ambition to put climate at the heart of Democratic party policy. Just before the political masquerading, he called Saudi Arabia, imploring them to pump more oil as the country reels under $84-a-barrel-induced inflationary pressures.
While the irony could not be deeper, his vision of workers laying thousands of miles of transmission lines of the clean, modern, resilient power grid, of unionized autoworkers building the future electric vehicles, and a network of 500,000 charging stations fits nicely into the Archer Aviation (NYSE:ACHR) story.
The Palo-Alto-based firm brings fanciful, visionary, and a (yet-to-be-developed) ground-breaking product and solves one problem by creating multitudes more. It too sets amazing ambitions.
For Biden, new carbon capture systems, an innovative, equitable, and just clean energy engine of net zero for a net-zero world showcased among his visionary rhetoric. His promises of a United States with a net-zero emissions economy by no later than 2050 appear almost as compelling as Archer Aviation's sales pitch. When it merged with US investment banker, Ken Moelis' Atlas Crest in February last year, it forecasted an increase in revenues by more than $12B in just 6 years. All this, despite having no commercial product, and only expecting to post first-year revenue in 2024.
Zero revenues, no commercially viable product, and little in terms of a clearly defined, regulated, and existing market. At a revised valuation - Archer cut its original valuation from $2.7B to $1.7B - what could possibly go wrong?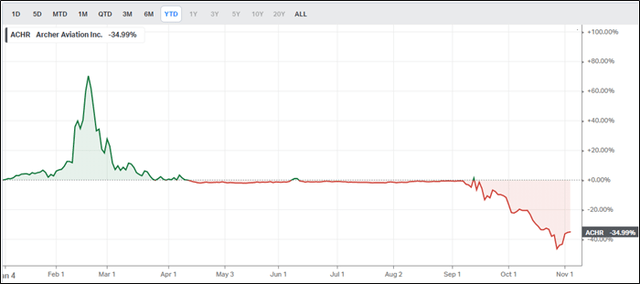 YTD Total Returns - Archer Aviation Inc. (ACHR). The market appears to have started santioning firm's approximative strategic business plans. Archer Aviation has lost ~35% YTD.
Source: Koyfin
Indeed, industry whizzes have wagered on a flying transport market, perhaps providing a foundation to Archer's vision. Morgan Stanley recently circulated a research piece entitled "Are Flying Cars Preparing to Takeoff" in which it cites a $1.5T market by 2040.
Management Consultancy, Roland Berger, jumped on the flying transport bandwagon, stressing it expected air mobility to create revenues of $1B by 2030, with sales of $90B by 2050.
Finally, Deloitte has also pitched in with its projections, tabling on the deployment of the air mobility industry by 2025. By 2035, the consulting firm expects $115B in revenues which support 280,000 jobs.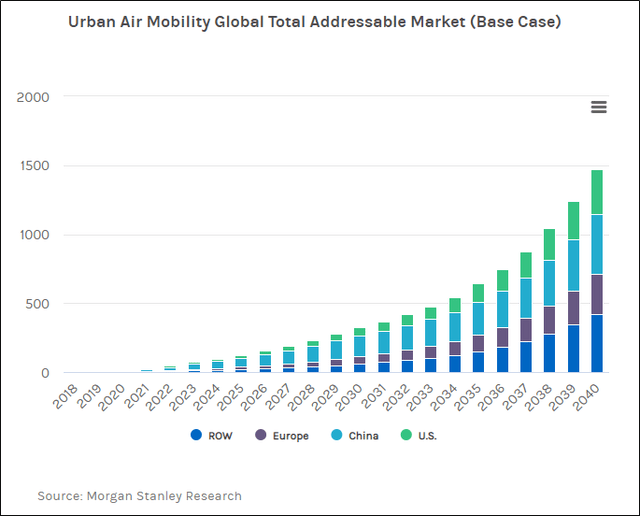 Urban Air Mobility Global Total Addressable Market
Source: Morgan Stanley
The numbers are enough to whet any money manager's appetite despite being so glaringly divergent. Which one to believe? Morgan Stanley's $1.5T flyaway forecast, Roland Berger's more conservative $1B take, or Deloitte's middle-of-the-range $115B headline figure? Your guess is probably as good as mine.
However, the industry has unquestionably attracted investment dollars as capital looks for a home, any home, under exceedingly loose monetary conditions. Fiat Chrysler has supported the fledgling flying taxi venture, granting access to its automotive supply chain. A group of companies, including United, Stellantis, and Exor - the wealthy Italian Agnelli family's investment arm, have rubberstamped the deal with a further $600M in funds.
The pioneering air mobility industry has also enticed competition - with the German firm, Lilium (LILM) raising $3.3B in a Nasdaq-listed SPAC deal. It is wagering on the success of a 7-seater air taxi prepped for launch in 2024. Joby Aviation (JOBY) is another competitor, backed by Reid Hoffman and Mark Pincus to the tune of $6.6B. Indeed, the industry is not short of money, nor ambition.
Yet it is the fanciful, broad-based objectives, often pitched so far into the future that few will remember them, that leaves me skeptical. Do we really need to solve traffic jams by starting to create possibly more dangerous ones in the sky? As SPAC mania dies down and the tide comes out, as inflationary pressures push interest rates north, it will be fascinating to see which of these deals were swimming naked with imagery, hype, and sustainability propaganda. And which ones have an economically sound product for a market - if one exists. Bearish.

Source: Market Chameleon
Company Overview
Archer Aviation Inc is the product of the marriage with US investment guru Ken Moelis' investment firm Atlas Crest. Consummated in February 2021 - the deal pitched the combined entity at around $3.8B. The emerging growth company, founded by Brett Adcock and Adam Goldstein of Vettery fame, first took off around 2018 when the founders understood a deep-seated societal need for de-bottlenecking of motorways and transport infrastructure. Flying EVs appeared the soundest solution.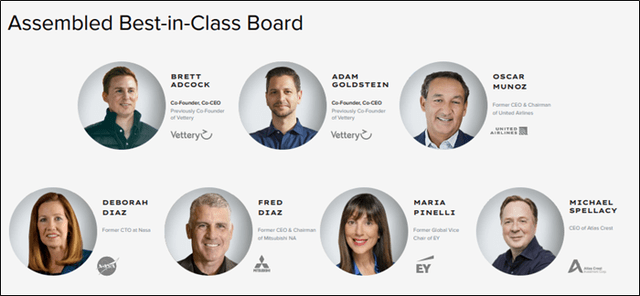 Board of Directors - Archer Aviation Inc.
Source: Archer Investor Presentation
Since then, the urban air mobility outfit has come on in leaps and bounds - assembling a best-in-class board, raising seed money, going public, and assembling a team of around 70 full-time employees, diligently working away at product development.
The Californian air taxi venture designs, manufactures, and operates electrical vertical take-off and landing aircraft for public transportation. In simplistic terms, it is the future Uber of the skies (after the San Francisco based firm chucked in the towel on similar aspirations, selling out to Joby Aviation)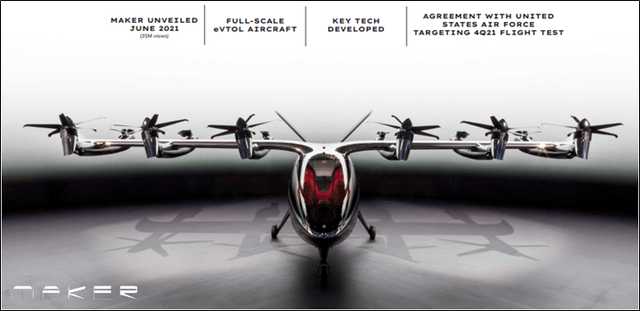 The United States Airforce will be the first to meet its Maker with scheduled flight testing penned in for Q4, 2021.
Source: Archer Investor Presentation
The showcased product will be the eVTOL aircraft currently in development. Testing will take place somewhere towards the end of the year with the US Air Force being the first to start live trials. Full scale production and certification of the craft appears some way away, given forecasts for compliance ground and flight-testing certification only finish around 2024. This also raises questions regarding time-to-market and initial projections of first revenues sometime during that year.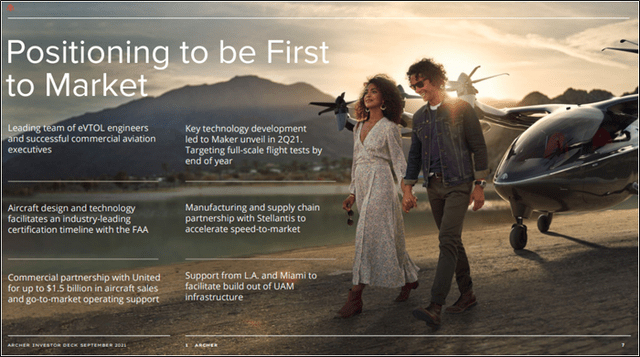 Strategic Business Plan - Archer Aviation Inc. Investor presentation imagery is almost as fantastical as some of the financial projections. With the wind in your hair, you too, can be part of modern transport history while generating superior risk adjusted returns.
Source: Archer Investor Presentation
The strategic premise is simple - bring together the best engineering minds, the most astute money managers, and state-of-the-art technological nous to de-bottleneck antiquated transport infrastructure. Manufacturing and supply chain partnerships have been agreed upon with Stellantis, which will provide industrial expertise and facilitate the development of the vendor base.
Los Angeles and Miami will be emerging markets for the flagship technology. The company has highlighted it expects vehicles to travel distances of up to 60 miles at 150 miles per hour. Its anchor client appears to be United (UAL) - which is also heavily invested in the venture - with a deal touted to be worth around $1B already locked in. United wishes to showcase the vertical take-off and landing (eVTOL) technology with runs between the Hollywood hills to Los Angeles International Airport being an initial target market.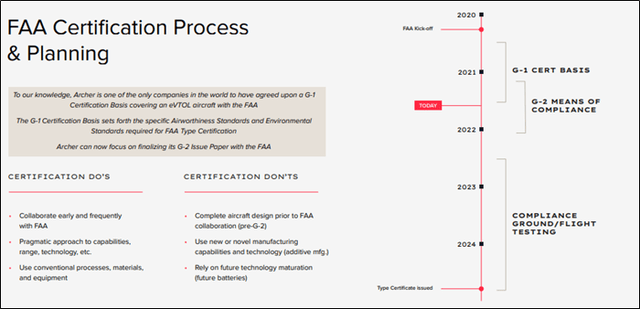 The FAA Certification Process & Planning raises some doubts about the company's ability to have a fleet in the sky by 2024.
Source: Archer Investor Presentation
Current Valuation
Valuing a firm with a product only at its development stages, aimed at targeting a market that is non-existent is anything but simple. The company has attempted to do this by projecting itself against some of the most overvalued industrial upstarts US capital markets have seen in the last 20 years. It wholly emphasizes the weakness of relative valuation, particularly if the peer group itself is susceptible to some form of equity haircut in the future.
The firm's closest competitors - Lilium NV (LILM) and Joby Aviation (JOBY) share common traits; products in development, extended timelines for product to market, and zero revenues for the foreseeable future. Funds raised are higher for both competing enterprises, but both face the same structural and regulatory headwinds.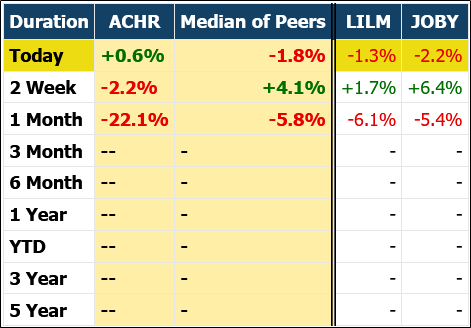 Comparative analysis - Total returns (ACHR) v (LILM) and (JOBY). Returns for all flying taxi firms have been anything but satisfactory. Archer Aviation leads the back of the pack with its sizable losses.
Source: Market Chameleon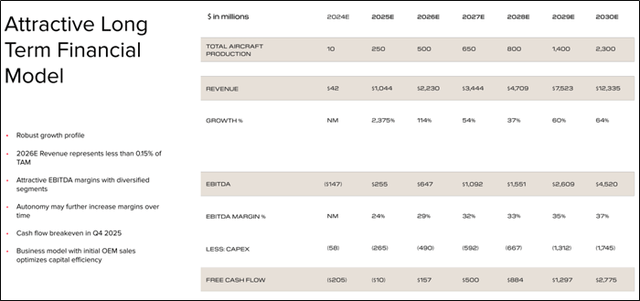 Source: Archer Investor Presentation
Total addressable market metrics play a central role to the company's touted growth potential. Yet arriving at estimated numbers, often devised by investment banks or consultants with vested interests, is far from simple. The company estimates the market (which does not yet exist) for air mobility to be around $9T - that is almost 2x Japan's gross domestic product.
The financial details - just like promises to be net carbon neutral by 2050 - provide very little to get excited about insofar as the economic and technological landscape could markedly shift in the coming years.
2,375% expected revenue growth between product launch in 2024 and mainstream production in 2025 appears anything but conservative. Top line numbers also remain difficult to explain - granted the firm will be generating sales from taxi rides as opposed to simply selling air frames. But how do they get to the numbers?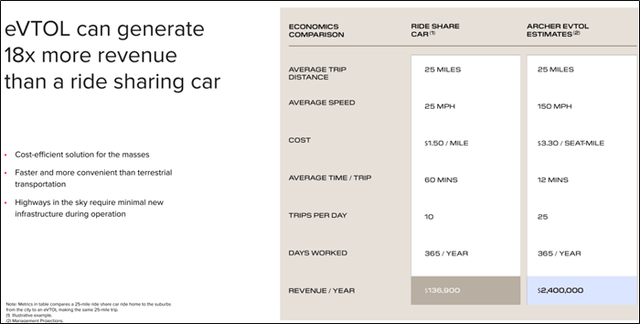 Case study for Air Mobility
Source: Investor Presentation
Some of the assumptions regarding the air mobility case study seem a little stretched - particularly customer inclination to accept traveling in a pilotless craft and considerations regarding transport to/ from landing & take-off infrastructure.
- Taking 2025E available units (250 units) and using the above assumptions, the following estimates can be developed:
- 4 passengers per unit x $3.30 per seat mile x 25 miles average trip = $330 cost per trip
- With a 30% gross margin = $471 gross revenues per trip
| | |
| --- | --- |
| 250 units revenues x ($471 x 25 x 365) | $1,074,468,750 |
| Operating costs 250 units ($330 x 25 x 365) | $752,812,500 |
| Gross profit | $321,656,250 |
The numbers broadly work out but also have a few critical assumptions:
The aircraft would have to be fully autonomous and unmanned to deliver such low operating costs.
Passengers would have to be willing to fly in an unmanned aircraft and regulatory authorities would have to be satisfied those pilotless airborne vehicles are safe.
Customers would have to be willing to pay ~$117 USD for a 12-minute ride
Time to vertical landing and take-off infrastructure could not outweigh advantages of shortened flight time
Risks
Risks for such a pioneering venture remain sizable. Regulatory risks will be prevalent with a possible de-bottlenecking of roads consequently creating a bottlenecking of the skies.
Safety regulations
Despite air crash events seldom occurring, when they do occur the fatality rate is much higher than in normal terrestrial transport. Safety regulators across the world would have to be satisfied that unmanned craft can safely transport passengers in full compliance with current air safety regulations while posing no risk of sabotage, cyber hijacking, or other nefarious uses. The regulatory cost to create the market would be sizable and most likely open to divergent national regulations dictating norms. Safety redundancy provided by pilots would need to be replaced by automated computer systems fit for the task and convincing enough to get consumer buy-in. If the assumption that the craft was autonomous no longer held, the economics behind several projects may come into question.
Customer preferences and convenience
The customer would have to prefer an autonomous airborne craft over other options such as autonomous taxi, or public transport. It is worth noting no autonomous vehicle network presently exists putting meaningful question marks over a future network of flying taxis. Likewise, time to access flight hubs and complete a journey would have to be less than a simple car ride. Limited access points to board a flying taxi and possibly lengthy safety protocols, pre-flight and post-flight may be an anchor to a heavily marketed convenience factor.
Technological innovation
Technological advances around battery autonomy and charging times would create a considerable impact on project economics. Wait times would have to be drastically reduced to make short-distance flights safe, convenient, and economical.
Products of substitution
While a degree of appeal exists with cheap, quick autonomous flights, consideration needs to be given to products of substitution. If unmanned aircraft are given the green light to transport civilians, it is likely that autonomous cars are also operating, driving down taxi fares. It is worth remarking that certification for autonomous vehicles is possibly still years away, presenting additional challenges for automated flights.
Travel patterns
The SARS-Cov2 pandemic has upended the way we work. Advancements in digital technology has drastically reduced commutes and provided flexibility to the way we work. Consequently, business travel has measurably decreased forcing airlines to re-think product marketing and cabin layouts. Innovation is highly likely to change the way we work, communicate, and live together. A case in point is the Metaverse which is being developed by Facebook. Technological advancements may limit daily commutes or optimize the existing ones, meaning new revolutionary alternatives become increasingly speculative.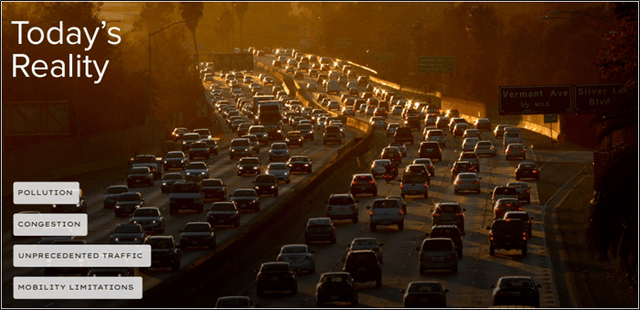 Source: Archer Investor Presentation
Investment Summary
Archer Aviation's business case remains premised on a declogging current transport infrastructure, with sustainable, environmentally friendly travel options, at a hyper-competitive price. It takes a large-scale societal problem and rather than try to solve it directly - which vehicle autonomy, smart highways, and improved public infrastructure may do - it gives another set of problems, safety, convenience, and cost-efficiency around unmanned autonomous vehicles.
While the solutions seem breathtakingly innovative and praiseworthy, too many question marks remain on the regulatory front, while completely discounting progress other forms of transport will make over the same time frame.