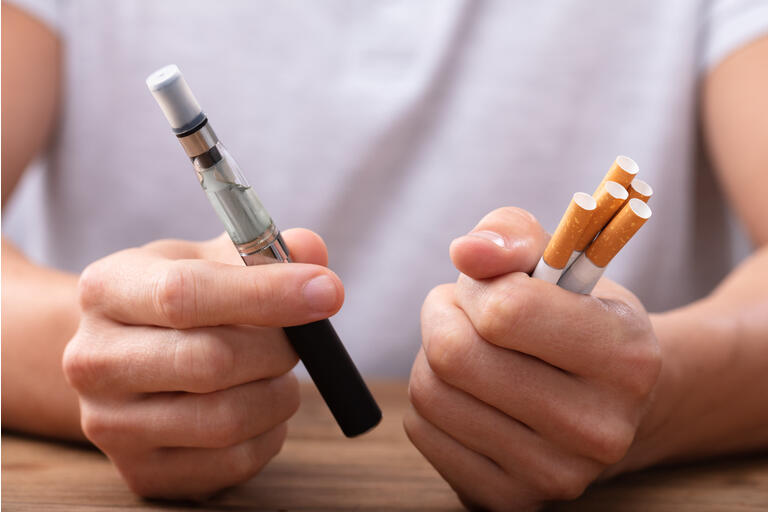 British American Tobacco (NYSE:BTI) shares have recently come under pressure with the stock falling nearly 10% in the last 6 months. Dividend investors looking for a high yield and possible upside have an opportunity to buy one of the market's so called sin stocks. Today's trading action offered up an opportunity to buy shares paying an 8.7% yield less than six weeks from the ex dividend date of December 22.
As a trader I like to buy high yielding dividend stocks as they get close to ex-dividend date and hedge for extra yield. When the yield gets close to 9%, I may invest with no hedges in place as investors usually come in and bid the stock up as long as the dividend is safe.
The dividend is secure; here is the CEO transcript from earnings:
As a result, we maintain our outlook for mid-single digit adjusted diluted EPS growth for the full year. We are a highly cash generative business and expect to generate cumulative free cash flow of around £40billion over the next 5 years. We remain committed to our progressive dividend policy, continuing to invest behind the transformation of the business, and de-leveraging the balance sheet to around 3 times adjusted net debt to adjusted EBITDA by the year end.
The company is transforming into a multi category company with tobacco and vaping products around the globe. Pakistan Vietnam, Japan and the US are all seeing growth in NC products.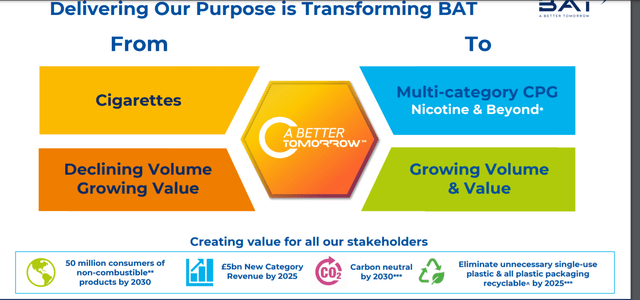 Source: BTI Website
The company is growing its NC vaping business with Vuse sales up 59% and Glo growing at 38%. BTI is currently trading at a 7.5 P/E, growing EPS 6%, and earning $4.74 a share. This ticks the boxes for a potential income trade in my opinion.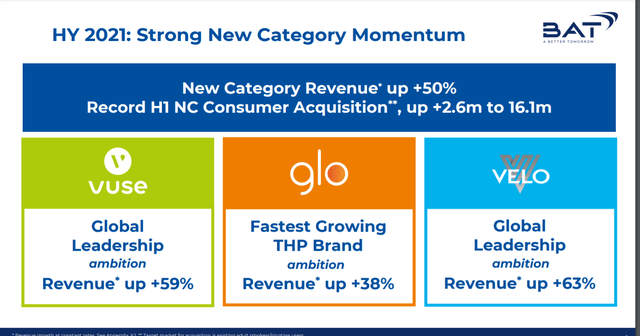 Source: BTI Website
BTI is growing market share in all categories but they still lose money on their NC vaping units. The market is looking for further results, testing the low end range as investors wait for the next shareholder meeting in December.
In the meantime the economy continues to recover, consumers are flush with cash and the US market continues to grow. Management is executing on its strategy of transforming the company from a combustible market to a blended market with vaping products contributing and increasing percentage of revenue.
BTI is the 3rd highest ranked ESG company in the FTSE 100.
For those investors concerned about ESG, you can access the full year report and judge for yourself by clicking here.
Timing an entry point into a new trade is always important to positive results.
Let's look at a chart of BTI.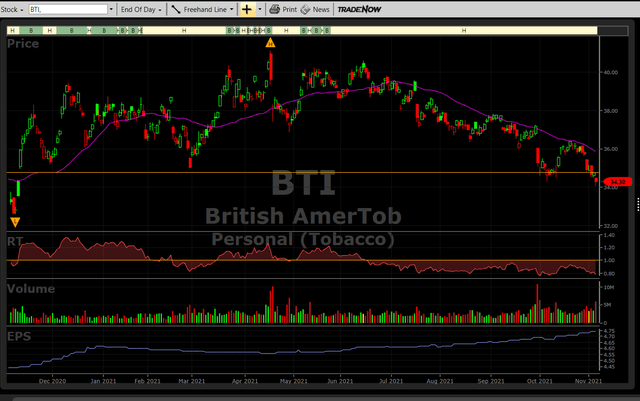 Source: TradeNow
Above is a one year chart of BTI showing price, volume, relative timing and EPS. Investors can see the stock is in a downtrend and today's trading activity was on higher volume. This is a red flag near term that could lead to lower prices in the near future; on the other hand, it could be very close to a capitulation trade and a rally point near this level.
As of today's close, this trader is short term neutral to slightly bearish (because of the chart and yesterday's close) and longer term bullish on this stock. I am buying a 25% position in this range today under $34.30 and adding 25% on $.50 to $.75 intervals from yesterday's low on any further weakness over the next few days or weeks.
I see this range bound from the lower $30s to the high $30s. This trade will likely require a minimum hold time of 45 days to catch the dividend and gain some capital appreciation as that date nears.
Dividend investors that would like a current yield of 8.6% can buy right here and feel confident that the company will continue to pay you a handsome return while you wait.
Conclusion
BTI is in a downtrend, I believe the stock entered the buy zone, yielding 8.7% to shareholders of record as of December 22nd. The company is growing earnings and paying down debt.
BTI has solid cash flow and is diversifying its revenues with non combustible products. The business model is working with 59% growth in VUSE and 38% in glo. Management's goal is to cut leverage to 3X EBITDA by year-end.
I firmly believe that the downside is limited and now is a good time to phase into a position. Any opportunity to buy this name with a 9% or slightly higher yield would be a green light buy in my opinion.
Buying high yielding dividend stocks requires patience and timing. To get a high yield you must buy when the stock is under pressure and the yield is elevated. As the ex-dividend date nears, the stock becomes more desirable to income investors.
As always, do your own research and make your own decisions with any stock you consider for your portfolio. Remember to have an exit strategy in place before making any trade. That one strategy can keep you grounded in times of high volatility.