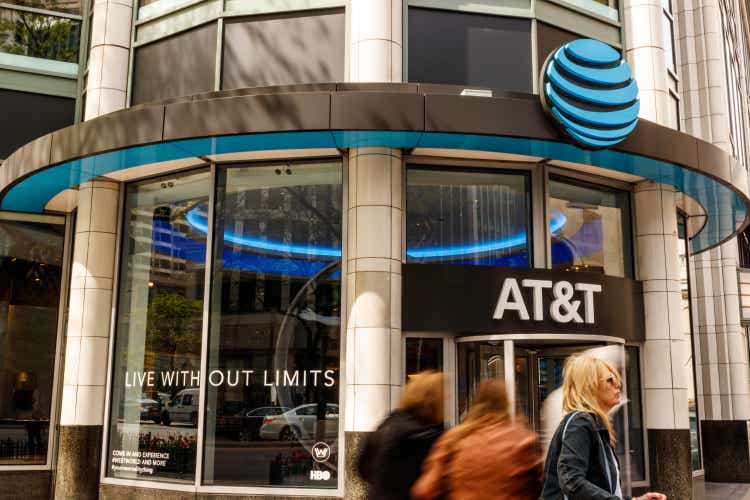 Obviously, the market hasn't been a fan of AT&T (NYSE:T), and many investors consider T an investment where capital goes to die. The chart is horrible as shares have declined by -8.3% over the past year. In May, T caught a mini-rally, and shares briefly exceeded $32, then drastically declined. Looking at the five-year chart is even more depressing as T went from the $40 range down to the low $30s, rallied back to $40, then just downward spiraled, crashing through the $30 level. In a bull market, T has been one of the most disappointing stocks, and I believe if it wasn't for the large dividend, more investors would have cut ties with T.
Why is this time different, and why do I believe shares of T are worth a look? T is a boring company, their growth opportunities aren't exciting compared to many of the market darlings, and it's hard to make a case that investor sentiment will get excited about T in the future. There are many reasons to avoid T today or to consider T as part of a tax loss harvesting component going into the end of 2021. Could there be future financial pain for shareholders of T, absolutely? Normally I don't have a problem letting go of a bad hand, and I don't fall in love with companies. I think the sum of parts in T's case will unlock value for investors and their numbers are too strong to be ignored in contrast to their valuation. Going forward, T should be looked at as the company it will become in 2022, not the company it is today.

(Source: Seeking Alpha)
The company T is today, and the company shareholders will own in 2022
One of the things I am the most disappointed about is the lack of clarity on the WarnerMedia spinoff. Sure, management continues to update shareholders on the regulatory progress and expresses their opinions that they still believe mid-2022 is the target date for the spinoff to take place, but many shareholders want details. Disclosing that shareholders of T will own 71% of the new company once WarnerMedia is spun off and combined with Discovery (DISCA) isn't enough. As a shareholder, I want the numbers. I want to definitively know how many shares will be issued of the new company and how WarnerMedia is going to be valued compared to the rest of T? Many of us want the details so we can run the numbers and see what we will be left with in regards to legacy T, then how many shares our current shares of T will represent in the new company. For long-term shareholders or even prospective shareholders interested in the new company, these are critical to making an investment decision and management shouldn't be leaving everyone in the dark.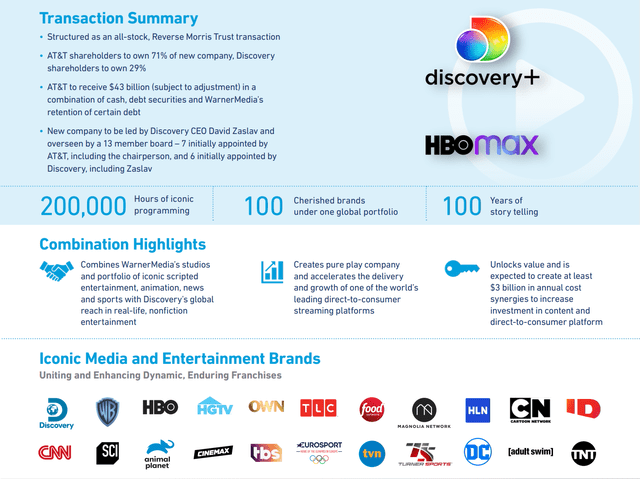 (Source: AT&T)
Today T is a beaten-down juggernaut that still generates large amounts of revenue and cash. T's consolidated revenue in Q3 came in at $39.9 billion, which was a decrease of 5.7% YoY as Q3 2020 generated $42.3 billion in revenue. The decrease is attributed to the separation of the U.S Video business, other divestitures, and a decrease in T's Business Wireline business. The overall decreases were offset by strength in the Mobility unit and WarnerMedia. T made a note in their 10-Q that their Q3 consolidated revenues totaled $38.1 billion compared to $36.4 billion YoY if you were to exclude the impacts of the U.S Video business from both quarters. While this doesn't help T today as it's a legitimate impact, it does help illustrate what T will look like in the future as its core business will look much different.
Today, T is a company that has generated $173.6 billion in revenue and $25.7 billion in free cash flow (FCF) in the TTM while paying a dividend that now exceeds 8%. In Q3 alone, T delivered $39.9 billion in revenue, $0.87 in adjusted EPS, which increased $0.11 YoY, $9.9 billion in cash from operations, and $5.2 billion in FCF. I know it's hard to do but put feelings aside, T is a company that generates huge numbers.
Now, let's get to the dark side of T, which is the debt. T has $155.41 billion in long-term debt, which I will admit is drastically larger than what I would like to see. I have been criticized for defending T's debt load in the past, and I will do it once again. Today T's FCF is $25.7 billion, and its 5-year average FCF is $23.46 billion. T has paid $15.06 billion in dividends over the TTM. FCF is one of the most important metrics of a company, in my opinion. FCF represents the cash available to a company that can be allocated to several things such as paying dividends, paying down debt, or investing in the business.
While many criticize T's debt load, I like to take a different approach and understand if the debt is manageable. Today T has $155.41 billion in long-term debt and generates $23.46 billion in FCF. If T didn't pay a dividend or allocate capital to capital expenditures (CAPEX), they could pay off its debt load in 6.62 years from its FCF. While that is unlikely to happen, there is $8.4 billion in FCF leftover after dividends, and if that went to paying down its debt, T's long-term debt would be paid off in 18.5 years. If T were to eliminate the dividend in its entirety and allocate $7 billion to capex, the remaining $16.46 billion in FCF would eliminate the long-term debt in 9.44 years if that's where it was allocated to. While debt is a factor that needs to be evaluated and questioned, it's also important to look at how the debt is serviced and if a company is financially strong enough to carry the debt and repay it over time. While many are sour on T, and their debt looks intimidating, the amount of cash T generates is more than enough not just to service the long-term debt obligations but significantly reduce them over time.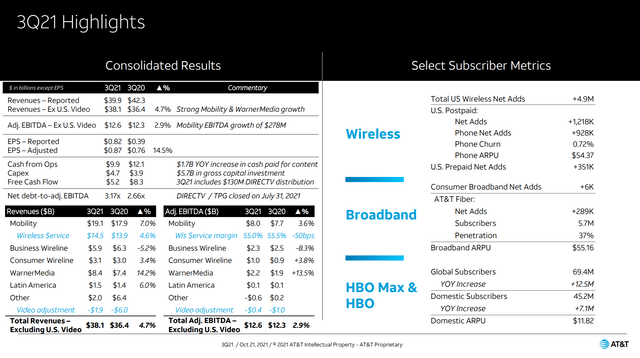 (Source: AT&T)
Today shareholders own a communications and entertainment juggernaut, but what are we going to own in 2022. Management hasn't changed its original update about the structure of the deal in 2022. Based on the numbers provided, the only thing that makes sense is valuating WarnerMedia by its revenue contributed to T's business to come up with a dollar amount the spun-off asset would be worth. In the first nine months of 2021's operations, WarnerMedia has generated $25.76 billion in revenue while the entire business has generated $127.9 billion in revenue. In 2021 WarnerMedia has accounted for 20.14% of T's overall revenues. Using this percentage, WarnerMedia is worth $5.04 per share or $36.28 billion in market cap based on T's current valuation.
For argument's sake, let's speculate and say that T's management is going to use revenue as its valuation metric. On one side of the coin, you will have legacy T, which management has stated will generate $20 billion-plus of FCF and expects to reset its annual dividend to reflect between 40-43% of its new FCF. Being conservative, I like to use the low end of the range, so at 40%, T would be allocating $8 billion to its dividend. In the last financial report, there were 7.14 billion shares outstanding of T. Legacy T would have a share price of $20.10 if WarnerMedia was spun-off today using this methodology and pay a dividend of $1.12 which is 40% of its new allocated FCF to the dividend for a forward yield of 5.57%. Management is also projecting revenue growth in the single digits with adjusted EBITDA & EPS growth in the mid-single digits for legacy T.
On the other side of the coin, shareholders of T are going to own 71% of the new company. The projection from T is that the new company will generate $52 billion in revenue and $14 billion in adjusted EBITDA in the fiscal year 2023, which will be their first full year of operations. The combined entity will have over 200,000 hours of programming and 100+ recognized brands, including WarnerBros, HBO, Discovery, HGTV, CNN, Animal Planet, and TNT within their portfolio. The new company will have tremendous prospects, in my opinion, as it will become one of the premier options in the streaming industry and a possible takeover candidate for Apple (AAPL). I am not looking to start a rumor but think about it. AAPL generated $92.95 billion in FCF and instead of playing catch up and building out Apple TV, this would be a plug-and-play acquisition that would fit seamlessly into their ecosystem.
Is there value to be unlocked?
Yes, I believe there is value to be unlocked after this deal closes and the dust settles. T is receiving $43 billion in a combination of cash, debt securities, and WarnerMedia's retention of certain debt in the deal. By the end of 2023, T expects its net debt to adjusted EBITDA ratio to be less than 2.5x as it will have a focus on debt reduction and strengthening its balance sheet. T will still produce $20 billion-plus in FCF, have a dividend that exceeds 5% based on today's numbers, and offer low growth. Management has also indicated that once T's net debt to adjusted EBITDA ratio is less than 2.5x, the option of repurchasing shares is on the table. Over the next several years, shareholders could see a very enticing share buyback program from T as they have enough dry powder from its FCF to get aggressive.
On the new entity side, I think the numbers are lopsided, and we will either see significant capital appreciation or another company such as Apple make an acquisition. Netflix (NFLX) has generated $28.63 billion of revenue in the TTM and $6.69 billion in EBITDA. Hypothetically let's speculate and say NFLX grows YoY by 20% in both categories. This would put NFLX at $34.36 billion in revenue and $8.03 billion in EBITDA in 2022 and $41.23 billion in revenue, and $9.63 billion EBITDA in 2023. T's projection was that the new company would generate $52 billion in revenue and $14 billion in adjusted EBITDA in the fiscal year 2023. NFLX has a current market cap of $300.2 billion while T's current market cap is $180.14 billion, and DISCA's is $16.01 billion. It would be a matter of opinion of which company has the better platform and content, but the numbers aren't an opinion. NFLX and the new company would be very similar yet miles apart in valuation, and I believe T's management will be correct, and this spinoff will unlock value for shareholders.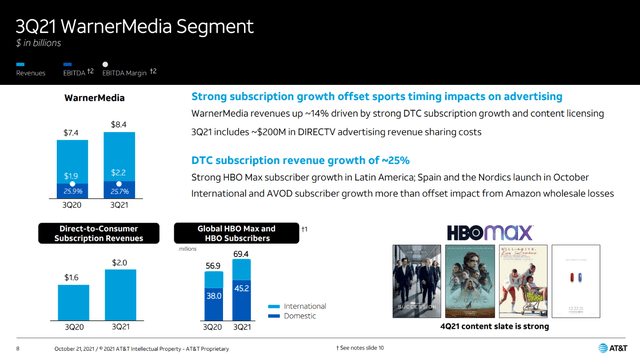 (Source: AT&T)
Conclusion
It's difficult being a shareholder in T, and I am not bullish on the market changing its mind on shares anytime soon. Hopefully, I am incorrect, but too many investors are angry with management, and shares of T are perceived as dead money. Today you're still getting the dividend which now exceeds 8%, until the deal closes in 2022 and the spinoff occurs. I am bullish on T's future, but I am not bullish on T as a short-term investment. I am staying in T for the long haul as this was always my investment thesis. I think the next 1-2 years could be painful to watch, but in the end, I think shareholders will be rewarded. I think the new company will have tremendous growth potential, and as T strengthens its legacy company's balance sheet and eventually starts buying back shares, the market will turn positive on the name.
Seeking Alpha Marketplace
I will be launching a subscription service called Barbell Capital on the Seeking Alpha Marketplace. Barbell Capital will provide exclusive research, model portfolios, investment tools, Q&A sessions, watchlists, and additional features for its members. I will also have a live portfolio dedicated to generating capital from trading, selling puts and selling covered calls. The profits will be allocated to future capital appreciating investments and investing in dividend investments to generate income while we sleep.