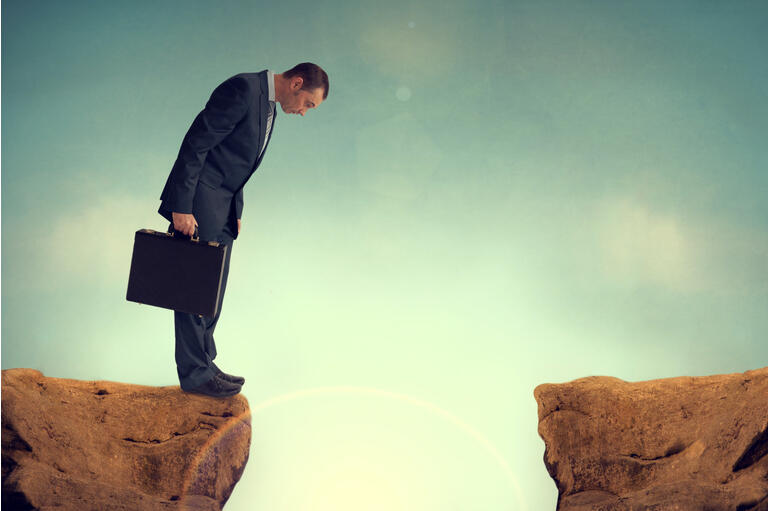 I will go to my grave... believing that really loose monetary policy greatly contributed to the Financial Crisis. There were obviously problems with regulation, but when we had a 1% Fed Funds rate in 2003 after, to me, it was pretty obvious that the economy had turned (UP) and I think the economy was growing at 7% to 9% nominal in the fourth quarter of 2003 and that wasn't enough for the Fed. They had this little thing called 'considerable period' on top of the 1% rate just so we would make sure that their meaning was clear. And it was all wrapped around this concept of an insurance cut… I've made some money predicting boom-bust cycles. It's what I do. Sometimes I am right. Sometimes I am wrong, but every bust I had ever seen was proceeded by an asset bubble generally set up by too loose policy...
- Stanley Druckenmiller
Introduction
As an avid market historian, the march of inflation appears inevitable at times, given our proclivity as humans to spend now, and save later. The debt incurred in this process has to be inflated away, as it is the only palatable public solution. Understanding this perspective can provide insight into modern monetary policy, where the boogeyman of a debt unwind, 1930's style deflationary event, is fought at every critical juncture in the markets.
Forestalling this type of debt cleansing process, as we did in 2007-2009, however, has gotten us into the predicament that we are in today, and have been in for much of the last 13 years. More specifically, this relatively anemic economic recovery, at least compared to prior economic recoveries, is occurring in an environment where zombie companies carry on forever, debt is slowly inflated away, and wealth is crowded into growth investments that have become bond proxies.
Another byproduct of refusing to let the system cleanse itself properly post 2007-2009, was that certain sectors were starved of capital, including the now resurgent energy sector, as the price insensitive and valuation insensitive fund flows were increasingly directed at the largest companies in the S&P 500 Index (SP500). These largest companies are almost universally large-cap technology stocks, and they have literally been bid to the moon, in terms of valuations, including free cash flow yields, which we will investigate further in this article.
Speaking of the moon, the irony is not lost today that the burgeoning space race, parodied excellently, is dominated by technology loving billionaires, who helm some of the primary end recipients for this firehose of price insensitive and valuation insensitive passive fund flows.
This is true whether it is Richard Branson at Virgin Galactic Holdings (SPCE), funded by the SPAC boom, Blue Origin, which is led by Jeff Bezos and funded through Amazon (AMZN) share sales, or SpaceX (SPACE), which is famously led by Tesla's (TSLA) Elon Musk.
These modern-day business magnates, who possess control of industries, and a concentration of wealth that even John D. Rockefeller, Andrew Carnegie, and J.P. Morgan would have envied, well at least Carnegie and Morgan, have been aided and abetted by monetary policy that clearly favors the wealthy.
Bank of America (BAC) investment strategists, led by Michael Hartnett, elaborated on this in late August of 2021, something that has been in my mind ever since, because it builds upon valuation work that I had been tabulating.
This is what Hartnett said and illustrated.
Between 1950 and the late-90s tech bubble, the ratio of US private sector financials assets (Wall Street proxy) vs the GDP of the US (Main Street proxy) oscillated between 2.5x and 3.5x. The radical interventionist policy of Quantitative Easing since the GFC has seen global central banks buy $22.4tn of financial assets, boosting the valuation of financial assets in the US to 6.4x the size of GDP.
- Source: Michael Hartnett, BofA Investment Strategist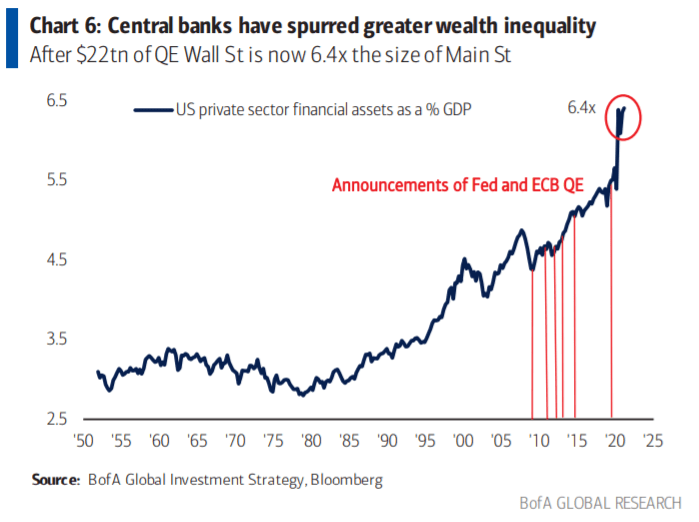 (Source: Bank of America, Bloomberg)
Going further, and looking at the market capitalizations of the largest technology companies, including Facebook (FB), Amazon, Apple (AAPL), Alphabet (GOOGL), (GOOG), Netflix (NFLX), Microsoft (MSFT), and Tesla, the Bank of America strategists noted that the combined market capitalizations of these companies would be the third-largest country in the world in terms of GDP.
The Fed has been tech's best friend for the past 10 years. It's no coincidence that since the outbreak of COVID-19 global central banks have bought $834mn of financial assets every 60 minutes... and every 60 minutes the market cap of global tech stocks has risen $780mn.
- Source: Michael Hartnett, BofA Investment Strategist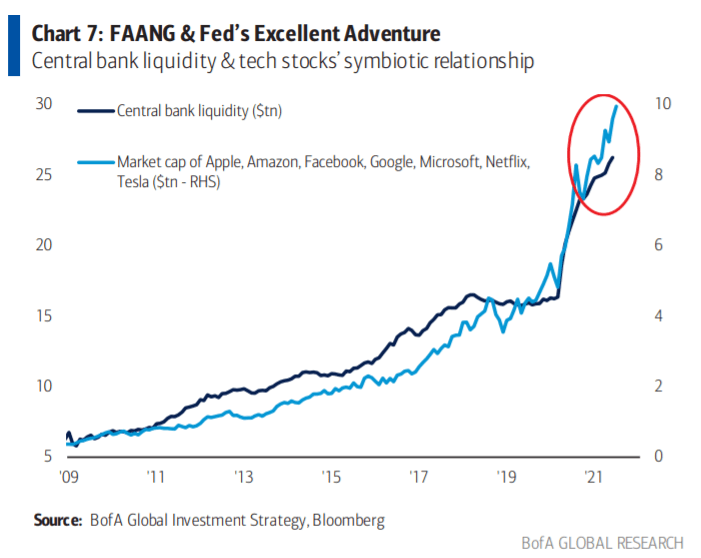 (Source: Bank of America, Bloomberg)
The graphic above was taken from late August of 2021, and as hard as it is to believe, things have gotten even crazier since then, which can be evidenced by Tesla's stock price, which has been fueled by historic speculation in Tesla's near-term call options.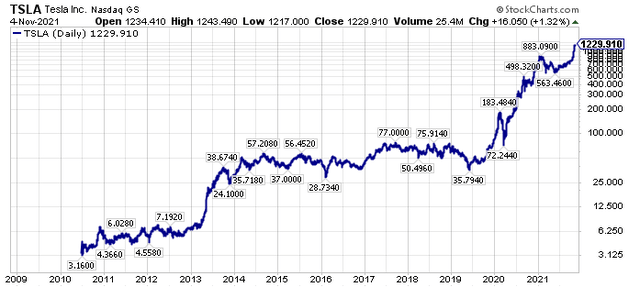 (Source: Author, StockCharts.com)
Looking at the chart above, is there any coincidence that Tesla's stock price started to ramp higher in 2019, once the Federal Reserve was expanding its balance sheet again, as illustrated by this excerpt from Joe Rennison's opinion piece in the Financial Times (highlights added are my own emphasis).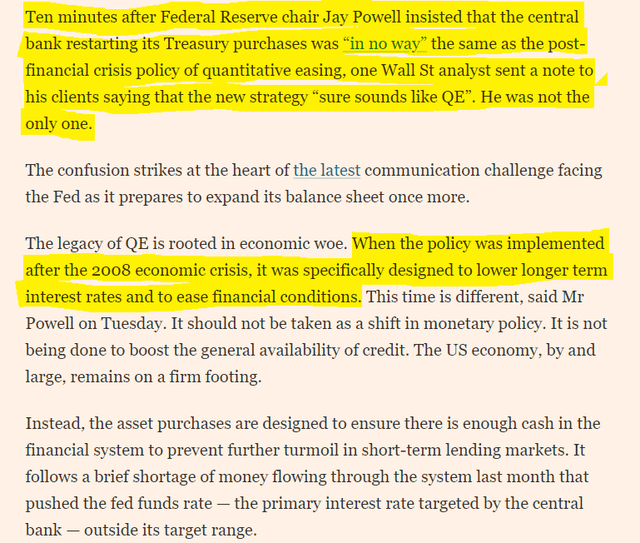 (Source: Joe Rennison, Financial Times, October 9th, 2019)
Ultimately, throwing liquidity at every hiccup in the financial markets, and refusing to let the system reset through its designed mechanism has exacerbated the wealth gap between the "Have's", and the "Have Not's".
Housing Is A Prime Example Of The Widening Wealth Gap Spurred On By The Fed
House prices have been on a tear, rising at an accelerating rate the past twelve months, as this long-term chart of median home prices from the St. Louis Federal Reserve Bank shows.

(Source: FRED, Federal Reserve Bank of St. Louis)
Bolstering this narrative, on October 26th, 2021, the latest edition of the S&P CoreLogic Case-Shiller Home Price Index was released, and it showed housing prices rising approximately 20% year-over-year in August of 2020 (emphasis added via highlights are my own).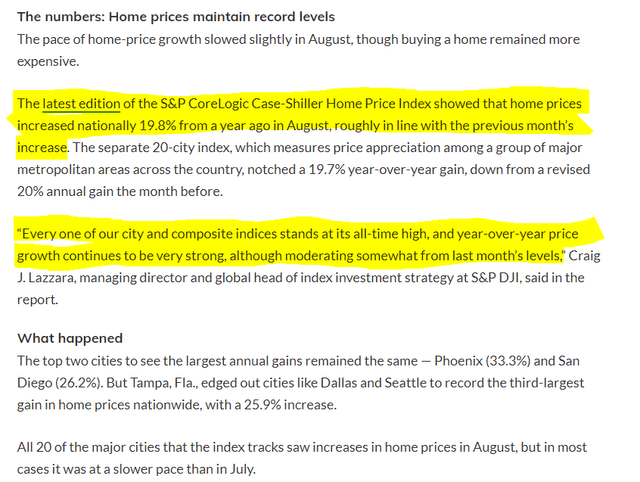 (Source: S&P Dow Jones Indices, MarketWatch)
The full report from S&P Dow Jones Indices, a division of S&P Global (SPGI) has a more detailed breakdown of the data, however, I want to focus on this one chart.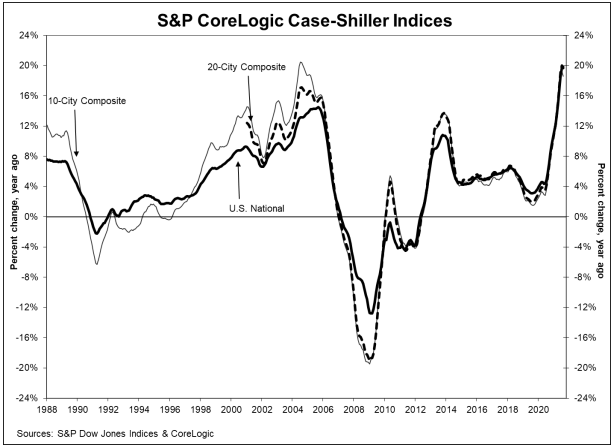 (Source: S&P Dow Jones Indices)
As of this writing, early in the morning of Friday, November 5th, before the Employment Report for October is released, we know that month-over-month wage gains for September were running at a hot 7% on an annualized basis. And wage gains have been strong all year, however, this is in an environment where CPI inflation metrics are registering over 5%, so wage gains should be strong.
However, if you were a worker looking at buying your first home, home prices have rocketed higher, much faster than your wage gains, leaving the potential home buyer in a significantly worse starting position.
Adding fuel to the fire, utilities like Duke Energy (DUK) are preparing customers for higher bills, as years of low energy prices, subsidized by low interest rates, which deepened the commodity cycle downturn, are ending.
Overall, the Fed's policies, instead of helping, are widening the wealth gap, as those with assets, including homes and stocks benefit, while those looking to acquire assets are not seeing their wage gains keep pace with the pace of asset inflation.
Hammering home this point, and the hypocrisy of their policies was the viral images of 400 plus, gas-guzzling, private jets parked around Glasgow, Scotland at the UN's COP26 climate summit.
Thus, while the wealthy travel the globe on private jets making policies largely unaffecting their lifestyle, the average person has a harder time trying to buy a starter home as the Fed drive's up asset prices by attempting to hold down longer-term interest rates.
The Stock Market Is Where Wealth Inequality Is The Most Apparent
The Federal Reserve's own data is working against them, as this headline and article from CNBC illustrate.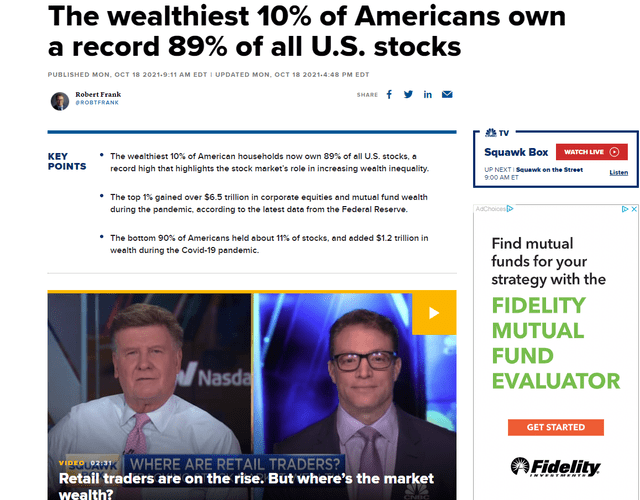 (Source: CNBC)
While Robinhood (HOOD) gets credit for bringing in a lot of first-time investors, and meme stocks like GameStop (GME), AMC Entertainment Holdings (AMC), and more recently Avis Budget Group (CAR) are celebrated, actual stock ownership is concentrated among a relatively narrow pool of investors.
This is particularly concerning, given that the percentage of wealth of householders in stocks is at an all-time high too.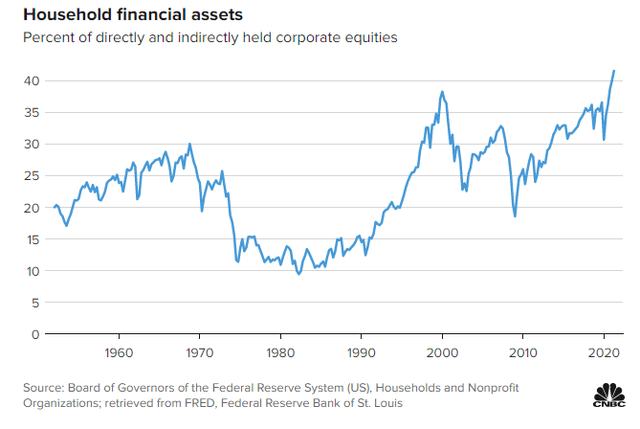 (Source: CNBC, Federal Reserve Bank of St. Louis, FRED)
Looking at the above chart, even with household financial assets in stocks at an all-time high, and housing prices at all-time highs themselves, roughly 90% of equities are owned by only 10% of individuals.
That is a pretty amazing statistic the more you think about it, and it is a referendum on the bifurcation of wealth today.
Nowhere is this more transparent than in the largest technology stocks, which dominate the list of the stock market's largest capitalization equities. Meanwhile, the founders of the technology conglomerates dominate the list of the world's wealthiest individuals, with Tesla's Elon Musk's net worth crossing above $300 billion recently.
Largest Stocks Have Extremely Poor Starting Valuations Today And Are Effectively Bond Proxies
The irony of ironies is that the biggest U.S. stocks have very low free cash flow yields, and they really are bond proxies at this point. Said another way, their future revenue growth is assumed as a given, even though it is far from assured, and they are spinning off paltry free cash flows now as a percentage of their market capitalizations.
This is becoming more evident over time, specifically when you look at the free cash flow yields of the largest stocks in the Invesco QQQ Trust (QQQ) and the SPDR S&P 500 ETF (SPY). Starting with the largest company, Apple, which I have written about in-depth over the years, here are the estimated free cash flow yields of the ten largest companies in the S&P 500 Index for 2021.
Apple - 2021 Estimated 4.0% Free Cash Flow Yield
Microsoft - 2021 Estimated 2.0% Free Cash Flow Yield
Amazon - 2021 Estimated 1.2% Free Cash Flow Yield
Alphabet - 2021 Estimated 5.2% Free Cash Flow Yield
Facebook - 2021 Estimated 2.3% Free Cash Flow Yield
Tesla - 2021 Estimated 0.4% Free Cash Flow Yield
Nvidia (NVDA) - 2021 Estimated 0.7% Free Cash Flow Yield
JPMorgan Chase (JPM) - 2021 Estimated 4.2% Free Cash Flow Yield
Johnson & Johnson (JNJ) - 2021 Estimated 5.2% Free Cash Flow Yield
To provide a comparison, let's look at the 2022 estimated free cash flow yields, based on market capitalizations today.
Apple - 2022 Estimated 3.8% Free Cash Flow Yield
Microsoft - 2022 Estimated 2.5% Free Cash Flow Yield
Amazon - 2022 Estimated 2.8% Free Cash Flow Yield
Alphabet - 2022 Estimated 5.1% Free Cash Flow Yield
Facebook - 2022 Estimated 3.5% Free Cash Flow Yield
Berkshire Hathaway - 2022 Estimated 5.3% Free Cash Flow Yield
Tesla - 2022 Estimated 0.4% Free Cash Flow Yield
Nvidia - 2022 Estimated 1.6% Free Cash Flow Yield
JPMorgan Chase - 2022 Estimated 4.5% Free Cash Flow Yield
Johnson & Johnson - 2022 Estimated 5.9% Free Cash Flow Yield
For a further comparison, let's now look at 2023 estimated free cash flow yields, again based on market capitalizations today.
Apple - 2023 Estimated 3.8% Free Cash Flow Yield
Microsoft - 2023 Estimated 2.8% Free Cash Flow Yield
Amazon - 2023 Estimated 4.5% Free Cash Flow Yield
Alphabet - 2023 Estimated 6.1% Free Cash Flow Yield
Facebook - 2023 Estimated 4.1% Free Cash Flow Yield
Berkshire Hathaway - 2023 Estimated 5.3% Free Cash Flow Yield
Tesla - 2023 Estimated 1.1% Free Cash Flow Yield
Nvidia - 2023 Estimated 2.0% Free Cash Flow Yield
JPMorgan Chase - 2023 Estimated 5.0% Free Cash Flow Yield
Johnson & Johnson - 2023 Estimated 6.5% Free Cash Flow Yield
Working through these free cash flow numbers, which I developed from my own modeling, and then comparing these to Credit Suisse (CS) and Morningstar (MORN) models, it should be noticeable that the free cash flow yields here are nothing to write home about. In fact, the largest 10 companies in the S&P 500 Index are projected to routinely earn low single-digit free cash flow yields. By my calculations, the weighted average free cash flow yield is 3.1% for 2021 for the top-10 S&P 500 Index constituents. This is pretty amazing when these 10 companies make up roughly 29% of the S&P 500 Index.
Compared to the out-of-favor energy sector, where free cash flow yields routinely top 20%, as I have written about recently in articles on Cenovus Energy (CVE), EQT Corp. (EQT), Antero Resources (AR), Occidental Petroleum (OXY), and Warrior Met Coal (HCC), the compare and contrast in free cash flow yields is staggering.
Cenovus Energy Is A Very Cheap Mini-Major
EQT Corp Stock: Buy The Dip At A 20% Free Cash Flow Yield
Antero Resources: Buy The Forgivable Dip
Occidental Petroleum Stock: Still Too Cheap To Ignore
Warrior Met Coal Stock Is Poised For A Free Cash Flow Bonanza
While the biggest market capitalization equities offer paltry yields compared to many commodity equities today, compared to 10-Year Treasury Yields, which are roughly 1.5% as I write this piece, a blended free cash flow yield of roughly 3.1% for the top-10 companies in the S&P 500 Index looks relatively attractive.
Looking forward, if longer-term Treasury yields would materially rise, the relative valuation attraction would quickly lose its appeal, given the low absolute levels of free cash flow yield for the top-ten S&P 500 components.
Closing Thoughts - Higher Interest Rates Would Go A Long Way Towards Narrowing The Wealth Gap
Targeted lower long-term interest rates were an original goal of quantitative easing. It was believed that this would stimulate a wealth effect, which it has, however, the unintended consequence is that the cumulative wealth has funneled to an ever-narrower group of individuals. That is how we have gotten to the point that roughly 90% of the wealth is controlled by roughly 10% of the population in the United States.
This begs the question. What should be done at this point?
The answer, in my opinion, is both simple and complex.
The simple part of the answer is to end quantitative easing, and let the market find its own equilibrium for interest rates. This should be true, both at the short-end of the curve, where the Fed has often followed rates, and at the long-end of the curve, where the Fed has often tried to influence rates.
If long-term interest rates rose, would this not cause wealth destruction?
Yes, possibly, especially when the longer-term investment backdrop, because of today's starting valuations, is among the worst it has ever been. GMO, in fact, projects negative 7.0% annual real returns in U.S. equities from today's starting valuations. Stop and think about that for a minute, and what the consequences would be for your current equity portfolio if this forecast turned out to be accurate.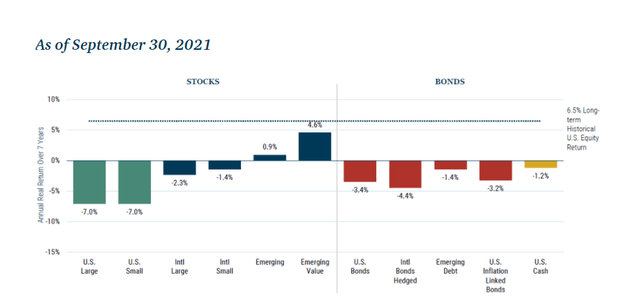 (Source: GMO)
Rising interest rates across the yield curve, and especially at the longer-end of the curve, would make future cash flows worth less, hurting the low free cash flow yielding technology juggernauts, and it would make today's bird-in-the-hand cash flows worth more, benefiting many value stocks. This includes our targeted commodity equities, who have robust free cash flow yields today, and a wider spectrum of value price equities, like recently beaten up Altice USA (ATUS) or Discovery Communications Group (DISCA), (DISCK).
Specific to higher free cash flow yields in commodity equities, this is due in part to capital starvation, as higher prices are not inducing higher supply, because of investment mandates, ESG mandates, etc., which are acting as a wrench in the capital cycle wheel.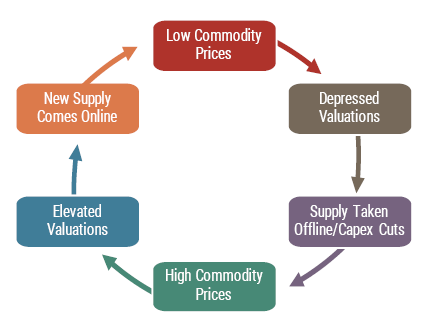 (Source: GMO)
The pattern is clear here, meaning that even in an environment of record prices, there is a reluctance to add supply online. In fact, quite the opposite is happening as companies shed high cash flowing assets to improve their perception and carbon footprint. Again, this has provided a wrench in the wheel of the capital cycle and made higher commodity prices for longer, the most probable outcome. Keep in mind, however, that volatility in young bull markets is typically higher, as there is still a high degree of pessimism and skepticism.
Higher commodity prices are leading to supply-side driven inflation, and this is not the transitory type, because of simple bottlenecks in the supply chain, rather it is the permanent type, due to a lack of supply from long-term investment.
Ironically, higher inflation, higher wages, and higher interest rates is the cure here, not the problem. Low inflation, low wage growth, and lower long-term interest rates have gotten us into the malaise of the past 13 years, where wealth is increasingly concentrated among a narrow group of investors. Inflation and higher interest rates will reverse this cycle.
All we need the Fed to do now is to end quantitative easing and let the market forces do their work. Unfortunately, this is going to involve wealth destruction at times, and creative destruction at times. This is a feature of capitalism, not the bug. This process was not allowed to play out during the 2007-2009 global financial crisis, spawned in the U.S., and that is why we are in the predicament we are in today.
The pity is that we had a working system, that could have seen creditors, even at major banks, absorb equity losses, and we would have had a painful reset, however, the poor investments would have cleansed from the system, and a strong foundation for future broad-based economic growth would have remained. We chose a different path, and that has led to the extreme wealth concentration that we see today, in my opinion.
Follies of youth often give way to the wisdom of old age through experiences, some painful, some joyful, however, we usually make less risky choices as we age. The Fed has evolved that way too, choosing the least amount of pain at every fork in the road, which is an understandable choice at that given point in time, however, cumulatively it has been the wrong choice. Thus, the next time we get to a fork in the road, the Fed needs to stand aside, and let the free markets work, which can be painful in the short term.
In closing, it was estimated in 1913 that John D. Rockefeller's wealth of $900 million was close to 3% of U.S. gross domestic product, making him the wealthiest person in U.S. history. By that definition, Elon Musk's estimated net worth of $335 billion as I write this, is only roughly 1.4% of the currently estimated $23.2 trillion in annual GDP of the United States. So Musk is not the richest person of all-time yet, though he is certainly atop that mountain as it stands today.
What comes next?
Well, Musk could certainly climb further towards the Rockefeller peak, however, if you subscribe to the theory that means reversion is the most powerful hidden driver of investment returns, then there is only one answer, especially from today's respective starting points.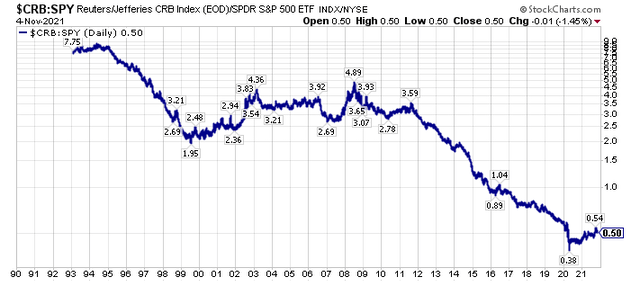 (Source: Author, StockCharts)
Wrapping up, the investing landscape is changing right in front of investors' eyes, hidden in plain sight by powerful secular trends that have been in place for decades, but are now ending. There's an old saying in the markets that nobody rings a bell at the top, which is true. However, by watching relative price action, I think a studious investor can identify burgeoning secular trends in the market.
Recognizing this changing backdrop after years of study, including being too early, I have been pounding the table on the extremely out-of-favor commodity equities for several years now, and I still think we're in the early innings of what will be a longer-term price appreciation. Investors skittish of the commodity sector should research cast aside financials as they also will benefit from rising inflationary expectations and rising long-term interest rates. Understanding the bigger picture, then having an understanding of the bottoms-up fundamentals has been the key to outperformance, and this is a path that has not been easy with those participating confirming this reality. However, the road less taken is sometimes the better one, and I firmly believe that today, as traditional stocks, bonds, and real estate offer very poor starting valuations and very poor projected future real returns from today's price levels. More specifically, the out-of-favor assets and asset classes, including commodities and commodity equities and out-of-favor specific securities, are where the historic opportunity has been, and that's where it still stands, from my perspective.