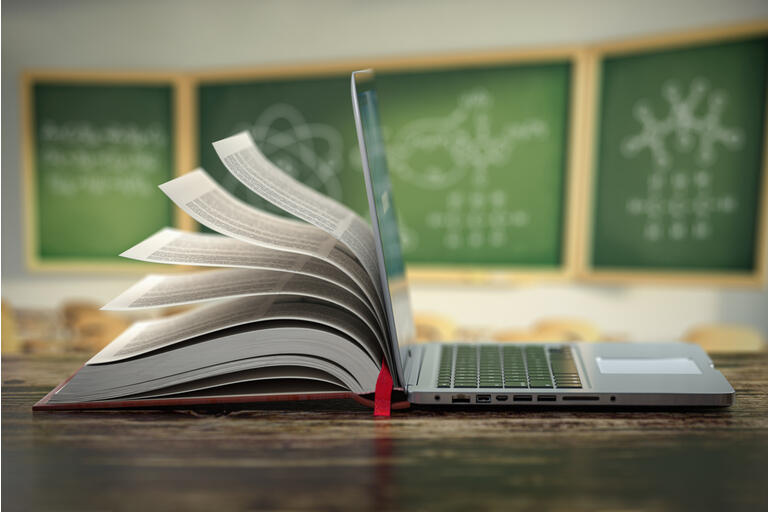 Houghton Mifflin Harcourt (NASDAQ:HMHC) has had a great run, underscored by strong Q3 2021 earnings. However, the market cap is still relatively small at a little over $2B and there are signs of business transformation in what is already a fairly attractive industry with a potential moat.
The Favorable Economics Of Academic/K12 Publishing
Let's start with industry economics. Academic publishing involves significant upfront costs, lead time and relatively bureaucratic processes for approval and distribution in many states.
Developing curriculum is expensive and takes time for state-level decision-makers to purchase, often on fixed approval schedules. There is also perhaps some risk-aversion from decision-makers which may help incumbents such as HMHC. Just as with the canonical example that "no one gets fired for buying IBM" so HMHC is a proven provider of quality academic materials and in many categories, there are just a handful of providers at scale. This presentation, though a few years old, gives a good overview. Furthermore, HMHC shared in their Q3 2021 investor presentation that they are present in 9 out of 10 K-12 schools, showing the power of their reach.
All of this matters because there are some barriers to entry in the educational materials market. Though there is clearly a surge in entrants into the broader EdTech space, HMHC likely has the sales muscle, deep pockets, expertise and relationships to continue to win state-level approvals that may be a challenge for smaller and newer entrants to compete on and ultimately win.
Hence, all else equal, HMHC may be able to earn superior returns on capital and not see those returns competed away over time.
Rebound From 2020 Into Digital Curriculum
During the initial stages Covid-19, many schools were, frankly, in disarray. They were very focused on supplying their students with Chromebooks, and to a lesser extent other devices, to enable remote learning and bridge the digital divide. In addition, investments in safety-related processes and equipment were necessary.
Clearly, in the context of fixed budgets, this shift was not good for curriculum providers. Money spent on Chromebooks or safety wasn't going to HMHC. For example, this article gives an example of significant investment in Chromebooks and charging carts in Durham, North Carolina, which is typical of many school districts.
However, Chromebook provision to students is ultimately double-edged sword, yes they may have squeezed out some curriculum spending in recent years, but the stage is now set for schools to fully embrace digital curriculum and HMHC is benefitting.
Improving Economics
Digital curriculum, like cloud-based shifts that we've seen in other industries, can improve marginal unit economics. Textbooks have printing and distribution costs that don't disappear with scale. In contrast, the gross incremental margin of supplying an incremental student with digital curriculum can be extremely high. There are fixed costs of designing and creating the curriculum, but serving one more student is very low costs.
Of course, this is not lost on HMHC as they made clear in their Q3 2021 investor presentation: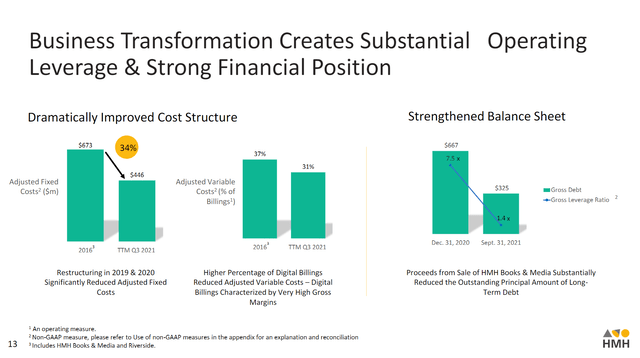 Source: Q3 2021 HMHC presentation, 11/4/21
Valuation
So we have apparently a favorable setup for HMHC. Industry economics are favorable and there is a favorable setup for digital curriculum, but how does the valuation look?
Well for 2021 (with their fiscal year-end in December), management is guiding to around $150M-$175M of free cash flow. Note I've adjusted their unlevered FCF for estimated interest payments to get a true FCF to equity number. That implies a 7%-8% FCF yield at current levels. In a market trading at around 30x earnings and a 3.5% FCF yield as of July with the 10-year Treasury offering roughly 1.5% today that appears quite attractive.
But more than that, I think we can also be reasonably confident in saying that HMHC is a sound business with reasonably strong oligopolistic economics and potentially in the early innings of a digital transformation that may improve earnings further. Therefore, HMHC may see further earnings expansion and re-rate much closer to a market multiple.
What does that mean in terms of a potential share price? Well valuation's today do appear pretty stretched, but if we assume that HMHC is at least worth a market multiple, then that suggests an FCF yield of around 3% to 4% suggesting a share price of $28-$44/share (assuming a diluted share count of 132M). Comparing with a price at the time of writing of under $17. Hence the stock may have 70%-160% upside from current levels.
Risks
Management has stated their desire to do various acquisitions. This is seldom the best capital allocation policy for shareholders. With a relatively clean balance sheet today ($317M of debt implying 1.4x gross leverage vs. management's target of 2.0x). That means that the company could perhaps spend close to $150M on acquisitions. Such acquisitions are seldom positive for shareholders if broad stock market history is any guide.
Modelling the true FCF of HMHC is complex. Curriculum development cycles and long and sales cycles are lumpy and very seasonal too. I may be overstating the FCF potential of HMHC based on the guidance of 2021, if 2021 is a good year in retrospect. For example, HMHC has seen negative net income for every year from 2016 to 2020, and total aggregate FCF (operating free cash flow less investing cash flow of $172M over those 5 years). Therefore, there is some risk of suggesting a market multiple on what could be a banner year for HMHC that never repeats. I think that interpretation is too pessimistic, but recent history is clearly not on my side with that argument.
Finally, maybe HMHC is disrupted by EdTech, I have suggested that there are reasons this won't occur in terms of the economics and sales cycle of educational materials, but those advantages could be disrupted over time.
Finally, of course, you don't need me to tell you that this is arguably an extremely richly-valued market today on many historic metrics and other considerations. Any correction on broader market valuations could wipe out HMHC's apparent relative undervaluation leading to an absolute loss for shareholders.
Conclusion
HMHC looks set for a strong 2021 and the economics of digital provision of curriculum materials combined with some barriers to entry for the industry may further improve HMHC's economics going forward.
If HMHC can merely sustain 2021's financial performance (when there are reasons to think it might improve) then the shares can be considered attractive at current levels.