Venmo provides a mobile-based application that enables customers to transfer money to other individuals or to businesses. The company doesn't charge users to send or receive money through the app, but it generates revenue in other ways through interchange and withdrawal fees, Cash a Check and Cashback programs, and cryptocurrency fees.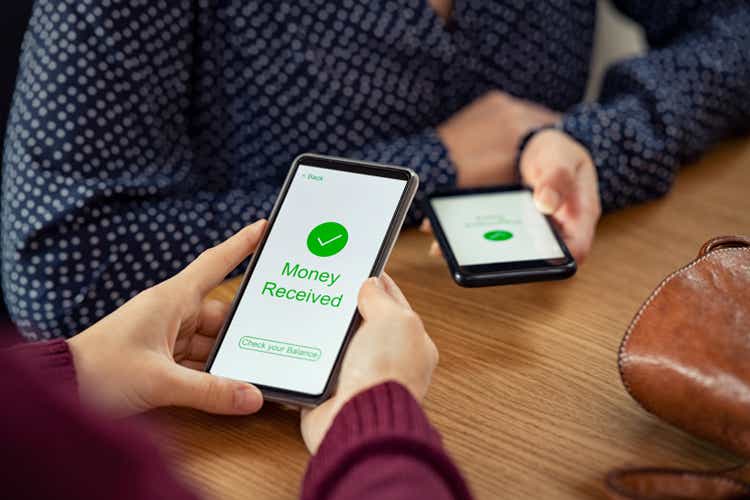 What Is Venmo?
Venmo is a peer-to-peer money transfer app that lets users send and receive money instantly between friends and family or to businesses. The company was founded in 2009 as a way for users to send and receive money via SMS (short message service), the technology used for texting. The company was acquired by PayPal in 2013 and has since grown into a platform for all types of payment processing, including individual transfers and merchant services. The app is mobile only, so there is no online account management.
Venmo Business Model
The Venmo business model is based primarily on the collection of fees from app users and merchants. Venmo does not charge customers for its direct peer-to-peer money transferring services. Instead, the company makes money through interchange fees, withdrawal fees, check cashing fees, and affiliate partnerships. Venmo also offers a debit card through a partnership with Mastercard and a credit card through Visa, enabling it to collect interchange fees through merchants that get paid with these cards.
Venmo's primary competitors are its own parent company PayPal and Zelle, which is another direct money transfer service consumers can use to electronically transfer money to their friends and family. Zelle doesn't offer as many transaction options as PayPal or Venmo, but it's owned by a network of large, established financial institutions.
8 Ways Venmo Makes Money
1. Pay-With-Venmo Transactions
Pay-With-Venmo lets users complete transactions with certain merchants using funds from their Venmo accounts. Venmo charges merchants a fee of 1.9% of the purchase price on every transaction, plus $0.10. Current Pay-With-Venmo partners include Uber Eats, CVS, and Hulu.
2. Instant Transfers
Venmo users can use Venmo Instant Transfers, a service released in 2019 that lets users instantly transfer money from their Venmo accounts to their bank accounts. Instead of waiting the one to three business days it usually takes to transfer funds to a bank account, Venmo Instant Transfer funds are available within 30 minutes.
Venmo makes money on Instant Transfers by charging a fee equal to 1.5% of the amount transferred. Users must pay a minimum instant transfer fee of $0.25, but aren't charged more than $15 per transfer. Standard electronic withdrawals are still free for users.
3. Credit Card Interest & Fees
Venmo offers qualified customers the Venmo Visa and Venmo Visa Signature credit cards. Cardholders pay annual percentage rates ((APRs)) equal to the prime rate plus between 11.99% and 20.99%, depending on the account type. Venmo also charges the prime rate plus 20.99% APR on cash advances, as well as cash advance transaction fees and penalty fees.
4. Interchange Fees
In addition to charging customers interest on credit card purchases, Venmo charges merchants interchange fees when customers use the Venmo Credit Card to complete those purchases. This fee is composed of a percentage of the transaction value plus a small flat fee.
5. Withdrawal Fees
Venmo users who want direct access to cash can use a Venmo Debit Card to withdraw money through any ATM. Customers who use their debit card for withdrawals pay a $2.50 ATM Domestic Withdrawal Fee and a $3.00 Over-the-Counter Withdrawal Fee when withdrawing cash.
6. Cash a Check
One of Venmo's newest features, Cash-a-Check, lets users cash their paychecks and government stimulus checks. Venmo charges the user 1% of every payroll and government check amount, and 5% on all other acceptable checks. Checks must have a minimum value of $5 and a maximum of $5,000. To take advantage of this feature, users must have a verified email address and enable direct deposit or have a Venmo Debit Card.
7. Cashback Program
Venmo debit and credit card holders can earn cash back when they use their card to make purchases at certain merchants. By offering this deal through Dosh, Venmo incentivizes its cardholders to shop at select vendors instead of other merchants. In exchange, Venmo receives a referral commission based on the number of transactions and its agreement with the partner.
8. Cryptocurrency Fees
In addition to its standard money transfer services, Venmo makes money by charging transaction and exchange fees on the purchase and sale of cryptocurrency. The fees charged on these transactions vary with transaction size. For example, Venmo charges a minimum fee of $0.50 on all transactions up to $24.99; 2.3% of purchase or sale amounts up to $100, 2.0% up to $200, and further decreasing rates as the transaction size increases. According to Venmo's website, the exchange rate for currency also includes a spread that Venmo receives for each transaction.
Takeaway: While Venmo does not charge consumers for basic money transfers, it does charge fees for a number of additional services to both consumers and merchants.
Bottom Line
Venmo is a large money-transfer app owned by PayPal. The company offers a free mobile application for users to send and receive money among themselves or to businesses, while charging fees for other related services such as credit card settlement, ATM withdrawals, and merchant services. Additional revenue is generated through referrals to merchants, interest on credit cards, and purchases involving cryptocurrencies.
This article was written by
Dock is a former investment advisor and member of the FINRA Small Firm Advisory Board. He has been featured by industry-leading outlets such as Bloomberg, CNBC, Fox Business, and MarketWatch. Dock's personal mission is to educate the public about financial topics so they can make informed decisions.
Disclosure: I/we have no stock, option or similar derivative position in any of the companies mentioned, and no plans to initiate any such positions within the next 72 hours. I wrote this article myself, and it expresses my own opinions. I am not receiving compensation for it. I have no business relationship with any company whose stock is mentioned in this article.
Comments disabled for this article