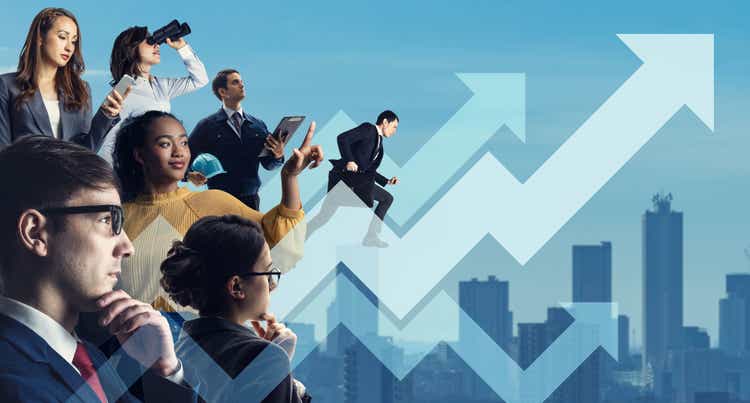 Adams Funds (Adams Funds Closed-End Funds - Long-term Investing for 90 Years) is one of the nation's oldest fund managers. The Baltimore & Boston based team manages only two funds (both closed-end) - the Adams Diversified Equity Fund (NYSE:ADX) and the Adams Natural Resources Fund (NYSE:PEO). The funds have been effectively listed on the NYSE for more than 90 years and have attracted a large group of long-term individual and family office investors.
All data in this article is taken from the Adams Funds websites unless otherwise specified.
Brief description of ADX
ADX is a diversified fund with a significant concentration in tech. Here are the largest holdings as of 9/30/21: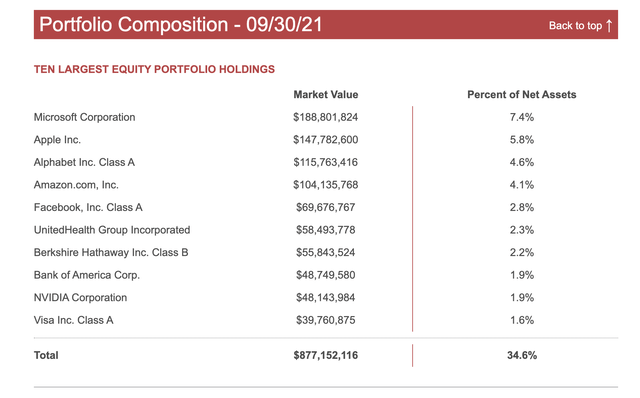 And here is the sectoral weighting: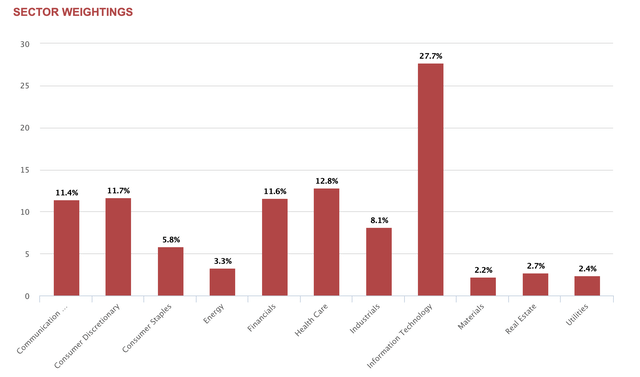 Total holdings were valued at $2.54 billion as of 9/30. The fund is un-leveraged.
Brief description of PEO
PEO is a holding approximately 70% oil & gas and 30% materials. Here are the largest holdings as of 9/30/21: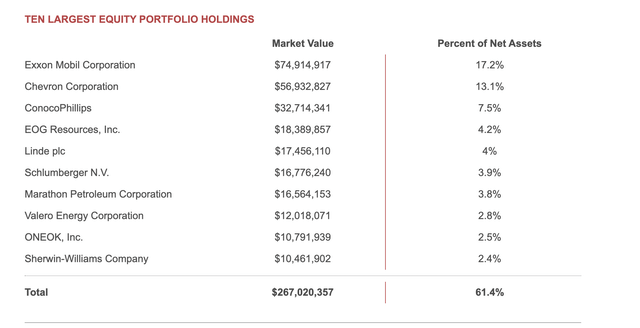 And here is the sectoral weighting: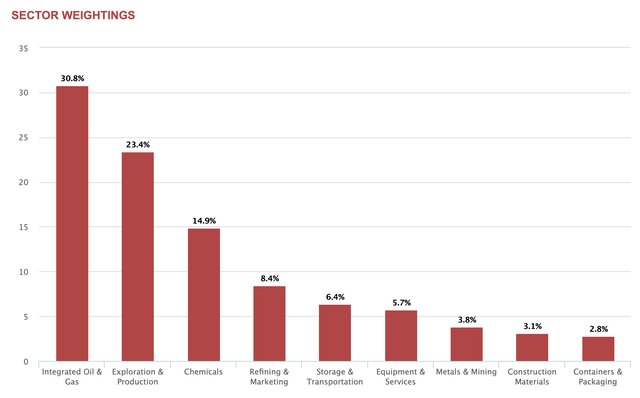 Total holdings were valued at $434 million as of 9/30. The fund is un-leveraged.
The Opportunity
The reason why I believe there may be a short-term trading opportunity in both funds derives from the management's idiosyncratic distribution policy. In essence, both funds seek to guarantee a minimum level of return to investors (currently 6% for both funds). Note that this return is calculated on the stock price and not the NAV.
Management uses a couple of policies to achieve this goal, but it is the primary method that interests us here. In essence, the funds pay out minimal distributions through the year and then one large distribution shortly before Christmas (with an ex-div. date set shortly before Thanksgiving). For example, in 2020, ADX paid 3 quarterly payments of $0.05 per share, followed by a December payment of $0.88 per share, while PEO paid three quarterly payments of $0.10 per share and a December payment of $0.43 per share. So far this year, ADX has paid 3 quarterly payments of $0.05 per share, and PEO has paid three quarterly payments of $0.10 per share.
While this holiday-weighted distribution schedule was, no doubt, helpful to the small savers of yesteryear (economically, the deferral of return is not dissimilar to the widely-popular lending your money interest-free to the government in order to get it back as a tax refund), it is not well-suited to modern-day investors screening for yield through an on-line brokerage.
E*Trade, for example, shows the ADX yield as 0.94%, and the PEO yield as 2.75%. The correct number, as described above, is at least 6%.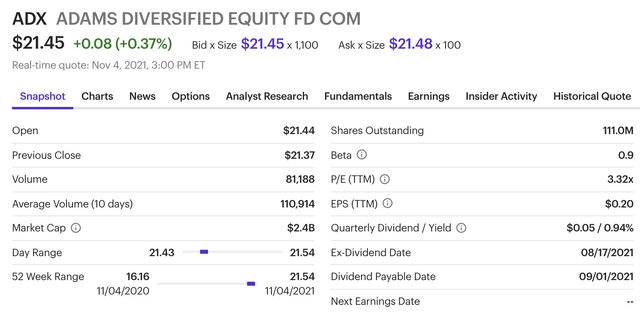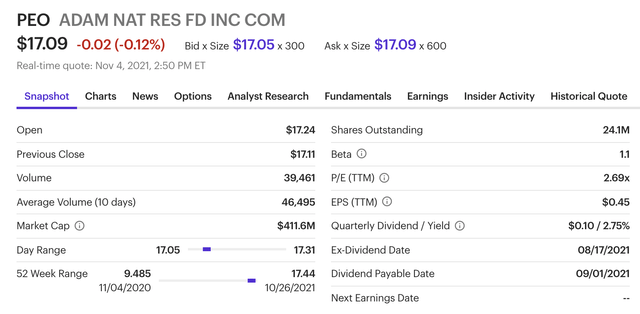 Not wishing to single out E*Trade, all the other brokerage houses which I have checked (including Fidelity, TD Ameritrade & Schwab) make the same error, as do services like Google Finance & Yahoo Finance. All seem to treat the end-of-year distribution as a special or extraordinary dividend even though it happens every single year.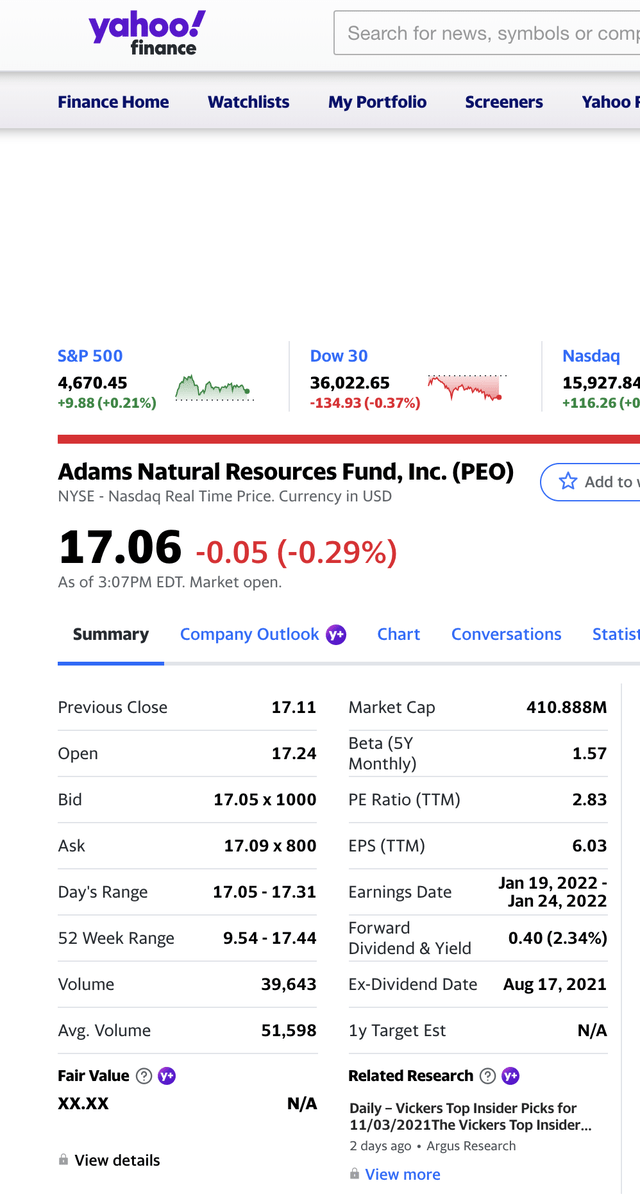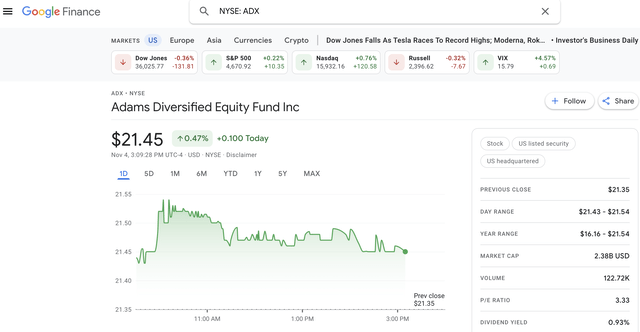 What this means is that small/medium investors searching for high yielding liquid funds holding mega-cap stocks are likely to be missing these two. When the announcement of the year-end distributions is made (probably around Nov. 12, based on previous experience), one of two things is likely to happen. Either the stocks will trade up to regularize the yield or (more likely in my opinion) holders as of the ex-div date will receive effectively a "windfall" excess distribution.
Amount and composition of the "windfall"
Adams, helpfully, provides an averaged market cap for each fund on their site. From this, we can estimate the Q4 distribution.
Looking first at ADX: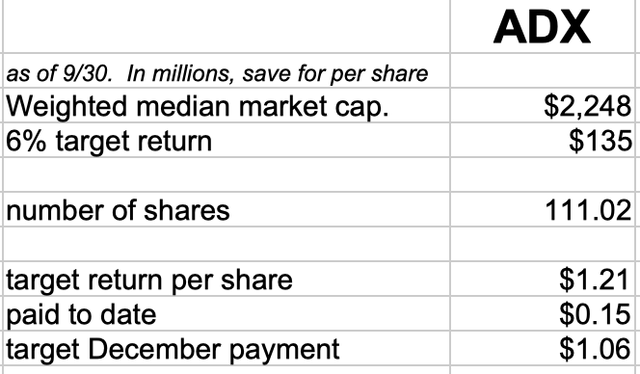 And then at PEO: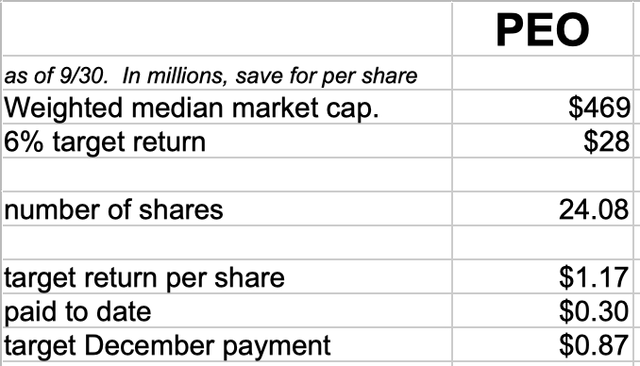 In my view, these numbers are likely to be an underestimate for the following two reasons.
First, given the sectors targeted, the median market cap is likely to have increased since 9/30. Of course, there may be a decrease later in the year, but given that the distribution is likely to be announced next week, Adams will be working with the numbers they currently have.
Secondly, investors should remember that these funds are both closed-end funds and they trade at substantial discounts - approximately 14% for both funds. As more fully described in my article, this has led to unwelcome (for management at least) interest from activist investors, and since then, management has been attempting to reduce the discount by buying back shares. Although the discount has remained stubbornly high, the repurchase of shares at a discount will likely reduce the share count faster than it reduces the weighted market cap. While PEO has recently stuck closely to its 6% return target:

ADX has been able to pay considerably more in good years.

As a final benefit, it can be seen from the above that much of the return has been in lower-tax LT cap gains, and this is particularly true of the December payment. Here are the numbers for 2020: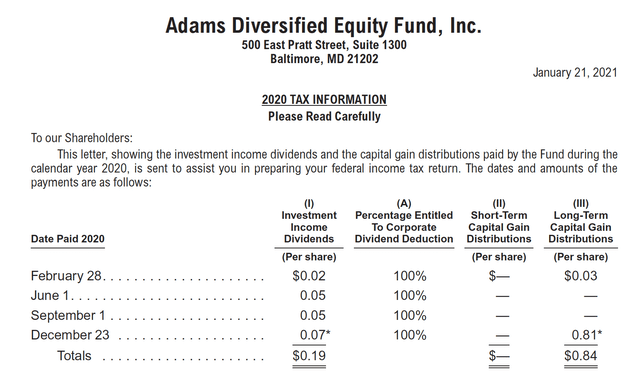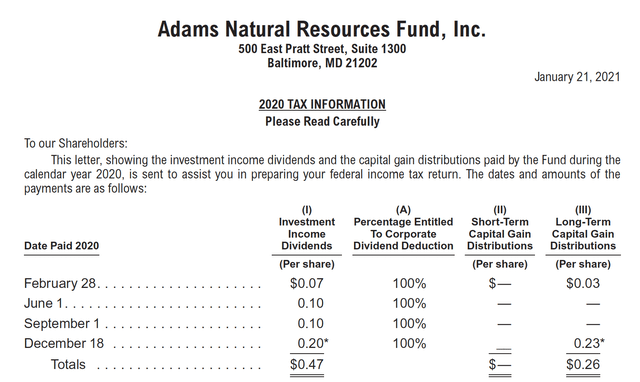 Conclusion
Due to the unusual dividend structure, these funds are likely to outperform their target sectors through the ex-dividend date. Interested investors should seek to buy before the distribution announcements (which were Nov. 12 last year).