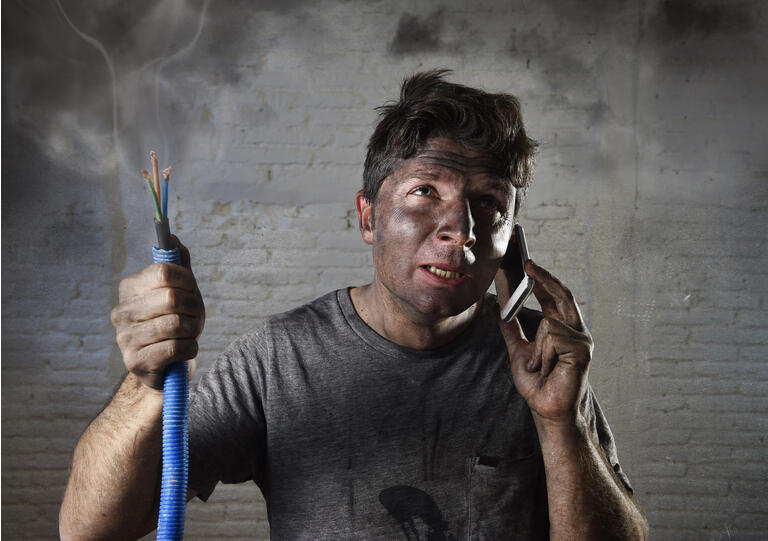 Introduction
We're downgrading our rating on Altice USA Inc. (NYSE:ATUS) from Buy to Neutral.
Our downgrade follows Q3 2021 results released after markets closed on Thursday (Nov. 4). While the results were positively received by the market, with ATUS stock finishing Friday up 9.9%, we're concerned that:
Competition in ATUS markets is already intensifying
ATUS's offering may be fundamentally uncompetitive
EBITDA and Free Cash Flow ("FCF") will likely decline
Management's turnaround initiatives may not be successful
We believe these problems are specific to ATUS. We continue to see Charter (CHTR) (Buy-rated) and Comcast (CMCSA) (Buy-rated) as offering substantial upside but much lower risk, representing better investments in U.S. Cable.
Broadband Net Add Turned Negative in Q3
ATUS lost 13k residential Broadband customers during Q3, compared to 15-20k guided by the CEO at an investor conference in September. Year-on-year, ATUS gained 24k residential Broadband customers, including 30k from the Morris acquisition in Q2, which meant an organic net loss of 6k:
Net losses in (low-margin) residential Video and Telephony continued in Q3, and the size of the losses was larger than in Q2:
ATUS Residential Customer Net Adds by Product (Since 2019)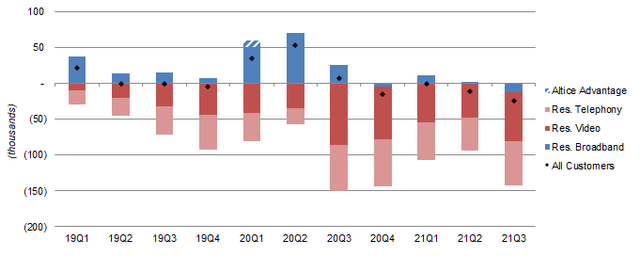 NB. Excludes net adds from Service Electric in Q3 2020 and Morris Broadband in Q2 2021. Suddenlink OSS/BSS migration disrupted net adds in Sep-Nov 2019.
Source: ATUS company filings.
ATUS does expect Broadband net add to return to positive in Q4 and to be "slightly" positive for 2021. However, management was previously certain that Q3 Broadband net add would be positive too.
Revenues and EBITDA Declined in Q3
The broadband net loss meant ATUS's revenue and EBITDA fell in Q3 2021.
Excluding one-off Air Strand and Regional Sports Networks ("RSN") revenues, Q3 revenues were 3.5% lower sequentially and 0.4% lower year-on-year, and Q3 EBITDA was 0.8% lower sequentially and 2.8% lower year-on-year:
ATUS Profit & Loss (Q3 2021 vs. Prior Periods)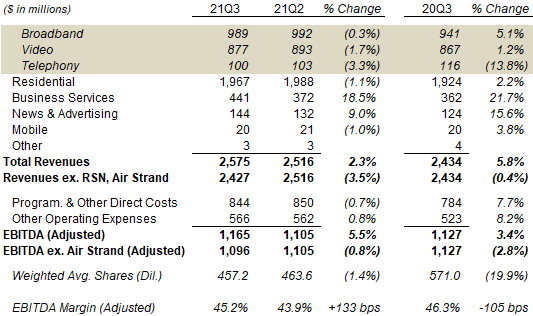 Source: ATUS results releases (Q3 & Q2 2021).
(In Q3, ATUS received $69.3m in Air Strand contract termination payments, known to have a near-100% margin, and $78.7m in RSN rebates, which we understand to be zero-margin.)
Competition from Telco Fiber Intensifying
ATUS's explanation for their Broadband net loss in Q3 suggested that competition from telecom companies' ("telco") fiber networks is intensifying.
According to management, their Broadband net losses were concentrated in markets in its Optimum footprint that overlap with Verizon's (VZ) Fios fiber network. Year-to-date, non-Fios Optimum markets and ATUS's Suddenlink footprint had net adds similar to levels in 2018 and 2019.
In other words, the market was normal but ATUS was losing share to one specific type of competitor, telco fiber, while it's still relatively limited in ATUS markets. While ATUS stated that it competes with Fios in a "majority" of its Optimum footprint, we believe this is not much more than 50%. It had stated in the past AT&T (T) had fiber in just 8%-10% of its Suddenlink footprint.
Efforts by telecom companies to compete in home Broadband are set to intensify. Verizon has plans to add 400,000 homes passed to its Fios network this year and, more importantly, plans to provide fixed wireless coverage to 50m households by 2025 year-end. AT&T plans to double its fiber coverage from 15m customer locations in 2021 to 30m by 2025 year-end:
Verizon Fixed Wireless Household Coverage Targets (2021-25)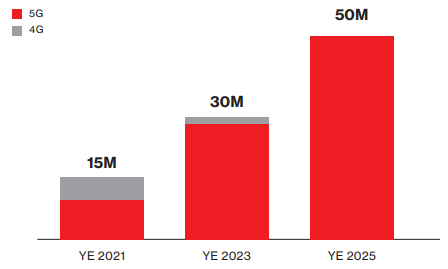 AT&T 5G and Fiber Targets (Post-Deal)

There are signs ATUS's Broadband may be fundamentally uncompetitive, which means future telco expansion can disproportionately target ATUS markets.
ATUS May Be Fundamentally Uncompetitive
Management's explanation of market share losses to Fios suggests that ATUS's Broadband offering may be fundamentally uncompetitive:
"They (Fios) obviously have a mobile strategy and product and mindshare which is significantly higher than ours across the board, and they are extremely promotional on both double-playing both their fixed and mobile offerings together, something that we have not been able to do historically."

Dexter Goei, ATUS CEO (Q3 2021 earnings call)
Goei went on to explain that ATUS could not offer the same double-play because that was not part of its focus, and because its previous Mobile Virtual Network Operator ("MVNO") partner (Sprint) was poor quality. However, ATUS had migrated "substantially all" mobile customers to T-Mobile (TMUS) in April (as stated on the Q1 earnings call).
Our view on the U.S. Cable sector (described in our Sept. 28 article) is that Broadband providers compete on a range of criteria including speed, price, service quality, bundled products, etc. - we believe that, while ATUS is competitive on speed, it has fallen short on many of the others.
As we described in our September ATUS article, following the sudden departure of its long-time COO that month, Goei disclosed a number of operational issues in installation time, triple-play product problems, etc.
Verizon's Q3 net adds only increased 5k in consumer wireline Broadband in Q3 (and by 6k in Fios) - implying it had larger gains from ATUS but no one else:
Verizon Consumer Wireline Broadband Net Adds (Since Q3 2018)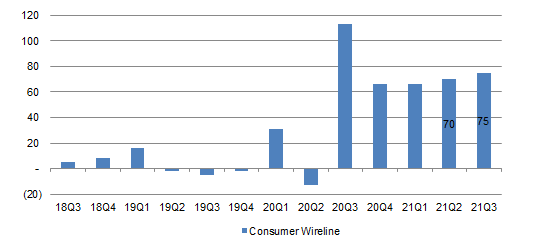 NB. Q3 2021 record net add included backlog from installation pause in Q2.
Source: Verizon results supplements.
ATUS management seems to have recognized the danger they are in, and announced a number of turnaround initiatives.
New Turnaround Initiatives Unproven
Turnaround initiatives announced by ATUS were broadly in four categories:
Accelerate "edge out" expansion in Suddenlink footprint
Accelerate fiber roll-out in Optimum footprint
Improve ATUS Broadband offering
Expand salesforce and retail outlets
We believe most of these are unproven and the overall results can be mixed.
"Edge out" expansion is the most straightforward, with ATUS targeting more than 149k new passings in 2021 and more than 175k in 2022. (ATUS has historically had a 40% year-1 penetration rate.) However, these are small compared to ATUS's current 9.2m passings, and would not be sufficient to offset net losses in existing markets if the latter were to continue:
Gaining new subscribers by "edge out" expansion while losing existing ones also is not a sustainable solution given the expenses related to new subscribers and how these may run out eventually.
Accelerating fiber roll-out may have little impact. ATUS has upgraded its entire Optimum footprint to 1 Gbps as of Q1 2021, and has continued to expand fiber coverage in areas overlapping Fios (1m+ of the 3m households covered now, 1.5m by year-end), and yet losses to Fios have risen. Fiber's impact is also questionable given its low-single-digit penetration:
ATUS Fiber Footprint & Penetration (2018-22E)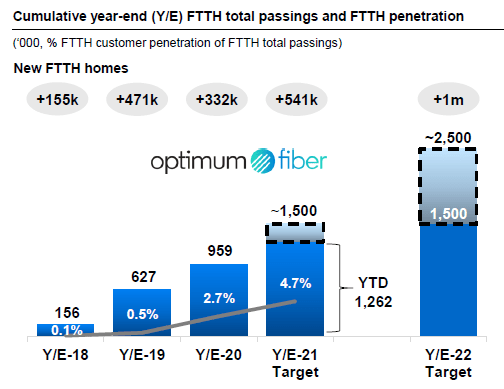 Source: ATUS results presentation (Q3 2021).
Improve ATUS Broadband offering will take the form of more flexible "mix and match" offerings, better mobile bundling, HBO Max bundling, more discounts, etc. These involve varying degrees of operational capability, some of which may be beyond ATUS, and their effects also are unproven.
Expand salesforce and retail outlets are likewise unproven in their effect. ATUS also is effectively bringing their numbers back to pre-2018 levels, implying cost cuts in the last few years had been excessive and some of the resulting EBITDA growth may have been illusory:
ATUS Distribution Channels (2017-22E)

Source: ATUS results presentation (Q3 2021).
We do not rule out that these initiatives can succeed, but their unproven nature makes any investment case based on them speculative.
Pending Margin Reset and Earnings Declines
What's certain about these initiatives is that they will reduce EBITDA and Free Cash Flow in 2022. As CFO Mike Grau said on the call:
"Some of the areas... where we are increasing investments, will include higher operating costs, as well as higher CapEx, which will likely negatively impact margin in 2022... It is likely that Free Cash Flow will be lower again in 2022... but thereafter we remain confident in our ability to grow Free Cash Flow again."
CEO Dexter Goei also stated that:
"It's probably safe to say, when you look at this, that given the one-off nature of the Air Strand revenue and some increased expenses going into next year, that we will see some decline in EBITDA."
The size of the declines is not known, as the team has not finalized its budget. Details will be shared at full-year results (likely in February 2022).
New 2021 Outlook Shows Size of Concerns
Changes in ATUS's 2021 outlook show how management are concerned about near-term financials in our view.
While the expectations for revenue and EBITDA continue to be a vague one of "growth," those for leverage and share repurchases were cut:
ATUS 2021 Outlook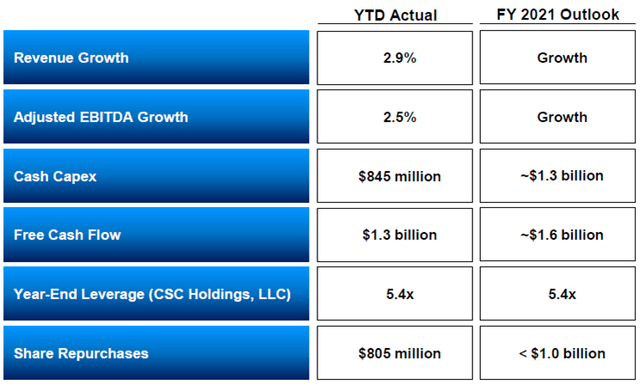 Source: ATUS results presentation (Q3 2021).
For leverage, ATUS now expects Net Debt / EBITDA to be 5.4x at 2021 year-end, compared to "less than 5.3x" previously, and flat from Q3.
For share repurchases, management now expects "less than $1.0bn," compared to $1.5bn previously. Management further indicated that they did not intend any more buybacks after the $805m in Q1-3. (Buybacks were just $79m in Q3, a sharp reduction from the $203m in Q2.)
Effectively suspending buybacks is particularly remarkable given the share price has closed to halved since Q2, and the 2021 capex outlook has been reduced from $1.3-1.4bn to $1.3bn.
We believe management is preserving cash to safeguard its future leverage ratio because the expected EBITDA reduction in 2022 would be sizeable.
2022 Free Cash Flow Maybe $1bn
Q3 2021 FCF was 15.0% lower year-on-year, and year-to-date FCF was 8.7% lower, despite a higher EBITDA, due to higher capex and higher cash taxes:
ATUS EBITDA & FCF (Q3 & YTD 2021 vs. Prior Periods)

Source: ATUS results release (Q3 2021).
ATUS is guiding to $1.6bn of FCF in 2021 (after $1.3bn of CapEx, implying $2.9bn of Operating Cash Flows ("OCF"), excluding the after-tax effect of $69.3m one-off Air Strand revenues, FCF is likely $1.5bn, and even this figure is an over-estimate as it does not include a full year of federal cash taxes:
ATUS FCF (2016-21)

Source: ATUS results presentation (Q3 2021).
(FCF figures in prior years are not fully comparable as ATUS did not start paying meaningful federal cash taxes until 2021.)
2022 capex is guided to $1.7-1.8bn, $0.4-0.5bn higher in 2021, and OCF will likely be lower due to the margin reset and earnings decline described above. A reduction in EBITDA would have a magnified impact on FCF, due to leverage. We therefore expect 2022 FCF to be around $1bn.
Management expects capex to be elevated for two years, before falling back to more normal levels, a previous aspiration was to have capex below $1bn.
Speculative Double-Digit Free Cash Flow Yield
With shares at $18.06, ATUS has a market capitalization of $8.27bn.
Our estimated $1bn FCF figure for 2022 would imply an FCF Yield of 12%. If we normalize for a $1.3bn CapEx figure, FCF is $1.5bn and FCF Yield is 18%.
However, as we are concerned about ATUS's long-term competitiveness and earnings, FCF may shrink and these FCF Yield figures are speculative.
ATUS stock does not pay a dividend. P/E is not a good valuation metric due to large non-cash costs such as deprecation.
Is ATUS Stock A Buy? Conclusion
ATUS is losing Broadband market share to Verizon's Fios, and such telco fiber competition is intensifying. Revenue and EBITDA have started to decline. ATUS may be fundamentally uncompetitive, due to company-specific operational issues such as excessive cost cuts, now being reversed.
Management's turnaround initiatives are unproven but are certain to reduce EBITDA and Free Cash Flow significantly in 2022. At $18.05, Altice USA stock has a double-digit Free Cash Flow Yield, but this is outweighed by the speculative nature of the investment case.
We downgrade our rating on Altice USA Inc. from Buy to Neutral.
Note: A track record of my past recommendations can be found here.