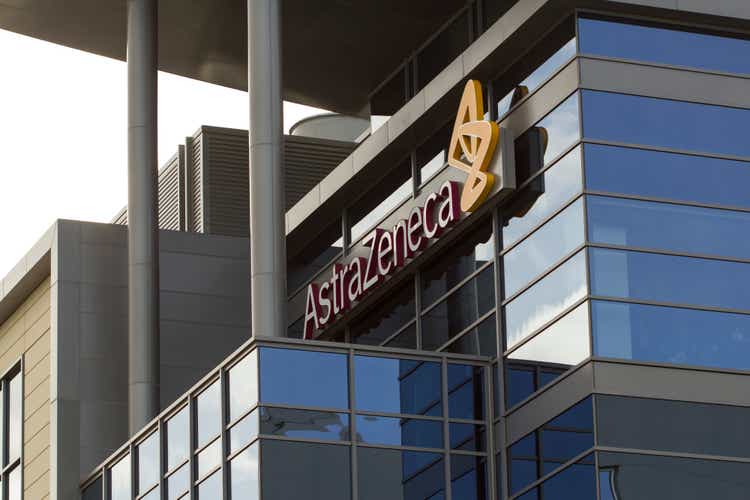 Pharma company AstraZeneca (NASDAQ:AZN) has had a strong run of late, but I now consider it overvalued and would not be surprised to see a fallback in share price.
Business Performance is Strong
Before getting into the nitty-gritty of valuation, it's worth reflecting on the fact that the AstraZeneca business is looking in better shape than it has in recent years. Revenues are growing handily across much of the business. The COVID-19 vaccine has added another string to AstraZeneca's bow. Its profit contribution for now is neutral or negative, as I discuss below, but in the long term I see it as positive for the company, as I expect it to add some profits, as well as giving the company heightened scale and customer awareness.
Working to the company's advantage is its pipeline, which increasingly looks likely to add more than the company is losing as patents expire. But I don't see a transformation at AstraZeneca, so much as simply a company doing what it has been doing for a long time and which is in the stronger part of its business cycle.
The AstraZeneca Valuation Looks Overdone
The company has put on 11% over the past year, lagging the FTSE 100 index of which it is a constituent. From a nadir in March, it has subsequently added 39%. So, since my last piece on the company at the start of April (AstraZeneca: No Longer Overpriced), the shares have moved up 32%. That piece had a rating of neutral, as at that time I felt that the shares were fairly valued rather than a bargain. So, does the share price increase in of roughly a third since then suggest that AstraZeneca is no longer fairly valued?
Since then, the company's most recent guidance – at the end of July – said that total revenue is expected to increase by a low-twenties percentage, with growth in Core EPS to a range of $5.05-$5.40. This did not include any revenue or profit impact from sales of the COVID-19 vaccine. If anything, to date the vaccine has mildly damaged the company's EPS, as this snapshot from its first half earnings release shows:

Source: company first half results announcement
That doesn't surprise me, for reasons I set out back in January in 'AstraZeneca: The COVID-19 Vaccine Won't Create Much Value For Shareholders', but I don't expect the long-term negative impact on EPS to be negative. Over time I do see the vaccine creating some value for the company, albeit not as much as many people may at first assume.
But it's worth noting the strong forward guidance both for revenue and the so-called "Core EPS" metric. Last year, Core EPS was $4.02, so the company is expecting a 25-34% increase this year. That is in line with the share price increase since my April note.
Stripping out the COVID vaccine for now, though, we see that first half revenue grew only in high single digits.

Source: company first half results announcement
While that is solid performance, it is some distance from a low twenties percentage. So a lot of the expected growth in revenue seems to be coming from the COVID-19 vaccine. That doesn't explain the strong outlook for earnings, though, as the COVID vaccine isn't expected to give such a boost to earnings, at least in the short term. Possibly it is explained by the disparity between reported earnings per share and the company's measure of core EPS.
Core EPS is wildly different to reported (i.e. basic) EPS, as a review of the company's earnings over the past decade shows. Note that core EPS almost always exceeds actual EPS, often by a country mile.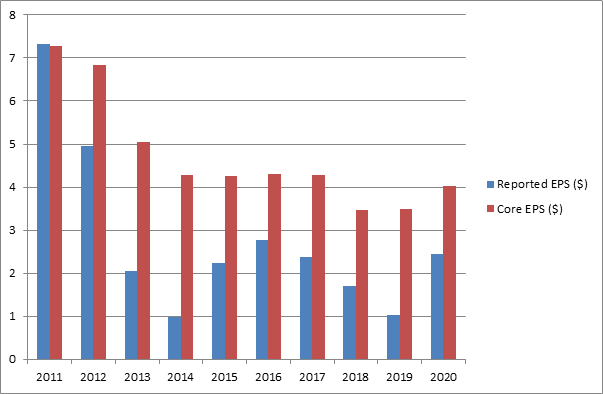 Chart compiled by author, using data from company annual reports
That makes it very difficult if not impossible to understand exactly what the bullish outlook for core EPS means for actual earnings.
If we ignore core EPS, then, and look simply at actual EPS, the company trades on a P/E ratio in the low fifties. Even if earnings per share – basic earnings – grow by 20% or so, that would still put the company on a prospective p/e around 40. That looks expensive to me.
Can AstraZeneca Grow into its Valuation?
That valuation isn't some way off the company's peer group. Merck (MRK) trades with a 16 p/e, Pfizer (PFE) trades on a P/E of 10 and Lilly (LLY) 34. The exact makeup of each company's portfolio makes direct comparison difficult, but it isn't simply that pharma stocks in general look pricy. I'd say AstraZeneca specifically looks overvalued.
It could grow into that valuation if its pipeline dramatically boosts earnings and/or the COVID-19 becomes a significant profit contributor over the long run. The latter looks unlikely to me and I don't see specific drivers for the former.