Thesis
This is an opportunity to invest in Core & Main (NYSE:CNM) - one of only two national waterworks and fire protection product distributors - alongside CD&R, a leading private equity firm with extensive expertise in building materials and distribution businesses.
Drivers of value for investors include the tailwind of infrastructure spend, CD&R's implementation of operational best practices across the company, and strategy to consolidate this fragmented sector.
Core & Main is a lesser-known brand name and relatively under-followed, which gives investors an opening to accumulate shares before others jump on the bandwagon
As valuations are full at this time, I plan to initiate a toehold position add to my position as the company demonstrates more progress.
Overview
Core & Main is a leading national distributor of waterworks and fire protection products. Even though the company has revenues of $4.2 billion and a market cap of $6.8 billion, few outside the industry know of the company.
This is because the company existed as a relatively obscure division within Home Depot Supply (now Home Depot (HD)) until CD&R acquired it through a corporate carveout in August 2017. After creating the necessary corporate infrastructure, building up the management team, and setting the company on a buy-and-build strategy, CD&R took the company public in July 2021.
Today, the company has 3,700 total Associates, 285 branches in 47 states and 170 metropolitan statistical areas across the US. It operates a fleet of 850 trucks and 350 trailers to ensure its products are delivered to customers in a timely manner.
What does the company do?
As a distributor, Core & Main serves as the link between 4,500 suppliers and a broad range of 60,000 customers, which include municipalities, public utilities, private water companies, and professional contractors across the US. In addition to making available 200,000 stock keeping units in the areas of water distribution, wastewater, storm drainage, erosion, and fire protection products to its customers (figure 1), the company also provides value-added customer support in areas including project planning, technical knowledge, local expertise, product customization, and coordinated deliveries.
Figure 1: Core & Main's representative products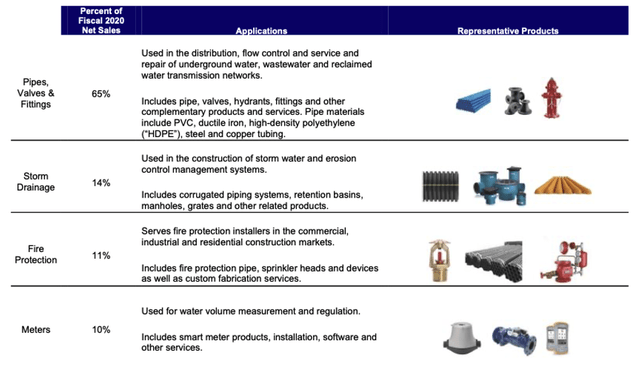 Source: Company S-1
Core & Main estimates the size of the waterworks and fire protection product market at $27 billion, of which it has a 14% market share. Its waterworks products enable municipalities to provide, management, and measure the use of water to their end-customers, while its fire protection products are necessary for sprinkler systems (figure 2).
Figure 2: Core & Main's products enable municipalities to provide and manage water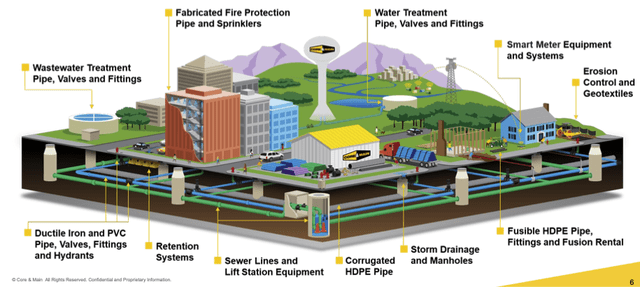 Source: Core & Main investor presentation
About 45% of the company's products are sold to municipal water works (figure 3, left chart), and about 55% are sold for repairs and replacement (right chart). As municipal spending tends to be less correlated to economic growth and repairs of broken waterworks or fire protection systems are non-discretionary, these two segments are relatively stable compared to new construction and privately-funded projects.
Figure 3: Market and business mix

Source: company S-1
For the year ended January 2021, waterworks constituted 89% of revenues, while fire protection products accounted for the remaining 11% (figure 4). Fire protection sales increased 42% since 2019, compared to overall revenue growth of 14%, due to a large acquisition the company made in July 2019.
Figure 4: Core & Main's sales by category

Source: company S-1
Thesis
Investing alongside a top private equity firm
CD&R is among the most established and respected private equity firms. While it is less of a household name compared to its publicly listed brethren such as Apollo Global Management (APO), Blackstone (BX), The Carlyle Group (CG), or KKR (KKR), it has built a world class team of operating and financial partners, deep experience in businesses similar to Core & Main, executed well on industry consolidation strategies, and delivered solid returns for its investors.
CD&R has placed highly experienced partners on Core & Main's board, including:
James Berges, an operating partner of CD&R who serves as Chairman of the company. He was previously President of Emerson Electric, and has served on the boards of CD&R's building materials and construction-related companies, including Cornerstone Building Brands, and as Chairman of HD Supply Holdings
Nathan Sleeper, the CEO of CD&R, also serves on the board of

Core & Main. He brings deep domain and financial expertise in building materials and distribution businesses. He serves or has served on a number of boards of building material and distribution companies, including Atkore International, Beacon Roofing Supply, Brand Industrial, Cornerstone Buildings Brands, Culligan Ltd, HD Supply, Ply Gem, Roofing Supply Group, and US Food Services
As both gentlemen served on the board of HD Supply when it was controlled by CD&R, it is likely that their familiarity with the HD Supply Waterworks division's business, performance, and then-President Stephen LeClair, gave them conviction to pay an adequate price for the division.
In addition to Messrs. Berges and Sleeper, CD&R's team of highly experienced partners have proven successes investing in, consolidating, and creating value in other building material distributors, including Beacon Roofing Supply, SunSource, Whitecap, and Wolseley.
CD&R has also owned and built-up a number of similar companies:
- Building materials and construction-related: Artera, Atkore (which manufactures fire protection equipment), Brand Industrial, Cornerstone Buildings Brands, Culligan Ltd, HD Supply (the former parent of Core & Main, now part of Home Depot), Ply Gem, SIG plc, and Spie.
- Distribution businesses: Cheney Brothers, Rexel , Univar, US Food Services, and VWR International.
CD&R's private equity track record
CD&R's private equity funds have delivered attractive returns to its investors. CD&R's last 3 private equity funds generated IRRs in excess of 20% (figure 5), demonstrating the success of its investment strategies and execution.
Figure 5: CD&R's fund returns to its investors
| | | | | |
| --- | --- | --- | --- | --- |
| Fund | Year raised | IRR (1) | Multiple (1) | As of |
| | 2010 | 26.9% | 2.8x | 9/30/2019 |
| | 2014 | 20.3% | 1.7x | 9/30/2020 |
| | 2018 | 42.1% | 1.7x | 12/31/2020 |
| | 2020 | NM | NM | 9/30/2020 |
NM=not meaningful as fund has not been deployed
Note: (1) IRRs and multiples are net of CD&R's management and incentive fees
Source: public pension plan reports
Returns of CD&R's public stock holdings
Even though CD&R has done well for its investors, the track record is less relevant because their investments are typically private equity transactions that are not available to public market investors. Public market investors have the opportunity to invest in CD&R's portfolio companies only when they are listed on the stock exchanges.
As such, it is more instructive to evaluate the stock price performance of CD&R portfolio companies. The stock charts of CD&R's more recent public positions are in figures 6A-G:
Figure 6A-6G: Stock charts of CD&Rs public positions
A. Agilon Health (AGL):

B. Atkore (ATKR):

C. Beacon Roofing Supply (BECN)
Note: CD&R acquired BECN stock after it sold Roofing Supply Group to Beacon Roofing Supply in July 2015

D. Cornerstone Brands (CNR):
Note: CD&R invested in the company in August 2009 after the stock price collapsed during the global financial crisis

E. Covetrus (CVET):

F. SiteOne Landscape Supply (SITE):

G. Smile Direct Club (SDC):

Source: Seeking Alpha and Yahoo stock charts
Atkore and SiteOne have delivered superb 6.3x and 8.7x returns respectively since their IPOs. However, Covetrus and Smile Direct Club have lost half and two-thirds of their values respectively since their public offering. Agilon is down about 20% since its IPO, while Beacon Roofing Supply and Cornerstone Brands were both flat since CD&R's involvement.
Bottom line: Even though investors would have done well in the aggregate historically by buying equal amounts of stock in each of these CD&R portfolio companies at the time of listing or CD&R's involvement, the results are driven by two big successes (Atkore and SiteOne). To put it another way, to achieve outperformance, there is no substitute for detailed due diligence and stock-picking.
Tailwinds driven by aging and leaking water systems
Municipal demand for waterworks products, which accounts for 45% of Core & Main's revenues, has grown consistently due to the U.S.'s aging and broken water infrastructure.
According to the company's S-1 filing, the average age of water and wastewater pipes in 2020 was 45 years, up from 20 years in 1970. More than 600 municipalities still use 200-year-old cast iron pipe systems, and the country suffers 300,000 waterline breaks each year, or almost 1,000 per day. The S-1 filing further cites research that the country will need $2.2 trillion in waterworks repairs and upgrades over the next 20 years, or about $100 billion a year, and the company estimates that municipal spending on water and wastewater spending will grow in the low single digits for the next two years.
The $111 billion proposed for water infrastructure investment in President Biden's Invest in America Act, if passed, will provide an additional boost for municipal, rural, water and wastewater spending. Furthermore, increased flooding and drought caused by climate change will accelerate investments needed to manage water shortages as well as storm-driven containment and drainage.
Improved construction efficiency from digital water information management systems (e.g., AutoDesk's (ADSK) Innovyze and Bentley (BSY) water and wastewater systems) and underground directional drilling systems (e.g., from Toro (TORO) and Elon Musk's Boring Company) should lower costs and disruption of building and upgrading underground pipes, which will create more demand for remediation and modernization of these antiquated systems.
Construction of warehouses, datacenters, and homes offsetting weakness in office construction
The COVID-19 pandemic has shifted work online, enabling most white-collar workers to work remotely over the last 18 months. Many workers expect to be given the flexibility to work remotely at least part of the time after the pandemic ends. This results in reduced office space needs, less new commercial office building construction, and thus lower demand for fire protection sprinkler systems.
However, the pandemic has also accelerated the shift of retail online, creating demand for more data centers and e-commerce distribution centers. According to Peter Tirschwell of IHS-Markit, the current severe congestion at the Los Angeles-Long Beach gateway ports is exacerbated by the decision of some large retailers, whose e-commerce warehouses are full, to hold shipping containers of imported goods at ports. The shift in retail towards online channels will continue, driving continued demand for more logistic warehouses and data centers, all of which will require both municipal waterworks support and fire protection equipment.
Furthermore, as workers with newfound flexibility to work remotely from locations of their choice migrate to suburbs or different cities, they will require additional residential housing, which again will stimulate the demand for waterworks systems.
One of only two national distributors
Core & Main is one of only two national waterworks and fire protection distributors. It, together with Ferguson Enterprises (FERG), own 30% of the market.
Core & Main and Ferguson both benefit from being the leading players in this oligopolistic industry structure. In addition to brand, reputation and purchasing synergies, their scale enables them to hire best-in-class management and technical experts, serve as professionalized and reliable one stop shops to large contractors, build software systems and apps that respond better to customer needs, access capital to build state of the art facilities, and grow by acquiring smaller competitors.
Even though the market is competitive and many of the large projects go through bid processes, the presence of two large players creates some level of pricing discipline that potentially minimizes the incentive to initiate and engage in aggressive pricing strategies.
Ferguson Enterprises
Unlike Core & Main, which focuses on waterworks and fire protection equipment, Ferguson distributes a broad range of products, including plumbing, HVAC, and lighting equipment and supplies. Ferguson's revenue is five times that of Core & Main, but only 7% of its revenues come from civil and infrastructure works.
Even though Ferguson has 1470 branches—almost five times the number of Core & Main—not all of its locations provide waterworks or fire protection equipment. For example, of Ferguson's 145 locations in California, only 16 provide waterworks equipment and 10 provide fire fabrication equipment, compared to Core & Main's 31 locations. Similarly, in the state of Texas, only 24 of the 94 Ferguson branches provide waterworks and fire fabrications, compared to Core & Main's 27 locations.
Fragmented industry creates opportunity for consolidation
Core & Main operates in a oligopolistic industry in which it and Ferguson own 30% of the distribution market. Aside from the 20% of products sold directly by the manufacturers to end-user, no other distributor has more than 3% of the market. As such, the 50% of the market serviced by smaller competitors is ripe for consolidation.
The industrial logic behind consolidation is sound—once an appropriate acquisition has been completed, it can be folded into the operations of the acquirer, best practices can be shared, and duplicative facilities, personnel, and overhead can be eliminated. The combined entity can expand its geographical footprint and range of product offerings, leverage its additional purchasing power to get better product pricing and access from suppliers, optimize delivery route density, and cross sell products to customers where there is opportunity to do so.
Core & Main, which itself is the conglomeration of over 80 legacy companies, has a history of buying and integrating acquired companies. Since Core & Main was spun out of HD Supply, it has executed and integrated on 14 acquisitions which have added $630 million in aggregate sales (figure 7), which represents 20% of its original revenues.
Figure 7: Acquisitions since Core & Main's separation from Home Depot Supply

Source: Company presentation
Most of Core & Main's acquires are tuck-in acquisitions in close proximity to its existing facilities:
St. Louis fab supply and DCL are located close to its headquarters in St. Louis
Maskell and DOT Sales are about 15 miles from its San Bernadino, California location
Finish Line is about 5 miles from Denver where the company has 2 other branches
Minnesota Pipe is about 33 miles from its West Minneapolis branch
R&B is close to its existing San Jose branch
CES Industrial is located in Belton, near the West and East Kansas City Branches
Long Island Pipe is 15 miles from its Maspeth and Bronx locations, and focuses on fire protection
Aside from the R&B and Long Island Pipe, which were valued at $215 million and $225 million respectively, the purchase prices of most of its acquisitions were not broken out in detail in the company's public filings due to the "lack of significance".
However, the company also made acquisitions to access new products and enter new markets:
L&M Bag ($60 million in 2020 revenue) is the company's strategic entry into the erosion and geosynthetic water control product space—a $5 billion market. I expect the company to build up a presence by cross selling these products through other branches and making additional add-on acquisitions
Pacific Pipe ($70 million in 2020 revenue) gives the company entry into the Hawaiian markets
Texas Triple T extends the company's reach into the West Texas market
CD&R, which has a controlling stake in Core & Main, is highly experienced in this buy-and-build strategy. Based on management comments, CD&R's disciplined and rigorous approach has already been grafted into the company's M&A strategy.
Resilience to recession
The municipal water works segment has grown steadily since 1970 and exhibited some counter-cyclical characteristics. For example, municipal infrastructure spend jumped in the 2009-10 Great Recession (figure 8), offsetting some of the weakness in non-residential and residential construction (figures 9 and 10) during that period. Conversely, municipal infrastructure spend slowed after 2011, but was offset by strength in non-residential and residential construction from 2011 through 2019.
Furthermore, the 55% of revenues from Core & Main's repair and replace segment are non-discretionary. As delaying is not an option when a water main or fire protection sprinkler system breaks, this segment also contributes to revenue stability.
Figure 8: Municipal infrastructure spend: 1970-present

Source: US Congressional Budget Office, Public Spending on Transportation and Water Infrastructure, from company S-1
Figure 9: Non-residential construction starts: 1970-present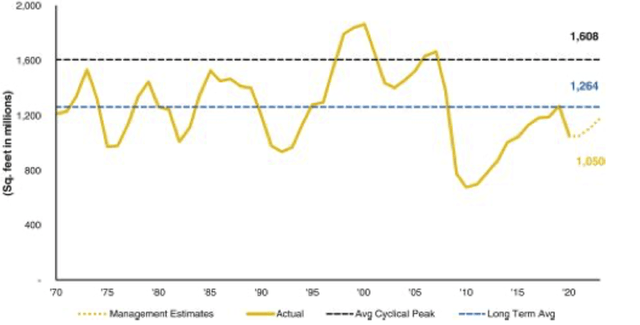 Source: Dodge Data & Analytics, from company S-1
Figure 10: Residential (single family) construction starts: 1970-present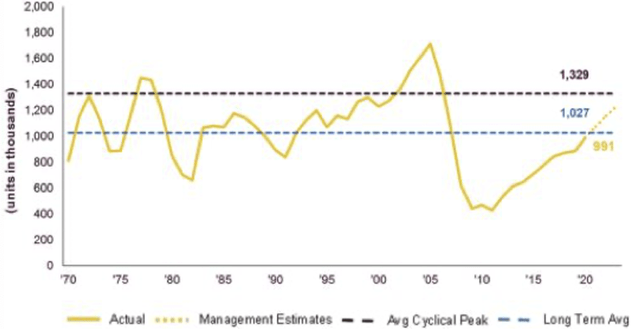 Source: US Census, from company S-1
Core & Main appears under-covered by investors
Many small and mid-cap companies executing buy and build strategies were thinly covered in their early days until more investors took notice and drove the big run-ups in their stock prices.
Core & Main was a division tucked within HD Supply until it was carved out in 2017. As the "Core & Main" name did not exist until after CD&R acquired the company, it is relatively unknown to many investors, which puts it at a disadvantage to investors who subscribe to the "buy the brands you know and love" strategy.
Case in point: as of October 31, 2021, Apple has 2.5 million followers on Seeking Alpha, while Core & Main has a mere 245 (or less than 0.001% of Apple followers). Paint supplies company Sherwin Williams had well over 160,000 page views on Seeking Alpha in the last 90 days, whereas Core & Main only had 1,500—or just 17 page views a day and less than 1% that of Sherwin Williams. The Motley Fool investment website does not even cover Core & Main.
As the company only went public on July 23, 2021, it has not appeared on any SEC Form 13F-HR filings in which large investors are required to disclose their holdings at the end of every quarter. I am eagerly waiting for the November 15 filing deadline to find out if (or which) largest investors have accumulated meaningful stakes in the company.
In spite of Core & Main's relatively modest capitalization, it is covered by a disproportionate number of large wall street firms including Goldman Sachs, JP Morgan, Credit Suisse, Citicorp, and others, likely a result of CD&R's influence. Two weeks ago, the company announced that it was added to the Russell 1000 index, which will certainly attract the attention of more investors.
Perhaps this is an opportunity to jump on the bandwagon ahead of time.
Growth analysis
For the 2-year period ended January 31, 2021 (figure 11):
Total revenues grew at an annualized rate of 6.7%. This was driven by organic growth, acquisitions, entry into new markets and product lines, and cross-selling synergies
EBITDA grew at an annualized rate of 13.6%, almost twice the revenue growth as margins expanded from 8.2% to 9.3%. This was likely driven by the consolidation of the EBITDA of acquired companies, acquisition synergies, and expense reduction initiatives.
Figure 11: Core & Main Summary financials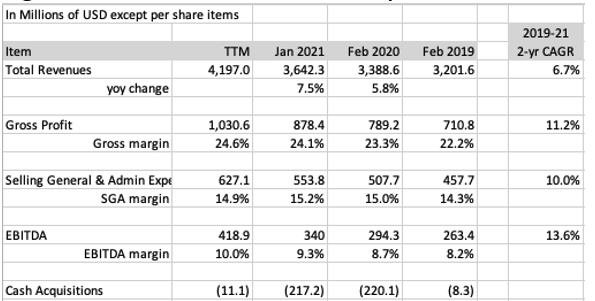 Source: Seeking Alpha financials income statement
For the trailing twelve months ended August 2021, the company's EBITDA was about $418.9 million, or 10.0% or revenues. However, after factoring in non-cash equity-based compensation, the company's adjusted EBITDA was $438.9 million, or 10.5% or revenues.
For fiscal 2021, management expects adjusted EBITDA to be $470 to $510 million, representing growth of 37% to 49%.
For the quarter ended August 2021 (figure 12):
Revenue and gross profit grew 35.7% and 41.0% respectively. There appears to be little operating leverage in the SGA (selling, general & admin expenses), but digging in a little deeper reveals that the SGA number is inflated by $18.5 million in non-cash equity-based compensation, $2.5 million in IPO and acquisition expenses, and a $50.4 million loss on debt modification & extinguishment that resulted in over $85 million in interest savings.
After factoring these adjustments to make the numbers more reflective of the operational earnings power of the company, the adjusted EBITDA are $155.2 million, or 12.0% of revenues (vs 10.6% of revenues).
Figure 12: Core & Main most recent quarter summary financials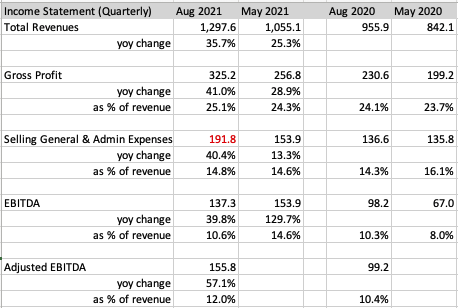 Source: Seeking Alpha financials
To summarize the historical growth and management guidance for future growth:
Figure 13: Historical growth and management guidance
Metric

FY 2019-2020

2Q 2020-2021

Management Guidance

Comments

Revenue growth

Up 7.5%

Up 35.7%

-

2019-2020 growth slow because only 2 acquisitions were made.

Half of 2Q increases in part due to price inflation from PVC shortage, which should moderate.

Long term drivers include industry tailwinds (waterworks, residential, data centers and warehouses), more and larger acquisitions, cross selling geosynthetics and erosion control products

Gross margin

24.1%

25.1% (gross profit up 41% q-o-q)

"expect year-over-year margin expansion, though tempered compared to 1H"

2Q increase due to PVC price inflation; risk of short-term gross margin compression if resumption of PVC supply capacity causes prices to deflate sharply

Long term drivers include purchasing synergies, operational improvements, improved pricing strategies, higher mix of private label products

EBITDA

Adjusted EBITDA

10.1%

10.5%

10.6%

12.0% (adjusted EBITDA up 57% q-o-q)

Adjusted EBITDA for FY 2021 of $470m to $510m, for year-over-year growth of 37-49%

Long term operating leverage from operational improvements, acquisition integration synergies
Source: Seeking Alpha financials and company earnings commentary
Valuation
Core & Main stock currently trades at 25% above its IPO price (figure 14).
Figure 14: Core & Main stock price since IPO

Core & Main's free cash flow yield of 3.4% for the year ended January 2021 is full (figure 15), as are the PE ratio of 81.4x and EV/EBITDA multiple of 19.6x for the trailing twelve months ended July 2021. While the stock price is not cheap, investors should appreciate the fact that a full valuation gives management a strong currency to make acquisitions with less dilution to existing shareholders.
Figure 15: Core & Main valuation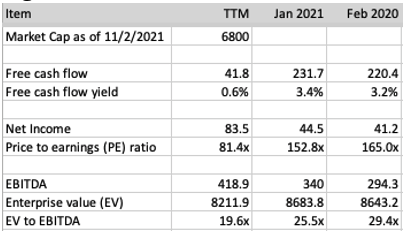 A few notes and observations:
(1) The net income is depressed because of the high interest expense due to the leverage used in the buyout from HD Supply and to fund add-on acquisitions. Part of the proceeds from the IPO was used to cut down debt by approximately a third (from $2.2 billion in Jan 2021 to $1.5 in July 2021, figure 16), bringing the net debt leverage (i.e., net debt to TTM EBITDA) of a very manageable 3.3x. The lower interest expense should improve future net income.
Figure 16: Core & Main's long-term debt

(2) The trailing twelve-month free cash flow (figure 17) was depressed by two unusually large items:
a $215 million increase in inventory, which steps up the total inventory value by almost 50% compared to January 2021 (this is a concern I detail in my risk factors below), and
a $224 million increase in accounts receivables from customers that was offset by a $187 million increase in accounts payables to suppliers.
Figure 17: Core & Main's cash flow from operations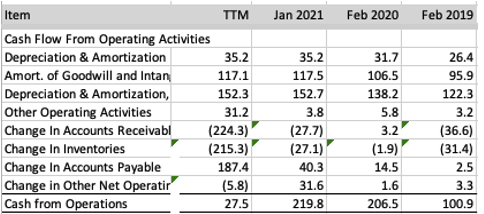 Source: Seeking Alpha financials
(3) The trailing twelve-month EV/EBITDA multiple of 19.6x is high. However, the prospective multiple will be reasonable if the company continued to grow at its historical rates through operational improvements, organic growth, and more synergistic add-on acquisitions. If management achieves its fiscal year 2021 EBITDA guidance of $470 million to $510 million, the forward EBITDA multiple would tick down to 16.1 - 17.5x.
Risk factors:
Interests may not be fully aligned with CD&R
CD&R's cost basis is significantly lower than the IPO price
As of February 3, 2019, Core & Main's total partners' equity investment account was $915 million (figure 18). Assuming no complex accounting structures or large early distributions, this should be very roughly the amount of equity CD&R and its partners invested in the company. Over the next two years, the company distributed ca. $370 million, which was funded in part by debt issuances, back to CD&R and its partners, reducing their cost basis to approximately $546 million.
At the November 2, 2021 stock price on $28.5, CD&R's economic interest in Core & Main, based on public filings, is worth ca. $5.42 billion, representing a 6x return on its original cost and almost 10x its cost basis after early distributions.
There is a possibility that CD&R may be more focused on preserving the value versus taking on additional risk to grow their investment, which will not be to the benefit public investors who are seeking capital gains.
Figure 18: Core & Main partners' capital

Source: Core & Main S-1 filing with the SEC
CD&R may be incentivized to exit its holdings earlier
CD&R has played an integral role in building up a top notch management team and board, setting strategy, and driving the success of Core & Main. Even though the company still has a long runway for growth, CD&R may face pressure to sell its stake early to either: (1) wrap up the fund that invested in the company as it approaches the end of its fund life, or (2) distribute capital to their investors in advance of a follow-on fundraise. After private equity funds exit their investments, they typically resign from the board so they can redeploy their resources to other portfolio companies in which they have more capital at risk.
Mitigating factors:
CD&R is strongly incented to stay on to maximize the return on its investments as it earns a percentage of the gains it makes for its investors in carried interest.
Clayton, Dubilier & Rice Fund X, L.P., the fund from which the investment in Core & Main was made, was raised in 2017 and will run through 2029. As such, there is another 8 years before Fund X wraps up, which is a sufficiently long holding period for most of us. Furthermore, the successor fund, CD&R Fund XI, L.P., was raised in 2020, so CD&R is unlikely to be fundraising till 2024.
Finally, if CD&R has succeeded in building the right management team and cultural DNA at Core & Main, the company should continue to execute and prosper after CD&R's exit.
Bottom line: investors should monitor CD&R's shareholdings closely as a large disposition of shares could signal an intention to reduce its involvement in the company.
Pricing inflation creates potential earnings volatility
PVC shortages due to plant closures resulting from Hurricane Laurel, severe winter storms earlier this year, and Hurricane Ida have driven up PVC resin prices significantly. Data from the producer price index survey performed by the US Bureau of Labor Statistics showed that prices of plastic water pipes have doubled since the fourth quarter of 2020 (figure 19), and management expects prices of PVC products to remain high for the time being.
Management stated in the 2Q 2021 earnings release that "price inflation represented half of its net sales increase, which helped drive growth in all product lines". The company was able to improve gross margins through better sourcing and "pricing improvements", and likely captured higher margins on the cost of materials that were purchased before the price run-up.
Figure 19: Indexed pricing of plastic water pipes

Source: Producer Price Index by Commodity: Rubber and Plastic Products: Plastics Water Pipe
Core & Main was able to make opportunistic inventory purchases ahead of announced price increases. Page 123 of the S-1 filing notes that "as of May 2, 2021, the Company has agreements in place with various vendors to purchase goods and services, primarily inventory, in the aggregate amount of $725.7 million". The advance purchase represented 143% of the $509.2 million in inventory of as of May 2, 2021. Furthermore, the 2Q 2021 balance sheet shows inventory of $593.2 million—a $209 million (or 55%) increase compared to the $383.8 million in inventory held as of 4Q 2020 (figure 20). As the inventory level is seasonal and typically peaks in the second quarter and bottoms out in the fourth quarter of the year, I expect inventory to trend down for the rest of the year. (unfortunately, I was unable to find a 2Q 2020 balance sheet to use as a basis of comparison against 2Q 2021 inventory levels)
Figure 20: Core & Main's current assets

Source: company earnings filings
The statement of cash flows for the first six months ended August 1, 2021 further highlights inflationary pressures. Even though management alludes to higher inventory investment in the first half of its fiscal year (page 108 of the S-1), a ten-fold increase in inventory purchases compared the year ago period to $209.4 million, up from $21.2 million a year ago (figure 21), is definitely noteworthy.
Figure 21: Core & Main's statement of cash flows for the first six months of 2021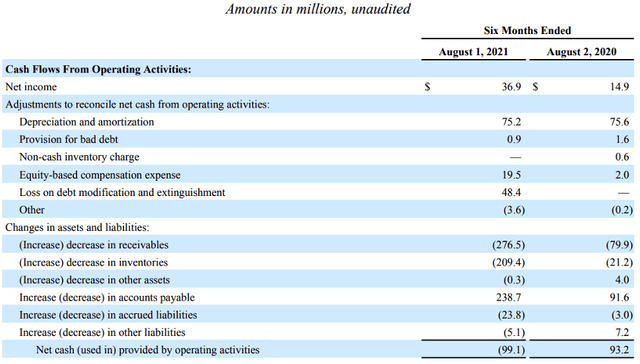 Source: company earnings filings
Core & Main's profits margins have almost certainly benefited from the price inflation of products purchased and held in inventory prior to the price run-up, but there is insufficient information in the company's reports to make a decent estimate of the magnitude.
Even though inventories are carried the lower of cost or net realizable value (which is determined by the weighted average cost method, detailed in page 127 of the S-1), there is a risk of inventory write-down should PVC prices fall sharply, which could result in a decline in the realizable value of products held in inventory and margin compression.
Fluctuations in the price of inputs create uncertainty for both the company and its customers, but unfortunately there are limited means to hedge the volatility. In order to ensure product availability for customers, Core & Main management can only navigate these fluctuations as best it can. Investors will have to accept this risk and hope that input prices stabilize soon.
Full Valuation
As previously above, the company's valuation at the current stock price is full. If the company's earnings fall short of expectations or are hit by a deflation in PVC prices, the stock price is likely to take a hit.
Competition from e-commerce and large industrial distributors
Generalist e-commerce firms like Amazon and large industrial distributors such as WW Grainger (GWW), McMaster-Carr (privately held) are built to move large volumes of product quickly and efficiently but, unlike Core & Main or Ferguson, are not equipped to provide customized services for customers (figures 23 and 24 of Core & Main's Pasco, Washington location should illustrate how Core & Main differs from the large distributors). This is likely the reason Home Depot Supply decided to exit the business in the first place.
Figure 23: Street view of Core & Main's Pasco location

Source: Google Maps
Figure 24: Aerial view of Core & Main's Pasco location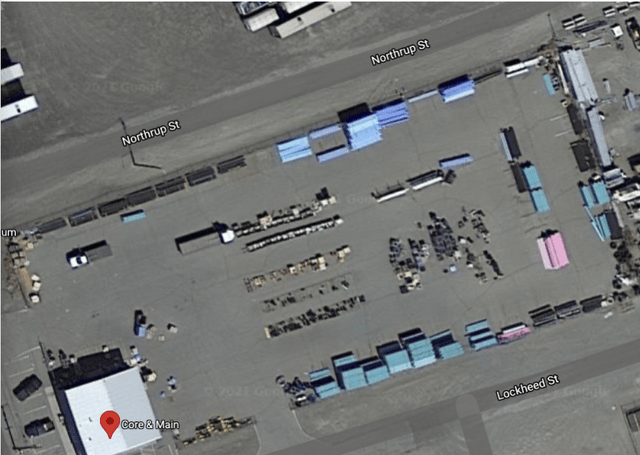 Source: Google Maps
Summary
This is a unique opportunity to invest in Core & Main--one of only two national waterworks and fire protection product distributors--alongside CD&R, a leading private equity firm with extensive expertise in building materials and distribution businesses.
Drivers of value for investors include the tailwind of infrastructure spend, implementation of operational best practices across the company, and strategy to consolidate this fragmented sector.
Core & Main is a lesser-known brand name and relatively under followed, which gives investors an opening to accumulate shares before others jump on the bandwagon.
As valuations are full at this time, I am considering initiating a toehold position and adding to my position as the company demonstrates more progress.