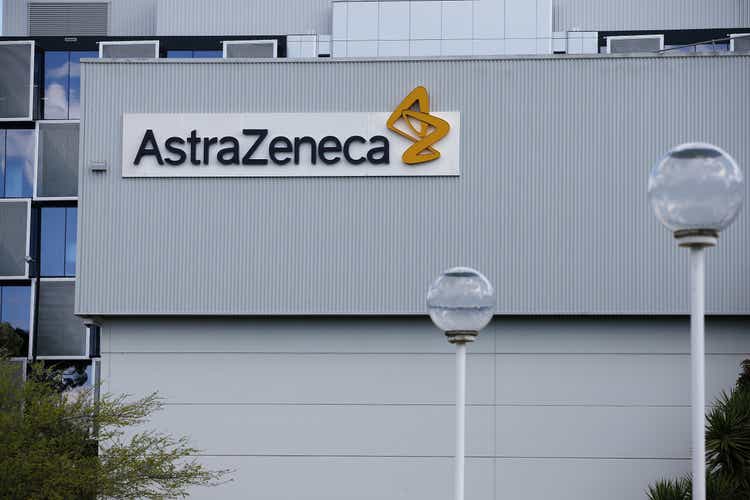 Intro & Thesis
Over the past year, many COVID-19 vaccine manufacturers have excelled by posting impressive growth in quotations, which began to wane as the number of new cases began to decline. AstraZeneca (NASDAQ:AZN), Johnson & Johnson (JNJ), and Pfizer (PFE) look like obvious outsiders in this regard compared to Moderna (MRNA) and BioNTech (BNTX):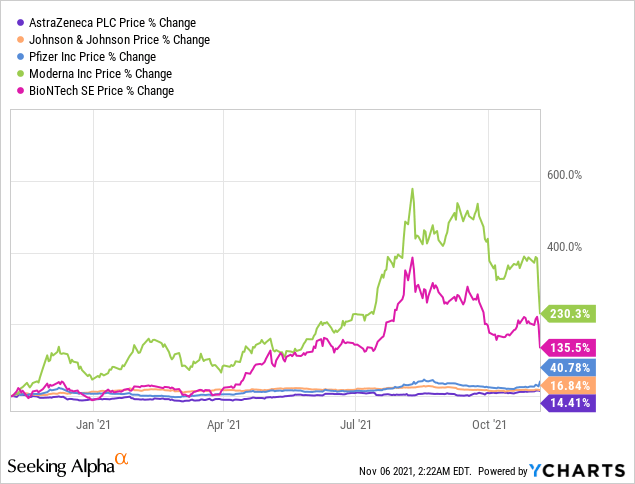 I wrote about Pfizer a few days ago before its quarterly report release. My predictions for PFE's recovery are starting to come true even earlier than I expected. Unlike Moderna and BioNTech, which fell yesterday by 16.56% and 20.92%, respectively, AstraZeneca has not corrected as much and is slowly but surely climbing higher.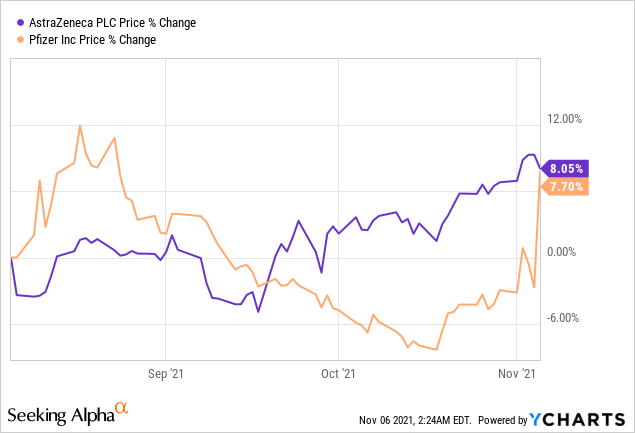 This is mainly because Pfizer is not such a big threat to the company's addressable market (unlike BioNTech and Moderna). But the stock's return over the past year has been quite modest (only 14.41%) - despite a fairly stable upward trend, something is holding back AZN.
But what?
At first glance, it may seem that AZN is still quite cheap as evidenced by the multiple contraction in the price-to-earnings ratio.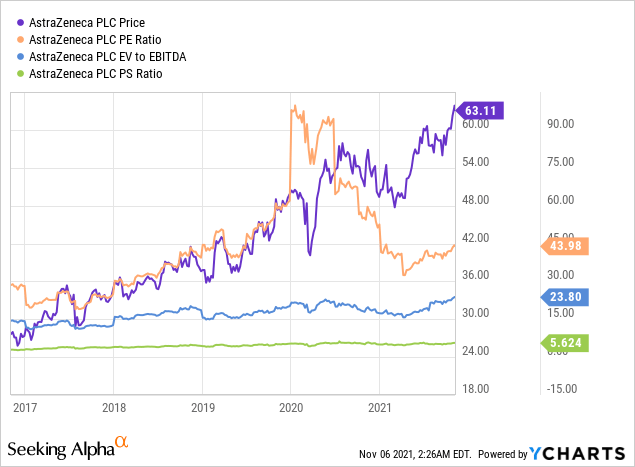 As you can see, AZN's other multiples such as EV/EBITDA and price-to-sales remained virtually unchanged (perhaps EV/EBITDA grew a little, but insignificantly).
In such cases, we usually think, "Ok, the market probably just expects lower earnings in the coming years - that explains such a sharp decline in the P/E multiple." This is theoretically justified, but in practice we see the Street providing a forecast for strong EPS growth that only starts to stagnate starting in 2027.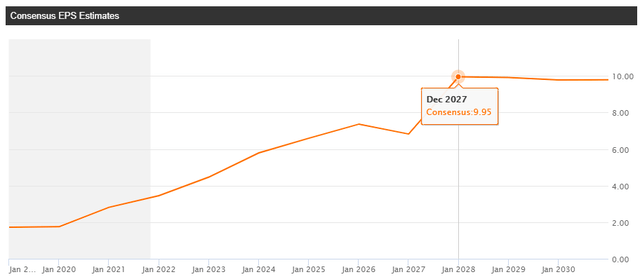 Source: Seeking Alpha, AZN, Earnings Estimates
Moreover, it is interesting that the period of growth stagnation, as well as a sharp increase in EPS in FY2027 compared to FY2026, is predicted by only one analyst: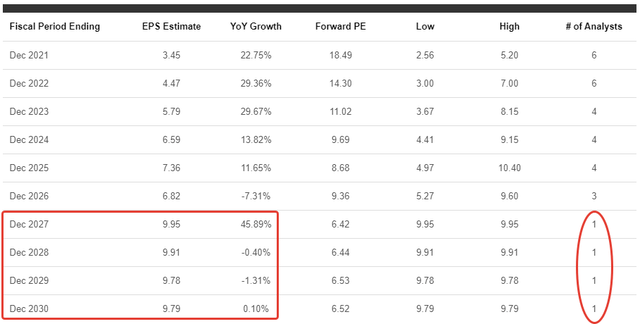 Source: Seeking Alpha, author's notes
Let us try to determine a "fair value" of AZN at its current margin levels, taking into account analysts' projected EPS growth through FY2026 (relying on a single analyst's ten-year projections would be too hasty, that's why I take only 5 years).
According to Seeking Alpha's data, AZN's EPS for today (trailing twelve months - TTM) is $2.87. The EPS forecast (consensus) for full FY2021 is $3.45 - analysts expect Q3 EPS to grow 91.05% (YoY) and Q4 EPS to grow 8.62% (also YoY). Those are pretty bold projections, as even Pfizer's Q3 2021 EPS growth in Q3 2021 was 86.11% (YoY). But let us assume $3.45 is an achievable target, especially since vaccines account for only half of 1H 2021 sales growth: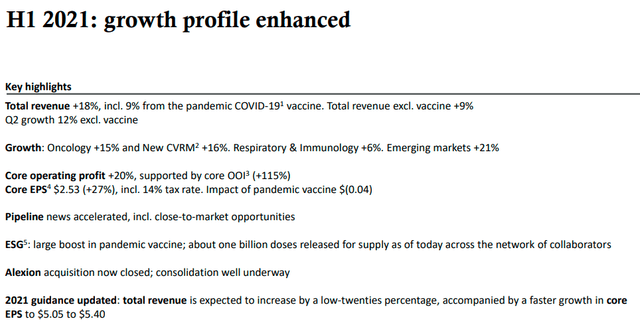 Source: AZN's latest IR presentation
With that FY2021 EPS of $3.45 as a proxy in mind, we can say that if the analysts' forecasts are correct (for the last 3 years AZN had 3 beats and misses), then the EPS 5-years EPS growth rate (CAGR) equals 14.6%. Okay, but what's the appropriate discount rate?
Of course, we can use the classic CAPM model, which will show us 5.3-6.3% [FinBox] or even less - up to 3.86% [GuruFocus]. This is primarily due to a) very low beta and b) high debt, which has grown significantly recently (as you know, the larger the share of debt in the capital structure, the lower the WACC).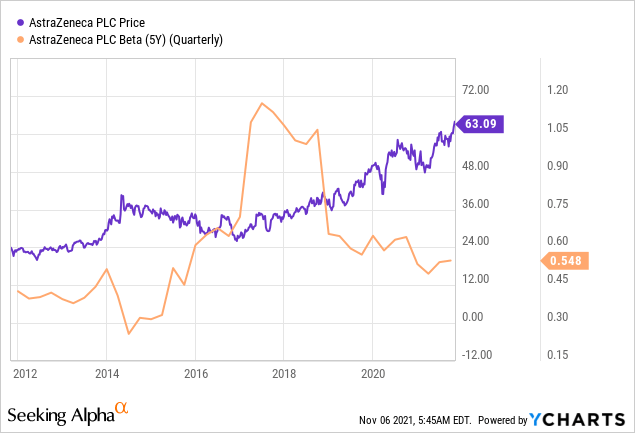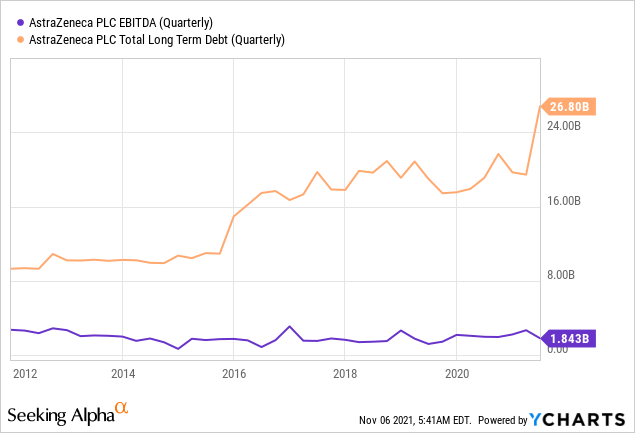 But using a WACC of 3.28-6.3% seems a bit unduly optimistic to me - look at how EBITDA has performed relative to debt. The CAPM model, in its classic understanding, does not take into account the credit risk of the company and "rewards" issuers with higher debt. I suggest increasing the WACC to at least 7% - very conservative in my opinion (actually I was originally thinking 8%, but W. F. Sharpe has a Nobel Prize and I do not, so my discount rate calculations, I assume, should not deviate from the academically correct approach).
Forecasting EPS in the terminal phase seems a bit vague - so I use 2 "Gordon's [g] rates" (3% and 5%) for the next 10 years right away. Here are the results I arrived at: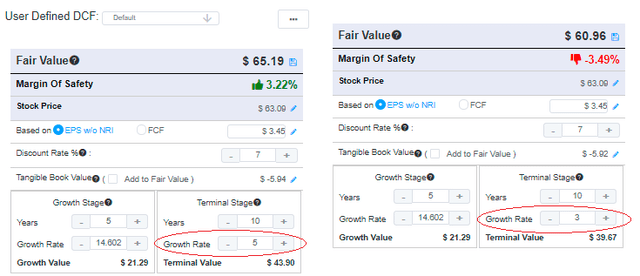 Source: GuruFocus' template, author's inputs, and notes
As you can see, AZN has rather little fundamental upside potential, even if all the analysts' forecasts come true (except for the forecasts of the one analyst who can see 10 years into the future). But what if that analyst is right? Then the 10-year CAGR of projected EPS is ~12.69%. To maintain a similar time horizon, I suggest using 5 years with a 4% interest rate in the terminal phase. Then the valuation of the company looks like this: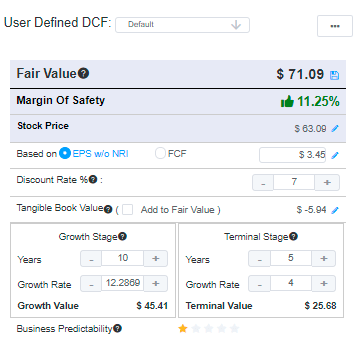 Source: GuruFocus' template, author's inputs
With such optimistic forecasts, I do not think the inferred price potential in the second case is enough to say AZN is grossly undervalued. It is probably fairly valued now and no longer has a large "safety buffet" for rapid growth - this is also borne out by relative valuation.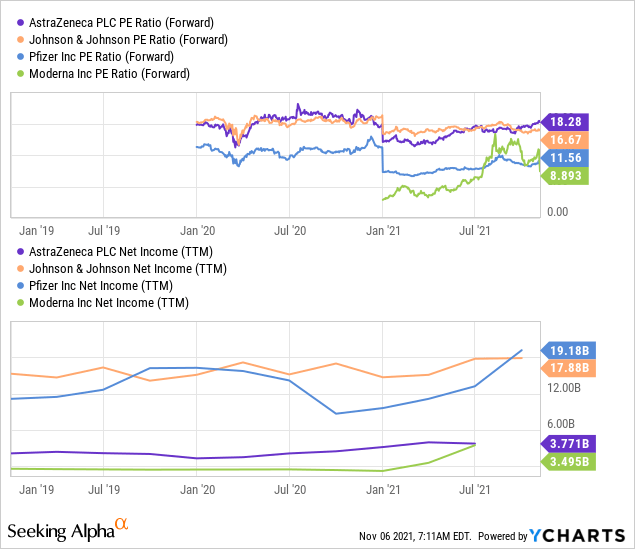 AZN's price-to-earnings is an order of magnitude higher than the average for the analyzed peer group, while the growth of its net income - although it is predicted to be quite large - has stagnated in comparison with other companies lately. The same applies to EBITDA and the related metric - EV/EBITDA (FWD):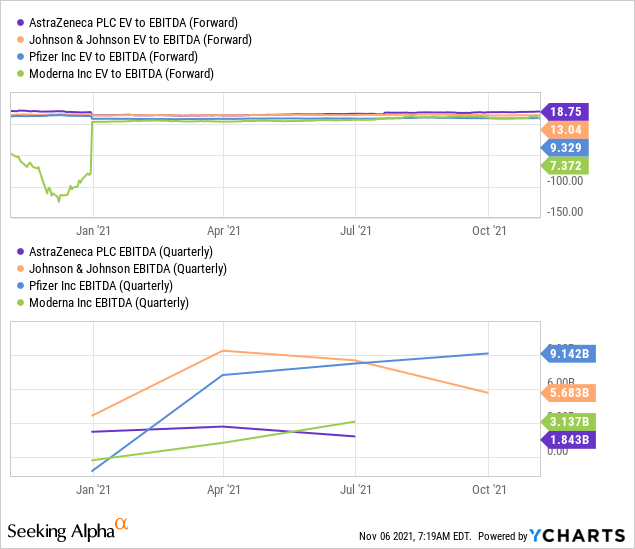 AZN is proud to report that it was able to increase EBITDA by 14% year-on-year in H1 2021. At the same time, however, as you can see, by comparison, this financial metric is several times lower than Pfizer's, while their market capitalizations are not significantly different: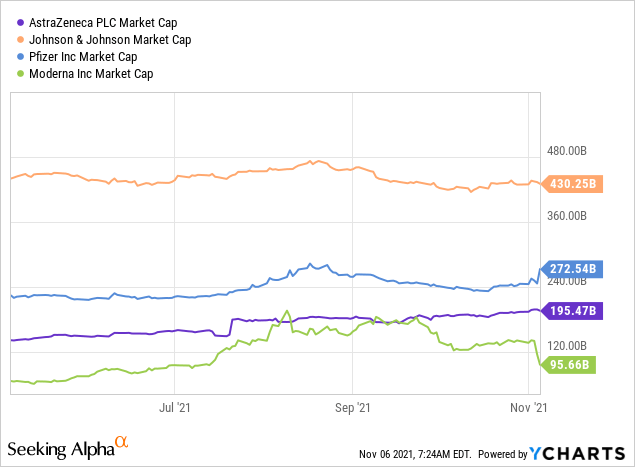 This does not necessarily mean that AZN is overvalued - perhaps Pfizer is severely undervalued. It can also be explained by AZN's reduced dependence on vaccine sales, demand for which will certainly be much lower in the future than it is today (as herd immunity develops). This is one of the reasons why I am not talking about selling AZN, but giving it a "Hold" ("Neutral") rating.
Plus, it's hard to argue that the company has a strong enough pipeline to support optimistic forecasts for future earnings - a key factor behind the stock's growth.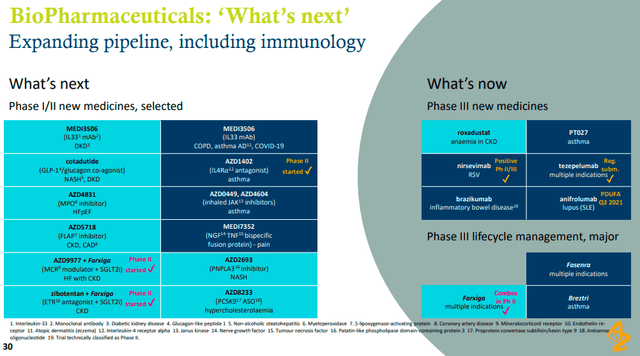 Source: AZN's latest IR presentation
Vaccine revenue growth is well backed by other products, including those in development. The current dividend yield of 1.42% (TTM) with a payout ratio of 26.07% seems pretty stable to me - with such successful operating results the company will most likely want to increase the dividend in the upcoming future, as expected by the Street: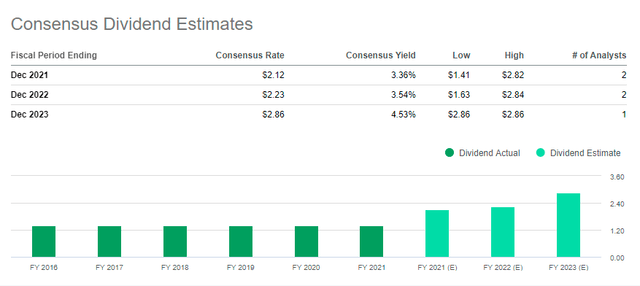 Source: Seeking Alpha, AZN, Dividend Estimates
Takeaway
If you consider yourself a long-term income investor and already hold AZN in your portfolio, then you have nothing to worry about - most likely the company will increase dividends shortly and you will get a pretty stable and profitable "cash cow" in this sector, so to speak.
Investors who are more concerned with growth (like me) will probably not be enthusiastic about buying AZN at current levels - the stock seems very expensive both in terms of fundamental and relative valuation.
Of course, given the current strong momentum of the stock, we can assume that it can continue to rise - the price is above the long-term moving averages (50 and 200) and closely approaching the previous local high, forming a classic "Darvas Box" pattern against the backdrop of falling trading volumes. Theoretically, the trend should continue after the "lid" of this "box" is broken. However, it will be quite difficult for AZN to do so, because a) the stock is close to being overbought (according to RSI), and b) it is already expensive and may have exhausted all its "energy" reserves, as described above.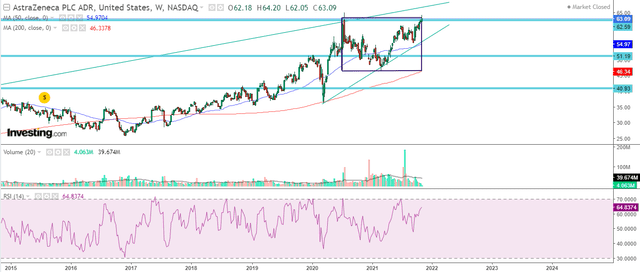 Source: Investing.com's chart, author's notes
That is why I will stay on the sidelines, but I would not sell AZN if I had it in my long-term portfolio.
Happy investing and stay healthy!