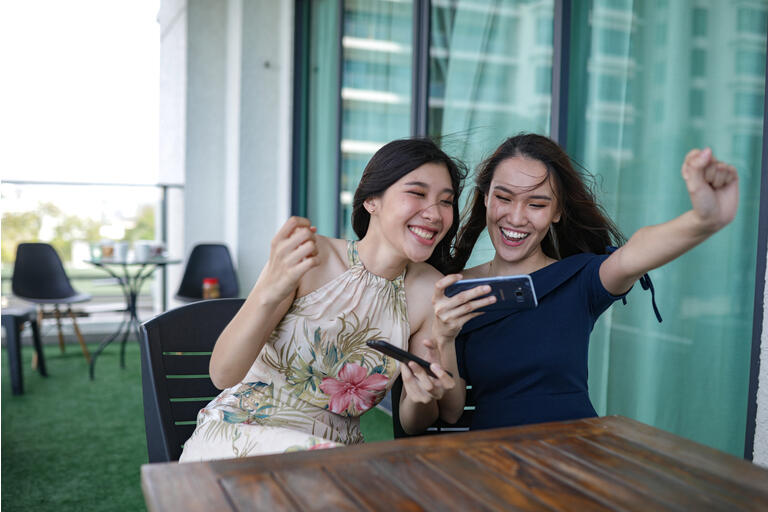 Investment Thesis
Skillz (NYSE:SKLZ) reported its FQ3 earnings recently. The company reported robust top-line gain but slightly missed consensus estimates. In addition, its underlying user metrics were also strong. However, as its operating leverage did not improve, SKLZ continues to be weighed down by its user acquisition (UA) and engagement costs.
In addition, the integration of Aarki is still taking place. As a result, the costs optimization process may take up to 24 months. Hence, investors need to temper their expectations in SKLZ's UA spend until then. The company also communicated that they expect to be aggressive in UA spending in FQ4, stretching into FY22. Hence, investors should not expect operating leverage to improve so soon.
We discuss whether SKLZ stock is a buy after its FQ3 report card.
SKLZ Stock YTD Performance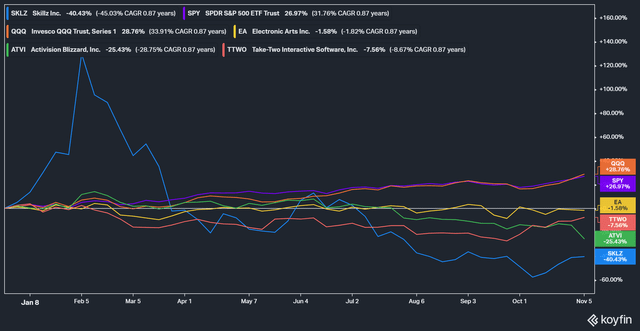 SKLZ stock YTD performance (as of 5 November 21).
Gaming stocks have had a challenging year so far. SKLZ stock led its peers early on as it raced to a YTD lead of more than 120% by February. However, the growth-to-value rotation also battered the stock as investors dumped speculative stocks in search of quality. SKLZ stock quickly lost its upward momentum as its price momentum turned increasingly bearish. Consequently, it has already given up all its gains for the year. The stock now sits deeply entrenched in the red with a YTD return of -40.4%. It has also significantly underperformed its peers listed in this comps set, as well as the broad market.
Skillz Reported Solid Top Line Growth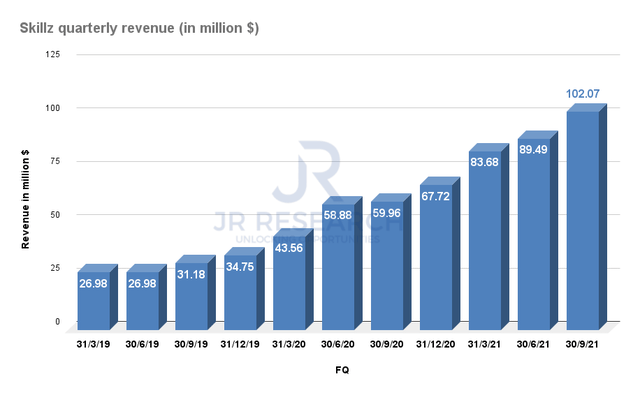 Skillz quarterly revenue. Data source: S&P Capital IQ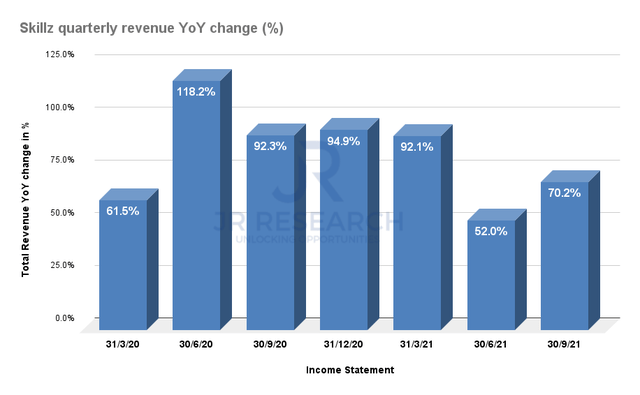 Skillz quarterly revenue YoY growth. Data source: S&P Capital IQ
Skillz reported $102.07M in revenue in FQ3'21, up 70.2% YoY, but came in slightly below consensus. Revenue growth in FQ3 was robust after the significant deceleration observed in FQ2. Therefore, it's encouraging to observe that SKLZ is picking up its top-line growth again. Speculative companies like SKLZ that have weak profitability must continue to demonstrate rapid revenue growth to justify their valuation. Therefore, we encourage investors to continue paying attention to its revenue growth metrics moving forward.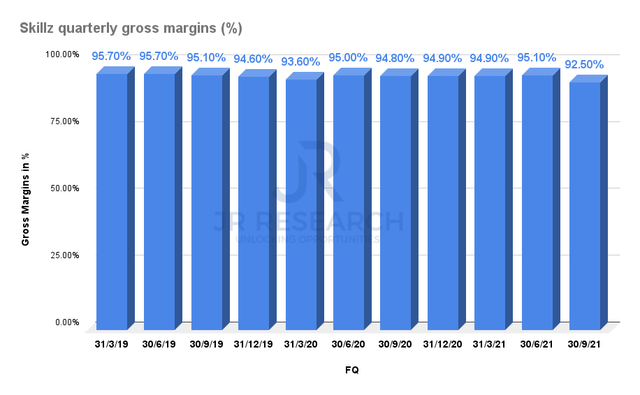 Skillz quarterly gross margins. Data source: S&P Capital IQ
In addition, we also observe a slight decline in its FQ3's gross margin to 92.5%. It was a discernible dip, especially since Skillz is still unprofitable. However, it wasn't addressed in the conference, as the focus was on its UA spending. In addition, SKLZ doesn't embed UA spending into its cost of revenue. Neither does the company break down its cost of revenue components. Nevertheless, we encourage investors to keep an eye on its gross margins moving forward.
Underlying User Operating Metrics Seem Robust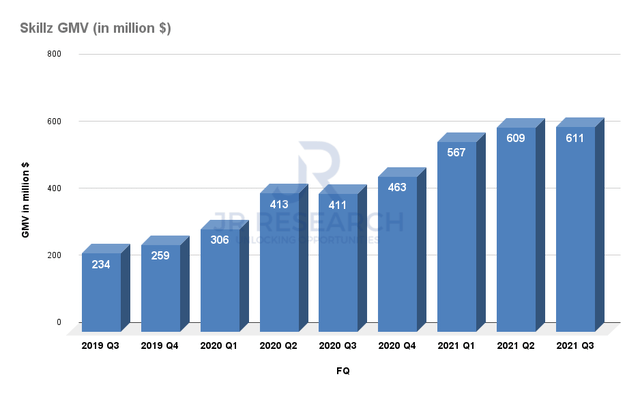 Skillz gross merchandise value. Data source: Company filings
Despite the remarkable recovery in its top-line growth, Skillz's gross merchandise value (GMV) growth seems to have stalled. While it represented a 48.7% YoY growth, it was only up 0.33% QoQ. It was also a significant slowdown from FQ2's 7.4% QoQ increase. Moreover, GMV is a critical metric that we analyze closely, as it allows us to observe the growth momentum of its transactions. Hence, despite its rapid top-line growth, GMV has not followed in line. Therefore, it's a red flag that investors must watch closely.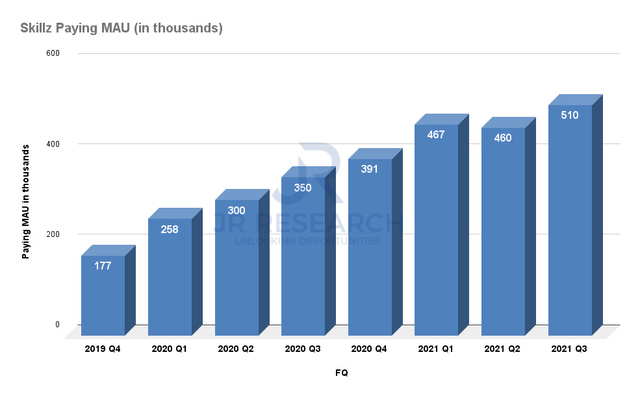 Skillz paying MAU. Data source: Company filings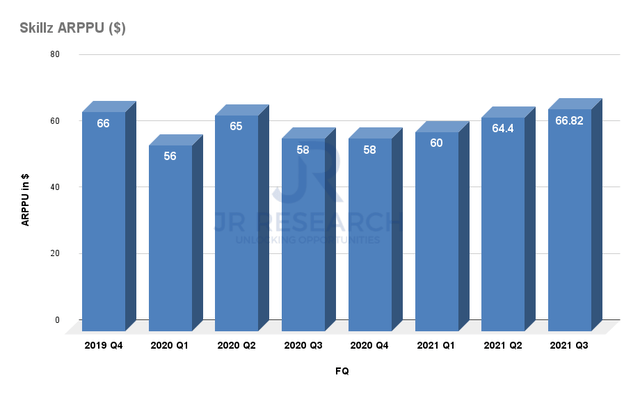 Skillz average revenue per paying user. Data source: Company filings
Nevertheless, the company demonstrated that its monetization machine continues to work robustly. Despite the lack of organic GMV growth, it has managed to improve its user monetization remarkably. The company also saw a considerable boost to its paying MAU as it reached 510K in FQ3. It was a sharp recovery from FQ2's 460K. Moreover, its average revenue per paying user has also improved markedly. It reached $66.82, compared to $64.4 in FQ2. Skillz must continue to improve its monetization metrics, as it would be highly beneficial to protect it against a slower-growth MAU base.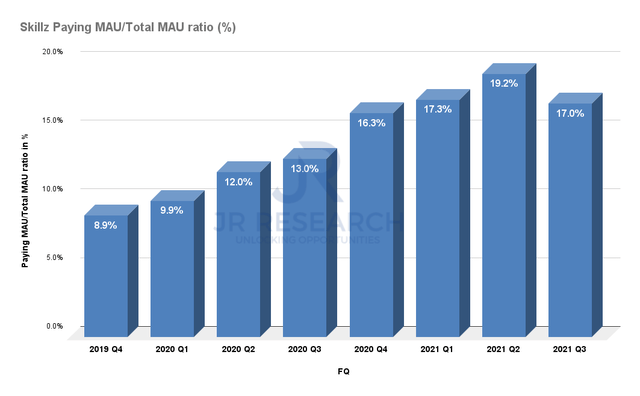 Skillz Paying MAU/Total MAU ratio. Data source: Company filings
Skillz's ability to convert its MAU into paying users continues to be strong. The Paying MAU/Total MAU ratio for FQ3 was 17%. While it has decelerated from FQ2's 19.2%, we are not unduly concerned. It's because the company grew its MAU base to 3M in FQ3, up 25% QoQ. Readers should recall that the company's MAU base fell 11.1% QoQ in FQ2. Even though the company focuses on its Paying MAU base, we believe that Skillz must consistently grow its MAU base over time. It will provide a larger pool of users for Skillz to engage and monetize.
Despite That, Operating Leverage Remains Elusive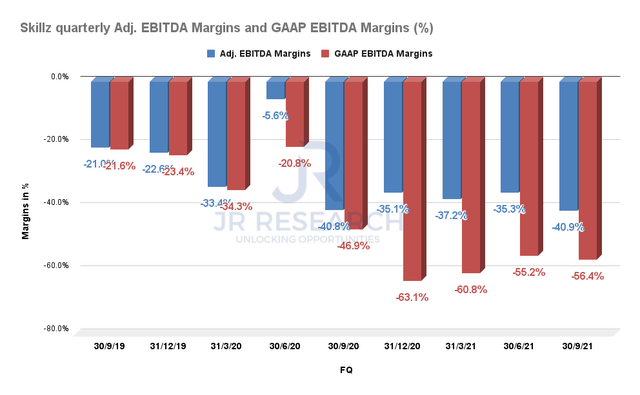 Skillz quarterly adj. EBITDA and GAAP EBITDA margins. Data source: S&P Capital IQ, company filings
Readers can quickly glean that despite the robust top-line growth, its EBITDA margins have not improved meaningfully. The company reported an adj. EBITDA margin of -40.9% in FQ3. It was a significant drop from FQ2's -35.3%.
On a GAAP basis, its EBITDA margins remain mired in the red. Skillz's FQ3 EBITDA margin was -56.4%, which worsened slightly from FQ2's -55.2%. Therefore, SKLZ looks a long way from profitability. Its top line has been growing strongly and recovered remarkably in FQ3. However, the company seems to be spending very heavily on UA and engagement to drive such growth.
Skillz also alluded to its more aggressive UA spend in FQ3. CFO Ian Lee added:
So we did see some improvements there in the CPI and allowing us to be more aggressive with user acquisition investment in Q3...There were also some traffic initiatives that we're able to use, such as search engine and app store optimization, which allowed us to grow our organic traffic. So going forward into Q4 next year, we look forward to continue to be aggressive but also disciplined. (from SKLZ FQ3'21 earnings call)
Notably, the company highlighted that it expects to continue its aggressive UA spending into the next quarter and FY22. Until Aarki's integration has been completed and the UA costs optimized, we cannot accurately model SKLZ's route to profitability. It seems like Skillz may need to continue "bleeding heavily" on its UA and engagement spending to drive top line or average revenue per user growth.
SKLZ is Only Estimated to Post Adj. EBITDA Profitability by FY24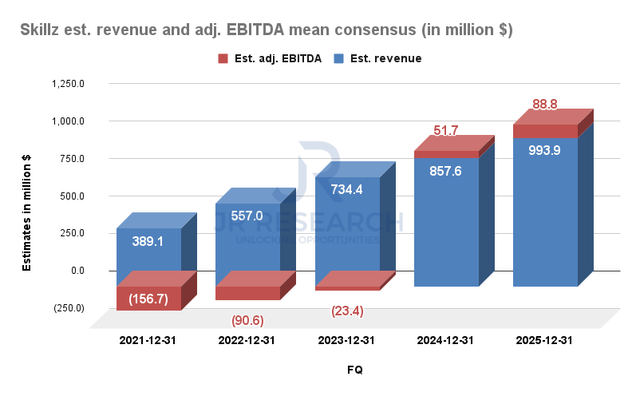 Skillz est. revenue and adj. EBITDA mean consensus. Data source: S&P Capital IQ
Therefore, readers and investors should temper their expectations about Skillz's profitability in the near term. While the company is expected to gain operating leverage subsequently, it would likely hinge on the success of Aarki's integration. Therefore, the route to profitability is fraught with a tremendous amount of uncertainty. Skillz has telegraphed that it expects to see meaningful optimization of UA spending when the integration is completed. We also covered it in our previous Skillz article. Therefore, investors will likely have to wait till the end of FY24 before they can expect adj. EBITDA profitability.
So, is SKLZ Stock a Buy Now?
SKLZ stock is trading at an EV/NTM Revenue of 7.73x. It has indeed fallen a long way from the high of 54.1x that it reached earlier in the year. However, it's still trading at a premium against its profitable peers. For instance, Electronic Arts (EA) stock is trading at an EV/NTM Revenue of 5.05x. Take-Two (TTWO) stock is also trading at 4.95x.
Moreover, Activision (ATVI) stock is trading at 5.36x. Hence, SKLZ stock is still trading at a significant premium, while revenue is estimated to grow at a CAGR of just 26.4% through FY25. Therefore, we continue to place SKLZ stock into the speculative category of gaming stocks.
Nevertheless, we remain bullish on SKLZ stock's speculative potential on its integration with Aarki. In addition, the company has also proven that its games remain popular with its users. But we will not be adding any more exposure and will gladly sit on this stock for years. We would like to remind readers who wish to add SKLZ stock to manage their capital allocation appropriately for a speculative play.
Consequently, we reiterate our Buy rating on SKLZ stock for speculative investors only.