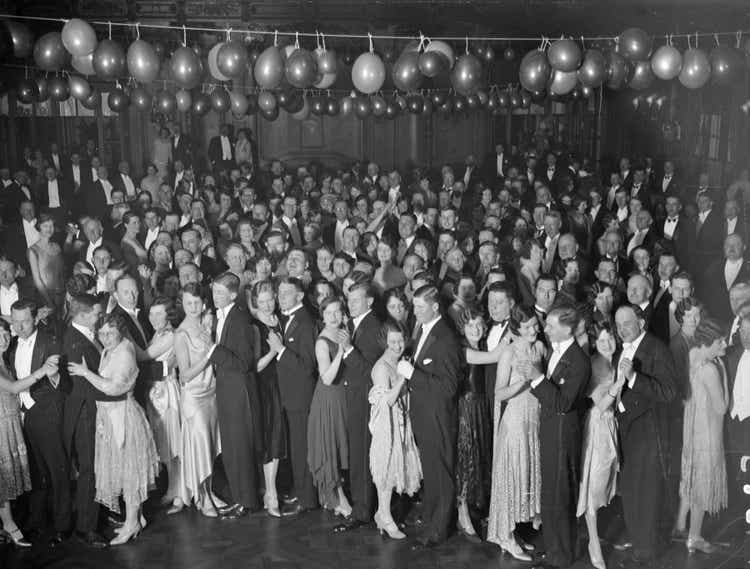 Dance While the Music is Playing But Keep One Eye on the Emergency Exit.
My loyal readers will remember my August 9 piece where I urged you to generate cash to prepare for the first significant sell-off since the beginning of the year. I said it was likely to be 3% to 5% and an outside chance for a 7% drop. In the eyes of history, this is not a significant drop at all. However, in the age of Powell's Fed, this is the best (or worst) we could do. Still, the high beta growth names that I generally focus on fell quite a bit more. I hope you all took advantage. We are likely to have much more volatility in 2022, so now is a good time to develop healthy trading habits. I say that further volatility is in our future because of the tapering, and I suspect that the market will always be weighing whether interest rates will be coming in the 2nd half of '22 or first half of '23. Remember the stock market is a discounting mechanism and it looks out 6 to 9 months out. The more volatility the less cash is trash and the more cash becomes "King" once again. As always, I am talking about trading, not long-term investing which should have a component of good dividend payers to generate income. If you are still building your long-term investing, you should not lump in all of your savings all at once. Drop in a certain amount every month, and add a bit more if the overall market is 10% below its ATH. You should not be holding cash in your long-term investment. Many investment advisers will tell you to hold a chunk of dollars in emergency cash. Enough with the PSA, and talk of 2022, let's talk about the more immediate future. Please start setting aside cash in earnest once again.
Beware, and Prepare for December
The bears are already hibernating, and the bulls are charging ahead. Right now, everyone is once again buying with both fists. This week I learned that pre-2019 independent investors were adding $5B per month, of late that number jumped 5-fold to $25B. This is not just about the new investor jumping in late. In fact, a lot of hedge fund pros who have been holding back looking for that 10% drop are now finding themselves behind the eight ball. They are now looking to be "all in" and looking to fluff up their sagging portfolios lest their investors pull out their investments. This is leading to what I consider risky emotional trading; for the professional who is paid by performance, he/she needs to get into "sure" things, and the retail investor is drawn to similar stocks because everyone is talking about them. This is why Tesla (TSLA) has jumped to 1200 per share on no fundamental news. This becomes what some people call panic buying at some point the hyperbolic lift as illustrated in the chart below.
We have had unremitting good news, most hyperbolic rises always start with rational justification and then the mechanics of the market and market psychology take over. The fact that the year is coming to a close is giving extra fuel to this rocketing market. The S&P 500 reaches ATH 6 days in a row, for instance, talk of it hitting 4900 by year-end is rife and predictions of the S&P 500 vaulting way over 5000 in 2022 are being bandied about. We've gotten past the fear of the Taper, which some hedge funds likely had gone to the short side and had to cover. The Taper starts now and likely finishes in July, the idea that interest rates are likely not starting in '22 has taken hold as well. This is making everyone brave and throwing caution to the wind. At some point even $25B in retail investor funds per month gets used up, once that happens, we will run out of buyers once again. We are already looking vulnerable with a near-vertical chart (see below), but I think we go even higher. This latest leg up started in the drop of September, once people realized that this was not "the end" they rushed back in, that is what the inverted "Head and Shoulders" formation in the chart tells us. Also, the VIX fell under 15 momentarily before moving back above 16. That will happen again as complacency sets in. In the chart below, I mention a "Blow off Top", this means that like Wile E. Coyote when he has run out of cliff and hasn't noticed it yet, the rally will climb ever sharper and immediately dive, having lost impetus already but for the last few unlucky souls who bought at the very tippy top.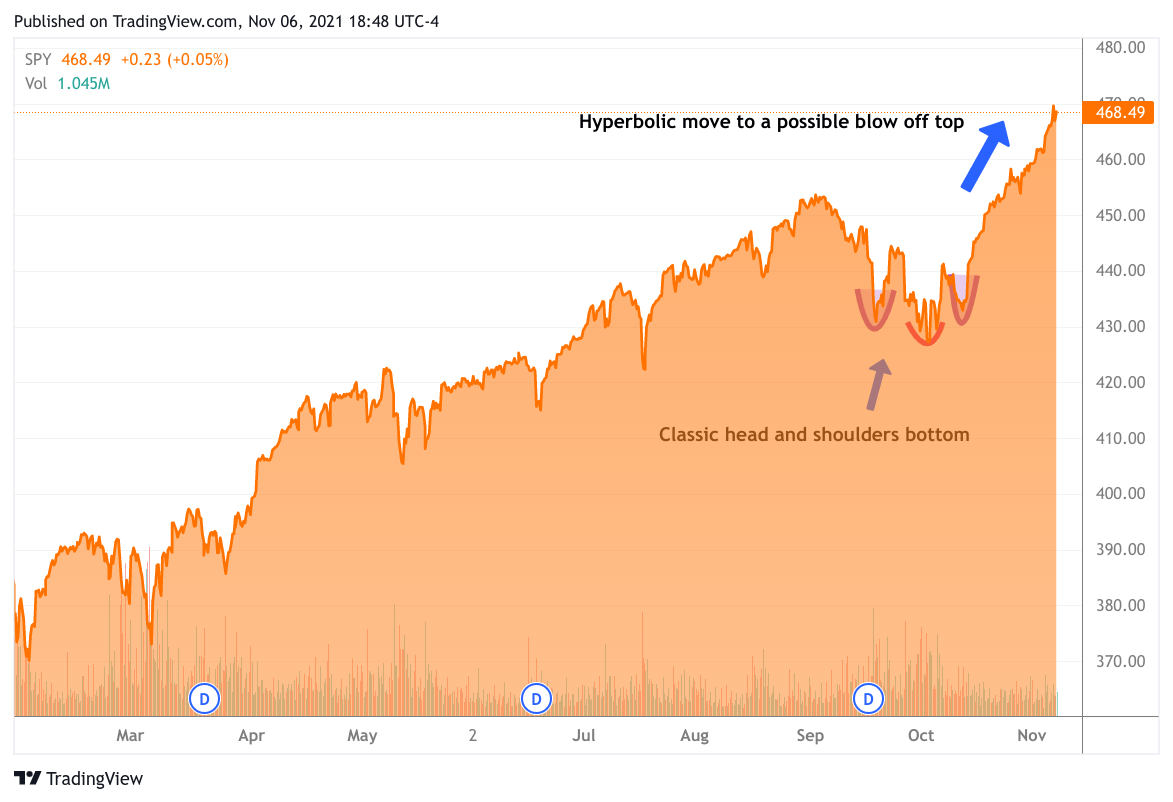 December 3rd the Chickens come home to roost…the Debt Ceiling and US funding run out.
One of the downsides of a near-vertical rally when everyone is looking at the brighter side of life, certain things hiding in plain sight are overlooked. Greed just like love can be blind, and so it is my duty to remind you to prepare for what is looking like another shock to the bulls. Namely, the Debt Ceiling combined this time with the US Government running out of money simultaneously.
Many die-hard Republicans were upset that Mitch McConnell let through the extension of the debt ceiling from October to December 3rd. McConnell wanted the Democrats to raise the debt ceiling on their own since they had this huge social spending bill that many on the other side of the aisle characterized as a Socialist Wish List. This time, McConnell will not be as accommodating, since he specifically said that he is giving them this extra time to raise the debt ceiling via reconciliation and without GOP votes. Of course, knowing how politics works is the strong suit of the Senator, he knew that nothing will be done and that the Democrats will try and blame the Republicans once again. The reason why McConnell will play hardball by forcing them to do reconciliation to raise the debt ceiling is that it will make it that much harder to push through the "Build Back Better" multi-trillion dollar package through a second reconciliation. This time the Dems will not have the high ground to blame the Senate GOP. Much wailing and gnashing of teeth will ensue with many commentators predicting dire economic ramifications. It doesn't matter if the GOP falls in line to raise the debt ceiling, the damage will have been done. The negative noise coming out of DC to what will be an extremely over-extended rally will cause another 5% to even perhaps 7% fall in the indexes.
Please redouble your efforts to build up a nice cash cushion in your trading account. Those who are comfortable with hedging should start this week. Now to end on a less gloomy note are some…
Random Notions from the Trading Trenches
Nextdoor (KIND), the neighborhood network, and Khosla Ventures Acquisition Co. II (KVSB) ("KVSB"), a SPAC sponsored by the great Vinod Khosla, this past Friday completed their previously announced transaction to take Nextdoor public. The combined company is expected to start trading this Monday under the new ticker "KIND" . I'm keeping an eye on this one, not sure I am going to get involved but the CEO is Sarah Friar, the former CFO of Square (SQ) who is very highly regarded on the street. So between Khosla and Friar, I think something good can come of the money that was raised.
Confluent (CFLT) up 20 points on earnings report...
Total revenue of $103 million, up 67% year over year
Confluent Cloud revenue of $27 million, up 245% year over year
Remaining performance obligations of $385 million, up 75% year over year
664 customers with $100,000 or greater in ARR, up 48% year over year
My Take: I have been active in CFLT since the IPO. As Cloud software for the enterprise becomes further adopted, the management of the flow of data from internal software and vendor software coordinating, reformatting, and filtering the raw data, all of that complexity and in many cases performing vital data processing in real-time, create demand for a product like Confluent, not only for its functionality but also the standardization of "language" of how to move that data around. It is based on the Apache Kafka, an open source standard which the founders created, Confluent sits on top of that. While some may consider this a disadvantage economically, I think it doesn't matter. In fact, by having the basic functionality open, Confluent's technology will be adopted that much faster. Is it no wonder that CFLT vaulted 20 points on its earnings report? This is a new name and a newish idea, so I suspect it will be volatile. As luck would have it, the IPO lockup expiration is THIS MONDAY. Who knows, it could give back most of the 20 points it gained. I hope so because I want to buy more at a discount.
Zillow (Z) (ZG) Drops iBuying of homes...and gets annihilated. The knee-jerk assumption is that instant buying of homes is an unworkable idea, a folly, an artifact of too much money, too much risk-taking, etc. I beg to differ. Zillow dropped iBuying because they blew the execution mostly and because they lacked the conviction to stay in the game. The stock price got trashed, it is now less than a third of the value of its ATH of $200+. iBuying is a very viable business, it has a built-in seasonal arbitrage and other natural characteristics that make it possible to turn a nice profit. Everyone is assuming it isn't because Zillow they got sloppy, actually they just gave up because they lost $400M. Instead of building the business gradually and getting efficient, and really training their AI algorithm for pricing offers properly. Instead, they thought they'd make up for poor execution by getting big really fast. They ended up with 7,000 homes and not enough personnel to clean up, freshen, and repair the homes for sale fast enough. So they had stagnant inventory with a huge carrying cost and no visibility on how long it will take to sell off those houses and perhaps be on the hook for billions. And as I said, they lost their nerve because they had their old asset-light businesses to fall back on. For Opendoor (OPEN) and Offerpad (OPAD), this is their entire business and nothing else to fall back on. The OPEN CEO was quoted as saying the whole process for flipping a house from iBuying must be in under 100 days. With that as his mantra, I am assuming that they won't go into a new market without having the manpower and operations to make that standard and generate a proper return..
With Zillow out of the iBuy home flipping business, OPEN has been running up this week. OPEN was up 5% Thursday before settling back. I bought 3 calls Tuesday and added another one Friday and am looking to add more.. I don't know enough about OPAD so I haven't entertained getting long, but I might take another look. You may be shocked to learn that I started buying Z on Friday too. I was lucky (or ingrained reflexes) to get out of Z at a bit over 102, and since my average price was 90, I actually made alpha. I am not bragging, but taking a moment to say that in trading it is not just about stock picking and riding on the price improvement, it is also about NOT losing money on stocks you are holding. It takes time and practice to know when to pull the ripcord, but first, you must know that this is an important skill to develop, as is overall risk management. Once Z was nearly cut in half, I want to start rebuilding my position, because it does have a great asset-light business that is still growing.
Insider buying: Arteris, Inc. (NASDAQ:AIP) Director Wayne C. Cantwell acquired a total of 47094 shares at an average price of $18.75.
May Take: It just IPO'ed last week at $14 per share. They create logic for SoCs -- System on a Chip. Many of these SoCs go into cars, so the IPO was timely. As an aside what this economy needs is more foundries, if not in the US then at least outside of Asia. This is not a jingoistic statement, as we have seen with Covid, it pays to have geographic diversity, and yeah I'd feel more comfortable to have our Intellectual Property far away from China.
Investment Bank upgrades..
BigCommerce (BIGC) was upgraded by analysts at Canaccord Genuity from a "hold" rating to a "buy" rating. Canaccord now has a $70.00 price target on the stock. This represents a 34.6% upside from the current price of $52.00. My Take: I was once very active in this name but it couldn't hold on to what now seems a quite lofty price. I once thought of it as a competition to Shopify (SHOP), after I dug into it, I realized that they were avoiding being compared to or competing with SHOP's offerings. I think this was a tactical error and stopped following it. The name came up recently and I was surprised at the positive mention, and here we are, an upgrade by a respectable house. I am going to take a second look.
Expedia (EXPE) had its price target raised by two banks Barclays and Credit Suisse to 205 and 210 respectively. I own several calls in EXPE, the stock was languishing under 160, and I couldn't believe that it remained so low in the face of what Dr. Scott Gottlieb characterized this week as the end of the Covid pandemic in the US. Also, international flights are being opened up, all kinds of travel and events are happening. So I bought more, and I rolled them out to February because I think EXPE has room to run, not only for booking flights but because it owns a very viable competitor to Airbnb (ABNB) in VRBO.
Earnings Reports: The names below are stocks that interest me. There are any number of earnings calendars out there for you to get the whole picture
Monday: Five9 (FIVN), RingCentral (RNG), PayPal (PYPL), Roblox (RBLX),The Trade Desk (TTD), Trex Company (TREX).
My Take for Monday: I got long FIVN a bit after the deal with Zoom (ZM) cratered. I believe it was unfairly punished and was trading below where it was before the merger announcement, so I bought. It did pop, and I sold the shares but bought Calls instead. FIVN has since fallen back, and I think should do well on the earnings report. Other names that I am in: PYPL, RBLX, I was in TTD, and the last one TREX is interesting for what they say about Housing, I also was once active in AZEK Company (AZEK), a competitor. I have a significant position in PYPL in shares and in Calls. I think that they have fallen because they didn't get into the BNPL space, or in Crypto. Again, I think the stock will do very well, even without an acquisition in BNPL -- Buy Now Pay Later. Yet, they could easily build BNPL functionality on top of Venmo on their own. I have a very small position in RBLX and whenever it falls into the 70s, I add a bit more. RBLX is a component of the "Metaverse" and I thank Zuck for promoting RBLX. TTD is interesting for what it says about advertising outside of the FANG Giants… (yes, Netflix does not have advertising, I am using the accepted acronym for obvious reasons).
Tuesday: Palantir (PLTR), RingCentral, Upstart (UPST), Unity (U).
My Take for Tuesday: I listed RNG because it is a competitor to FIVN so it will be interesting to compare. I don't think that FIVN is superior to RNG, just that the shares of FIVN were better priced due to extenuating circumstances. As for PLTR and UPST, I would be interested in their earnings even if I wasn't a long-term investor in the stocks. They both are AI-powered and already huge disruptors in their separate niches. I am hoping that UPST sells down a bit so I can buy more shares at a decent price, my current average price is $94, I can't bear to buy it above $300 a share now. This is still a new name with a lot of skepticism about the valuation, so I think it could fall significantly on the earnings. Remember that last report it had 1000% growth in revenue, perhaps this time it is "only" 500%? If this all sounds like wishful thinking, it is. I have been a believer in the potential of this name from the IPO on. I think there is plenty of growth in it, there has yet to be any kind of competition for it except conventional lenders who are stuck with FICO credit scoring. U is another "Metaverse" building block that I have a very tiny position in. I wish I had more, if it gets sold off significantly, I would buy more.
Wednesday: Affirm Holdings, Inc. (AFRM), AppLovin Co. (APP), GoodRx Holdings, Inc. (GDRX), ironSource Ltd. (IS), Opendoor, Royalty Pharma plc (RPRX), SoFi Technologies, Inc. (SOFI), The Walt Disney Company (DIS).
My Take for Wednesday: I am already in AFRM, OPEN, and SOFI as you might know. I have shares of IS and RPRX in my long-term investment account. I have a lot of healthcare names in it, because long-term healthcare will become ever larger in our economy, and if the Bernie bros don't ruin it, the USA will lead in healthcare technology for decades to come. That explains RPRX is an interesting software infrastructure company that Thoma Bravo took public in their SPAC, if it is good enough for Thoma Bravo, it is good enough for me. I understand that APP uses IS software as a base so it will be interesting to compare results. So that leaves DIS, but who isn't interested in Disney? I think that if it is punished further, it might make an interesting reopen play. Also, what they say is going on in their theme parks might sharpen my interest in other amusement park names.
Thursday: Coupang, Inc. (CPNG), NICE Ltd. (NICE), PagSeguro (PAGS), Tapestry, Inc. (TPR), Wix.com (WIX).
My Take for Thursday: I have a small position in CPNG as it has been described as the "Amazon (AMZN) of Korea". I was attracted to this name as well as a few others in Asia that are outside of China, specifically because they are "SuperApps" or have the potential to be, and cater to 100s of millions of potential customers around Asia. With China being imperialistic, anti-capitalism, and in my mind uninvestable, I thought investors might gravitate to companies that have adopted similar business strategies. I am generally very loyal to US-listed stocks, this is supposed to be a medium-term trade. Right now, it is truly a tiny position. I am waiting for a sign that this notion is about to catch on. So far it hasn't. NICE is in the no-code/low-code world and I am curious. TPR is interesting since Capri Holdings (CPRI) did so well. Right now, I am not in any retailers, though I think these 2 names have potential. WIX is interesting to me because I have been in Squarespace (SQSP), if WIX does well, I may look to get back into SQSP.
In Summary: Okay, that is plenty for you all to chew on. Good luck in trading this week. Remember to trim your winners AND losers; for each, sell the most expensive shares now with the hope you may buy them back lower if I am right about December 3rd. I would suggest having 15% to 25% cash as a goal by the end of November. If you do buy shares this week, make sure to use less funds than what you liberated to cash. Before you buy, ask yourself if this new stock is better than the stock you just sold. Likely it is not. Build Cash as the priority to the beginning of December. If I am wrong, there are always new opportunities to take advantage of.
Please Note: I try to limit my discussions about stocks to names that I am trading or thinking about trading. If I say "you" should do such and such, it was a typo. I really meant to describe how I would do something or am buying or selling a particular stock. If I declare I see that several stocks belong to a certain category, please don't take that as an endorsement to buy any of those names unless you do your own research. Please think twice before you buy a stock based on a tip without doing your own research as well. I am not a financial advisor, just a regular joe who trades stocks and chronicles why I do what I do.