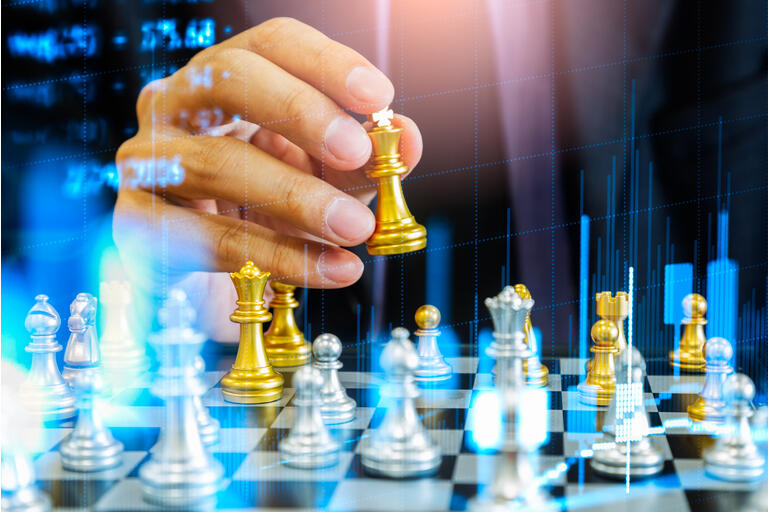 Introduction to Warren Buffett and Cathie Wood
We've heard about the clash of the Titans throughout time; Hamilton vs. Burr; Rocky vs. Apollo Creed; now Warren Buffett and Cathie Wood. Buffett and Wood are opposites when it comes to investing. But are they? Warren Buffett has been seen as a conservative, value investor – looking for underappreciated and underpriced stocks by some fundamental analysis. Buffett believes in investing for the long-term and investing in companies that he can reasonably estimate will make money over the next few years. However, he also takes on colossal concentration risk, as evident from the large 41% allocation to Apple (AAPL) as of June 2021.
Cathie Wood invests in innovative companies, seeking the latest, shiny new companies to hit it big. Considered a growth investor, Wood has taken the investment world by storm, investing in what many consider fun companies and is persuasive in her beliefs about her stock picks. However, she does not take on nearly the same concentration risk as Buffett. Her most significant position is Tesla (TSLA), at 10.7% as of September 2021. Which investment style is better for you?
Cathie Wood and ARK Innovation's Aim
Cathie Wood is an American investor and founder of ARK Invest, a $42B AUM firm focused on disruptive innovation investments with solid revenue growth rates. NYSEARCA:ARKK is an alternative to passive growth ETFs and invests in stocks with innovative business models. Many SA Authors have written about Cathie Wood and ARK Innovation. Recently, JR Research wrote an excellent article about the fund's recent history, down -1.77% YTD, and as of Sept 30, it is down over 11%. Over the last five years, the ETF has risen 535%. However, the thematic investment style also carries a fair dash of speculation on future earnings.
In many cases, the companies have no earnings (25 stocks in the portfolio have negative earnings, to be precise). In February of 2018, Wood garnered media attention after hinting on CNBC that she believed Tesla's stock could reach $4,000 in five years, a 1,100% price increase at the time; Tesla has yet to get $1,300/share, but to be fair there is still time. So what companies or stocks are considered disruptors?
1-Yr. ARKK AND BUFFETT PERFORMANCE: IS IT A ROTATION TO VALUE?

Source: Seeking Alpha Premium
5-Yr. ARKK AND BUFFETT PERFORMANCE: WAS IT A BULL MARKET ON STEROIDS?

Source: Seeking Alpha Premium
A Strategy Designed for Long-term Growth & Negative A Correlation to Value
Some of the largest businesses in the world are disruptors. They introduce innovative business models, change established industries - create something new. Disruption is a subcategory of thematic investing where you can gain exposure to these types of companies and themes. Let's observe Cathie Wood's and ARK Invest's holdings. ARKK has 50% of the portfolio in the following ten stocks.
ARK INNOVATION ETF: EXTRAORDINARY GROWTH GRADES, NOT PASSING ON VALUE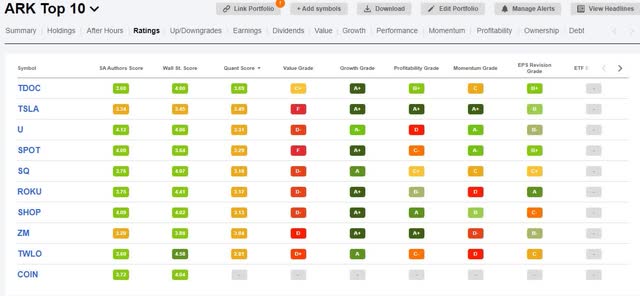 Source: Seeking Alpha Premium
When you look at the concentration of holdings like Tesla in Cathie Wood's portfolio compared to BRK.B, expectations are everything. Take a look at Tesla's market capitalization between the two. Tesla's market capitalization is $588B higher than Berkshire Hathaway's; Net Income (TTM) for TSLA is approximately $3.5B compared to BRK.B ~$106B.
TESLA VS BERKSHIRE MARKET CAPITALIZATION (10YR)

Source: Seeking Alpha Premium
ARK TOP 10 STOCKS PERFORMANCE THIS YEAR - NOT STELLAR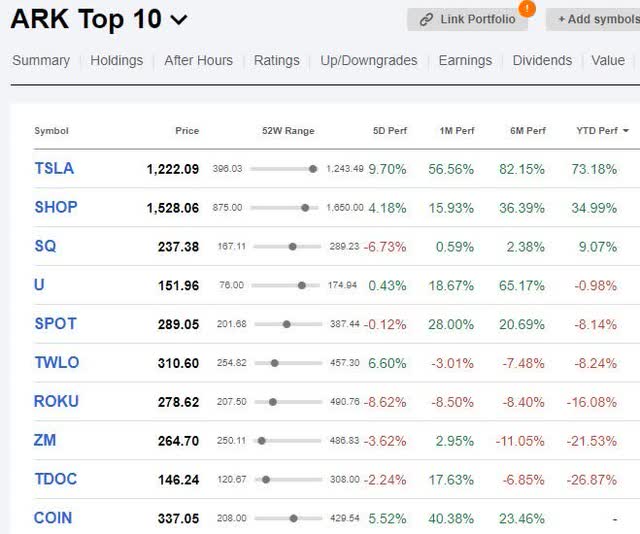 Source: Seeking Alpha Premium
Quantitative analysis is a process that uses mathematical and statistical modeling, measurement, and research to compare metrics of peer stocks. Factor Grades provide investors with an instant characterization of each stock based on the measurement of core investment characteristics and their underlying financial metrics. This makes it easy to compare stocks on different investment criteria. The table above shows that the ARKK ETF top 10 holdings strongly rate growth metrics with straight A grades across the board. However, the opposite is true on the measurement of value.
As we look at the stock picks and performance this year of ARKK ETF, it has been terrible. ARKK's top holdings include Tesla, Teladoc (TDOC), Roku (ROKU), Robinhood (HOOD), Zoom (ZM), and recently, a lot of flip-flopping on Zillow (Z) - Ouch! Of ARKK's top 20 holdings, 17 of them consistently lose money, yet people are still investing in them based on future growth potential; future growth potential is why people invest in ARKK, and we've identified four primary reasons below.
Exposure to Innovation: Aims for thematic multi-cap exposure to innovation across sectors that invest in rapidly moving themes.
Growth Potential: Aims to capture long-term growth with low correlation and relative returns to traditional growth strategies and negative correlation to value strategies.
Diversification Away From Conventional Indexes: Offers a tool for diversification due to little overlap with traditional indices. It can be a complement to conventional value/growth strategies.
Unique Research Style: Combines top-down and bottom-up research in its portfolio management to identify innovative companies and convergence across markets.
The underlying stock metrics are essential, which is why at Seeking Alpha, we cannot stress enough why it's vital to look at metrics like Valuation and Growth.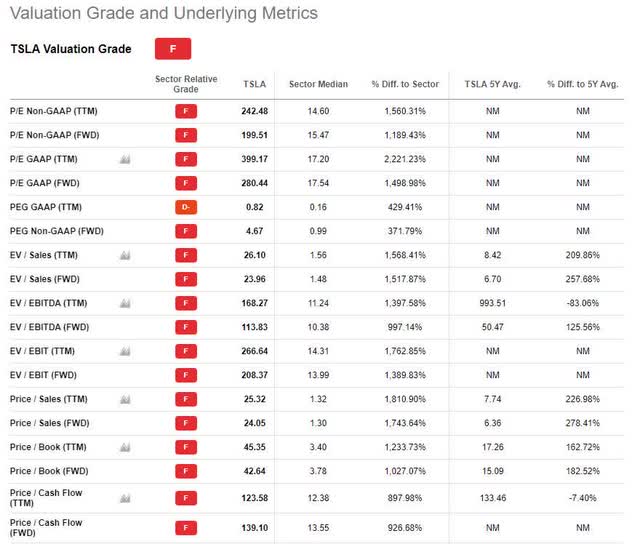 Source: Seeking Alpha Premium
Virtually every metric is significantly overvalued, especially regarding its relative sector. For instance, backward- and forward-looking PE/GAAP are at 2,221.23% and 1498.98%, more than the sector median - its current valuations are more than 2200x their competitors. Even valuation metrics such as EV/EBITDA are roughly 1000x more than the sector median, registering 113.83 vs. 10.38.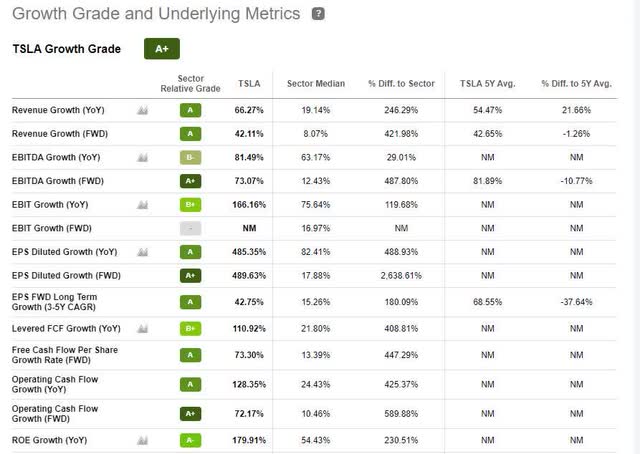 Source: Seeking Alpha Premium
On a Growth Grade, relative to the sector, TSLA looks attractive with an A+, as evidenced by the year-over-year and forward-looking Revenue Growth at 66.27% and 42.11%, respectively. Beyond pure top-line growth, Tesla is growing efficiently, with strong earnings growth (Forward EPS 489.63%), FWD free cash flow per share growth 73.30%, and ROE (FWD) 179.91%. The dichotomy between Valuation and Growth begs the question: Have traders gotten it wrong with how aggressively they've priced in forward growth expectations? Do the growth metrics accurately reflect Tesla's current price momentum, or have the valuation metrics painted an accurate picture with the F grade?
Teladoc Health, Inc. (TDOC)
With a C+ Grade and inability to generate a profit, Valuation for a company like Teladoc is challenging for analysts to project. Most valuation grades are unclear. One of the analysts' favorite valuation metrics is EV/EBITDA, and this one has an F. As one of the most complicated metrics to manipulate, backward-looking registers are irrelevant. Forward-looking is an F, which indicates that the stock is currently trading roughly 453.20% higher than the Sector Median.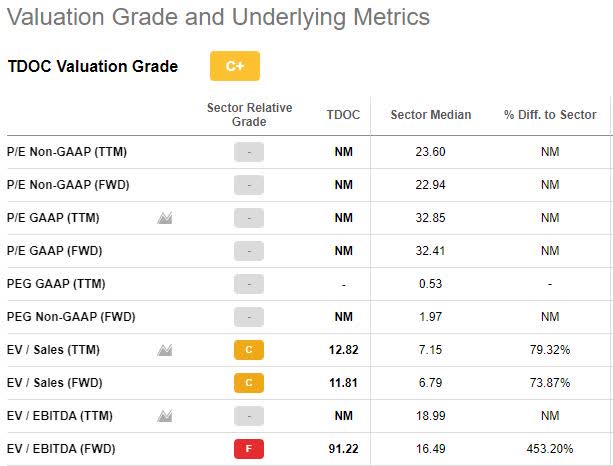 Source: Seeking Alpha Premium
TDOC Growth
Teladoc from a Growth Grade, Revenue YoY is A- at 114.71%, 566.04% above the sector median of 17.22%. They're multiplying. I would like this to a start-up Venture Capital clearly in high growth with an inability to generate profit, and this is right in line with the types of investments Wood seeks.

Source: Seeking Alpha Premium
Cathie Wood and ARK Invest have been at the center of media attention in 2021. Her disruptive style has hit a chord with novice and seasoned investors alike, with Reddit deeming her the 'Queen of Investing.' But, Wood has a rival in The Oracle of Omaha.
Warren Buffett and Berkshire Hathaway (NYSE:BRK.B)
Warren Buffett is a billionaire American investor and philanthropist, and CEO of Berkshire Hathaway. Revered as one of the most successful investors in history, Buffett owns outright an excess of 80 businesses, shares in big banks, and is of the Benjamin Graham school of value investing. While his value investing is debatable when assessing the valuation levels on some of his holdings, it fits the style of letting your winners ride. One of Buffett's first significant purchases, which he deemed was at an unjustifiable low, was Coca-Cola (KO) in 1987 following the Black Monday stock market crash. Buffett believes investors should buy great companies and hold for the long haul. With a B- Growth Grade, A- Valuation, and looking at the profitability of Berkshire Hathaway, it's evident that Buffett's methods work. There are many excellent SA articles on Berkshire Hathaway that describe his style. The most recent from Jim Sloan breaks down the business. In simple form, Jim highlights that Warren Buffett cautioned for decades that investors should not expect a similar performance in the future as Berkshire's increasing size bumps up against the difficulty of maintaining an annual percentage increase from a company with a market cap of $656 billion.
There is an aspect to the representation of Berkshire Hathaway that is paradoxical. The business description of Berkshire Hathaway Inc., through its subsidiaries, engages in various business activities, including insurance and reinsurance, freight rail transportation, utilities and energy, manufacturing, service, retailing, and finance. The fact is, over 40% of their portfolio comes from a single stock, Apple, in the IT sector.
Barbell Strategy: One Major IT Stock and Five Financial Stocks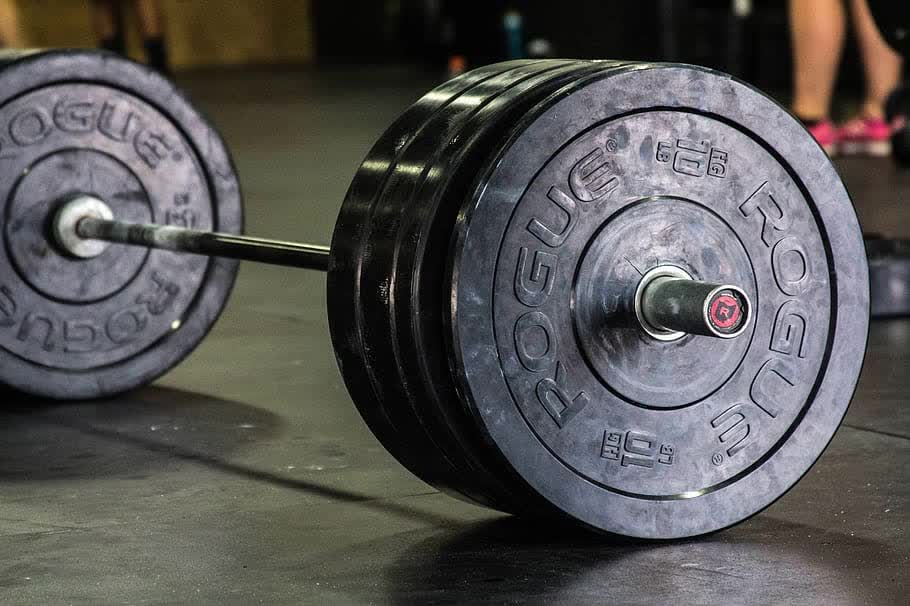 Source: Getty Images
As we evaluate the underlying holdings, there is more to the story than the sum of the parts. Notably, two of Buffett's holdings are 50% of his positions - a whopping 41% in Apple and a huge 14% in Bank of America. This is an enormous concentration risk compared to Wood's, with 50% of her capital spread over ten stocks. Additionally, five of Buffett's top ten holdings are in financial stocks - adding tremendous sector risk:
BRK.B: The sum of the Portfolio's Profitability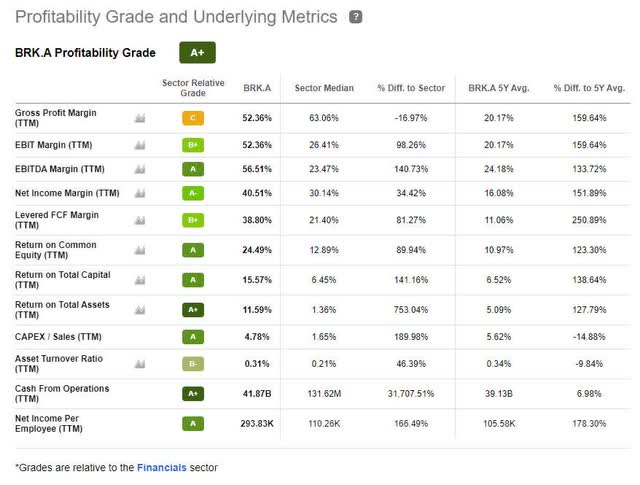 Source: Seeking Alpha Premium
BERKSHIRE HATHAWAY TOP 10 POSITIONS: GREAT PROFITABILITY, LACKING IN VALUE & GROWTH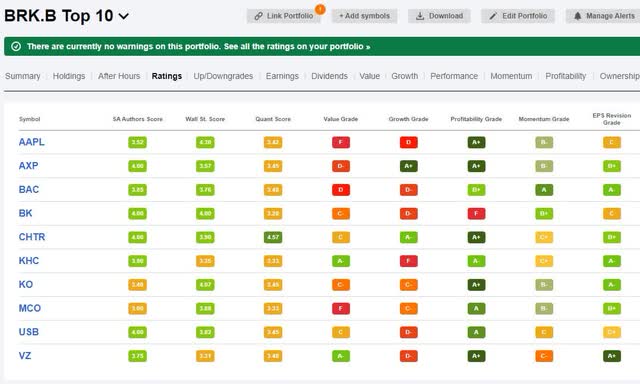 Source: Seeking Alpha Premium
BRK.B Growth
While it's a mixed bag, several metrics are negative and positive. Top-line revenue is disappointing relative to its peers with 5.10% vs. the sector median at 20.33%, and Buffett demonstrates the ability to operate efficiently and generate profits. Even their ROE Growth (YoY) has been superior to the sector, growing 754.19% more, where Berkshire struggles in the growth score.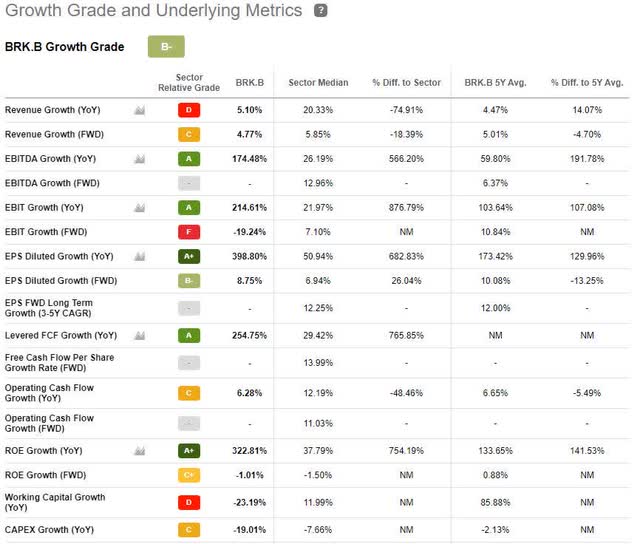 Source: Seeking Alpha Premium
BRK.B Valuation
Looking at the standard valuation metric P/E Non-GAAP (FWD), Berkshire would grade poorly, as evidenced by D-. This is why our Quant Model looks at a series of metrics to come to the valuation grades, which has resulted in an A- for the overall grade. While partially lowered due to the exorbitant amount of cash, BRK.B still boasts a solid EV/EBITDA (TTM) of A+, which is less than half of the sector median. While its trailing P/E GAAP is 0.02 A+ or 90% undervalued relative to its long-term growth expectations, one can't help but wonder whether Berkshire hoarded cash the last couple of years to the tune of $140B, resulting in better valuation and growth grades.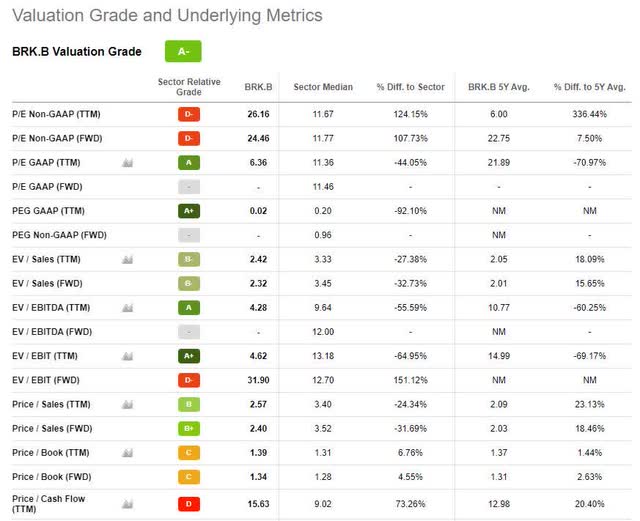 Source: Seeking Alpha Premium
BRK.B PERFORMANCE YTD: DRIVEN BY FIVE INFLATION-PROOF STOCKS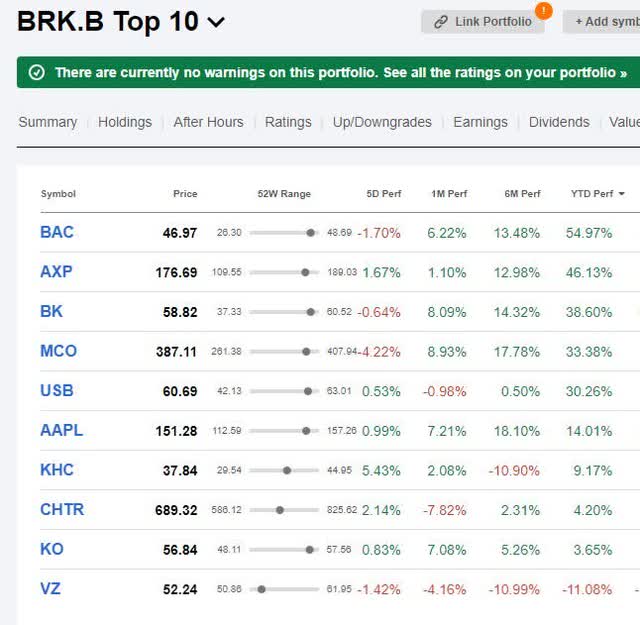 Source: Seeking Alpha Premium
Apple Valuation
While a COVID-darling and FAANG behemoth, it appears based upon these metrics that this apple is sour! It's hard to find any silver lining for AAPL when its highest valuation rating is a B- for both backward- and forward-looking P/E GAAP. It would appear that Apple is undervalued relative to the sector given its differentials of -17.66% P/E GAAP (TTM) and -12.11% P/E GAAP (FWD). When looking at the more preferred valuation metrics like EV/EBITDA or Price/Book and Price/Sales, Apple struggles.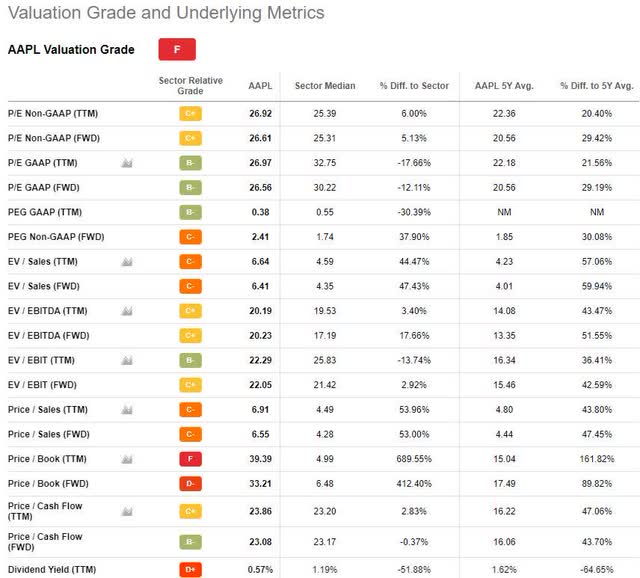 Source: Seeking Alpha Premium
Apple Growth
Apple is a company experiencing a potentially slower growth environment. With the likely peak in economic growth and significant supply chain disruptions to semiconductors and geopolitical risks in China, Apple faces substantial headwinds to achieving its previous evolution, as evidenced by many of our FWD metrics below and its D rating.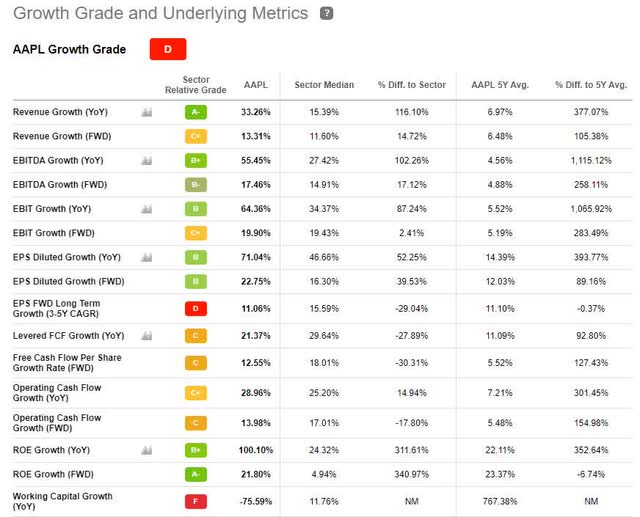 Source: Seeking Alpha Premium
Bank of America
Growth
BAC appears to face a tough road ahead with a D- rating, as nearly all of the forward-looking metrics are relatively bearish, as evidenced by the D+ EPS FWD Long Term Growth (3-5Y CAGR) with -37% than the sector median.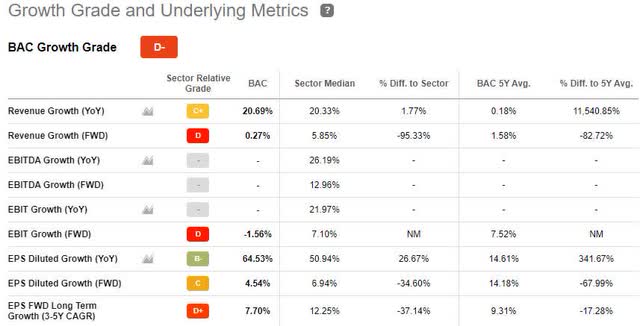 Source: Seeking Alpha Premium
Bank of America Valuation
Looking at the Valuation Grade for BAC, it's hard to find any green to take to this bank! While Bank of America's price has not struggled to keep pace with its peers from a price standpoint (rising 6% in the last two weeks), it has dealt with digital threats. Although it's done well in the area of digitization and its P/B (TTM) at 1.55 indicates room for expansion, as my fellow Seeking Alpha author The Value Pendulum notes, "BAC's key risks are slower-than-expected deposit growth, a larger-than-expected increase in non-interest expenses, a slower pace of share buybacks, a failure to execute well on digitalization efforts, and a valuation de-rating of the banking sector as a whole."

Source: Seeking Alpha Premium
Warren Buffett or Cathie Wood: Which Style Do You Like Best?
Both focus on picking winning investments and looking towards the future, and they also believe in concentrated positions. The differences lie within the fundamentals and whether or not the company has a proven track record. Buffett took a "gamble" on Coca-Cola in 1987 when he bought 23.35 million shares for $1.8 billion; KO was already established as a well-to-do company.
Wood's investment style can be likened to that of a venture capitalist (VC). She invests in new companies with high growth potential, and she's willing to take a hit in hopes that any loss will recover. But sometimes, she acts like a seasoned equity trader, cutting losses quickly, as we saw with Wood's recent purchase and sale of Zillow. Over the last year, Wood's investment methodology has seen excessive losses and few gains. But, over the long term, the gains are so significant that they tend to outweigh her losses, creating a perception that she's a superior stock picker than Buffett.
BRK.B VS ARKK 5YR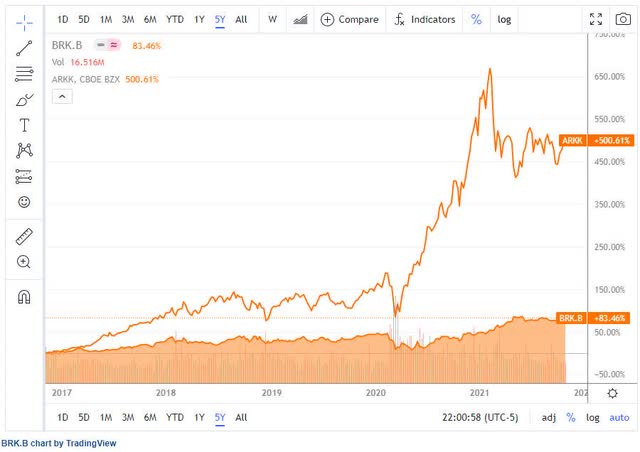 With Seeking Alpha, it's easy to stay informed about stocks of interest and receive alerts and news. Type the company's name or holdings into the portfolio tool to assess. We will use some of ARKK's holdings. Type or copy and paste the top 10 stocks listed below Holdings Breakdown to Create a Portfolio. Create several charts and gather the data for this article.
ARKK HOLDINGS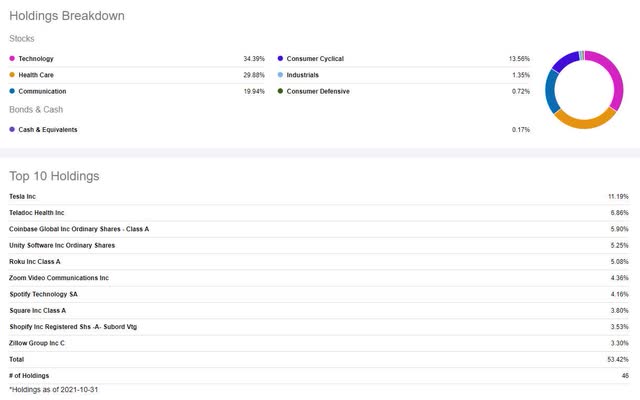 Source: Seeking Alpha Premium
How to Create a Portfolio
We want investors to rest easy and position themselves for a time horizon beyond a single trading day. Our Top Stocks By Quant screen shows stocks with excellent fundamentals and quantitative metrics. The screen is updated every day and is grounded in the recommendations of Seeking Alpha Quantitative metrics. Our Very Bullish Quant recommendations are up YTD 46.81% compared with the S&P 500, up 24.29%.

Source: Seeking Alpha Premium
When we look at the funds and stock picks of Warren Buffett and Cathie Wood, there appears to be a rotation from growth to value and vice versa for both investors. However, the Buffett style of investing seems to be working best long-term. Let us take a look at some of the stocks in both portfolios so that you can decide which method is right for you.
Conclusion: Apple vs. Tesla or Value vs. Disruption?
Are you buying companies because they are "cool" - perhaps misunderstood and advancing - or are you buying companies because they have an attractive valuation framework and are profitable? As we've looked at the way Buffett and Wood pursue investments, their styles are evident.
As Buffett says, "Only buy something that you'd be perfectly happy to hold if the market shut down for 5 years." While both investors look to the future, the companies they choose and the fundamentals behind them are different.
According to Wood, "People who want to succeed should think like a disrupter... That's going to become more and more true because so much is changing." It's vital to assess the type and amount of risk you are willing to take and whether the risk to reward is worthwhile.
In my opinion, investors can diversify their portfolios with both Berkshire Hathaway and ARK Innovation. BRK.B is not a conventional value investment, and ARKK is not a typical growth fund. They both have a low correlation to passive index products of that specific investment style.
Whether you're looking to discover new stocks, research your ideas, or manage your portfolio, Seeking Alpha has excellent tools. If you are looking for a quick and data-driven investment perspective, our Quant Ratings provide instant analysis on Stocks, Dividends, ETFs, or REITs. This makes it easy to find or rule out securities based on your investment criteria within a few seconds—the way we just did with Berkshire Hathaway and ARK Innovation ETF.
The Quant Ratings and Factor Grades provide a springboard for further investigation. You can quickly see where a stock is strong or weak, and with one click, you can view the underlying data and sector averages to perform your evaluation. Download our App to pick your favorite stocks, or create a Portfolio using our Seeking Alpha tools to screen for stocks with excellent fundamentals and quantitative metrics. Our Top Rated Stocks are validated by our very bullish ratings and vetted by quantitative and fundamental analysis. Our quantitative recommendations ensure that the information behind the rating is refreshed daily, and the fundamental analysis is the opinion of informed contributors and professional analysts.
If you haven't already upgraded to Seeking Alpha Premium, go here to start a 14-day free trial and start putting our Quant system to work for you.