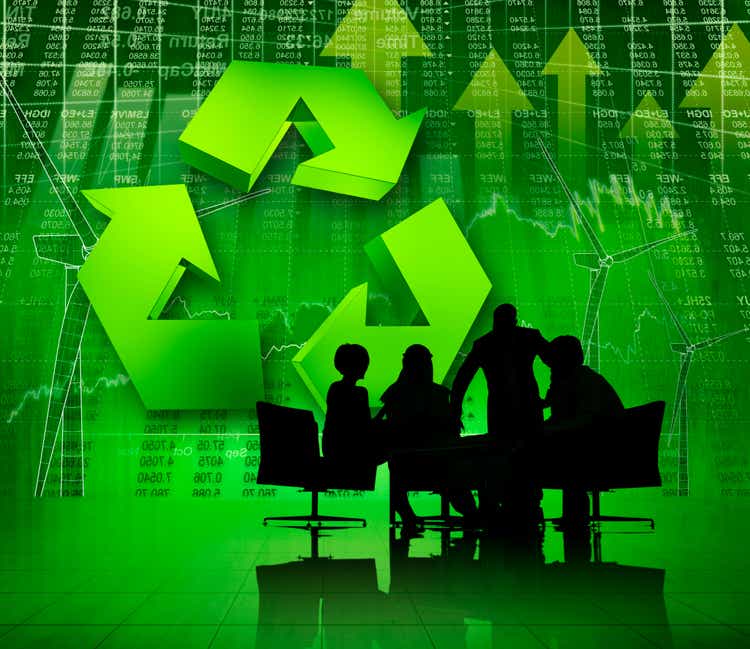 I purchased a decent-sized position (vs. my portfolio's net assets) last week in a sum of the parts idea, holding extensive cash/liquid assets. My investment process for finding the stock was the name first appeared in one of the more successful momentum sorts I have been running in 2021. The second step is I looked at the specific chart pattern the last six months, using as many as 12 different proprietary indicators I have invented over the years. Both of these steps pointed to a strong buy proposition, without even looking at the fundamentals, the third step.
I have been a follower of Courage & Conviction Investing on Seeking Alpha for many years. This writer does terrific fundamental research on smaller cap choices and has a very successful track record. So, when I figured out Advanced Emissions Solutions (NASDAQ:ADES) is one of his top holdings and heavily recommended in a number of articles this year, I started buying shares a few hours later.
The Business
Advanced Emissions' main business is to sell powder-activated carbon and ADA-ES to clean pollution at coal power plants. Other important businesses include water cleaning solutions for municipalities and land reclamation projects. The company's full range of products remove heavy metal pollutants, treat drinking and waste waters, remove industrial acid gas and odor, control automotive gasoline emissions, help with soil and ground water remediation, plus purify food and beverage manufacturing processes.
The company is smaller, with an equity market capitalization of $130 million at $7 per share, 136 employees, $78 million in trailing 12-month revenue and $35 million in reported net income. ADES held $76 million in cash and current assets vs. just $42 million in total liabilities, including $3 million in debt at the end of June. A strategic review of the business is underway, that may include selling its primary Red River asset, held on its books at a cost well under its liquidation value.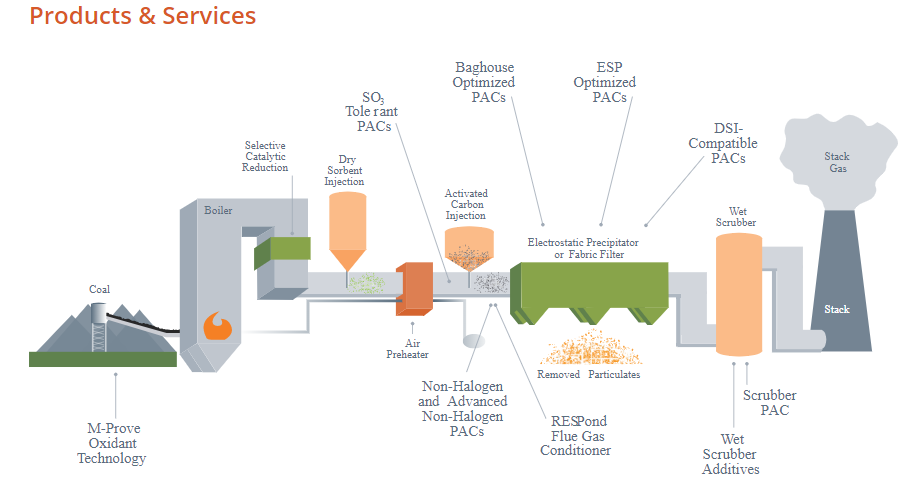 Image Source: Company Website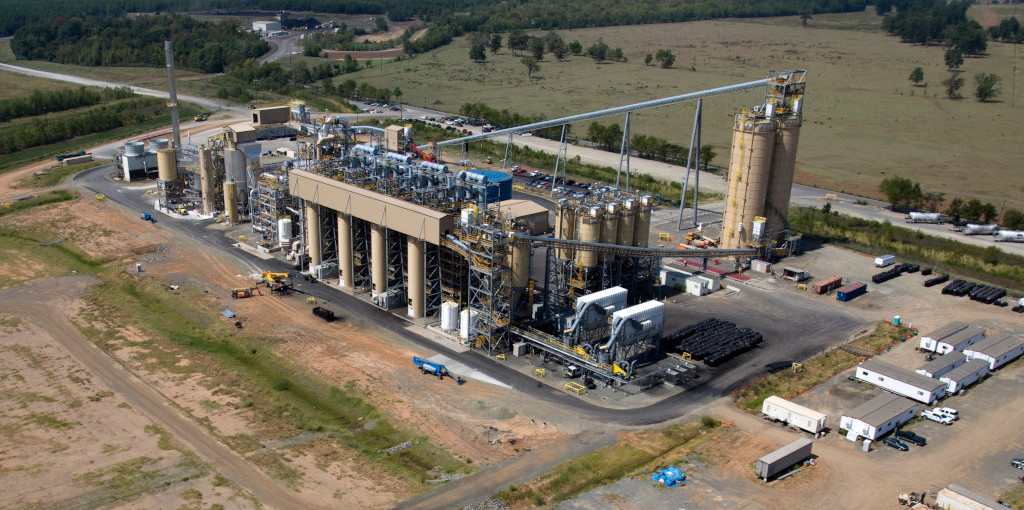 Image Source: Red River Facility
Fundamental Analysis
Below is a review of the underlying value of ADES estimated by Courage & Conviction's September article,
We have a company that should have roughly $4.50 to $5 per share in yearend cash and owns a valuable Red River plant. As I noted, this plant costs $400 million to build and ADES bought it, for a fire sale price, back in December 2018, when it was thought to be losing roughly $15 million per year in cash flow. Fast forward to today and capacity utilization is much healthier, ADES has the 15-year Cabot deal, and non-coal fired generation mix (end demand) is close to 50% of revenue (and climbing). If Red River sells for $150 million, then this translates into an incremental $7.89 per share. If you want to be super conservative and say Red River is only worth $100 million (that is still $5.25 per share). So, in the event of a sale, we are talking about $9.75 to $12.50-ish per share, depending on your assumptions.
Another good review of the moving parts and operating business direction was outlined in the June Earnings Presentation below.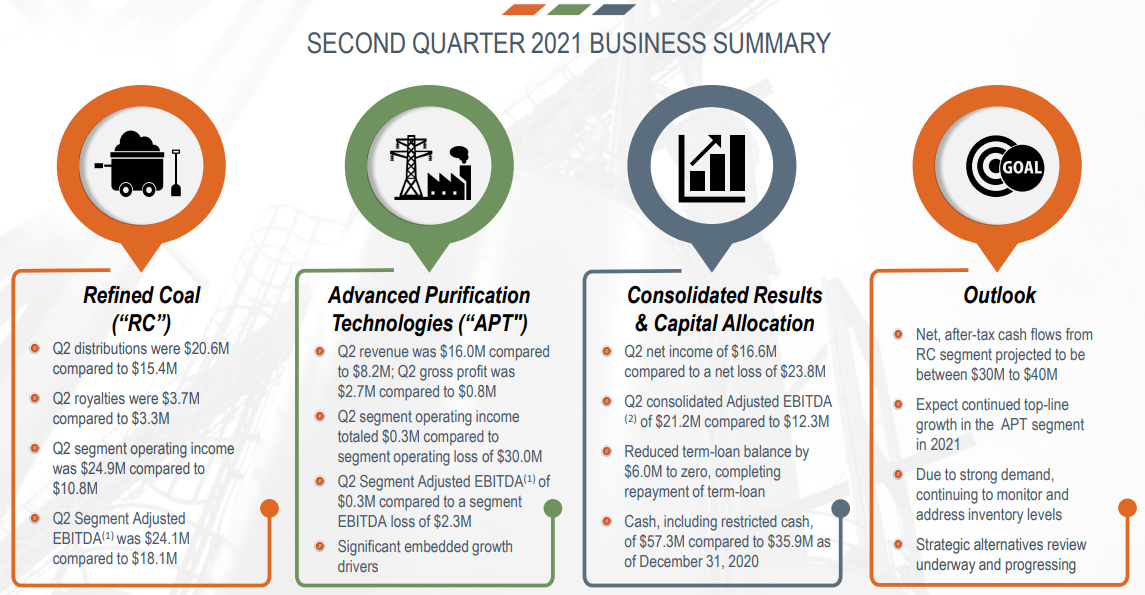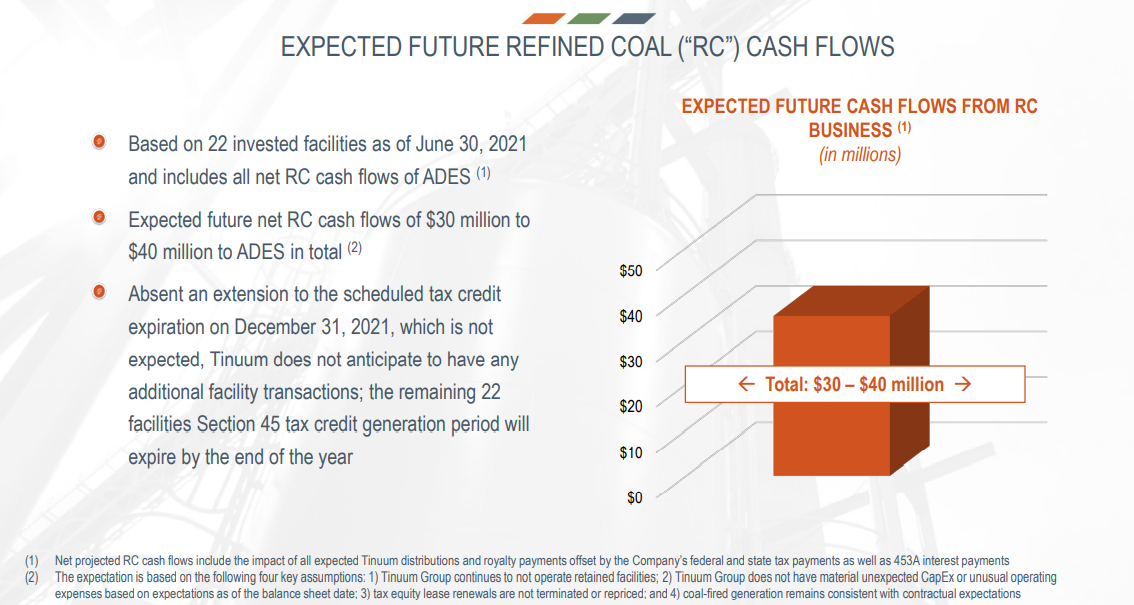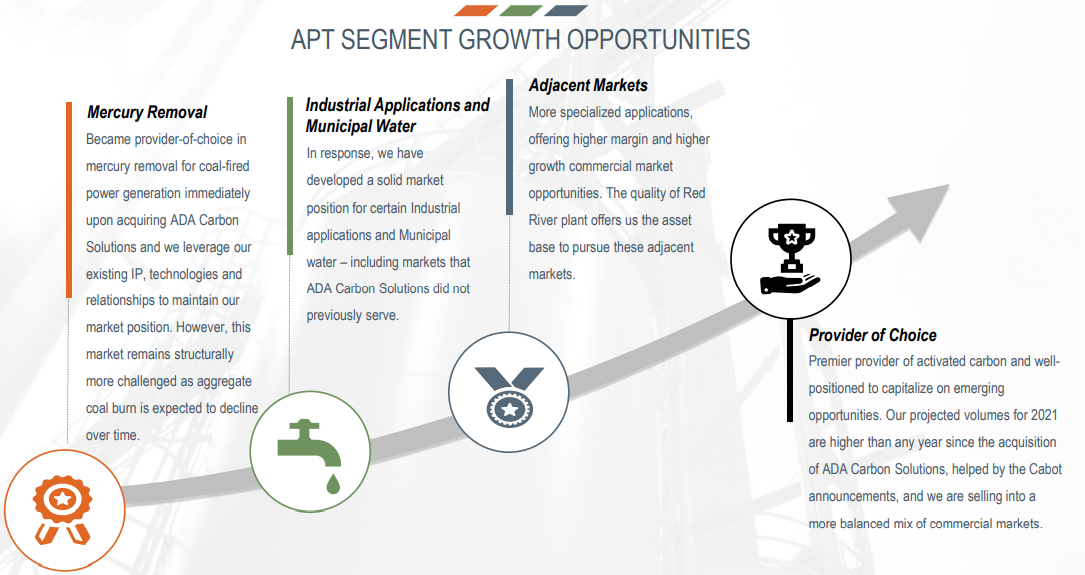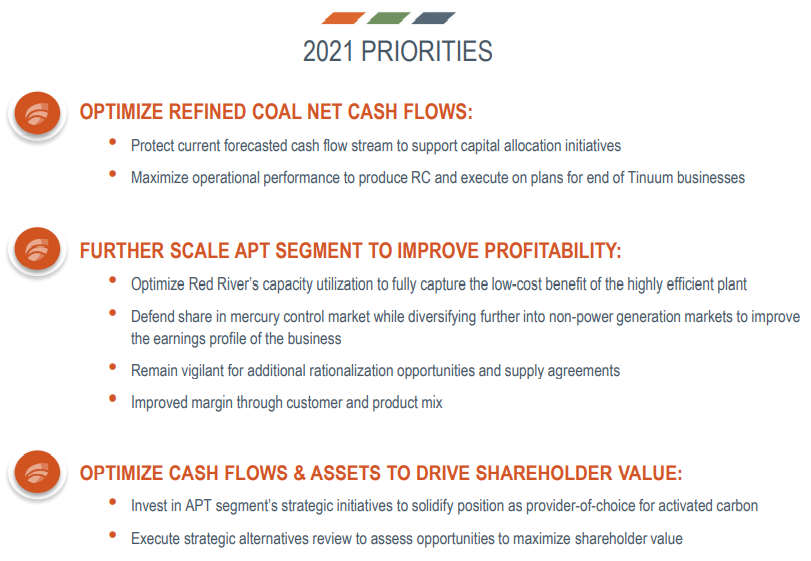 Image Source: June Q2 Presentation
Technical Momentum Building
Again, the excitement for owning ADES right now is a chart pattern that appears ready for much higher pricing. A consolidation phase since June looks to be finished. The stock has just recaptured its 50-day moving average and is trending well above its rising 200-day moving average.
Over the last 6-month and 1-year periods, ADES has outperformed both the S&P 500 and Russell 2000 indexes. The Accumulation/Distribution Line and On Balance Volume indicators are both super bullish the last 12 months, drawn below. Plus, a slew of other proprietary indicators not pictured are in a buy zone. If positive news from operating results or a Red River asset sale announcement is coming, I don't know where selling volumes will come from. To me, it looks like the upside is wide open for a significant price advance.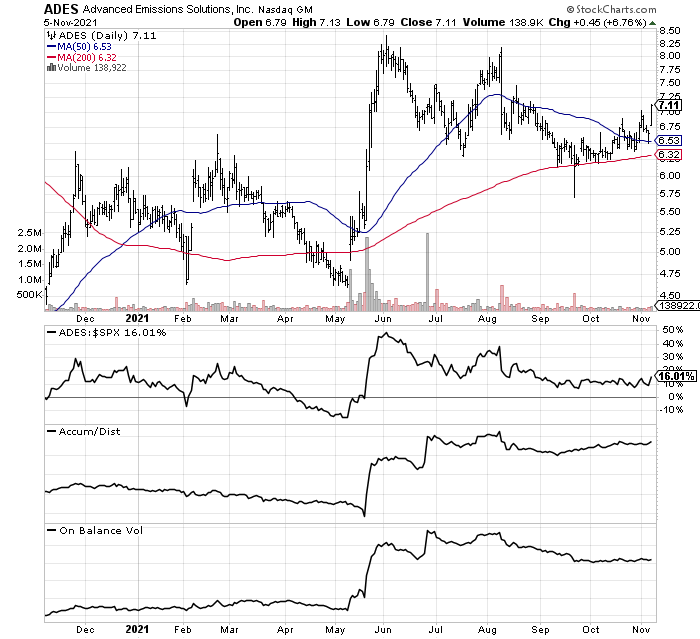 Final Thoughts
Using a combination of Courage & Conviction's workout numbers and my research, ADES could easily be selling for $10-12 a share between March-June next year on the sale announcement of its Red River asset. This target price zone could be backed almost entirely by cash, and a remaining business with few liabilities valued at next to zero.
Considering how overvalued Wall Street in general has become during late 2021, owning a business with plenty of cash on hand and a plan to sell assets sounds like a far more constructive and intelligent investment approach compared to the majority of alternative equity setups. For example, if the U.S. stock market crashes 40-50% the next 6-12 months from a slowing economy and rising interest rates to match inflation (which it could), finding a buyer for Red River may still translate into a +50% to +100% quote jump in ADES.
What could go wrong? Outside of a normal 10-20% correction, three main risks exist. Perhaps no serious buyers can be found for Red River, coal prices collapse and the whole industry (ADES customer base) shuts down overnight, or management goes on an aggressive acquisition spree. If the company spends its cash and adds significant debt to purchase similar pollution-control businesses, ADES could get stuck in the mud and/or decline in price.
The strategy I have employed in the shares is buying a stake with a number of orders between $6.52 and $6.80 last week, while selling out-of-the-money covered calls on a portion of the position to hedge some downside. As with other smaller- to micro-cap names I have mentioned in the past, expect greater volatility in Advanced Emissions Solutions than a regular blue-chip selection. If you do not sell covered calls, please consider placing a stop-sell order at a price 15-25% lower than your purchase cost, depending on the risk level you want to take.
Thanks for reading. Please consider this article a first step in your due diligence process. Consulting with a registered and experienced investment advisor is recommended before making any trade.