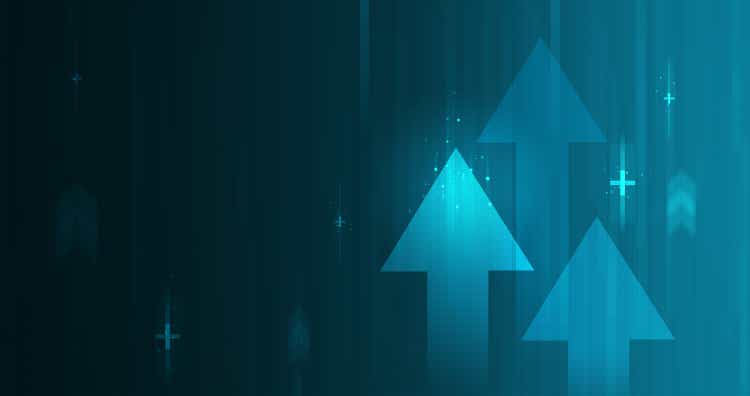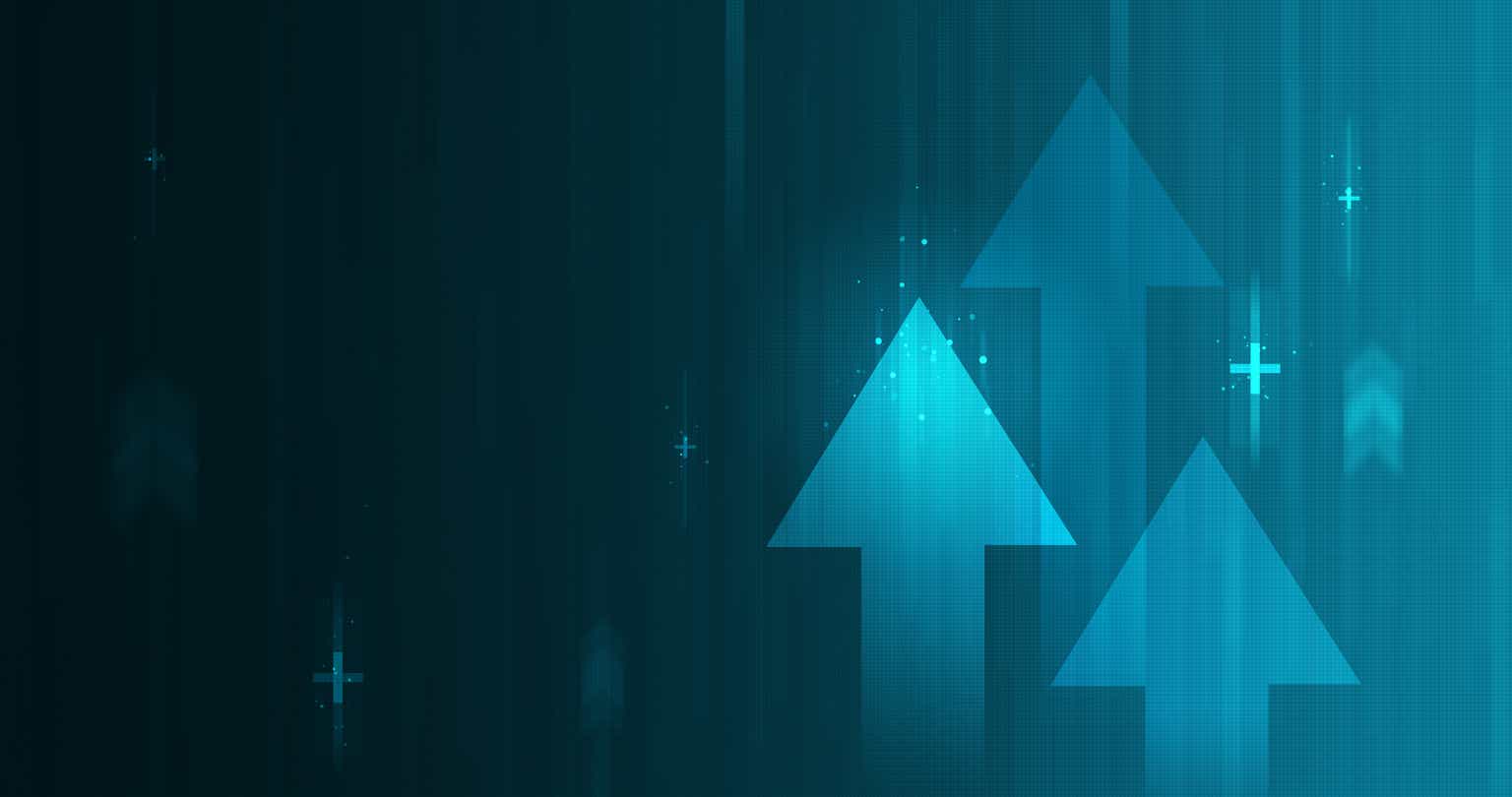 Written by Nick Ackerman, co-produced by Stanford Chemist
Cohen & Steers Tax-Advantaged Preferred Securities & Income Fund (NYSE:PTA) is coming to the close of its first year of existence. With that, it now seems appropriate to take a dive back into this fund to see how it has done. Additionally, the fund's discount has been increasing lately as the NAV rises and the share price declines. That's precisely what we want to see as closed-end fund investors for picking up shares.
The fund is offered by Cohen & Steers, a well-respected fund sponsor. Though they also aren't flawless. Some investors will recall Cohen & Steers MLP Income and Energy Opportunity Fund (MIE). They liquidated that fund earlier in 2021. Otherwise, they have a reasonably attractive track record.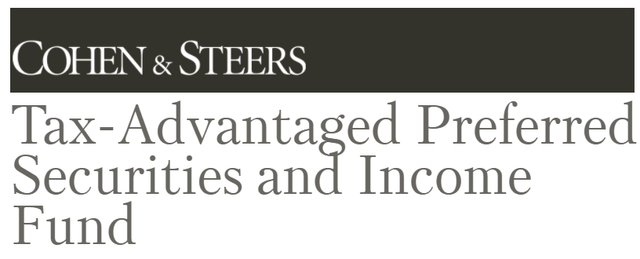 (Source)
The Basics
1-Year Z-score: N/A
Discount: 4.12%
Distribution Yield: 6.26%
Expense Ratio: 1.59%
Leverage: 32.38%
The fund's investment objective is quite simple; "high current income." They also have a secondary objective that is similarly as simple; "capital appreciation."
To achieve this, they will invest "at least 80% of its managed assets in a portfolio of preferred and other income securities issued by U.S. and non-U.S. companies, which may be either exchange-traded or available over-the-counter." They also will "seek to achieve favorable after-tax returns for its shareholders by seeking to minimize the U.S. federal income tax consequences on income generated by the Fund."
This can be quite appealing for investors who want to add to their taxable portfolio. Since preferred dividends generally are considered qualified dividends, this is easier for them to achieve their tax-friendly target.
In 2020, 100% of their distribution was considered qualified dividend income. The big caveat here is that it was a grand total of $0.13 paid out in 2020. Until this year closes out, we won't know the final tax character. However, I would have to assume that a reasonably large part will be considered qualified income.

(Source - C&S Tax Breakdown)
The fund is a significant size with around $2.1 billion in total managed assets at the end of September 30th, 2021. The fund utilizes a fairly aggressive amount of leverage, which is worth noting. However, the fund would still be sizeable without this. The leverage ratio came to 32.38%.
Preferred funds can carry higher leverage without being too detrimental, as they are typically a relatively more stable investment - most of the time. Still, they are not immune during times of panic, and that is precisely what we saw with other preferred funds during 2020.
The expense ratio for this fund is 1.59%. When including leverage expense, it comes to 1.94%. This is on the higher side if we compare it to Flaherty & Crumrine's preferred funds. Arguably, F&C is the top fund sponsor in the preferred space.
Flaherty & Crumrine Preferred and Income Opportunity Fund (PFO) has an expense ratio of 1.29% (including interest expense, it comes to 2.09%) even though it is significantly smaller. Then they have the Flaherty & Crumrine Preferred and Income Securities Fund (FFC). That expense ratio comes to an incredibly low 0.86%.
This is something to keep an eye on. At the same time, with those funds trading at premium levels, PTA still could offer a compelling opportunity.
Performance - Lagging Peers On A YTD Basis
To compare the fund to its similar peers PFO and FFC, we can take a look at the YTD performance. We are using YTD performance because PTA launched on October 28th, 2020. It would have likely taken them several months to get the portfolio up and running. Therefore, a YTD comparison could be more appropriate.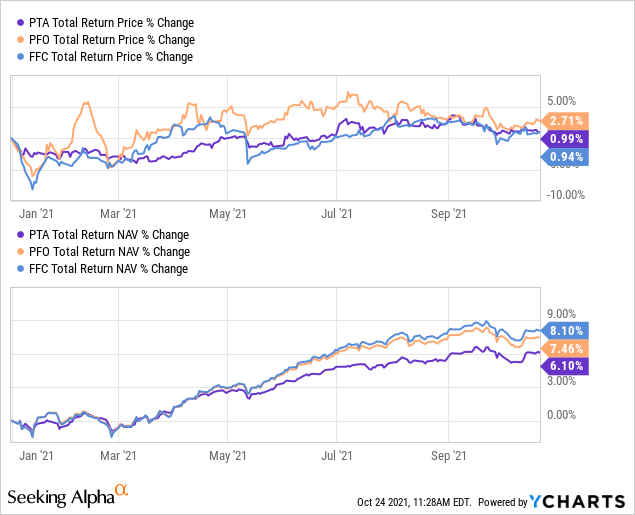 What is interesting to note here is that PTA was performing similar to PFO and FFC. Shortly after May, the other funds began to pull away, which is visibly apparent on a total NAV return. Of course, the NAV return is the primary importance here when comparing funds. At the same time, the fund's total share price return has still been somewhat similar.
Over the longer term, I'd like to think that PTA's NAV can return a similar figure that the F&C funds have been able to. If that is the case, then PTA is looking like the better buy at this time. This would be due to sporting the better valuation measured by discount to NAV.
As we can see below, PTA swiftly went to a discount after being launched. That is fairly standard for a CEF. PFO and FFC remain at some high premium levels, but they too have reduced from what they were trading at previously.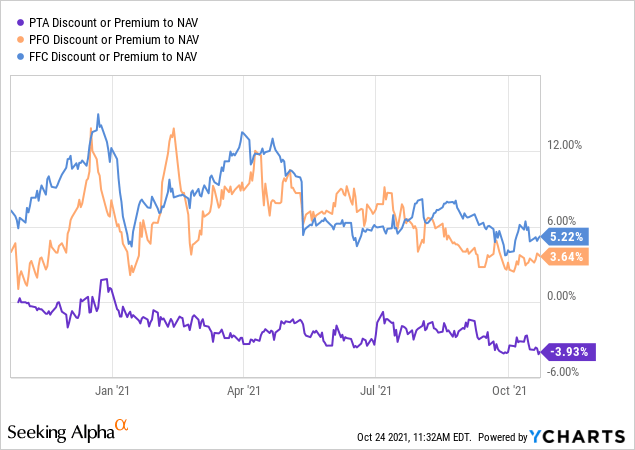 This discount for PTA didn't just open up with the fact that the fund's share price has declined. Instead, another attributing factor is the NAV's nearly $1 rise since launch. The current share price as of typing of $24.91 is still right at about the inception price of $25.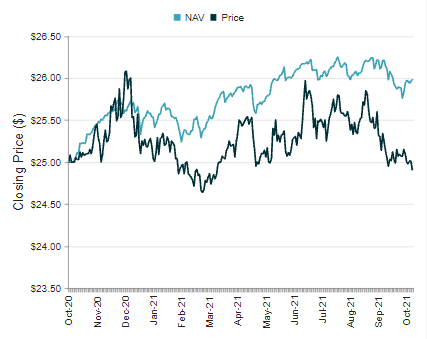 (Source - CEFConnect)
F&C continues to show they are the dominant force in the preferred space. So I'm not saying sell any of their funds. The argument I'm trying to make is that PTA has some merits at this time too. I own PFO and plan to continue to do so; I feel that PTA offers a more compelling value to add to at this time. With these results, we obviously know that they are offering different exposure. That can add further diversification to an investor's portfolio.
In terms of the benchmarks that they are selecting, the fund is showing an outperformance on a NAV basis.

(Source - Fact Sheet)
Distribution - NII Coverage Is Light, But Should Increase
The fund last posted its Semi-Annual Report for the six months ended April 30th, 2021. With that, the net investment income [NII] was likely low due to not ramping up their portfolio. Additionally, as dividends get paid out from the underlying portfolio, they may not have lined up with their reporting period. Thus, the low NII coverage at this time isn't too much of a concern yet.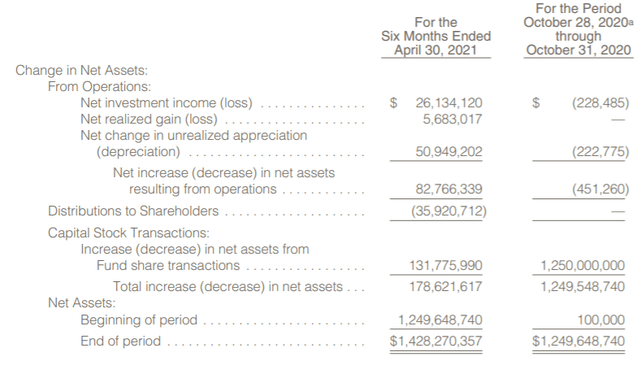 (Source - Semi-Annual Report)
What I'm more interested in is when we get the full Annual Report. That should provide better clues as to the coverage of the fund. Again though, if it comes in light, it won't be too detrimental as it will reflect the first couple of months it had existed while it was establishing its portfolio.
Ideally, we would eventually want to see this come to 100% to cover the entire distribution. Since this year seemed to show a continued rebound in the preferred space, the realized gains and unrealized appreciation contributed to the fund's increase in NAV regardless.
The current distribution yield works out to an attractive 6.26%, on a NAV basis, a reasonable 6%. They launched with a $0.13 monthly payout and have continued to maintain that same rate.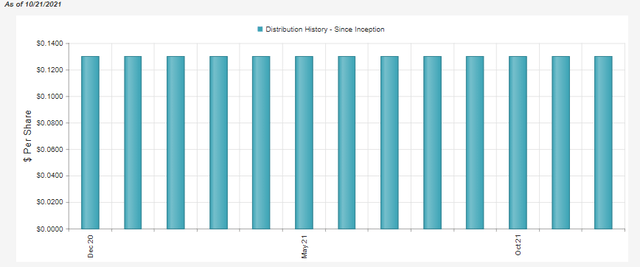 (Source - CEFConnect)
PTA's Portfolio
As we explored the fund last time, the portfolio represents significant financial and insurance exposure. This is common for preferred funds as financials are the largest issuer of these security types. The reason for this is that it helps these companies meet their capital requirements. Preferred stock is tier 1 capital that helps support their liabilities. So while it might be a bit more expensive for them to issue, it allows them more flexibility in other areas of debt.
At the end of September 30th, 2021, the breakdown was almost identical to the previous exposure.

(Source - Fact Sheet)
We also touched on the fact that a lot of their portfolio is in positions that are fixed-to-floating. This can be a positive as interest rates are set to rise within the next year or two. That means they shouldn't be impacted as much by these changes.
At the same time, they have 85% of their leverage in fixed-rate financing for a weighted average term of five years at the end of April 30th, 2021. Their weighted average rate on the fixed financing came to 1.2%. Higher than some other funds at this time but won't be as impacted when rates rise.

(Source - Semi-Annual Report)
This leaves them in a position to potentially put off the negative impacts of interest rate increases while they can participate in the positives. In comparison to the F&C funds, they also enjoy a significant amount of exposure to fixed-to-floating rates. However, their borrowings are primarily tied to LIBOR at a spread of one-month LIBOR plus 0.80%.
Taking a look at the fund's top ten positions, we can see that they comprise a total of 15% of the portfolio. This leaves the fund with plenty of positions that help diversify it away from individual security risk.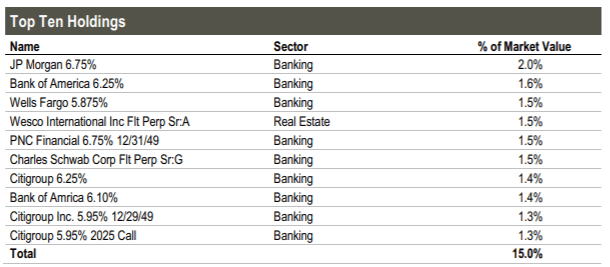 (Source - Fact Sheet)
The portfolio last reported a turnover of 30%. Though it seems that this might have been even lower over the last months than it was for those previously reported. For the top 10, there is only one position that has changed. There is now a Citigroup (C) 5.95% 2025 position. This had replaced Morgan Stanley (MS) 6.875% Preferred F holding.
The JPMorgan (JPM.PK) holding here might be the largest, but the portfolio also contains other preferred issued by JPM. There are these two fixed-rate preferred positions.

(Source - Semi-Annual Report)
Then there are other JPM positions that are the fixed-to-floating type. That also includes the most significant position in PTA's portfolio.
(Source - Semi-Annual Report)
As we can see, these remain fixed until 2023 and 2024. That does mean that there is exposure here that won't be able to take advantage of those higher rates right away. However, we are still looking at some fairly substantially attractive yields. All six of these positions are perpetual securities with no stated maturity.
Interestingly enough, Bank of America (BAC) is also well represented with six different positions in the fund. Two that are fixed-rate, then four that are fixed-to-floating. They additionally are perpetual securities without a maturity date.

(Source - Semi-Annual Report)
One of the reasons that turnover should remain low for PTA, at least during this time, is because they wouldn't be able to generate long-term capital gains. In order to get LTCG, the fund has to be around for a year or more. Therefore, if they realize profits at this time in a meaningful manner, it could potentially increase "ordinary income" tax rate exposure. Crossing over the 1-year mark could change this. However, preferred funds don't generally have a high turnover rate, regardless.
Conclusion
PTA can help diversify an investor's preferred exposure that they might already have. However, it seems that Flaherty & Crumrine continue to remain the dominant name in the space. Given the current differences in valuations, I'd still have to lean towards adding to PTA over an F&C fund at this time.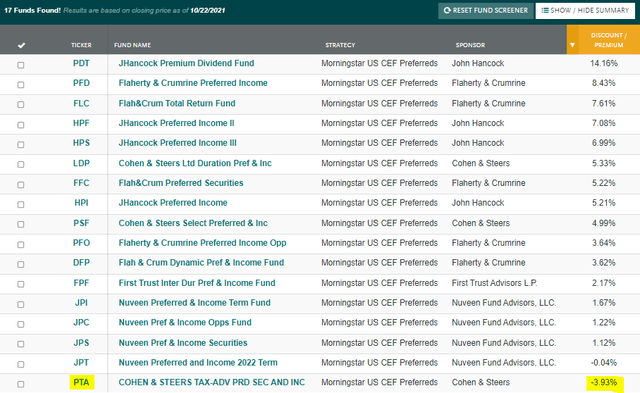 (Source - CEFConnect, as of 10/24/2021)
The fund is a strong offering from the Cohen & Steers group. They have a good track record and, for the most part, are a respected brand. This has translated into PTA having an impressive first year of results thus far. Though it might be too soon for some investors to jump in, I believe that the discount is opening up an attractive opportunity. This discount has come on the back of NAV rising and the share price's decline. That is exactly what we want to see in the CEF space when considering additions to our portfolio.