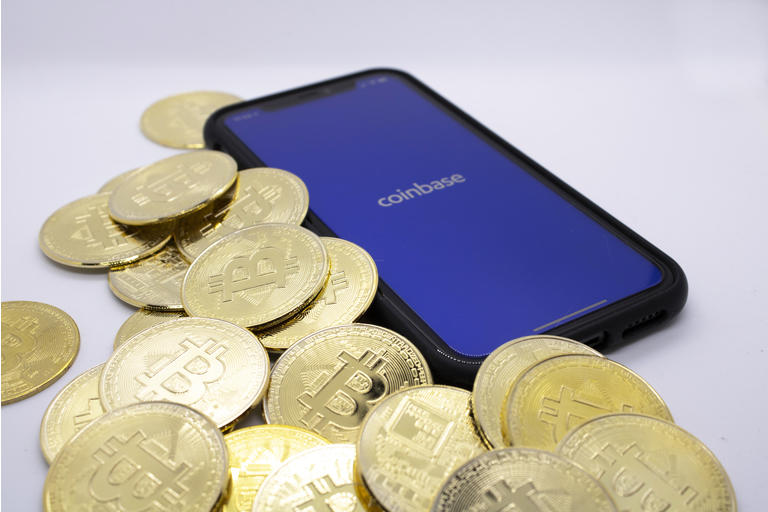 As we detailed in our recent piece Forget Bitcoin: 3 Reasons To Buy Coinbase Instead After Q2 Results, Coinbase (NASDAQ:COIN) reported strong Q2 results which laid the groundwork for the stock to take off like a rocket along with the Bitcoin (BTC-USD) price in recent weeks: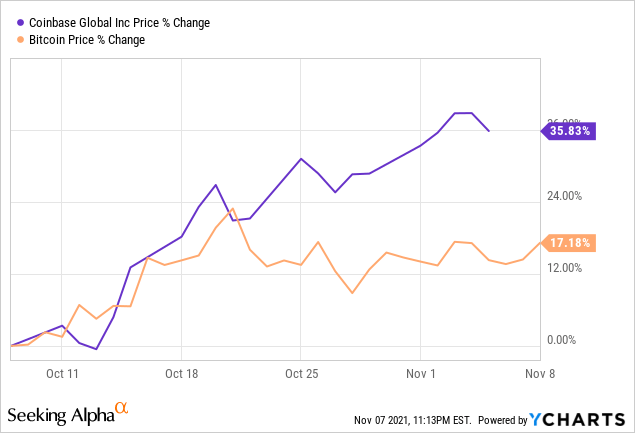 In this article we discuss the key items to look for in Q3 earnings set to be released this week.
#1. SEC Regulatory Update
As is the case with the entire cryptocurrency industry, regulation uncertainty is probably the primary risk factor facing COIN investors.
Recently, news broke that the SEC had cracked down on COIN's Lend program and threatened to sue the company if it launched the product. CEO Brian Armstrong complained about "sketchy" and "closed door" intimidation tactics by the SEC that unfairly targeted COIN against its competitors, which are already offering lending services to investors.
That said, COIN did close its Lend program - at least for now - as it is striving to comply with regulatory agencies and build a positive relationship with an eye towards greater long-term adoption of cryptocurrencies in the economy.
Given the importance of regulation - and the SEC in particular - for the long-term investment thesis for COIN, we will most definitely be closely following the earnings call for any reference to progress on the regulatory front and if management sees a path towards restoring its lending program.
#2. More Clarity On Coinbase One
While the launch of Coinbase Lend has been indefinitely suspended, COIN is now working to implement a new product called "Coinbase One" to increase customer loyalty and improve its pricing power. The company recently began testing this as a subscription service that provides zero-fee crypto trading and prioritized phone support.
This product will be useful in helping to build a moat around COIN's leading position in the crypto exchange market, and hopefully provide a foundation to build upon for COIN to transform itself into the "Amazon" of crypto assets in-line with its stated goals. Just as Amazon (AMZN) and Costco (COST) have so successfully created highly valuable consumer ecosystems that can be accessed for a subscription fee, COIN is trying to build an incomparable crypto ecosystem that can be accessed for a subscription fee.
That said, the exact details and timing of scaling the new product are not exactly clear nor is the company's long-term vision for it and if they have any other additions planned over time to make it a meaningful source of revenue for the business, so we look forward to learning more on the earnings call.
#3. Diversifying Into Ancillary Businesses
In addition to their attempt to grow the lending business as well as their trial run of Coinbase One, COIN is engaging in numerous other initiatives to diversify away from heavy overreliance on trading fee revenue.
COIN's Q2 report showed that the company is busy building a moat outside of its current no-moat exchange business by expanding into ancillary cryptocurrency service business and we hope to see more substantial progress along this line in the Q3 report. This, in turn, will enable them to not worry about competing on price in the inevitable race to the bottom in crypto trading fees, but instead leverage other strengths to retain customers as well as profitability.
As management stated on COIN's Q2 earnings call:
Instead of focusing on being the lowest-priced platform, we focus on providing the most value to customers through our custody, our security in storage, in addition to trade execution, which is critical for instruments like crypto. On the retail side, these services are bundled into our transaction fee. We're really competing though for these users based on the product suite. As we shared earlier, our users continue to further engage with the crypto economy in non-trading products like staking and earn. These types of services, new assets, new ways to engage with crypto are what attract users to Coinbase.
Management has already launched new products and services into its platform that should help fuel this non-trading fee revenue growth and customer retention, including allowing users to borrow up to $1M from the company using users' bitcoin as collateral as well as potential cold wallet storage and custody/vault business for institutions, Dapps and APIs to outside DeFi protocols, staking, prepaid debit cards, NFTs, cryptocurrency "cash back" credit cards, etc.
The company also just announced a new acquisition of an artificial intelligence powered customer service technology company based in India called Agara which also supports crypto activities in the United States. The hope is that integrating the company's capabilities into COIN's platform will improve customer service to exceed competitors' capabilities. The potential impacts of this acquisition should further help COIN retain customers and compete on brand power and user experience instead of simply on the increasingly commoditized trading fee pricing.
Perhaps most promising of all, as of the end of Q2, COIN had 10% of the top hedge funds measured by AUM as COIN clients, which puts them in a phenomenal position to grow significantly with the institutional cryptocurrency industry. Hopefully, we will see some positive updates on this as well in the Q3 earnings call, including gaining even more market share among hedge funds.
Investor Takeaway
Cryptocurrencies like Bitcoin have rebounded nicely from their early to mid-summer swoon and are once again testing all-time highs. As a result, the valuation of COIN - arguably the industry leader in crypto cybersecurity technology and combined institutional and retail network and service capabilities - has soared along with it and today trades back in a similar range to where it stood shortly after it went public.
That said, the company is far from being out of the woods, as significant regulatory uncertainty remains as evidenced by the rather heated exchange with the SEC over its lending program and the company still remains heavily dependent on trading fee revenue.
As we anxiously await Q3 results, we look forward to hearing more details on the company's short-term plans and long-term vision for Coinbase One, its institutional business growth, and its advances on other ancillary businesses to diversify revenue away from trading fees as rapidly as possible.
While the stock is not nearly the compelling value today that it was a mere few months ago when we were buying heavily, it still makes our short list of disruptive technology stocks that we would want to include in our portfolio as we detail in our piece I Don't Often Buy Cathie Wood Stocks, But When I Do, I Buy These 3.