How Mutual Funds Make Money
Mutual funds increase in value by making profitable investments, and by collecting dividends or interest from the underlying holdings. Investors who own shares/units of mutual funds will benefit as the mutual fund's net asset value increases, and also through distributions. Learn more about how mutual funds make money, and how investors can participate.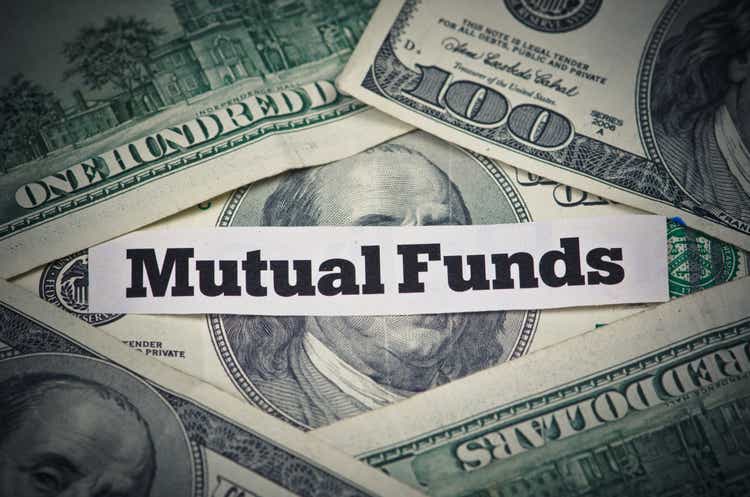 How Mutual Funds Work
A mutual fund is a professionally managed fund that pools cash from investors. To invest in a mutual fund, an investor buys shares, which represent part ownership in the fund's assets. The fund manager uses the investors' cash to buy securities, that make up the fund's portfolio.
Mutual funds can be actively managed or passively managed. When a fund is actively managed, the fund manager buys and sells the holdings at their discretion, while passive management means that the fund's managers attempt to replicate the performance of an index, such as the S&P 500.
How Investors Make Money From Mutual Funds
Investors can make money from mutual funds in a number of ways, which primarily depends upon the type of mutual fund the investor holds. The three different ways investors make money from mutual funds are price appreciation, dividends, and interest payments.
Price appreciation: Investors can make money from the appreciation in value of the fund's portfolio.
Dividends: Investors can make money from dividends received by the fund, which are either distributed as cash to the investor or reinvested in the fund's shares, at the investor's option.
Interest payments: Interest paid to the fund may come from coupon payments from bond holdings or from cash equivalents held by the fund.
How Mutual Fund Companies Make Money
Mutual fund companies make money for themselves primarily in two ways:
Management fees for organizing, operating, and managing the fund
Sales charges to investors when purchasing or redeeming shares
1. Management Fees
Mutual funds are for-profit companies. They invest on behalf of public investors as a business designed to make money for themselves and their own investors or owners. To do this, they charge fees against the fund's assets in order to meet their expenses of running the fund and to make a profit.
The fees are charged either monthly or quarterly against the assets of the fund and are collectively referred to as the annual expense ratio. The expense ratio typically ranges from 0.5% to 1.0% per year, so that, for example, if an expense ratio were 1.0%, it would cost an investor $10 a year for each $1,000 they had in fund assets.
12b-1 Fees
In addition to management fees, funds are permitted to charge separate marketing and distribution fees called 12b-1 fees. These fees are capped annually at 1.00% and are frequently used to pay the fund's internal salespeople or outside sales agents when funds are offered with little or no sales charges.
2. Mutual Fund Sales Charges
Mutual funds are distributed to investors through licensed brokers, advisors, or other sales agents and therefore subject to sales charges for purchasing or redeeming shares. Mutual fund sales "loads" can range up to 5.75% and can be charged on purchases (front-end loads) or redemptions (back-end loads). Either way, they are used to compensate a sales intermediary and are subtracted from an investor's assets either on the way in or out of the fund.
Sales charges can vary considerably, depending on:
What class of shares the investor owns or is purchasing
How much capital is involved
How long investor has held the shares
Some funds or classes of shares may have little or no sales charges at all but are likely to have a higher 12b-1 fee charged each year instead.
Some broker-dealers have special mutual fund programs that allow investors to buy and sell shares of many different funds on a single platform. Such programs may charge a flat fee, regardless of the number of shares, that can range up to $49.95 per transaction. These fees are levied by the broker-dealer rather than the fund company and are therefore billed separately rather than subtracted from the fund's assets.
Tip: Sales and transaction charges can vary considerably among funds and share classes. In addition, funds with lower sales charges may have higher annual 12b-1 fees. Therefore, it is incumbent upon investors to be diligent in researching the fees and sales charges associated with various funds and to explore options that will be more favorable to their situation.
How Brokers Make Money From Mutual Funds
Sales agents or intermediaries, such as brokers or commission-based financial planners and advisors, may make money from mutual funds through sales charges or commissions, or from 12b-1 fees.
Bottom Line
Mutual funds make money for the fund shareholders through price appreciation of the underlying holdings, as well as receiving dividend and interest payments on those holdings. Investors in shares/units of the mutual fund benefit commensurately. Mutual fund companies themselves, as well as intermediaries such as brokers, investment advisors, and financial planners, earn fees from mutual fund investors.
Key Takeaway: It's important for investors to learn about the costs of mutual funds before investing.
This article was written by
Kent Thune, CFP®, is a fiduciary investment advisor specializing in tactical asset allocation and portfolio management with a focus on ETFs and sector investing. Mr. Thune has 25 years of wealth management experience and has navigated clients through four bear markets and some of the most challenging economic environments in history. As a writer, Kent's articles have been seen on multiple investing and finance websites, including Seeking Alpha, Kiplinger, MarketWatch, The Motley Fool, Yahoo Finance, and The Balance. Mr. Thune's registered investment advisory firm is headquartered in Hilton Head Island, SC where he serves clients all around the United States. When not writing or advising clients, Kent spends time with his wife and two sons, plays guitar, or works on his philosophy book that he plans to publish in 2024.
Analyst's Disclosure: I/we have no stock, option or similar derivative position in any of the companies mentioned, and no plans to initiate any such positions within the next 72 hours. I wrote this article myself, and it expresses my own opinions. I am not receiving compensation for it. I have no business relationship with any company whose stock is mentioned in this article.
Seeking Alpha's Disclosure: Past performance is no guarantee of future results. No recommendation or advice is being given as to whether any investment is suitable for a particular investor. Any views or opinions expressed above may not reflect those of Seeking Alpha as a whole. Seeking Alpha is not a licensed securities dealer, broker or US investment adviser or investment bank. Our analysts are third party authors that include both professional investors and individual investors who may not be licensed or certified by any institute or regulatory body.