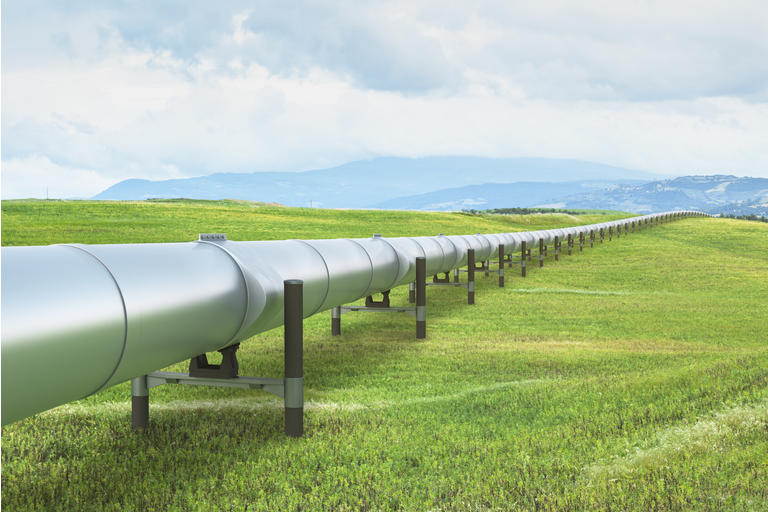 Earlier this month, on November 3rd, the management team at Energy Transfer (NYSE:ET) revealed financial performance for the third quarter of the company's 2021 fiscal year. Although performance was, in some respects, worse in the latest quarter than it was the same time last year, the overall picture for the enterprise was positive. On the whole, management reiterated guidance for the full year, which means that the overall condition of the company remains attractive. Add in the fact that shares of the company are some of the cheapest on the market today, and it just does not make sense to not like this as a long-term prospect.
The picture was mixed but still positive
At first glance, some investors may think that the latest quarter for Energy Transfer was a blowout quarter. After all, revenue for the company came in at $16.66 billion. That represents a 67.4% increase over the $9.96 billion generated the same time last year. For the full three quarters that have been provided for the current fiscal year, revenue came in at $48.76 billion. That represents an increase of 68.6% over the same three quarters of 2020. This shows that revenue growth was not just a one quarter event.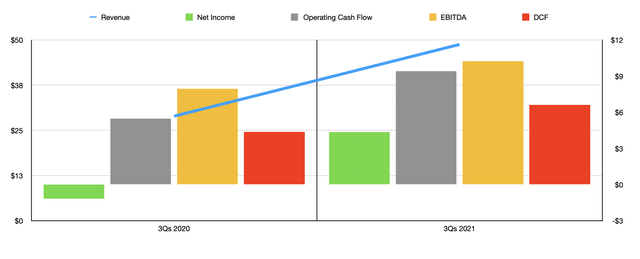 *Created by Author
However, for a pipeline / midstream player like Energy Transfer, revenue is nowhere near as important as one might think. Cash flow is more determined by the specific contracts a company has in place and how much the company can charge on the spot market for transporting petroleum products. Admittedly, net income did follow revenue higher, rising from a negative $0.66 billion in the third quarter of 2020 to a positive $0.54 billion in the third quarter this year. However, operating cash flow actually declined from just under $2.30 billion to $2.26 billion. Over the same period of time, EBITDA dropped from $2.87 billion to $2.58 billion, while DCF, or distributable cash flow, dropped from $1.69 billion to $1.31 billion.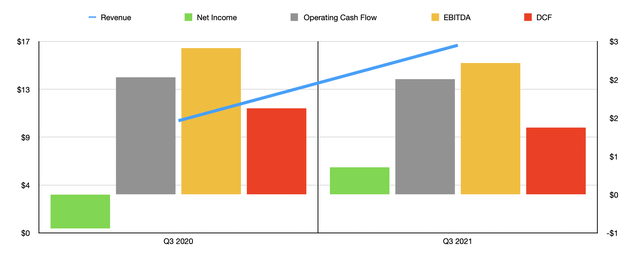 *Created by Author
Despite these weak points in the latest quarter, the year-to-date performance of the company remains robust. For the first nine months of 2021, the company generated a net profit of $4.36 billion. That compares to the $1.16 billion loss achieved the same time last year. Operating cash flow nearly doubled, rising from $5.46 billion to $9.42 billion, while EBITDA grew from $7.94 billion to $10.24 billion. And DCF expanded from $4.38 billion to $6.62 billion. It is worth noting that the company also has some other things going for it. In addition to seeing its profitability figures improved, it is still planning for the closing of its purchase of Enable Midstream Partners (ENBL), a $7.2 billion all-stock deal, by the end of this year.
When it comes to pricing the company, we need to keep in mind the difference between temporary and permanent cash flow figures. For instance, earlier this year, the company benefited from Winter Storm Uri. Estimates on the impact there have come out to around $2.4 billion. Instead of hurting the company, it helped the company to that degree. Investors should not expect this kind of performance to be repeatable because it probably won't be. Instead, something like this should be considered sporadic.
From a guidance perspective, the company does currently anticipate EBITDA totaling around $12.9 billion to $13.3 billion. At the midpoint, this works out to $13.1 billion. Of course, stripping out the inclement weather impact would drive this down to about $10.7 billion. Meanwhile, operating cash flow should be about $10.3 billion. That comes down to about $7.9 billion if you exclude the inclement weather impact. Maintenance capital expenditures this year should only be around $500 million. This gives us true free cash flow, which I define as operating cash flow minus the capital expenditures dedicated to keeping operations running as-is, so ignoring growth capital expenditures that management has pegged at $1.6 billion, of $9.8 billion or $7.4 billion if we use the adjusted figures. This is enough to give us a couple different things to play with from a pricing angle.

*Created by Author
In the table above, you can see what I mean. I created two columns, one focusing on pricing the company just based on management's current guidance and another that takes out the winter storm impact. No matter how you stack it, shares of the company look incredibly cheap. On a price to operating cash flow basis, the company is trading at a multiple of 2.4 if we use management's expectations. This increases to just 3.2 excluding the inclement weather. Meanwhile, the EV to EBITDA multiple of the company does come in higher at 5.8, or 7.1 if we use the adjusted figures. On a price to free cash flow basis, these multiples are 2.5 and 3.3, respectively. You might think that this low price must somehow be justified by some other means. A key candidate would be high leverage. However, that is not the case either. Using the 2021 figures, the company has a net leverage ratio of 3.4. And using the revised figures, this is only a bit higher at 5.7. Though not exactly low, it's definitely not as high as it could be for a company in this space.
Takeaway
Based on all of the data provided, it appears to me as though Energy Transfer is still a solid prospect for long-term investors who are interested in this space. True, the company did have a quarter that was worse than it was a year ago. However, management keeps current guidance in play and it looks as though the company will be capable of generating significant long-term value for its investors moving forward. Add in how cheap shares of the company are and it's hard to pass up.