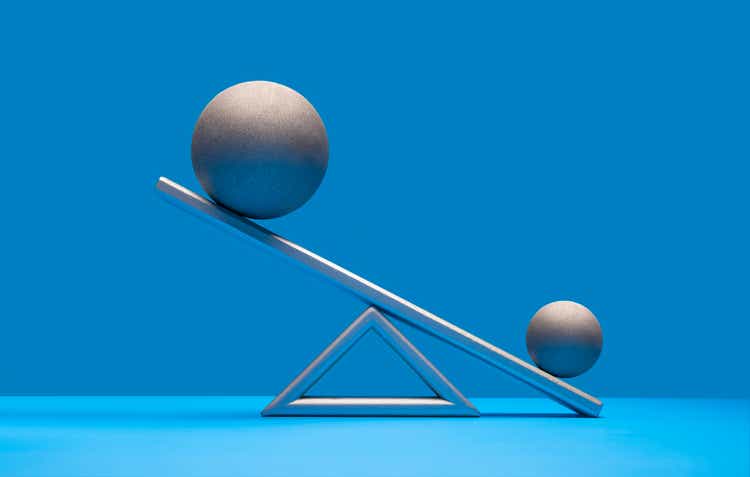 Author's note: This article was released to CEF/ETF Income Laboratory members on November 2nd, 2021.
The Vanguard Small-Cap Value ETF (NYSEARCA:VBR) is exactly what it says on the tin: a small-cap value index ETF. Small-cap value stocks are undervalued relative to their peers and their historical averages, and could outperform in the coming years if valuations were to normalize. Small-cap value stocks are also significantly riskier than average, due to their undiversified revenue streams and comparatively weak balance sheets.
VBR is a high-risk high-reward investment opportunity, but one which I believe will ultimately deliver strong, market-beating returns. The fund is a buy, but only appropriate for more aggressive, risk-seeking investors.
VBR Basics
Sponsor: Vanguard
Underlying Index: CRSP U.S. Small Cap Value Index
Expense Ratio: 0.07%
Dividend Yield: 1.52%
Total Returns CAGR 10Y: 13.19%
VBR Overview
VBR is an index ETF investing in small-cap value stocks.
The fund is administered by Vanguard, the second-largest investment managers in the world, and the popularizers of the low-cost index fund. Long-time readers know Vanguard is almost always my preferred choice for index funds. This is due to the company's investor-friendly corporate structure: it is organized as a mutual company and so does not generate profits for shareholders. No profits mean lower costs for investors, and ensures no conflict of interest between the company and its clients, who are one and the same. Vanguard's structure makes for a sleepy, low-cost company, perfect for index funds.
VBR itself tracks the CRSP U.S. Small Cap Value Index, an index of these same securities. The index first selects applicable securities by market-capitalization. It includes U.S. securities whose market-cap accounts for the bottom 85%-98% of total U.S. market-cap. So, bottom 15%, but excluding the smallest 2%, which are classified as micro-cap stocks instead. The following graph summarizes the relevant securities, check the breakpoints in the left.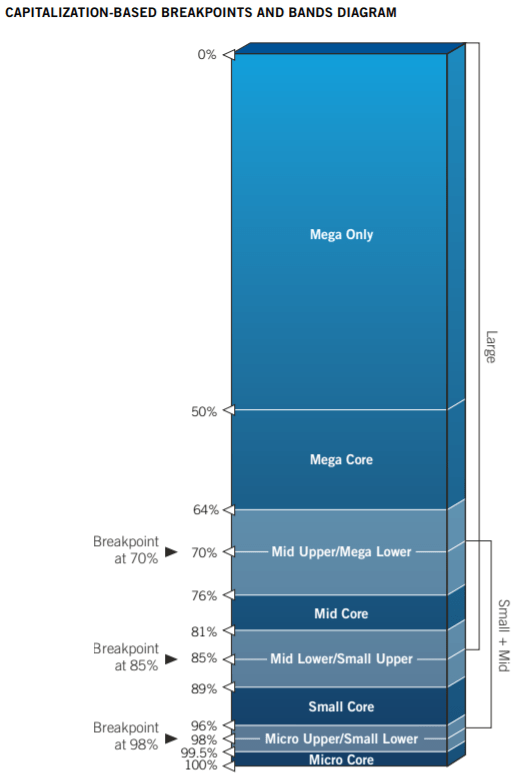 (Source: CRSP U.S. Small Cap Value Index Factsheet)
Simplifying things a bit, we can say that the index then selects the cheapest small-cap equities, based on the following five reasonable valuation metrics: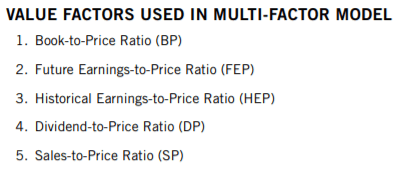 (Source: CRSP U.S. Small Cap Value Index Factsheet)
As with most other indexes, there are some basic set of liquidity, trading, etc., inclusion criteria, as well as buffers and other assorted rules meant to decrease portfolio turnover.
Vanguard tends to select the best, most thorough indexes, and this one is no exception. In my opinion at least.
VRB's underlying index seems to work, as the fund sports a smaller average market-cap and cheaper valuation than most of its peers. VRB's holdings are all small-cap value stocks, as expected.

(Source: Vanguard Corporate Website - Chart by Author)
VBR is an incredibly well-diversified fund, with investments in 967 stocks and exposure to all relevant industry segments. Diversification serves to reduce portfolio risk and volatility, and is an important benefit for the fund and its shareholders.

(Source: ETF.com)
VBR, as most other small-cap and / or value funds, is underweight tech, while being overweight financials. Although there is nothing inherently wrong with this, it does mean that the fund's (relative) performance is strongly dependent on these two sectors. VBR should outperform when financials outperforms, as has been the case during 2021: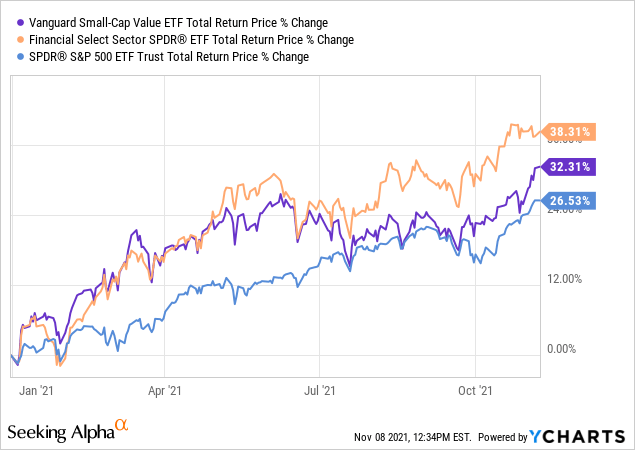 VBR should underperform when tech outperforms, which was the case during 2020: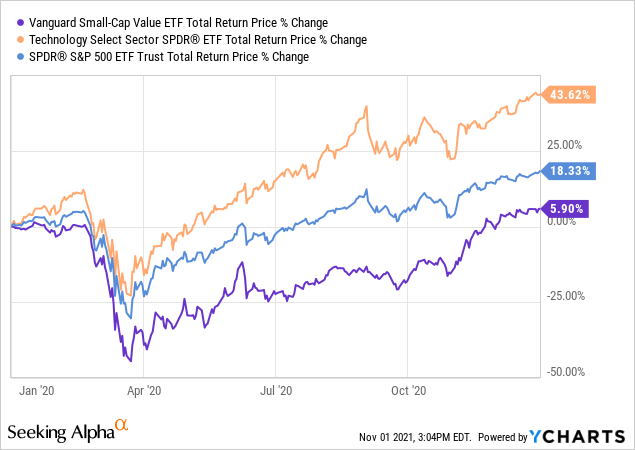 Due to the above, investors should consider complementing their investment in VBR with a tech fund or similar. Doing so would lead to more balanced industry exposures, preventing the possibility of substantial under or overperformance.
Besides the above, nothing really stands out about the fund. It is exactly what it says on the tin: a small-cap value index ETF. With this in mind, let's have a look at the fund's investment thesis.
Small-Cap Value Investment Thesis and Risks
VBR's investment thesis rests on the fund's competitive valuation. As per JPMorgan (JPM), small-cap value stocks are moderately undervalued relative to the broader equities market, and significantly undervalued relative to growth stocks. Importantly, small-cap value stocks are the only equity sub-classification trading with a historically below-average valuation: all other stocks are historically overvalued.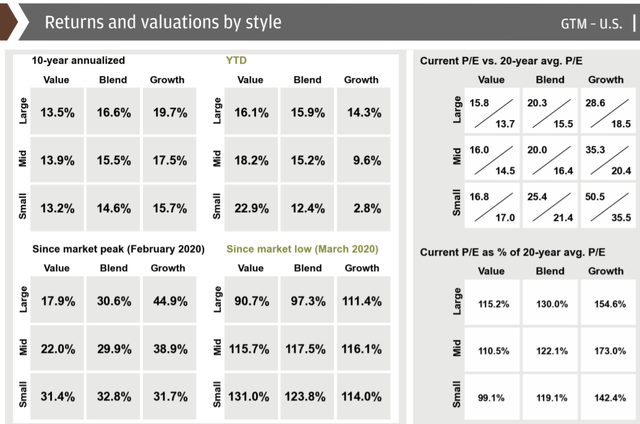 (Source: J.P. Morgan Guide to the Markets)
Now, technically, and by definition, value stocks are always cheaply valued relative to growth stocks, but the difference is much greater now than in the past. Small-cap value stocks are trading 1% below their historically average valuation levels, while growth stocks are trading at about 50% above their historically average valuation. Growth has never been this expensive, while value is looking (very slightly) cheaper than usual.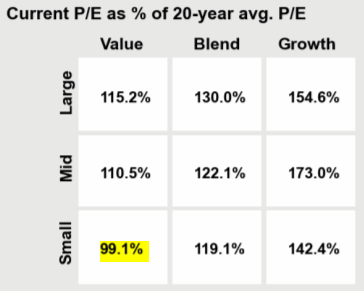 (Source: J.P. Morgan Guide to the Markets)
The difference is almost wholly due to the coronavirus pandemic, which had wildly different effects on different companies and industries. In general terms, tech, especially mega-cap tech, saw skyrocketing revenues and earnings during the pandemic, as white-collar industries implemented work-from-home initiatives necessitating increased investment in digital tools. On the other hand, old-economy industries and companies, which VBR overweighs, saw declining revenues and earnings from business shutdowns and other policies meant to combat the pandemic. Smaller companies tend to have undiversified revenue streams and comparatively weak balance sheets, and so were particularly impacted during the pandemic. Markets responded rationally to the situation, and so mega-cap tech outperformed while small-cap value / VBR underperformed during the beginning of the pandemic.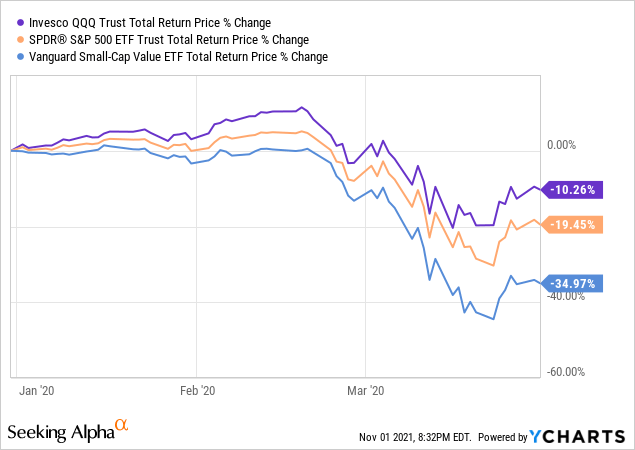 Although the market's reaction was broadly rational, it was somewhat excessive. The coronavirus pandemic proved to be a (mostly) temporary phenomenon, with vaccines and natural immunity blunting the spread of the disease, significantly reducing its mortality, and allowing a swift economic recovery. Government policy was instrumental in stabilizing the situation in the early stages of the pandemic, and preventing a deep recession. The market's reaction was, once again, broadly rational, with old-economy names, including small-cap value stocks, outperforming since their pandemic lows.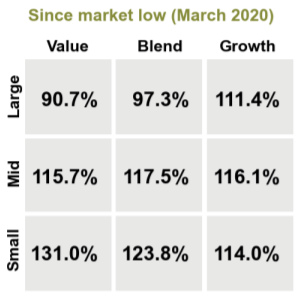 (Source: J.P. Morgan Guide to the Markets)
VBR itself has outperformed since early 2020, especially so during 2021.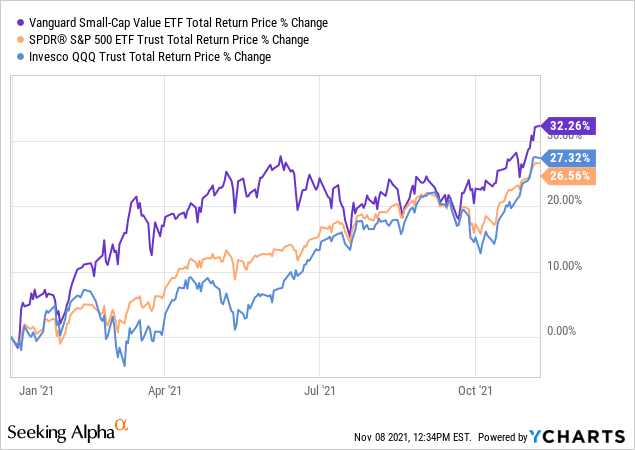 In my opinion, VBR's outperformance is set to continue, as the conditions driving the fund's outperformance remain. Small-cap value stocks remain undervalued relative to their historical averages and to growth stocks, and their growth prospects and the broader economy remain strong. These conditions should cause the fund's valuation to normalize, leading to strong, market-beating returns for the fund and its shareholders.
Conclusion - Buy
VBR's cheap valuation and strong potential returns make the fund a buy. As the fund is quite risky, it is only appropriate for more aggressive investors.