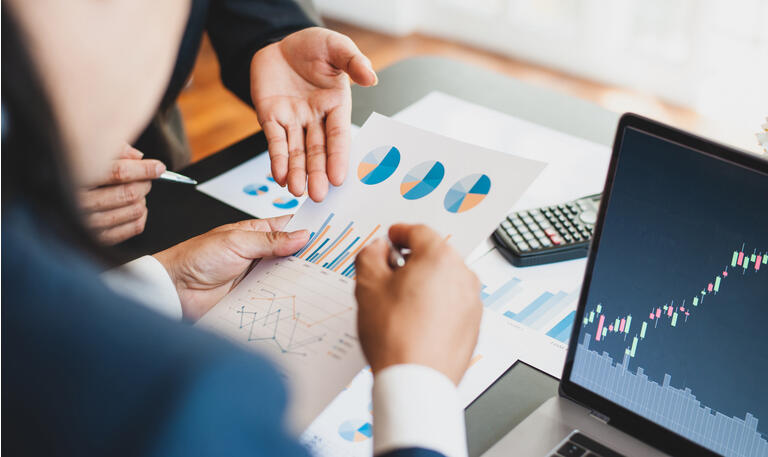 Ian's Million Fund, "IMF," is a real-money portfolio that I've written about monthly since January 2016 here at Seeking Alpha. The portfolio is a largely buy-and-hold group of ~130 stocks. Each month, I buy 10-20 of the most compelling stocks available at then-current prices, deploying $1,000 of my capital plus accumulated dividends. If things go according to plan, this portfolio, which began when I was 27, will hit one million dollars in equity in 2041 at age 52. I intend it to serve as a model for other younger investors.
Here are the IMF buys for October; these orders were executed on October 27th:

The dividends for the month were reinvested in equal portions into Hormel Foods (HRL) and Reynolds Consumer Products (REYN). Both fit in my current broad theme of buying up consumer staples firms right now. The market is focused on near-term cost inflation, while missing the fact that the price increases they're pushing through to consumers will last forever. I'm happy to keep accumulating these companies as long as they're near 52-week lows.
That gives a good jumping in point to the rest of the buys for the month. Of course I picked up more McCormick (MKC), still down more than 20% from its all-time highs.
Do note that the IMF's cost basis on MKC stock is $48, so this is major averaging up to buy at $81.
That said, in most cases I'd rather average up than average down. Over time, a company should be growing EPS consistently and steadily make new highs. You want to buy during the inevitable pullbacks along that upward trajectory. A stock that isn't consistently growing its business, by contrast, is much riskier. A major premise of this portfolio is that it aims to water the flowers and cut the weeds, not vice versa. Don't be afraid to pour some fertilizer on your best plants.
Similarly, Brown-Forman (BF.A) (BF.B) has been a major winner over the years but is in a bit of a rut this year. It's got the same unpleasant brew as the other staples right now; higher input costs, packaging issues, shipping prices, you know the drill. Does any of this matter to the value of the Jack Daniels brand over the next five, ten, or twenty years? Of course not. Buy from the weak hands.
Bachoco (IBA). Mexico's largest chicken and poultry company and arguably that country's cheapest investable stock. I've run out of anything new to say about this company. I'm buying more until the market comes to its senses and jacks up the price.
With the easy ones out of the way, we turn our attention to the more controversial beverage picks for the month. First up, there's Brazilian brewing giant Ambev (ABEV). In isolation, Ambev's recent sell-off might seem like a big deal. However, in broader context, it's just following the sector and geopolitical winds.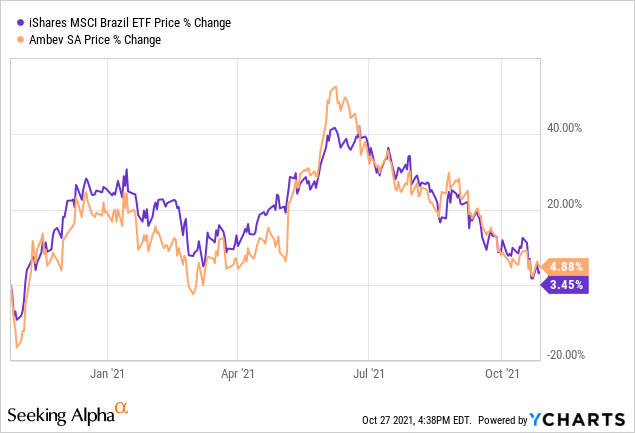 As you can see, Ambev has virtually the precise same chart as its home country -- Brazil (EWZ). Brazilian stocks, in turn, have gotten slammed since July on a series of long and winding political developments that don't need to be discussed here today. The Brazilian central bank just hiked interest rates 150 basis points (six quarter-point rate hikes at once!) today if you need a quick summary of the current state of affairs there. Long story short, Brazil remains a difficult geography politically, but we already knew that. It won't matter much to a company that has no debt and sells beer. Use the inevitable big drops in Brazilian sentiment to pick up more Ambev.
As for beer, Ambev is hardly the laggard even with the recent slide. In fact, up through the end of October, Ambev was tied with Heineken (OTCQX:HEINY) for best performance out of a big group of beer stocks over the past six months: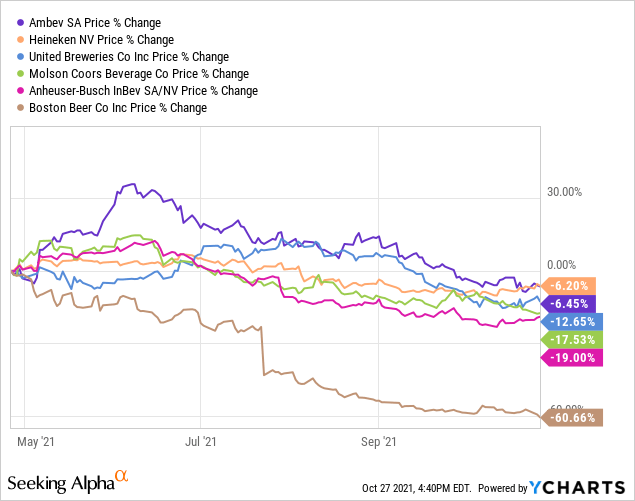 Moving down the beer quality ladder a notch, we have more Molson Coors (TAP) on tap this month.
This is one of the lower-quality stocks in the IMF portfolio. I can easily make the argument to ignore Molson Coors altogether and simply buy more Diageo (DEO) or Brown-Forman instead. Over time, the spirits companies will likely do well whereas Molson Coors has more seeming uncertainty. Of course, it's valued as such. The stock trades around a 10% FCF yield and 10x earnings. And it's growing again, management is paying down debt and they reinstated the dividend.
I'm not sure why the stock is dropping again, which is somewhat troublesome. I like to understand what the bears are thinking. Molson Coors' numbers are good, but everything in my mind screams value trap. I'm not sure what would cause the stock to permanently destroy capital from here. But this is admittedly the one I'm most ambivalent about this month.
Finally, after a long pause, I'm back on the Embotelladora Andina (AKO.B) bandwagon. It is Chile's leading Coca-Cola bottler. Shares currently trade at 12x trough earnings and pay a 7% dividend. Yes, you read that second part right.
The company has one of the more complicated dividend structures I cover, so let's run through the math in detail.
Here's the company's dividend payment history, as sourced from its SEC 20-F filing:

As you can see, it pays a quarterly dividend, though it refers to one of these payments as accumulated earnings instead of a regular payment.
The dividend is consistently hiked in Chilean Pesos, generally around once every year. They are pretty sizable hikes as well, the last one there being greater than 10%.
The dividend listed in that document is per Chilean share. Even the US$ per share is quoting it per Chilean share, not per U.S. ADR. Note that there is a 6:1 ratio, if you buy a share in New York, you're getting six Chilean shares. Thus, each New York share is paying around 22 cents a quarter, or 88 cents per year in dividends.
Also keep in mind that the B class shares are mandated to pay a 10% greater dividend than the A class shares. That's fine for us, the A class shares have essentially zero trading volume anyway, so the B shares are the only ones of interest.
Now, if you look at the stock, the B-class shares are currently trading for $13.20. This means that AKO-B is paying a 6.7% dividend at the 88 cent payout rate. You read that right, and I double-checked the math both against the SEC filings and my past AKO-B dividends received to my brokerage account to confirm.
How can the company afford to pay such a huge dividend? For one, it doesn't have to invest much in growth, since Chile is a mature low-growth market that doesn't require much new capital. Even that being the case, the company had posted solid earnings in recent years until Covid-19: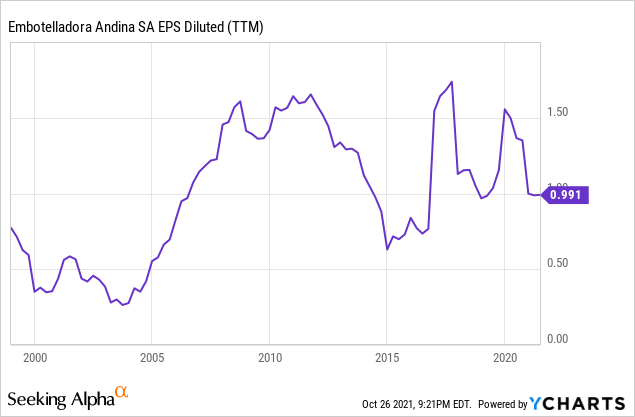 The numbers are jumpier here than you'd see in a U.S.-dollar based company, since it earns in Chilean Pesos and then gains or loses based on that year's given conversion rate to the U.S. Dollar.
In any case, however, the business almost always earns in excess of the 88 cents to cover the dividend, and in better times, it often earns north of $1.50 per share. Again, with the stock price at $12.60, we're talking a 12x PE at the moment, and 8x PE on its pre-Covid earnings.
This is a classic value name with a friendly shareholder return program. You get a roughly 10% earnings yield every year, and they immediately kick out a 7% dividend annually to the shareholders. In a world with fixed interest rates where they are, this is a rather attractive offer. Do take into account that Chile charges a steep withholding tax on dividends, so this is much less attractive if you aren't able to reclaim those on your tax return.
There's a lot of moving parts around Chilean politics and whatnot at the moment which we're following at Ian's Insider Corner. Long story short, however, it matters very little to Coca-Cola consumption. A Coke bottler is about the lowest-risk angle you can take on a given country's economic outlook. To the extent that people have to dump AKO.B. stock because their risk manager read a negative article about the Chilean Constitution, I'm happy to clean up their shares. I could use a few more 7% dividends in my life.
Next up, Johnson & Johnson (JNJ) is not actually a consumer staple, though many people seem to think of it as one. Its consumer products division is by far the smallest of its three segments. It's much more a pharma company with a major side business in medical devices nowadays.
The medical devices had seen a slowdown with Covid-19 as people delayed elective surgeries. That issue has largely passed, however. Meanwhile, the pharma division was under scrutiny given attempts by the Democrats to limit drug pricing. However, the compromise package that emerged out of Congress ending up making the most minimal of changes and won't matter to J&J's earnings.
JNJ stock is at 16x next year's earnings, and grows at a few percent a year. And it's cheaper than it looks since the company has one of the best balance sheets in the world with hardly any debt. It could carry a lot more leverage and buyback shares if it wished. Instead, it holds onto its top-notch credit rating.
Becton, Dickinson (BDX), like Johnson & Johnson, is a diversified health care conglomerate offering a wide variety of essential products such as needles and syringes for surgeries and hospital care. The stock has underperformed for the past few years, leading it to be nearly the cheapest that it's been on a price/free cash flow basis in a decade: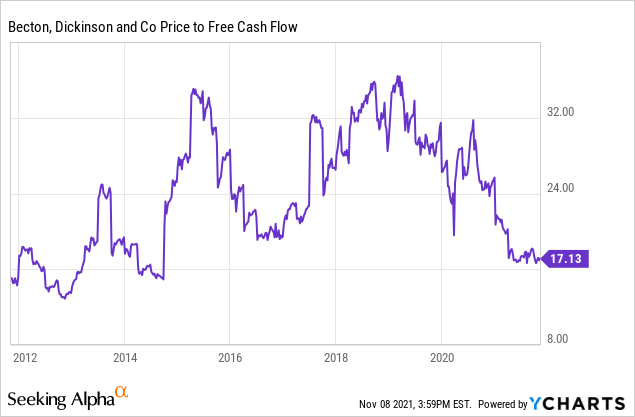 Turning to other parts of the market, Lockheed Martin (LMT) sold off hard on an earnings report guiding to flatter results going forward instead of mid-single digits growth. In isolation, that's bad, sure. However, the company stated that it will be ramping up its share buyback dramatically and concentrating on the dividend as well. With the stock already at 14x earnings, it's not like we need much near-term growth to make money here. Especially with a rapidly accelerating buyback.
The CEO made it so clear on the latest conference call:
As discussed in today's press release, we've already repurchased $2 billion of our shares through the first three quarters of 2021. And last month, on my recommendation, the board increased our remaining share repurchase authority by $5 billion, bringing our current total share repurchase authority to approximately $6 billion. With our stock trading at a level well below what we calculate as the Company's intrinsic value, we have significantly increased our planned share buybacks, and I anticipate that we will repurchase up to $6 billion of our shares over the next 12, 18 months, if conditions warrant.
As if that weren't clear enough, Lockheed's CEO signaled an even more direct commitment to generating strong returns:
As a final note on shareholder value, we're going to dynamically allocate capital to the highest return opportunities, prioritizing investments that lead to growing free cash flow per share. That's our new metric. We will remain opportunistic and pursuing accretive bolt-on acquisitions, evaluate additional increases to our current share purchase authorization, and continue to reinvest capital to our business to drive long-term growth. We have the Balance Sheet flexibility and firepower to pursue multiple avenues of growth while returning significant capital to our shareholders.
Pay close attention when management starts talking about ramping up free cash flow. It tends to be a very good sign.
Turning from one stock that dropped sharply to another, we have Global Payments (GPN). The traditional payments processors like Global Payments and Fiserv (FISV) have been getting hit this year due to the growth-at-any-price investors' infatuation with fads such as buy-now-pay-later "BNPL" which are supposedly going to "disrupt" existing payments tech. Some noise about crypto and so on has furthered the impatience with traditional payments companies. As always, I'm happy to buy good companies when other people start panicking. We officially hit the panic button recently in this space when Visa (V) tumbled on its earnings.
Global Payments, a long-term compounder currently on a big holiday discount. I'm not going to miss it.