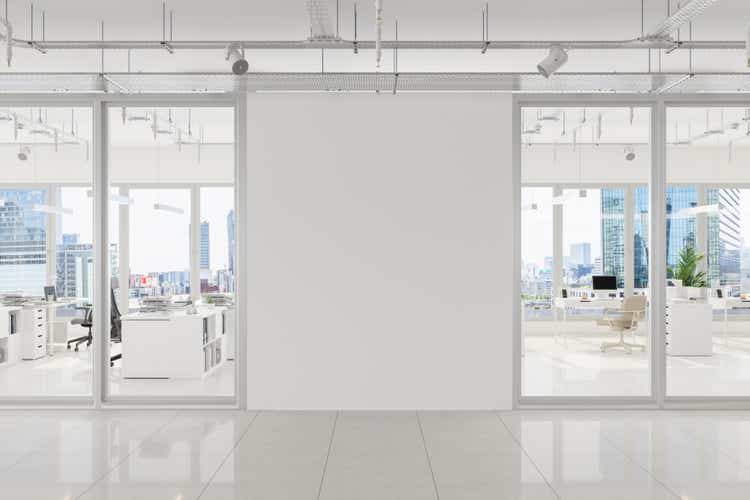 Generally speaking, REITs tend to be safe investment prospects where investors can generate attractive returns over an extended period of time, largely through regular cash distributions. However, not every REIT is created or managed equally. One interesting case of a prospect that investors should be rather wary of is CIM Commercial Trust (NASDAQ:CMCT). This diversified player has experienced some pain in recent years. In the latest quarter for which data is available, the company did reveal that performance seems to be improving. That is the great sign, but that does not mean that now is the opportunity to invest. Even if we annualize recent figures, the company still looks rather pricey when you consider the overall risk profile of the enterprise.
Things are improving
The last time I wrote about CIM Commercial Trust in June of this year, I rated the company a bearish prospect. I ultimately called it a speculative play due to the fact that is historical financial performance has been questionable and generally negative. Since then, my prediction proved to be right. While the S&P 500 has generated a return of 10.6%, CIM Commercial Trust generated a loss for investors of 9.1%. At first glance, investors may think that something went horribly wrong from the time I wrote my article to now. However, the picture at the business has actually improved slightly. But before we get into that, a bit of a refresher is in order.
Operationally, CIM Commercial Trust focuses largely on the ownership of office properties. As of this writing, it owns nine of these totaling 1.3 million square feet. In addition to these properties, the company owns 503 hotel rooms and two parking assets. On top of all of this, the business engages in the origination of loans, mostly in the limited-service hospitality sector under the SBA 7(a) Guaranteed Loan Program. It is important to note however, that the company has not always looked the way that it does today.
Since 2014, the company has invested around $850 million to various acquisitions, investments in its portfolio, and loan originations. However, it has sold off assets valued at $2.3 billion. It is also issued special dividends totaling $52.32 per share. Such significant asset sales and distributions were only made possible at the cost of long-term revenue for the business. The company went from generating $265.93 million in sales in 2016 to $139.99 million in 2019. Then, in 2020, the COVID-19 pandemic pushed revenue down to just $77.21 million. Over the same period of time, cash flow figures were all over the place, showing no real trend from year to year. However, FFO, or funds from operations, did drop, falling from $66.84 million to negative $12.06 million, while EBITDA decline from $99.39 million to $17.37 million.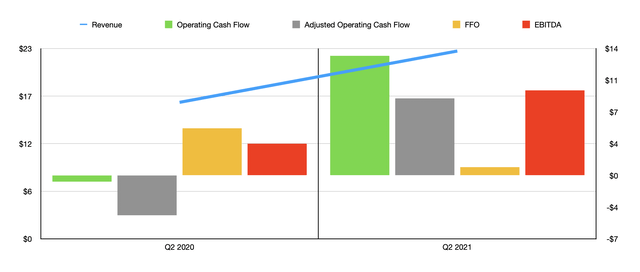 *Created by Author
What all of this demonstrates is that, even though the company has focused on returning value to its shareholders, it has done so in a way that essentially created a scenario akin to catching a falling knife. However, that decline may now be over. Despite seeing revenue and profitability metrics worsen in the first quarter this year, figures did show some improvement, in some respects, in the second quarter. According to management, revenue in the latest quarter totaled $22.67 million. That compares to the $16.51 million generated in the second quarter of its 2020 fiscal year. It is worth noting that the real increase mostly came from a rise in the company's hotel occupancy rate. In June of this year, occupancy was 59%. That compares to the 38% seen in the month of April. And the company claims that current bookings for 2022 are at about 90% of their pre-COVID levels. in the latest quarter alone, sales associated with its hotel property were $3.13 million. That compares to the $869,000 in revenue generated a year earlier.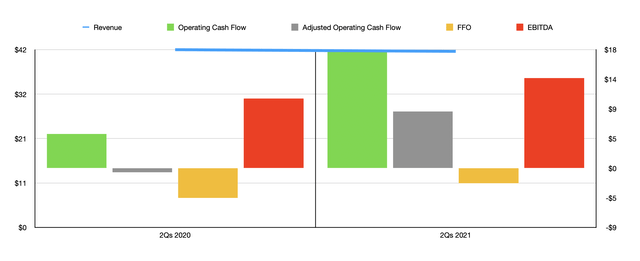 *Created by Author
As revenue has increased, so too has profitability. Operating cash flow went from a negative $742,000 in the second quarter of 2020 to a positive $13.21 million in the second quarter of this year. If we strip out preferred distributions, this figure declines to $8.47 million. However, that is still better than the negative $4.84 million generated in the second quarter of 2020. Another profitability metric that improved was EBITDA. This increased from $3.47 million in the second quarter of 2020 to $9.38 million in the second quarter of this year. However, FFO, or funds from operations, did worsen over this time, declining from $5.20 million to $859,000.
Structural issues and pricing matter
While it is great to see the company show some signs of improvement, this does nothing to change the structural issues that it has. In addition to the severe shrinkage the company has undergone, it also has a capitalization problem. Total preferred units as of this writing come out to $365.25 million in value. This represents an increase, driven by additional shares issued, of $14.14 million in the span of just one quarter alone. Not only do these shareholders take a priority over common shareholders, they also result in cash outflows that are paid when that cash could go to common shareholders instead.
This also gives the company the illusion only that it is cheap. For instance, if we take its current market capitalization of $191.63 million and annualize operating cash flow, the company would be trading at a price to operating cashflow multiple of 3.6. That would make it one of the cheapest, if not the cheapest, prospects in the REIT space. However, when you look at the company through the lens of something like the EV to EBITDA multiple, shares are quite pricey. Annualizing EBITDA, as an example, we would still end up with the company trading at an EV to EBITDA multiple of 19.9. For a company there has been declining operationally in recent years and that has only seen one strong quarter, that is quite a high price to pay. It might be different if the company were growing at a nice clip or if we knew that its recent pop up in revenue and profitability was indicative of a true turnaround.
Takeaway
At this moment, I frankly don't see anything remarkable about CIM Commercial Trust. The company has a shaky operating history, favoring immediate returns to shareholders over long-term viability. What's more, the capital structure of the business is worsening and is serving to essentially extract value continuously from common shareholders. If a case study were to be made about how to run a company into the ground, in exchange for short term benefits, this business would be a perfect candidate. This is not to say that all hope is lost. With third quarter results due fairly soon, continued improvement on its top and bottom lines could be an indicator of a change in strategy by management. Of course, only time will tell that will take place. But for me, the company is still too speculative to consider.