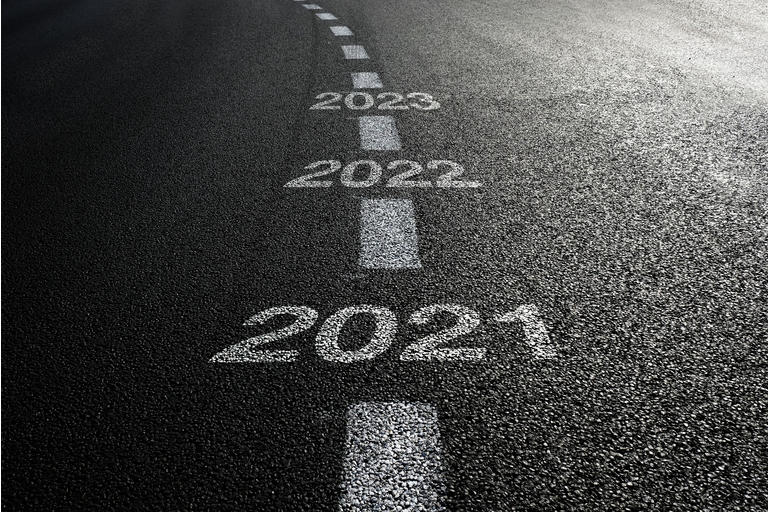 2021 is rapidly marching towards an end and with it one of the more interesting years of my investment career. Very few years have seen the amount of investment or the increases in average monthly dividend amounts that we've seen here.
A crucial part of this is good investment logic - as in:
Knowing what to buy.
Knowing when to buy it.
Knowing how long/if to keep it.
That's really all this is about - and all I write about addresses these very few and seemingly clear questions. Because the answers to these questions can be somewhat complex, it's no surprise that it gets more complicated from here.
But one thing that can be done to sort of simplifying things down is to do these sorts of "These stocks are currently undervalued"-articles. While the reasons for the undervaluation for some of the stocks mentioned in this article may be complex, they're also fairly easy and quick to run down.
That's what we're going to do here.
Look at why these stocks are undervalued, how far undervalued they are, and what you can expect from them. Also, why do I buy them, and why should you?
Let's not waste more time, but get straight into it.
The companies
This list is done in no particular order - all of these stocks is appealing for a reason.
(Source: Altria)
1. Altria (MO)
This company sort of epitomizes the "undervalued quality" I'm talking about. The reasons for the company's current undervaluation can be summarized as their segment, i.e. tobacco, the political risk associated with this (or at least perceived), and where investors fear this company might go. On the other hand, we have catalysts in the form of solid earnings that have not, and I repeat - have not - declined in EPS for over 20 years. Not once.
People buy and will continue to buy tobacco products. Yet because of how the market views these sorts of companies at this time, Altria is being made impressively cheap.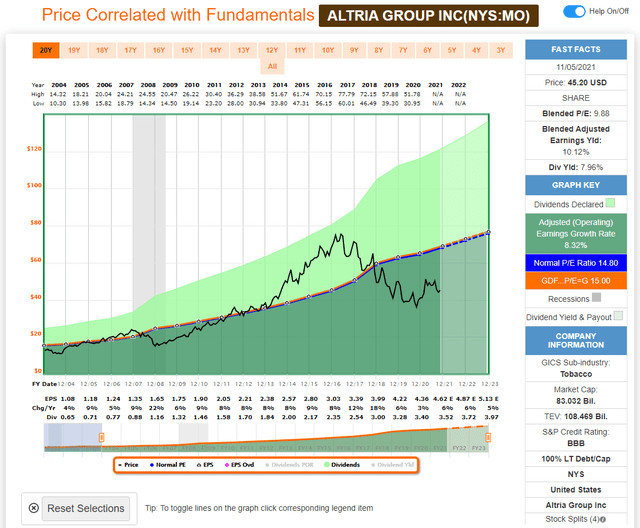 (Source: F.A.S.T Graphs)
As you can see, despite the company's performance, the current valuation is below 10X average weighted P/E. This gives us a conservative forecasted upside to a P/E of 11.56X in 2024 of 16.1% per year, or 60% RoR.
Even if the company were to decline to 9.9X P/E, your returns would be 41%, provided we see similar dividends and forecasts. However, I emphasize that this company does not miss estimates - not historically. Not during COVID-19. It's BBB rated, yields nearly 8%, and has a market cap of over $80B.
This, to me, makes it a win-win investment with a potential RoR of 40% up to over 100% in the case of fair value normalization.
That's also why I've invested over 2% of my portfolio into Altria, and continue to add at cheap prices.
Altria is a "BUY". I see it as one of the primary, undervalued blue-chip investments out there.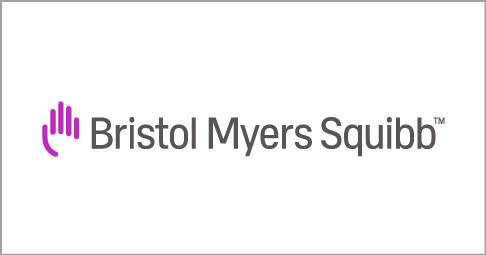 (Source: Bristol-Myers Squibb)
2. Bristol-Myers Squibb (BMY)
Some investors might be a bit leery of this pharma company, considering the time it's been declining and staying "cheap", according to many contributors. Me, I would say never to underestimate the time that the market can stay irrational. If the market wants to continue to value this A+ rated business at a P/E of 8X, then it can do so - all this does is offer me opportunities to add quality at a bargain.
BMY does not miss estimates. It has an extremely well-covered dividend. Its debt is under control. It has a very appealing portfolio of attractive products and an excellent pipeline. Even at an absolutely flat development in terms of valuation for the next 4 years, this company will deliver market-beating returns on the current set of estimates and forecasts.
And BMY does not miss forecasts - it beats them 33% of the time with a 10% margin of error.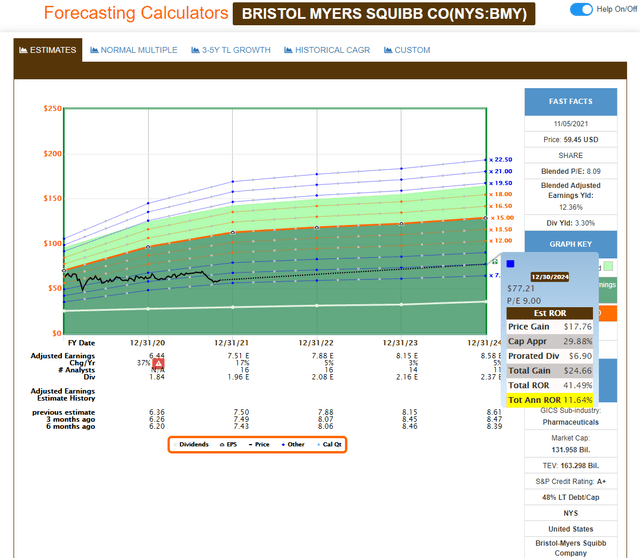 (Source: F.A.S.T Graphs)
As I view it, you're being paid to wait for normalization here. When it comes, it will catapult this investment into the stratosphere. BMY has historically seen upwards of 5-6 years of undervaluation before climbing back up to overvaluation. When it does, the company has been trading as high as 31X P/E. I won't forecast to this number - but even a forecasted valuation of conservative P/E 15X brings with it a 4-year RoR of nearly 130%. Even a slight premium of 16.5X would bring this to 150%, and on the conservative side, even dropping to 7.5X P/E would net you a 20% 4-year annualized RoR.
The reason why you should consider BMY is again, there are no real ways to "lose" that I see here. Following the Celgene integration, the company is being fundamentally undervalued for what it very likely will deliver.
BMY is my second-largest pharma position, and I'll continue to add more.

(Source: Amgen)
3. Amgen (AMGN)
One more pharma company. This is another company that over the past 20 or so years, has never seen an EPS decline on an annual basis. Not once. They have never missed a 10% MoE-adjusted forecast. Again, not once. The company is expected to grow earnings at 5-6% annually until 2025, and its current trends see it trading at around 12.6X P/E, which is undervalued quite clearly.
You've already missed sort of the most massive undervaluation below $200, but the company's common is still massively undervalued, and the reason for it is expected weakness in one or two of the company's product segments. While this may occur, I don't see it impacting the overall thesis in the way the market is expecting here. What's more, the market has an almost schizophrenic history of this sort of behavior with Amgen, massive undervaluation, and recovery spikes.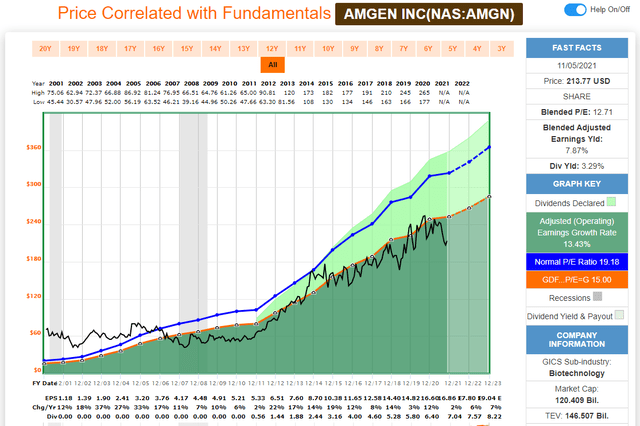 (Source: F.A.S.T graphs)
The company is A-rated and yields 3.3% here. Upsides are extremely generous. You're looking at a 15% annualized RoR for the next 4 years or a total RoR of 55% on a forward 15X P/E. Since the company hasn't traded far above this for some time, we shouldn't offer a premium here, but even at conservative estimates of lower than 15X P/E, the company could trade flat at 12.5X and still offer annualized returns of 10% under current estimates.
This makes the company a "BUY", and a win-win as I see it. I own over 1.2% in my portfolio in Amgen and added more during the last dip.

(Source: Unum)
4. Unum Group (UNM)
LTC block issues are the name of the game with Unum - and the market views them as a massive risk. I disagree. I describe these issues more in detail in my articles on the company, but I summarize it here as that I believe the company has adequately provisioned for what may occur - and if it has not, it has the means to further do so going forward, when necessary.
Unum doesn't have the same flawless earnings track record as some of these other companies, but it makes up for that lack with its valuation, which is still crawling at COVID-19 levels.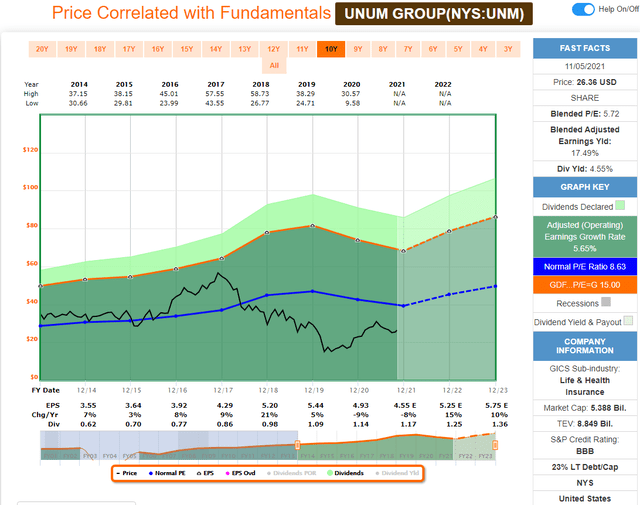 (Source: F.A.S.T graphs)
This is an investment-grade company with very little debt that yields a very well-covered 4.55%, and it's being undervalued because of that one issue the company is covering for.
The upside here is generous. Even on a historical discount valuation of below 8X, earnings, a 2023E upside for Unum at 7.8X is 81.58%, or 32% annualized. Even trading slightly negative to 5.5X forward 2023E P/E, earnings growth sees a potential upside of 30% RoR, or 13.09% annualized.
This is as good a win-win as finance offers here, provided you can understand and accept the LTC block risk this company has. I believe the situation calls for it, and that's why I've been heavily pushing capital to work in Unum for the past months. The position is now 1.33% of my portfolio, double what it was a year ago, and I'm not averse to adding more.
I believe you should consider Unum as well.

(Source: Lockheed Martin)
5. Lockheed Martin (LMT)
I'm not letting you leave this article without at least looking at Lockheed Martin. While the company may be a no-go for some due to its sector, let me state some of the advantages that the company offers investors.
Investment-grade credit at A-
An extremely well-covered yield
A massive, triple-digit billion backlog with government customers
Excellent management.
Never missing an EPS estimate with a 10% margin of error for 12 years.
The fact is that this Defense giant is under 15X P/E for the first time in a while. This makes it a massive "BUY". While you should have bought it cheaper, it's still an excellent opportunity at this price.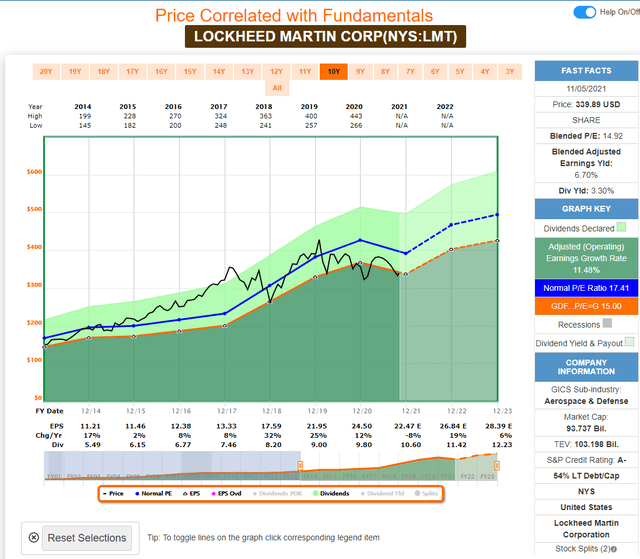 (Source: F.A.S.T graphs)
I've been pushing more money to work here, and now hold around 1.4% of Lockheed Martin. I'm hoping to see another drop, though this may not happen. A current upside to a conservative premium of around 16x p/e gives us RoR of nearly 47%, or 13% annualized, and even at P/E 15X, this is market-beating with RoR annualized at just below 10%.
This is the equivalent of someone telling me "here is some free money, all you have to do is hold this". Well, I'm holding it, and I look forward to my eventual positive returns here, which I view as pretty much inevitable.
The argument that was made here, which caused the massive drop, was a cut in revenue forecasts, as well as a reassessment of its 5-year plan - however, the estimated lower revenues were very slight, and still represent growth. Looking at the company as a long-term investment, this is only a blip on the radar, with a 10-year 344% ROR.
I say this is a momentary lapse and dip, and long-term investors would do well to get aboard.
LMT is a "BUY".

(Source: Verizon Communications)
6. Verizon Communications (VZ)
Do you want safe, "free" money? Good - so do I.
Enter Verizon at a valuation of 9.86X. The company is BBB+ rated and operates one of the most significant telecommunications networks on the planet. Its dividend of nearly 5% is covered at only a ~50% EPS payout ratio, and the company is backed by pretty much 35% of the population of the United States, using VZ as their carrier.
The reason the company is being traded down is a mixture of 5G concerns and a recent revenue miss. However, to my mind, none of these concerns is serious enough to push VZ to a sub-10X P/E valuation, which is what we're having here. Still, I never argue when the market sees it fit to essentially give me quality at a discount. That's what I see this as here.
This is a $220B market cap company that's part of the backbone of US society with its carrier network. The upside, even to a 10X P/E, at today's valuation and with a 4.9% yield is 7% annually. This might not sound exciting, but it is when you consider how unexciting and boring this company is. You're getting paid for people to surf on their phones, use the internet and live their lives. I'm pretty sure you've seen how many people have integrated digital communications into their lives. Any reversal to even a discount of 12.5X P/E brings reversal returns of over 13.5% annually, or 50% until 2024E.
This is what makes this company a "BUY" for me.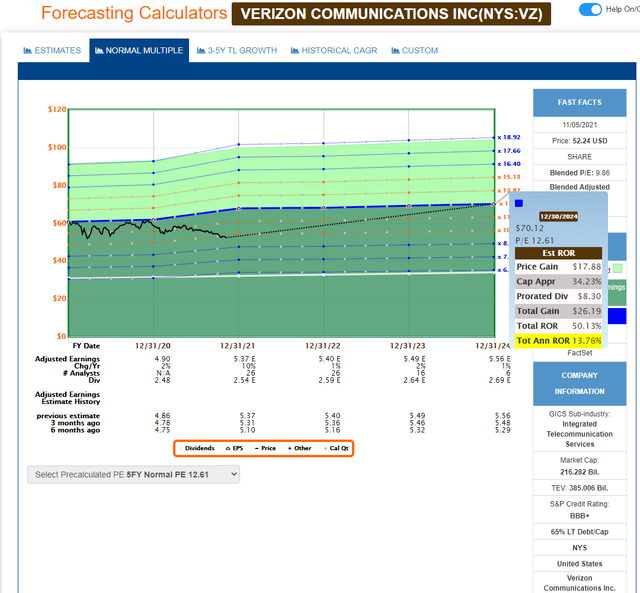 (Source: F.A.S.T graphs)
I've been adding to my position, to where VZ is now larger than AT&T (T) in my portfolio. You could buy T here, but the fact is that VZ is safer.
VZ is a "BUY".
Wrapping up
This article is about finding the "best" undervalued stocks for you to consider for investing. I believe that this selection of 6 stocks offers an appealing mix of sector and yield while offering similar bedrock foundations in:
Dividend Coverage
Conservative Upside
Company credit quality
Forecast accuracy
Realistic, conservative performance expectations, regardless of market development
While it's impossible to foresee if the market will see it justified to push one of these companies further down in terms of valuation, what I argue is that you can see here, and find out for yourself, that each of these companies is qualitative and one that I would consider a SWAN.
This is how I construct and handle my portfolio. I pick the best of the best, the safest of the safest, I go for the undervalued that the market doesn't like. I stick to them. I buy more. I buy until the position is full, or until the company reaches such valuation that it's necessary to rotate profits.
Remember, I'm all about :
1. Buying undervalued - even if that undervaluation is slight, and not mind-numbingly massive - companies at a discount, allowing them to normalize over time and harvesting capital gains and dividends in the meantime.
2. If the company goes well beyond normalization and goes into overvaluation, I harvest gains and rotate my position into other undervalued stocks, repeating #1.
3. If the company doesn't go into overvaluation, but hovers within a fair value, or goes back down to undervaluation, I buy more as time allows.
4. I reinvest proceeds from dividends, savings from work, or other cash inflows as specified in #1.
This process has allowed me to triple my net worth in less than 7 years - and that is all I intend to continue doing (even if I don't expect the same rates of return for the next few years).
If you're interested in significantly higher returns, then I'm probably not for you. If you're interested in 10% yields, I'm not for you either.
If you however want to grow your money conservatively, safely, and harvest well-covered dividends while doing so, and your timeframe is 5-30 years, then I might be for you.
Thank you for reading.