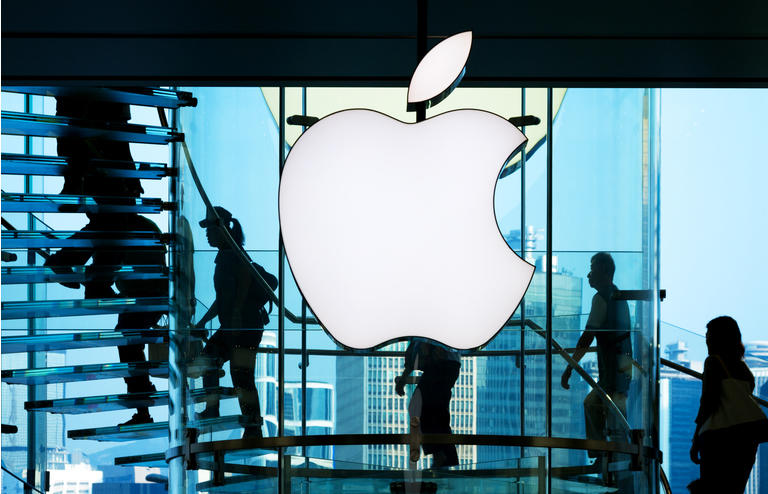 FingerMotion Inc. (NASDAQ:FNGR) announced they are planning on leveraging their massive Chinese footprint of over 1.4 billion users to roll out new value-added phone products. Their plan is to capitalize on the anticipated exponential expansion of the 5G upgrade cycle in China to quickly penetrate the Chinese mobile phone market early next year. The pace of the 5G rollout slowed during the pandemic but a new license awarded to China Broadcasting Network (CBN)) is expected to accelerate the pace.
By the end of 2020 Chinese 5G subscribers numbered 180 million which leaves a lot of room for growth considering there are 1.62 billion mobile phone subscriptions within China. It's greater than their current population of 1.40 billion because a number of users have multiple phones. FingerMotion also announced its trademarking of two brands of "innovative device protection'' in China. For those investors not familiar with FNGR they have partnerships with all 3 major telecoms but the two largest are China Mobile and China Unicom. Their partnerships allow them to "monetize" their respective user bases of 942 million and 310 million respectively.
Device Protection Insurance Overview
Device protection is the holy grail of all mobile phone services due to their high margins and recurring revenue streams for the life of the phone. For example, if your screen gets cracked or if you drop it in the toilet or leave it on the stovetop the device protection kicks in and the insurance pays for the repairs or ships out a new phone. Many users in the United States might be familiar with Asurion or Assurant (AIZ). For Apple (AAPL) users there is AppleCare.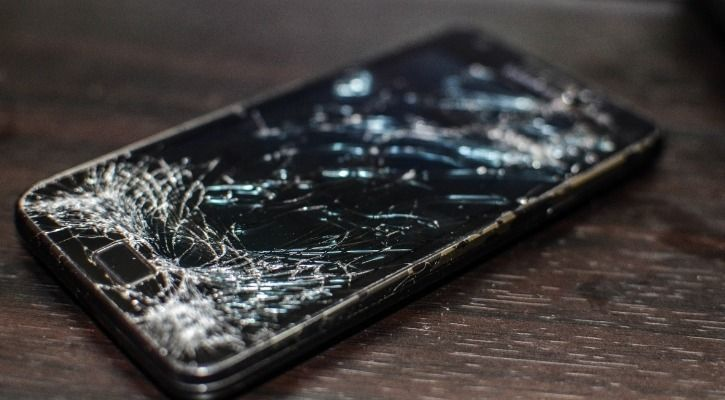 Many American cell phone users may not realize that the device protection offered by familiar carriers like AT&T (T) which calls it AT&T Protect Advantage, Verizon (VZ) calls it Verizon Mobile Protect, and US Cellular (USM) just calls it device protection but they all use a white label product from Asurion. Other carriers like T-mobile (TMUS) just call it device protection and Comcast (CMCSA) calls it XfinityMobile Protection Plan but both of these carriers use Assurant to underwrite their claims. The primary issue in offering an insurance product is to have a capable underwriter to manage the risks.
Distribution is the carrier's responsibility, but they are out of their element when it comes to dealing with customer claims and efficiently processing them screening for fraud and abuse. Very few companies exist with the expertise to pull this off except Asurion and Assurant which have been doing this for years. The press release mentions a "large American insurance company" that is going to make this service appear seamless. While the press release doesn't specifically name the partner, through a short process of elimination, Assurant with $45 billion in assets and a market cap of $10 billion seems to be the most logical partner.
Untapped Chinese Market Ripe for Monetization
The global mobile phone insurance market according to Grandview Research was $23.3 billion in 2020. The market research in China shows that in 2017 it was $1.28 billion and was estimated to be close to $3.0 billion in 2020 which represents 12.8% of the worldwide market. China as a percentage of handsets represents 20% of the world market which means they are underrepresented on a percentage basis in mobile phone insurance. Any player that fills this 7.2% gap could have over a billion-dollar business.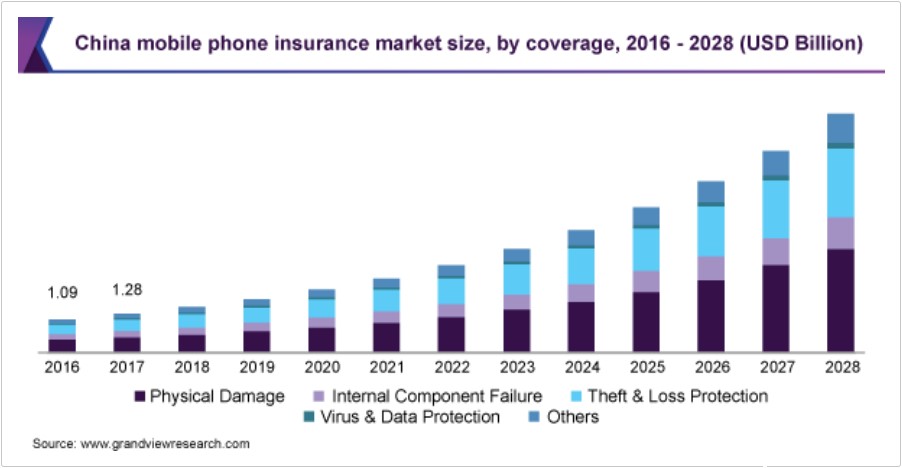 Recent surveys in China are showing a very powerful upgrade cycle is brewing. Strategy Analytics released their survey in June 2021 and found that out of the people that plan to buy a new phone in the next 6 months 70% will buy one with good reviews if it's at the right price. They also found that 35% of users are going to change their phone in the next 6 months and that 5G is a must. The survey found that 90% of respondents want a 5G phone next because only half of the respondents thought their current cell phones could still meet their needs.
The Chinese market for device insurance is fragmented at best. The issue is that none of the insurance underwriters have been able to partner with a major telco. When shopping for insurance if all things are equal the larger insurer with more assets is predominately where consumers will put down their money. Since no carriers are endorsing the insurance provider consumers are reluctant to purchase. This is where the major opportunity exists for FNGR.
Consumers view insurance offered through the carrier as a vetted product that they can rely upon, which means all they have to do is evaluate the pricing. Consumers want a fair claims process that they feel only a large company could process quickly and efficiently. Currently, no product device insurer has partnered with the major telcos. Since FNGR is already partnered with all the major telcos and has algorithms designed to spot fraud and abuse, it's almost a perfect fit for all parties. The telcos can monetize their user base. The insurance underwriter can capitalize on the fraud detection component offered by FingerMotion. The consumer gets an affordable streamlined product that meets their needs.
Dominant Position Crowds out Would be Competitors
It's easy to see the value proposition that FingerMotion has created. They are in a dominant position compared to any potential competitor because they are in charge of both telecom portals and their primary job is to monetize other services within the portal. This truly means that they have the power to package the new device sales any way they want.
So it's not hard to connect the dots that their new device protection brands "Ji Shi Fu" and "Baowo" are the new brands for each telecom carrier that will likely be included in the shopping cart and require the user to sign all sorts of opt-out acknowledgment before they checkout should they choose not to get it. For these more expensive 5G phones coming to market users would be reckless for not signing up for the low monthly device protection plan.
Financial Analysis
Since the last report early this year, the financial picture has vastly improved and it is looking more like a NASDAQ quality company. Their latest 10-Q balance sheet shows $9.4 million in assets. Most of their cash is used in either buying SMS minutes or buying prepaid minutes that are resold. The company started the year with negative net equity and for the latest quarter finished with $5.22 million. Net equity is a key milestone with respect to NASDAQ listing. In July 2021 the company filed its application to list on NASDAQ Capital Markets.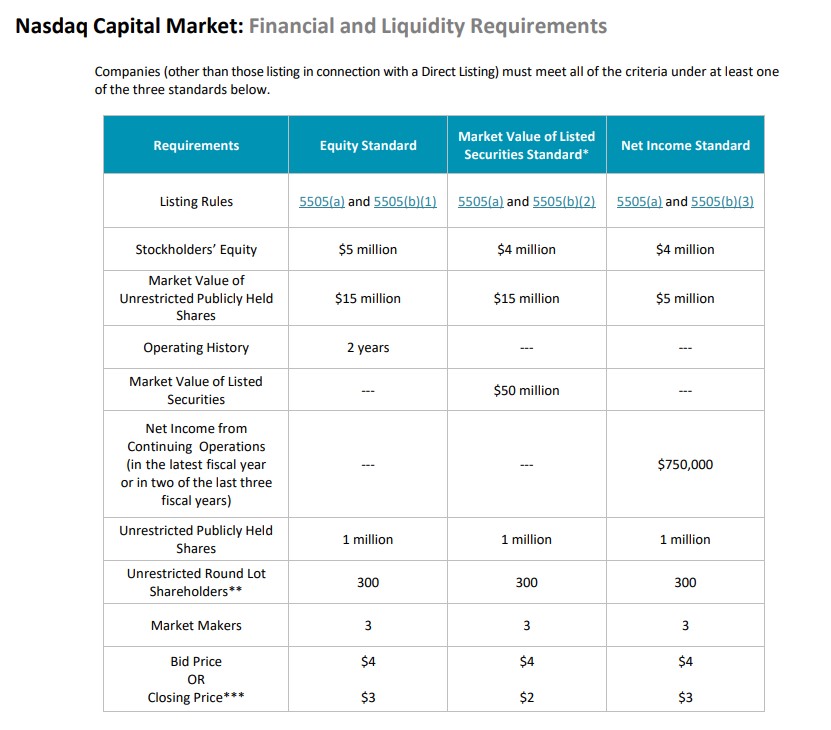 During the latest quarter gross margins improved from 7% to 14% year over year due to strong demand from the SMS side of the business. The company guided by saying:
"This quarter was more of a transition to greater profitability as more of our initiatives started contributing to gross margin. This trend will continue and revenue should ramp as the insure-tech business starts to develop. During the past quarter the Company secured a contract with Pacific Life Re, which is a global life reinsurance company. The Company plans to monetize the use of its predictive algorithms to generate insight into the insurance industry."
They reported $5.4 million in revenue for the last quarter which is an annualized revenue run rate of over $21.6 million. They are expecting the Insure-tech business to start contributing which could be a very welcome boost to the top and bottom lines. Their expenses seem to be under control, but represented 39% of sales which was up modestly from the year prior.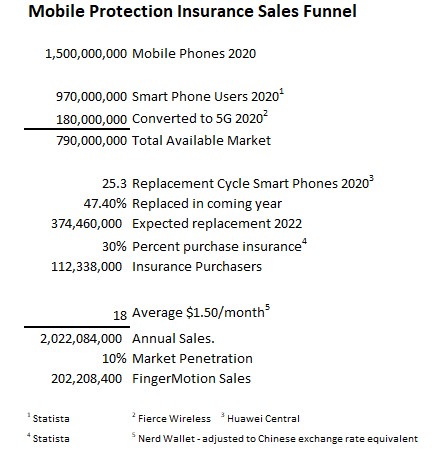 Author Graphic/Model
Sources of data in chart: 1 Statista 2 Fierce Wireless 3 Huawei Central 4 Statista 5 Nerd Wallet
This mobile protection insurance funnel distills down what the potential impact of this deal alone could be in the coming year. The assumptions are very conservative and start with the entire user base of the Chinese and filter them into those who have not upgraded to 5G. This user base goes through an upgrade cycle and enables the prediction of the number of upgrades over the course of a year. Then there is an assumption that approximately 30% of the users would purchase insurance based on US and International conversion metrics. The biggest variable amounts to the premium paid monthly which was in the model.
Risks
Their biggest asset is their access to data and while they have a license on it there can be no assurances that this will last. Political risks in China have been responsible for the wealth destruction of billions. Although the working relationship with the government is currently on good terms, it doesn't mean that there are no risks. Their growth rate is also another big operational risk because if it isn't managed properly it could eventually undermine the business. Although there has been a small impact with respect to COVID-19 the key people in the organization are the actuaries.
The failure to retain the right talent or keep the wrong talent could have a material impact on the business. They also need cash and cash flow to keep operations humming along which means any breakdown in their receivables or stretch in payment terms could undermine the fabric of their business model.
Investment Summary
The device protection market represents a trajectory-altering dynamic to the business. The true evolution of FingerMotion's business has been tied to the data. At first, they used data to market a message, then the data was used to develop smart algorithms, and then these algorithms were scrapped to sell custom insurance products. In this new iteration, data will likely be used to combat fraud and abuse in the device protection industry.
At every step of the way, FingerMotion has been accelerating its margin growth. The next major catalysts are the uplisting to NASDAQ, monetization of their insurance products, and rollout of the device protection insurance. Each one of these businesses is a unicorn by itself but the truth is that device protection in China backed by the major telcos and underwritten by a major insurance carrier with billions behind them is worth much more than the $280 million market cap of FNGR.