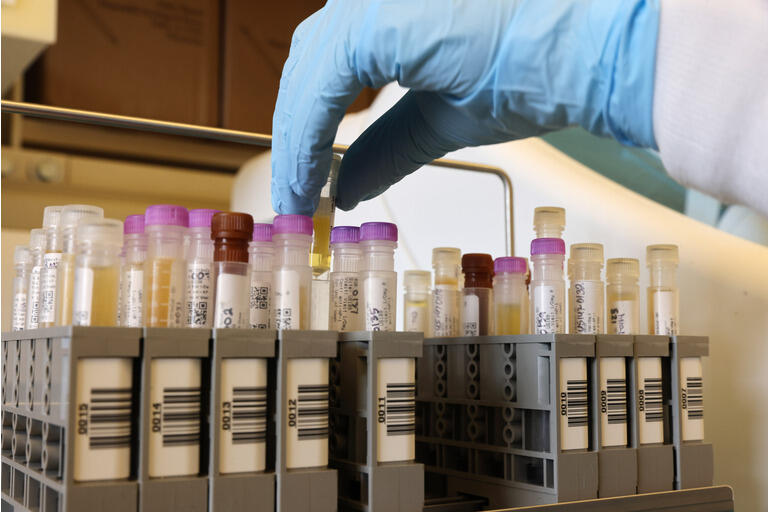 It was in the second week of February when markets first got wind of Novavax's (NASDAQ:NVAX) Phase 3 clinical trials that the New England Journal of Medicine wouldn't publish until 30 June 2021 issue. The company's protein-based NVX-CoV2373 Covid-19 vaccine demonstrated an 89.7% efficacy rating at a 95% confidence interval in UK clinical trials. Markets understandably went wild, as the stock finished at $319/share—up 100% on the day.
Fast forward several months. Novavax has entered into advanced purchase agreements (APA) with Australia, Canada, the UK, the EU, Japan, Korea, the US as well as the United Nations – commitments for an estimated 1.8 billion doses through the end of 2022. The company received its first emergency use authorization (EUA) from the National Agency of Drug and Food Control in Indonesia. EUA applications are pending in the Philippines, India, the UK, Canada, New Zealand and an emergency use listing (EUL) from the World Health Organization. The EUA filing with the Federal Drug Administration is slated for next month.
With a market valuation hovering around $13 billion, Novavax (red/green line) sells dirt cheap against US rival Moderna (MRNA) (orange line) at just over $99 billion or almost eight times that of Novavax. Germany's BioNTech (BNTX) (purple line), at $58 billion is almost five times that of Novavax through Friday's market close (see Figure 1, below).
Figure 1: Novavax, Moderna and BioNTech against the S&P 500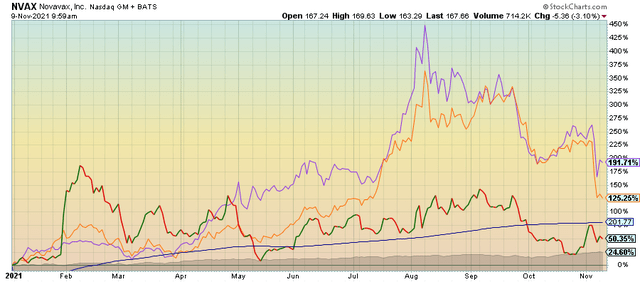 From an investment standpoint, Novavax's steep market discount is arguably reflective of just how dominant the mRNA platform has become in the global fight against Covid-19 and its variants. Still, there are important advantages the Novavax's protein-based jab brings to the fight. Novavax could significantly boost Covid-jab efforts not only in Indonesia, in wake of its recent EUA approval. The company's Indonesian operations will likely be a stepping stone for further penetration into the far reaches of south- and southeast-Asia. Super-cold storage and transit requirements critical to maintaining the viability of RNA-based vaccines present glaring logistical impediments in low- and medium-income countries. By contrast, Novavax jabs can be stored and transported at regular refrigeration temperatures. Another plus favoring Novavax jabs—the science behind recombinant protein-based vaccines is well understood. This would conceivably allow for the vaccine to be produced on a very large scale—in the billions of doses per year. Throw in a robust safety and efficacy profile comparable to RNA-based vaccines and Novavax becomes a key, cost-effective, and pivotal player in the global immunization effort.
Vaccine nativism in advanced economies has further complicated global immunization efforts. In April, the COVAX program came into being. The brainchild of myriad international health organizations - including the Coalition for Epidemic Preparedness, the World Health Organization, and UNICEF - its founding mission is to achieve fair global access to Covid vaccines. To date, that mission has fallen well short of aspirations. Out of the nearly 7 billion jabs administered worldwide to date, about 3% of people in low- and medium-income countries have achieved full immunization—and primarily those living in major metropolitan centers. COVAX was initially promised 1.3 billion doses by G7 countries in support of its efforts to equitably distribute Covid-19 vaccines. To date, COVAX has shipped about 150 million doses. As a result, low- and medium-income countries' vaccination rates languish almost universally in the single digits. These supply constraints forced COVAX to downgrade its 2021 goal of 2 billion doses to about 1.4 billion doses.
Since February, not all has gone well for Novavax and its 2373 vaccine. Manufacturing delays, alleged struggles with purity levels created unforeseen challenges as the company scaled up production to meet demand at the global level. Johnson & Johnson's (JNJ) protein-based vaccine and contract manufacturer, Emergent BioSolutions (EBS) also faced down production problems during this period. J&J has been slow to recover, further delaying millions of promised doses to COVAX.
We are now in the fourth quarter and Novavax has largely completed a flurry of regulatory activity filing emergency authorizations around the world, culminating with filing its EUA with the FDA that is now expected by year's end. None of these filings would have happened unless Novavax was confident its vaccine would receive authorization from each of these regulators to move forward.
On the fill/finish front, the Serum Institute of India (SII) will be the initial manufacturer, having already produced tens of millions of doses. SII is a contract, development, and manufacturing organization (CDMO), giving Novavax the ability to contract all or part of the manufacturing process with SII. SII will have exclusive licensing in India and a non-exclusive license in low- and medium- income countries. SK Bioscience of South Korea will have an exclusive license for 2373 in the country as will Takeda (TAK) in the Japanese market.
Novavax has an APA with COVAX to provide 1.1 billion doses. SII will provide 750 million of those doses, with Novavax providing the balance. Since the beginning of the 3rd quarter, Novavax has APA commitments of up to 400 million doses from the European Commission and the governments of the UK, Canada, Switzerland, New Zealand, and Australia. A further 110 million doses are committed to the US as part of the $1.8 billion funding authorization under Operation Warp Speed.
Novavax has agreements with fill/finish facilities in the Czech Republic, Sweden, Biofibre in Spain, Fujifilm in the US and UK, Mabion in Poland, and the National Research Council's Biologics Manufacturing center in Canada. Production projections now land in the neighborhood of 150 million doses/month by the end of 2021 and up to 2 billion doses by the end of 2022. The company expects multiple authorizations to proceed across the globe in the coming months and is currently allocating product to meet expected demand as authorizations are released, likely with little advanced public (or market) warning.
Meanwhile, Moderna (orange line, Figure 1, above) and BioNTech (purple line) are both coming off YTD highs of $484 and $447, respectively, reached in the second week of August. Both positions now wallow deep in bear territory through Friday's (6 Nov) market close. Misery always likes company: Novavax is down 47% from its February market high, swimming deep in bear territory for most of the year. Still, all three Covid-19 vaccine manufacturers are up dramatically using a YTD measure. BioNTech leads the troika at 165%, followed by Moderna at 117% with Novavax up 51% in topsy-turvy performances to date. Both BioNTech and Moderna have crossed the finish line, landing millions upon millions of jabs. Novavax is close to the finish line, clearly in catch-up mode. It will reward investors handsomely moving forward.