SandRidge Energy (NYSE:SD) delivered another strong quarterly result. In addition to improved price realizations and holding production flat, the company paid off all of its debt and added $28.4 million in net cash to its balance sheet in Q3. And even better, it added $16.8 million in net cash in the first 36 days of Q4, implying approximately $42 million run rate quarterly free cash flow.
It was possible to analyze the Q2 result and identify the rapid cash build. My prior analysis indicated $14 million of free cash flow early in Q3, over a similar time frame to the $16.8 million generated in early Q4. This was a major improvement from the $14.1 million of free cash flow generated in the entire second quarter. And it presented a likely re-rate in the share price once understood by the market. Note SandRidge's performance vs the oil and gas equity ETF XOP.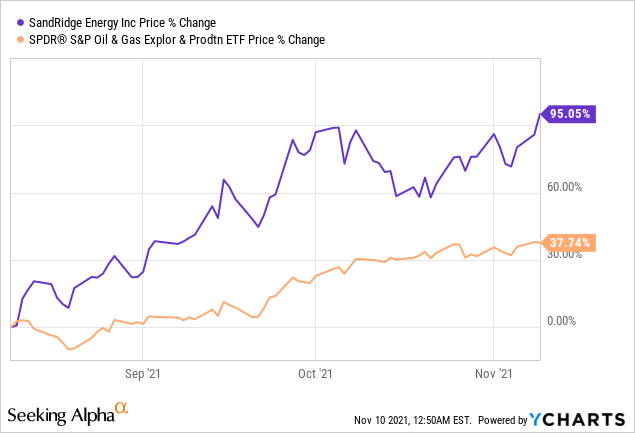 With $115.8 million in net cash versus a $500 million market cap, cash is rapidly becoming a material asset to the business. Despite an approved share repurchase plan, the company did not buy back any shares. With no current dividend, the cash pile may continue to grow until shares are repurchased, a dividend is announced, or an acquisition is made.
Until then, a $168 million annualized run rate free cash flow business versus an enterprise value of $384 million seems too cheap. This compares too favorably to public company peers at much lower free cash flow multiples, and could see another re-rate similar to the recent movement in the share price. Or it could see SandRidge as an acquisition target, even with Carl Icahn as the largest shareholder with control of the board.
The company also announced an interesting ESG angle. It is evaluating using its extensive pipeline infrastructure network for carbon capture and sequesteration, in partnership with the University of Oklahoma. While still early stage, this asset has a replacement value likely in excess of $1 billion. And companies active in this part of the market garner much higher valuations than oil and gas companies, offering potential upside if a successful sequestration plan is identified and deployed.
Carbon Capture, Utilization, and Sequestration ("CCUS")

The Company is actively exploring Carbon Capture, Utilization, and Sequestration potential across its operated asset base. The Company owns and operates an existing infrastructure network of more than 1,000 miles of saltwater pipelines and electrical lines and more than 60 active saltwater injection wells. Along with the University of Oklahoma ("OU"), the Company is evaluating the technical feasibility of utilizing these assets to one day transport and/or sequester CO2 emitted from nearby industrial facilities.

In addition to the environmental benefits of reducing emissions, proposed federal tax legislation contemplates meaningful financial incentives for the injection and/or sequestration of CO2. While these projects are in their infancy and require additional research before moving into commercial stages, the Company is excited to continue exploring their potential through its partnership with the University of Oklahoma.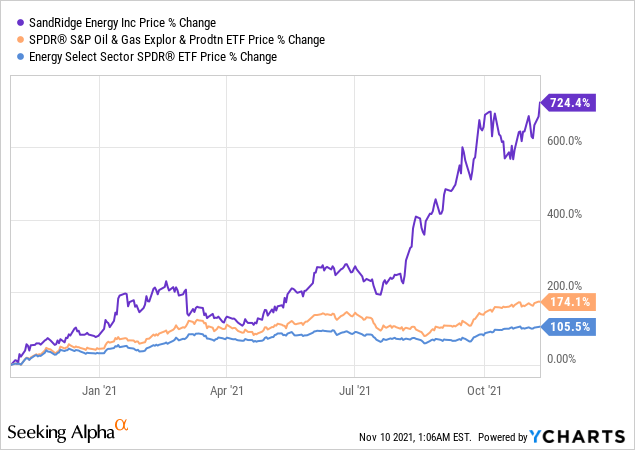 SandRidge has materially outperformed since my initial thesis a year ago. But with a large and rapidly growing net cash balance, an approved share buyback, and optionality from a large land base and infrastructure ownership, the best could be yet to come.