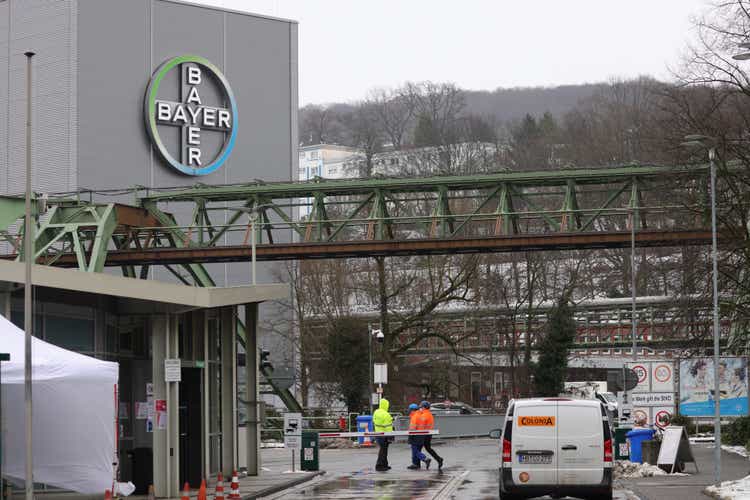 I've done plenty of writing on Bayer (OTCPK:BAYZF) (OTCPK:BAYRY) in the past. After much research, analysis, and following forecasts, aside from personally (privately) knowing several chemists and scientists working for the company, I would say that my insight into the company's operations, goals, and risks is higher than the average investor on the street.
In this article, I'll use that knowledge together with what the company reported to update my thesis, where I called the company not "as" undervalued, but still a "BUY". Since that article, the company has fallen somewhat - but at today's pricing, it's even more appealing long-term.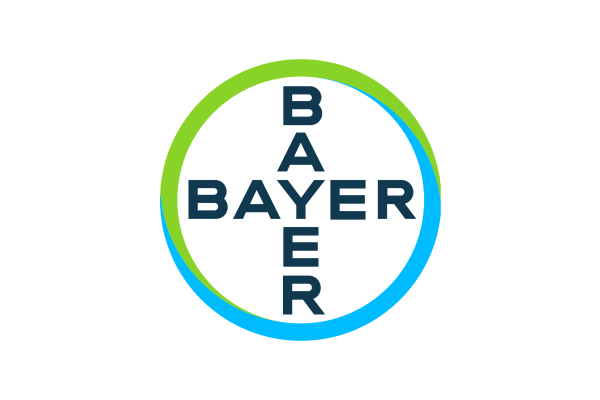 (Source: Bayer)
Bayer - How has the company been doing?
In my previous articles, I pointed to some of the fundamental reasons for considering Bayer a great company. The company is a leader in several important fields and has well-diversified operations in the fields where they are active.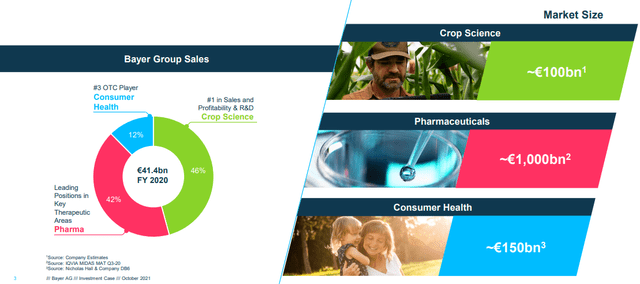 (Source: Bayer)
There are several key reasons why Bayer, as a company, can be expected to continue to grow and deliver here. Growing population, pressure on the ecosystem, an aging population, all of these trends call for better offerings when it comes to health, securing food supply, and use the resources that our planet provides us with efficiently and responsibly. This is the company's mission, and over time, the company has been delivering well on these.
Bayer's recent-term developments are problematic, and the trouble with roundup seems not to be over just yet - however, virtually all other sectors in the company are working well and delivering good results. Bayer is in the midst of a transformation program expected to bring over €1.5B in cost savings, and the company is ahead of these plans.
As a company, Bayer seeks to target very disciplined capital allocation, with a focus on deleveraging and targeting an A-credit rating, dividend payouts of 30-40%, and growth through external factors with bolt-on M&As. The company seeks to lower debt by around €6-€8B until 2024.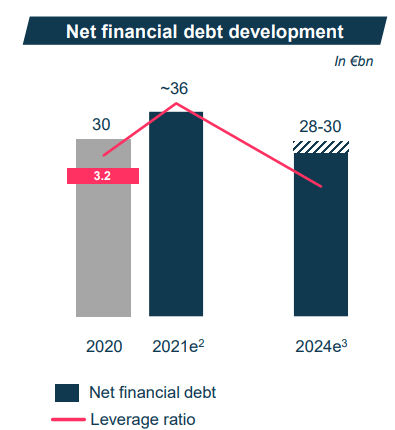 (Source: Bayer)
Bayer is appealing for several reasons. Its leadership in Health & Nutrition, its current transformation and the resulting improvements in profitability, its clear capital allocation and forecastable dividends, and its scale - also, its valuation, which we'll go into more in the corresponding article segment.
3Q21 was released today - and I wanted to get my take on these numbers to you as quickly as possible.
Sales grew by 14.3% YoY, meaning that Bayer saw a continuing positive sales momentum, to nearly €10B for the quarter. EBITDA increased by 16.4% YoY. In terms of segments, Crop Sciences reported large increases in sales and earnings, and the other two segments of pharma and consumer health also posted very strong sales numbers.
The company saw core earnings increase nearly 30%, and Bayer also came with a revised outlook for its business, coming in at €44B in sales for the full year, with a growth of about 7% YoY. Core EPS is expected to come in €0.1 higher than previous guidance, and FCF is now expected to come in at low negative numbers, as opposed to mid/higher negative numbers. The reason for the negatives here is, of course, the glyphosate reservations in terms of the litigation. These payments are now expected to be made in 2022 as opposed to 2021.
The company is also expecting slightly lower debt than previously, about €500M.
Particular highlights included substantial volume and price increases in Crop Sciences, with Corn seed being particularly high, and overall license revenues for the company's products improving. Gains were also strong in EU, Middle East, and Africa, due to increased pricing in glyphosate-based products and improved volumes. In pharmaceuticals segment, recovery from COVID-19 continued to deliver growth in the company's sales. Anticoagulant sales grew 4.3%, and sales of Eylea delivered growth that offset price declines in China. The company actually saw declining EBITDA in the segment, but this was due to launch-related marketing costs, R&D costs, and development expenses for sub-segments like gene therapy.
Consumer health posted a strong sales increase - 11% YoY - despite a very strong comparison quarter. There was a high demand in Nutritionals, rising 20% YoY, and Pain/Cardio saw encouraging growth of 17.4% YoY. Overall, while the company's smallest segment, it grew the most in terms of percentages.
The results here do little to change my overall positive stance on Bayer. Rather, it confirms the positive expectations we can have for the company at this time and going forward for the next year and more.
Let's look at company valuation.
Bayer - What is the valuation?
Company valuation remains at appealing levels here. Despite good trends and results, company litigation and risks are still very clear in the company's overall valuation profile.
Bayer currently trades at an average P/E of 8.17X for the ADR, which is a massive overall discount to its usual 14X. The company is investment-graded with around 51% long-term debt to cap. The major risk factor in investing in Bayer, as I would see it, is the Roundup litigation as well as the company's pharma portfolio and how current or appealing the company can keep this going forward.
However, at today's valuation, the company needs to do little more than provide flat development for the next 3-4 years to provide very impressive results. Even on an 8-10X P/E valuation with today's forecast, the company will return 11-16% annually, to a 50%-60% total RoR until 2024, including dividends - again, for a company the size of Bayer.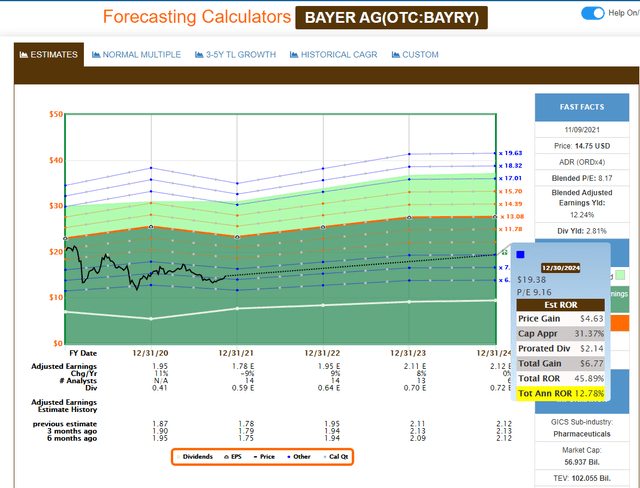 (Source: F.A.S.T graphs)
The recent historical returns for Bayer aren't that convincing - but these come from a time when Bayer reversed from a premium of 16-20X to the current valuation. If we look at similar times when Bayer was clearly undervalued to when it appreciated to fair value, returns for such a time frame of 5-6 years were annualized 22.8% between 2009 and 2014 - and we have the potential for similar returns here.
In the end, it's all about what you're paying for what you're getting - and I will buy anything if I get to decide, or if I get to pay the price I want. Now, €50/share is higher than it once was, but it's still a dirt-cheap valuation where Bayer yields nearly 4% even with a very conservative yield.
This, to me, makes this company a massive "BUY" with one of the better upsides in pharma.
Whenever something is cheap such as this, and when we're talking about a historically powerful company such as Bayer, my stance is that it's only a matter of time until we see a reversal to more standard levels of valuation. By simply following these trends, investors can generate returns well above those of the overall market - and it's not really that advanced in any way - it just requires patience and perseverance. The ability to clearly stick to your own opinion that "this is worth more than the market is currently valuing it". If you believe that of Bayer, of course.
I do.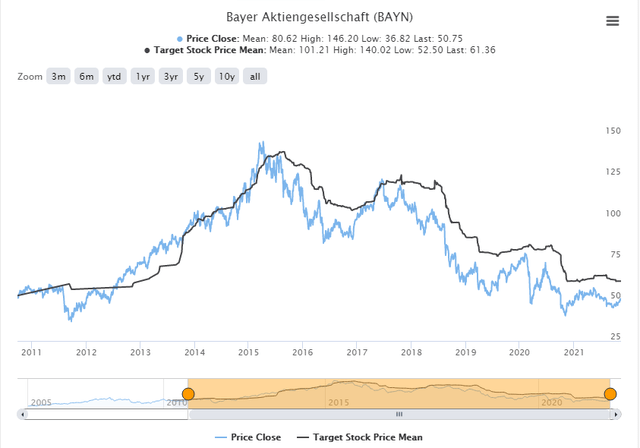 (Source: Tikr.com)
Currently, 24 S&P global analysts value Bayer at a target of €61/share, which gives us a 21% undervaluation. This is already lower than the price target 1 year ago, and in this company, we have clear times when analysts have been either spot-on or have even undervalued and under-targeted this company.
When things reverse, and when the litigations settle, this business will no doubt go back up. Now, it's impossible to say exactly when this will be, but the company's current yield and the current price give us, in my opinion, quite an excellent basis for investing in Bayer.
Because of this, I consider this a "BUY" with an undervaluation of around 9-12% conservatively, and an upside of around 11-15% annually.
Thesis
My thesis for Bayer is fairly simple.
This is a quality pharma and consumer healthcare/Agri stock trading at a discount multiple of below 8X conservative P/E. This valuation is due to a current set of risks, which are neither permanent nor likely to remain for more than a few years. The conclusion here is that once these risks have subsided, the company is likely to appreciate.
I consider it unlikely that the current risks are enough to bankrupt, or in any way disturb the company fundamentally. Its operations are appealing, it's profitable, and it has a well-covered dividend.
This set of fundamentals makes it a "BUY" to me, and I consider it at a price target of around €55/share, conservatively.
Remember, I'm all about:
1. Buying undervalued - even if that undervaluation is slight, and not mind-numbingly massive - companies at a discount, allowing them to normalize over time and harvesting capital gains and dividends in the meantime.
2. If the company goes well beyond normalization and goes into overvaluation, I harvest gains and rotate my position into other undervalued stocks, repeating #1.
3. If the company doesn't go into overvaluation, but hovers within a fair value, or goes back down to undervaluation, I buy more as time allows.
4. I reinvest proceeds from dividends, savings from work, or other cash inflows as specified in #1.
This process has allowed me to triple my net worth in less than 7 years - and that is all I intend to continue doing (even if I don't expect the same rates of return for the next few years).
If you're interested in significantly higher returns, then I'm probably not for you. If you're interested in 10% yields, I'm not for you either.
If you however want to grow your money conservatively, safely, and harvest well-covered dividends while doing so, and your timeframe is 5-30 years, then I might be for you.
Bayer is currently in a position where #1 is possible in my process, through #3 and #4.
Thank you for reading.